Top Independent Matches of 2021. Three years ago my family and I moved to central Iowa. Little did I know, we had just moved into an area of the midwest with a rich history of independent pro wrestling. Over the past three years, I've had the opportunity to be ringside regularly taking pictures or in the audience for four promotions within a short drive.
This year was easily the busiest year I've had attending events for Central Empire Wrestling, Impact Pro Wrestling, SCWPro, and Magnum Wrestling. I easily shot over 100 matches in 2021. 
Those are just the promotions I've been able to be at often, other promotions like Rugged Pro and Black Wrestlers Matter have put on stellar wrestling shows in Iowa over the last few years as well. 
Being front and center for such a bevy of great wrestling has been a major highlight for this lifelong wrestling fan. With that in mind, I have composed a list of 15 of my favorite matches in 2021.  Today we feature two honorable mentions and matches 15-11.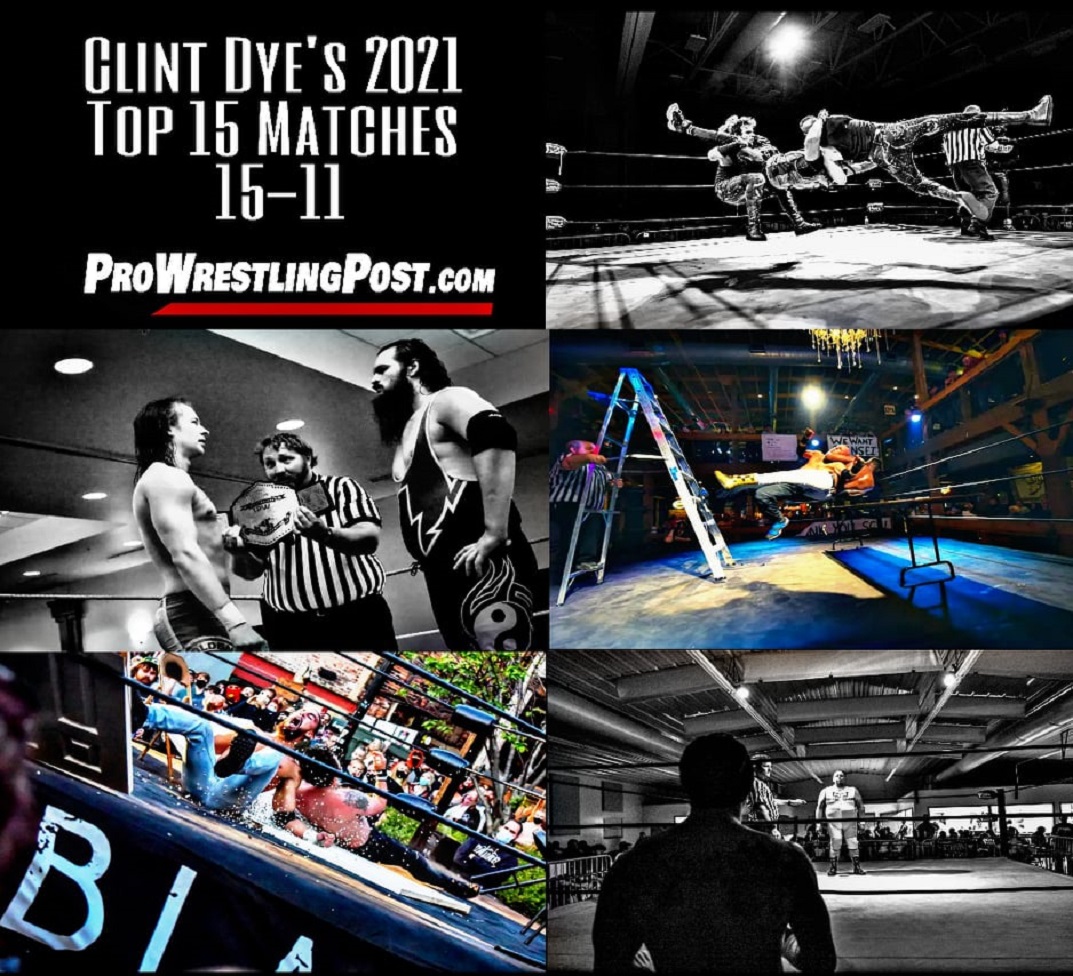 Honorable Mentions:
My first two honorable mentions are a pair of matches I was able to watch online, but easily would've made the top 15 had I been there live. 
Jimmy Wylde vs Gable Galileo
Rugged Pro "Aftershock"
No Disqualification Match for the Rugged Pro Heritage Championship 
Anytime Jimmy Wylde and Gable Galileo step in the ring together the fans are in for a treat. Over the past year, the two have faced in various promotions in a plethora of match types but this contest from August is hands down one of their best. 
A hard-hitting, back and forth, bloody war, saw these two youthful veterans push themselves to the limit. In the end, a bloody Wylde emerged victorious becoming the new Rugged Pro Heritage Champion. The two went to war again a couple of months later in a Casket Match and once again they excelled. 
Watch their match below:
Frontman Jah C vs JDX
Black Wrestlers Matter Championship Match
Black Wrestlers Matter 2
Historic best describes this instant classic and had I been there in person, it would easily be in my top ten. Even watching it online you could still feel how momentous this was. Here you had two of the finest independent pro wrestlers in the country fighting to become the inaugural Black Wrestlers Matter Champion. 
The pre-match stare-down is one of those moments that is truly iconic. For over 30 minutes these two go back and forth as they shed blood, sweat, and tears in the search of history. In the end, Jah C emerged as the first-ever Black Wrestlers Matter Champion after a perfectly timed roll-up.
Watch their match below:
Top Independent Matches of 2021
#15 – The Metro Brothers vs Saieve Al Sabah & Treehouse Lee
Full Throttle Pro Wrestling Tag Team Championship
CEW "Bridge City Slam 3"
Two of FTPW's best teams came to Iowa in September with intentions of stealing the show. The Metro Brothers were the reigning champs heading into this match and the year prior made an impact at Bridge City Slam 2. 
After their boisterous announcer Skinny Vinny introduced them to the crowd, the Metro Brothers attacked their challengers before the bell. In the attack, Treehouse Lee was sent crashing to ringside. From here, the Metro Brothers isolated Al Sabah clearly trying to retain their championships by the process of elimination. 
The Metro Brothers' bevy of double team maneuvers were on display while they controlled the match. Their power bomb-neck-breaker combination was especially impressive.
Despite their best efforts they couldn't keep Al Sabah down, who displayed his strength with a double suplex, before flying high off the turnbuckle with a picture perfect moonsault.
When Treehouse Lee finally got the tag, the Bridge View Center erupted and Lee delivered with a bevy of high risk, high reward maneuvers. New Champions were crowned after Lee and Al Sabah used the combination of a running back slam and a twirling elbow from the top turnbuckle to get the win.
Watch their match below:
Top Independent Matches of 2021
#14 – Frontman Jah C vs JT Energy
TLC Match for the SCWPro Iowa Championship
SCWPro "Hawkamania XX Season's Beatings"
This match was the final chapter in a pair of SCWPro trilogies between these former tag team champions. It was their third and final encounter of 2021 and was their third time facing off at one of SCWPro's signature events, Hawkamania. 
After both men made their entrance complete with trading taunts, the war was on. Chairs came into play early when a dual chair swing sent JT Energy scurrying to the outside. Energy's stalling tactics were met with a tongue lashing as the Frontman, obviously annoyed, ripped into Energy on the mic. 
The war waged on and ladders, tables and doors were introduced into the fray.
Energy bringing out the original chair used to end the reign of Vicious and Delicious elicited an energetic response from the SCWPro faithful. By the time both men went crashing through a table together from the middle of the ladder, you could tell they were giving everything they had. 
The drama heightened when both men made that dramatic climb to the top of the ladder only to be pulled down at the last second. JT Energy finally got his Hawkamania win over Frontman Jah C after his heavy, Augustus Draven, nailed Frontman with a pair of steel chair shots. 
The importance of the moment for the "Unsolved Mistery" on full display during his post match celebration. 
#13 – Infamy (Deonn Rusman, Joeasa, Robin Steele) vs Collateral Damage (Gunner, Renegade, Sabotage)
SCWPro Tag Team Title Six Man Street Fight
SCWPro "Reborn"
During SCWPro's first show in front of fans in almost a year, everyone was out to be match of the night. This out of control street fight did just that. Infamy started the match with simultaneous dives over the top ropes onto their trash talking opponents. 
The fight didn't take long to spill ringside as all six men were willing to battle all over Bierstube's patio area. Infamy's power power players Rusman and Joeasa, combined with Steele's aggressiveness, countered the cunning and athleticism of Collateral Damage. Chairs, metal sheets and trash cans were used by everyone involved. 
The latter being used by Sabotage to make an elbow drop from the top turnbuckle more devastating. Joeasa got a measure of revenge with a jumping pile driver onto a steel chair. Chair shots were traded by members of both teams and Sabotage hit a coast to coast onto a trash can holding Steele, but even that couldn't get the win for the challengers. 
Steele was later taken out of the match after Gunner and Sabotage slammed him throat first onto a steel chair. The numbers advantage helped Collateral Damage win the tag team titles. After an attempted spear through a door back fired on Deon Rusman, Joeasa was superplexed through a tack covered door by Gunner for the win. 
Top Independent Matches of 2021
#12 – The Big Picture vs Bryce Jordyn
IPW Heavyweight Championship Match
IPW "20th Anniversary Show"
As the IPW Instant Ticket holder, "Golden Boy" Bryce Jordyn had the ability to choose when and where he wanted to cash in his championship opportunity. Throughout 2020, during IPW's Vault era of Facebook live shows, Jordyn hinted at cashing in the ticket numerous times. 
It wasn't until IPW announced they would be returning in front of fans in May of 2021 for the 20th Anniversary Show, that Jordyn would officially cash in his golden ticket. Waiting for him was the Big Picture, deep in the middle of a historic run on top. The atmosphere was electric as IPW's fans were desperate to see Jordyn end Picture's reign as champion.
Jordyn started fast and furious, hitting the Big Picture with everything he had, but the champ's size and power soon stole the momentum. From here Picture toyed with his opponent like a cat delaying the inevitable of eating his trapped mouse.
The big man hit Jordyn with a bevy of slams and suplexes, even giving Jordyn an F5 but the determined challenger wouldn't stay down. At one point Jordyn had Picture locked in a cross face, it was at this moment everyone inside the Forte Center thought a new champion was about to be crowned.
However, the Big Picture powered his way out, eventually hitting Jordyn with a jumping tombstone to retain his title. Coming so close but falling just short, lit a fire under Jordyn, something that paid off in spades the next time these two stepped in the ring together. But, more on that later. 
Top Independent Matches of 2021
#11 – "Pop Icon" Donnie Peppercricket vs "Booty King" JT Energy CEW Heavyweight Championship – Last Man Standing Match
CEW "Homecoming"
At CEW Bridge City Slam 2 in January of 2020, Donnie Peppercricket, in the show's main event, defeated Shaun Nautilus to become CEW Champion. That same night JT Energy earned the biggest win of his career, pinning WWE Hall of Famer Jerry "The King" Lawler.
So at CEW's follow up show it was only fitting that the two top stars of the promotion met with the title on the line. That night Energy, with an assist from Peppercricket's former partner Tim Rhodes, won the title in shocking fashion.
Then, before Peppercricket could get his rematch, the COVID pandemic happened. Fast forward to August 2021 and CEW's first show back home in Oskaloosa, Iowa. Both men have been staples of CEW over the past decade and they held nothing back.
Peppercricket almost had the match won with his variation of a jumping tombstone piledriver on the championship belt. But in the end, JT Energy's reign as CEW Champion continued after he slammed the steel turnbuckle post across Peppercricket's head. A blow that kept the former champion down for the ten count.
Watch their match below:
---
So there's the first five matches of 2021 that delivered the goods. In my next article will be matches 10-6. Featuring a wild ladder match – a hostile cage match – a title rematch and a first time ever grudge match.