Against all odds, Tokyo Joshi Pro Wrestling was founded by coincidence. During the introductory press conference in June 2012, the big boss of DDT Pro-Wrestling Sanshiro Takagi explained that it all started when a rookie named Takashi Dai had recently made his debut for DDT and he thought the name sounded familiar. Dai did indeed have an older sister named Nozomi who briefly wrestled for NEO Women's Pro Wrestling (which had since gone defunct in 2010). And thus Takagi got in contact with her and former NEO President Tetsuya Koda to discuss forming a new enterprise in TJPW.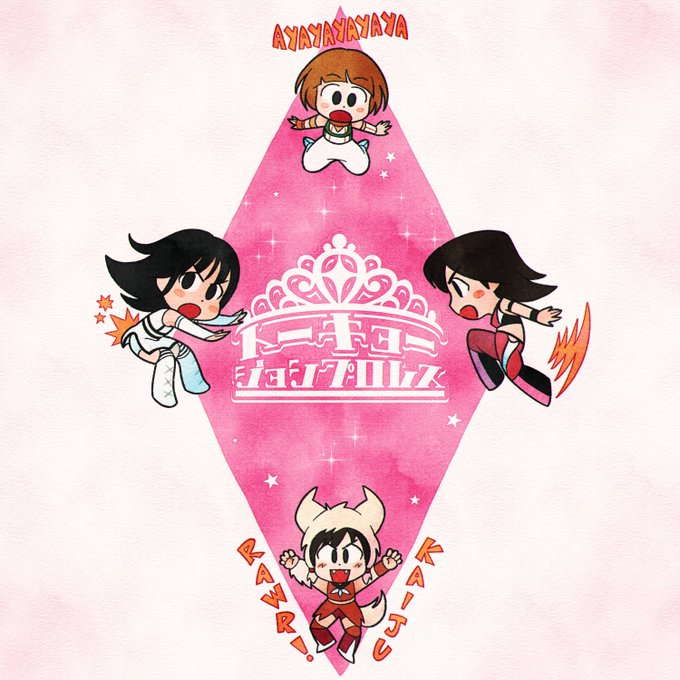 Following the collapse of foundational companies All Japan Women and GAEA Japan during the dark ages of 2000s puroresu, a number of joshi promotions had risen in the ensuing few years: Stardom, Wave, Oz Academy, Sendai Girls, Diana. Over the years, DDT had produced a number of spinoff projects to varying successes and longevity. Seeing how DDT had risen from a tiny independent company in 1997 to packing out the Budokan with Kenny Omega and Kota Ibushi, perhaps there would be a special magic this time in the 2012 air.
Nozomi didn't become the cornerstone that management had hoped. After a few Tokyo Joshi prototype matches, she retired in November. Her brother had been injured in his debut match and called it a career in October. Without that emotional connection to pro wrestling for Nozomi, TJPW's first and only wrestler was gone. General manager Koda was left with three teenage trainees, the backing of DDT, and a plan to launch in 2013.
Tokyo Joshi Pro Wrestling: 2013-2015 
The first events of TJPW were called public training sessions. They wrestled without a ring on blue mats surrounded by the fans in Akihabara Twin Box. Their roster of rookies consisted of Miyu Yamashita, Chikage Kiba, and KANNA: all just about 17 years old. Even referee Daisuke Kiso had to be their fourth member in the early months.
By the time their first official show with a ring took place in December 2013, they had added to their ranks a handful of trainees: Shoko Nakajima, Yuka Sakazaki, and Rika Tatsumi among them. 
2014 saw plenty of growing pains for the Tokyo Joshi clan. Plenty of young women would enter the Tojo Dojo, but not all of them would stick with it. Names in history that lasted only a few matches, if that. Ririko Kendo was injured early in her career and would sit out for a year before making her return as Rika Tatsumi.
Everyone wanted to be at the top of the class, but the monster heel that emerged was a plus-sized model named Nonoko. She used her full figure to dominate her opponents, winning the inaugural Tokyo Princess Cup tournament that summer.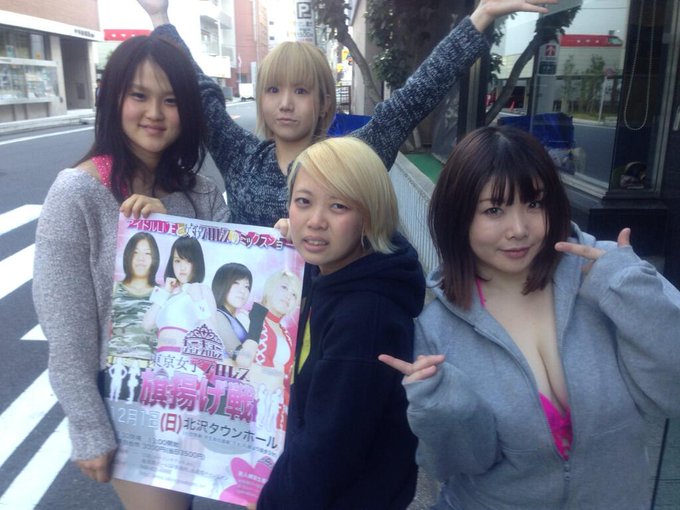 This era might not have the most polished in-ring work, but the distinct characters was where they excelled. Miyu Yamashita's entrance saw her singing and dancing in the ring. Yuka Sakazaki was a comedic genius. And Shoko Nakajima was a ball of chaotic energy. Everyone had a personality, a color scheme, and a role. With Chikaga Kiba's sudden retirement, the race to be Ace felt like it was wide open.
2015 saw the introduction of a Tokyo Joshi institution with the arrival of Bishiiki-gun. The villainous stable was led by Sakisama alongside her assistants Ai Shimizu and Kanna, who turned to the dark side after being fed up with always losing to the other girls. The squad of dastardly French aristocrats took the role of top heels for the year. Even Miyu Yamashita couldn't beat Sakisama. Meanwhile, Nonoko was helping elevate Akane Miura into a monster force of her own, as Miura reached the finals of the 2nd Tokyo Princess Cup.
But it was Shoko Nakajima who took home the trophy, avenging her finals loss from the previous year. And it was Shoko who sent the undefeated Sakisama back to France with a shocking defeat. The big kaiju's MVP season was a compelling case to be the Ace, in comparison to Miyu dominating the newer rookies or Yuka falling behind. With news of their biggest show on the horizon, the inaugural class was ready for the spotlight.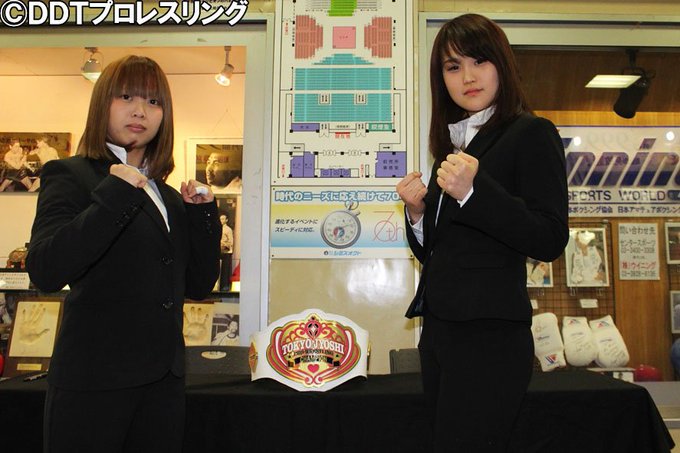 Tokyo Joshi Pro Wrestling: 2016-2017 
January 4th, 2016: TJPW made their Korakuen Hall debut in front of their largest audience yet, other than a few dark matches on DDT shows. It was also a new beginning for the next generation. Rika Tatsumi got her first win since returning. Marika Kobashi, Yuu, and Nodoka Tenma joined the lower ranks, while Hyper Misao, Mizuho, and Azusa Takigawa were finding themselves in their sophomore year. And in the main event of Ittenyon, Miyu Yamashita beat Shoko Nakajima to become the 1st Princess of Princess champion.
The quality of the in-ring product improved in this era, with a few must-see matches that still stand out in the archives. Shoko continued to be the secret MVP, adding to that January 4th main event a fast-paced TPC tournament match with Yuka and a technical ground war with Yuu in the TPC Finals.
Miyu may feel the protagonist of TJPW, but Yuu was on her own rookie of the year campaign, winning the 3rd Tokyo Princess Cup and Yamashita's Princess of Princess title soon after in dominant fashion.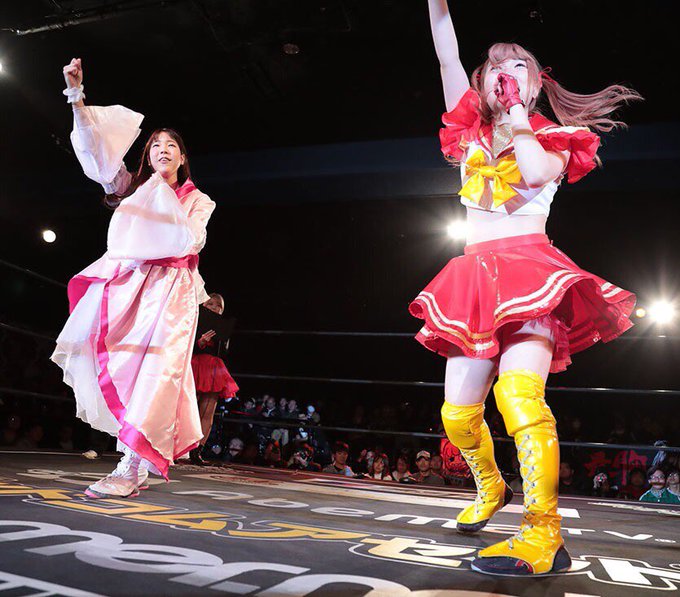 As 2017 came and the old guard of Kanna, Akane Miura, and Ai Shimizu was graduating from the company, the next class arrived, featuring Reika Saiki, Maki Itoh, and Mizuki. Out the gate, Maki was a loser, and Mizuki was a winner, so naturally, one would serve the other under the banner of the Itoh Respect Army.
Maki wanted the glory, and Mizuki wanted a friend. Wins and losses were becoming more important to the roster. Yuka Sakazaki spent months working under a mask after losing to the fourth-place pillar Rika Tatsumi. Her journey from opening act comedian to innovative acrobat paid off, as she was the one to dethrone the mighty Yuu.
But alas, Yuka fells short in the TPC Finals to another supernova, Reika Saiki. And it was Reika who took the Princess of Princess title from her on Yuka's failed first defense. Yuka would rebound from the embarrassment soon enough, winning the inaugural Princess Tag Team titles with Shoko Nakajima as Miriclians, the Miracle Comedians.
And if anyone wondered why Miyu Yamashita uses the AA and signs every autograph with Never Give Up, rest assured that she had her own worst year ever in 2017. That summer she lost in the 1st round of the TPC, (Miyu doesn't do well in tournaments), and was later demolished by Meiko Satomura.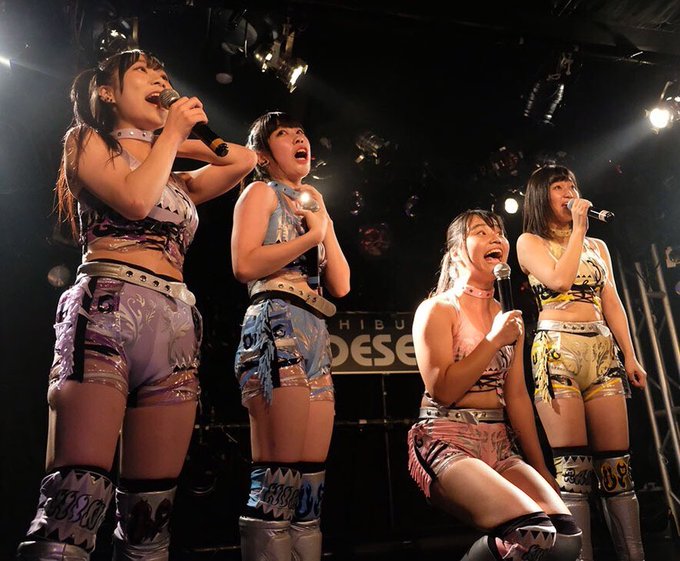 Tokyo Joshi Pro Wrestling: 2018-2019 
Entering their 5th year as a promotion, TJPW was starting a new phase. At Ittenyon, Miyu Yamashita won the PoP belt for a 2nd time, beginning her Ace-defining reign that set the records in days and defenses for well over a year.
The four Up Up Girls made their debut: Miu, Hikari, Raku, and Hinano. And their 2nd ring announcer Yuki Aino, who followed the bizarre Minami Momochi, decided to become a wrestler, making way for Sayuri Namba. 
Grandiose and emotional storytelling became a refined talent of TJPW in 2018. Neo Bishiiki-gun had returned, deepening the lore of Sakisama and expanding the stable with the evil maid Martha, evil doctor Yukio St. Laurent, and evil nun Azusa Christie.
Hyper Misao went from being the comedic relief to revealing her tragic suicidal past before she fought Jun Kasai to confirm her own self-worth. Maki Itoh and Mizuki had their tearful break-up when Mizuki found happiness and success teaming with Yuka Sakazaki as the Magical Sugar Rabbits. Maki found her popularity through DDT and even wrestled Konosuke Takeshita.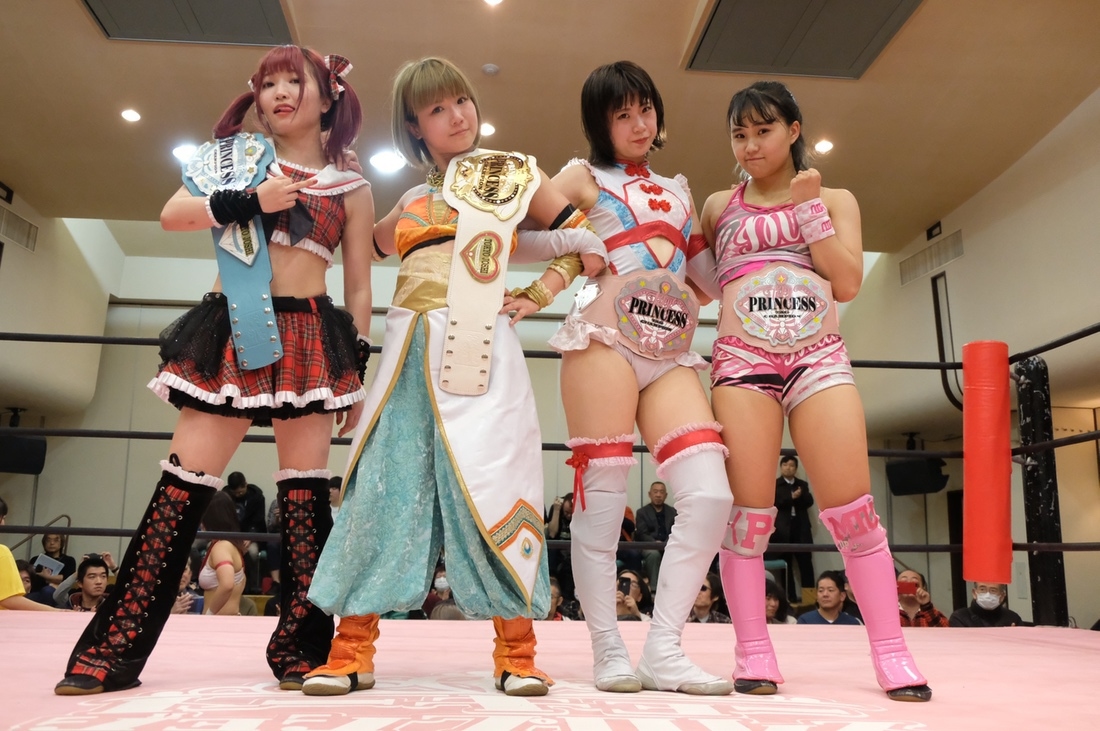 Tokyo Joshi also started bringing in more freelancers from the outside: Riho, Priscilla Kelly, Veda Scott to name a few. By this point, the roster sat at about 20 wrestlers to run 5 or 6 matches on a normal card. The number could go up or down for any reason as people came and went, but even that equilibrium began to change.
Most girls who graduated did so because they were leaving wrestling as a whole. Yuu was the first significant departure. The 2nd PoP champion and 2x TPC winner announced her departure at the end of 2018 to become a freelancer, and she hasn't been seen since. Stars now known as Natsupoi, Mina Shirakawa, and Unagi Sayaka were once with TJPW early in their careers but left to find success elsewhere.
Nonetheless, TJPW still had a lot of upward momentum. After a long journey to the top, Shoko Nakajima dethroned Miyu Yamashita to win her 1st PoP championship. She even brought the belt to AEW's Fight for the Fallen and picked up a win. Yuka Sakazaki was being touted as part of AEW's original push for Joshi wrestlers in their women's division. And after DDT's successful first trip to America in 2019, Tokyo Joshi was preparing to make their own maiden voyage stateside in 2020.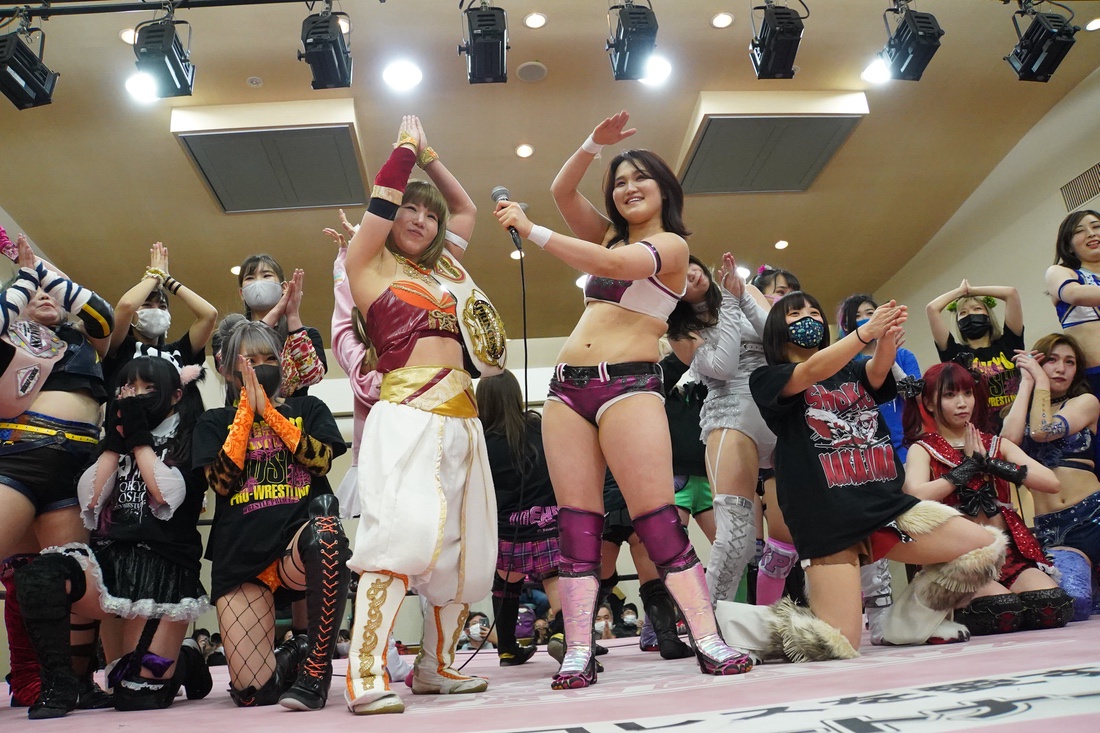 Tokyo Joshi Pro Wrestling: 2020-2022 
COVID hit every promotion in Japan hard. TJPW's debut in America was canceled. Thunder Rosa had to be stripped of the new International Princess championship. And Yuka Sakazaki had the bulk of her crowning reign in front of no fans, silent crowds, and limited attendance. The pandemic era is still fresh history, but what's clear is that booking plans and expectations for growth had to change.
Mizuki repeated her TPC win from 2019 in 2020, but still could not surpass Yuka for the title. Though conveniently, that did eclipse Yuu's milestone as a 2-time winner. Perhaps it was also the fear of losing the talents they already lost that made TJPW progress relatively slow. 7 years after her debut, Rika Tatsumi finally won the Princess of Princess championship to kick off 2021, albeit for a short reign. 
Over the previous few years, Maki Itoh's vulgar antics and Twitter game had blown up her online popularity overseas. So much so that AEW brought her in for Revolution 2021 and continues to bring her in from time to time. Fans got really behind her push for Miyu's PoP title, just as they got really excited about Mizuki.
Reigniting their story in the TPC that year still stands out as an incredible moment in TJPW history. But alas, the rarefied air of the Four Pillars (Miyu, Yuka, Shoko, and Rika) would stay exclusive for a little while longer.
Redoing Miyu's monstrous reign may have seemed redundant, but there was one distinct difference. The defenses in 2018-2019 were, by and large, nowhere near the caliber of the defenses in 2021-2022, with all due respect to the likes of Yuna Manase and Maho Kurone.
Miyu and her quality of opponents had improved vastly since then. Most of the title matches from this period are probably among the best bouts TJPW has ever had. The Ace and her generation earned and deserved their time at the top.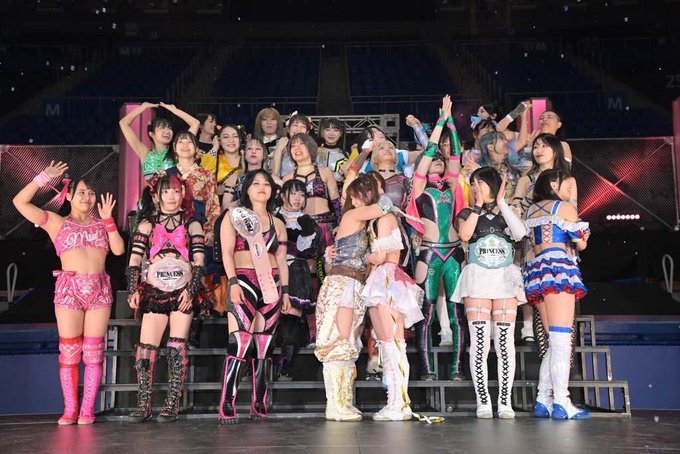 (Photo: Twitter @tjpw2013 – The Tokyo Joshi roster after Grand Princess '23)
Tokyo Joshi Pro Wrestling: The Present 
March 19, 2022: Tokyo Joshi Pro Wrestling held their biggest show to date, Grand Princess '22, at Ryogoku Kokugikan. Their initiative was the push their own boundaries from a few hundred fans at the monthly Korakuen Hall shows to over 1000 fans a few times a year.
Summer Sun Princess was an international party at Ota Ward Gymnasium, and Grand Princess '23 emanated from the historic Ariake Coliseum. And on March 31, 2023: TJPW made their American debut from the Globe Theater in Los Angeles to a capacity crowd.
The 10-year anniversary has proved to been the biggest chapter turn in Tokyo Joshi history. Miyu Yamashita, for the first time ever, has spent months away on excursion. Yuka Sakazaki has announced her graduation from the company at the end of the year to wrestle overseas. Shoko Nakajima, Rika Tatsumi, and the veterans have been tasked with leading the charge and help raise the mid-card and the biggest rookie class to date.
It wasn't supposed to be like this. It all could've fallen apart, but against all odds they took one step at a time and put it all together. The characters. The ring work. The stories. Tokyo Joshi Pro Wrestling went from three rookies in a basement to Japan's number 2 Joshi promotion.
They've made inroads in America, working with AEW and independent shows. For better or for worse, Maki Itoh may almost be a household name. And joining her at the top are Mizuki, Miu Watanabe, and others looking to the future of TJPW.