Sorry, it's been a while since the last blog. I've seen super busy down here. But I found a free moment to sit down and write this one so hopefully its worth the wait. As we venture to return home and take a huge gamble.
The wrestling business is always an unpredictable game. With Lance Storms training out of the way, my very first US tour completed and my visa temporary visa is up it's now time to return home. It's a bittersweet feeling because naturally I've had the time of my life doing what I love but I also missed all my friends and family. The Australia to US Trip (and vise versa) is not an easy one.
You don't just hop on a plane for 20 hours and run free. It involves a lot of planning and savings. Not only are flights almost $2000, but once you're in the states you need a car. You also need fuel, and money for food to make the shows you are advertised on. The goal when working a tour at least on my end is to break even. Or try to make something to bring home while you're getting your name out there.
The Return Home and A Huge Gamble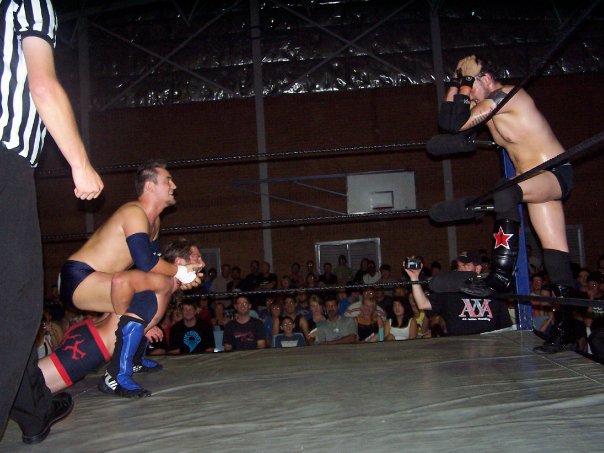 But that's the tour life. Right now I have to face the harsh reality of wrestling in Australia. In 2009 it was nowhere near what it is like now. I was based in Perth, Western Australia. It is the most isolated city in the world. Wrestling wise it was just as isolated. I don't want to come across a big league or with ego here. I'm simply replaying what was happening in my mind at that time. There was only one promotion in Western Australia at this time. And it was kinda an awkward situation for me to be in.
If anyone has ever done amateur wrestling before you would know coaches don't think too highly of Professional Wrestling. To make things worse the promotion that was based here tried to poach wrestlers from my coaches' gym. It was just for them to join their pro-wrestling school. This didn't sit too well with my coach. So there was a bit of pressure put on to not go there. My goal however was still to be a pro-wrestler so I was willing to take that risk. However at the time even though I was a two-time state gold medalist. I apparently didn't 'meet their criteria' to join and I figured no worries. When I get back from Lances I should be welcomed with open arms, but that wasn't the case.
The Return Home and A Huge Gamble:
Approached to Join Another Company
I was actually approached by the owner of the promotion about joining the company. At the time, I was all for it until I was informed that I would have to sign up for their school and pay the full fees. I was told that after doing three months at their school I may be eligible to work for free on their shows after that while continuing to pay for training and going to the school. Now I know most American wrestlers would laugh at this and be like that's stupid. But this was legit Australian Wrestling everywhere at the time.
I tried to negotiate with them and said look with everything I've learned in this short time in the business. I would probably have more knowledge than the people coaching currently. And again even though the owner agreed he was sticking to his guns so I had to figure out a new approach to focus on wrestling while back home.
I figured with the current company based closer to the city, I was based South of the River over an hour away. So the best bet would be to open my own school and teach people what I have learned down my way. The goal was pretty simple and small. Open up a school, teach, and when enough guys where capable run SMALL events at the school for friends and family. That was legit the goal. I would soon come to find out though that Independent wrestling in Australia was like the Monday night wars haha. That's how other people perceived it anyway.
Competition Tried To Get Our Show Shut Down
When I ran my first event the other promotion tried to get the show shut down. It was really disappointing but in the long run, lit a very strong fire to be more than just a gym show. The "war" didn't stop and trying to run events made everything harder and harder but again through all of this I was learning more and more. It was time to rethink the plan. The school is great for producing talent but now we have to do better with shows and we have to think long term. How can we make our school better, how can we make our events different? It was time to take a gamble and it eventually paid off. But I'll take you back to where it really started.
I knew running at the gym was no longer an option as we started to fill the gym up quickly so I began hiring venues with much more space. I decided to run a Steel Cage Match as the major selling point for the show but instead of just saying a cage match for the title, I wanted it to feel special. So I organized promos from people who were famous for cage matches. Raven got the biggest reaction at the time from the promos and the show did really good numbers.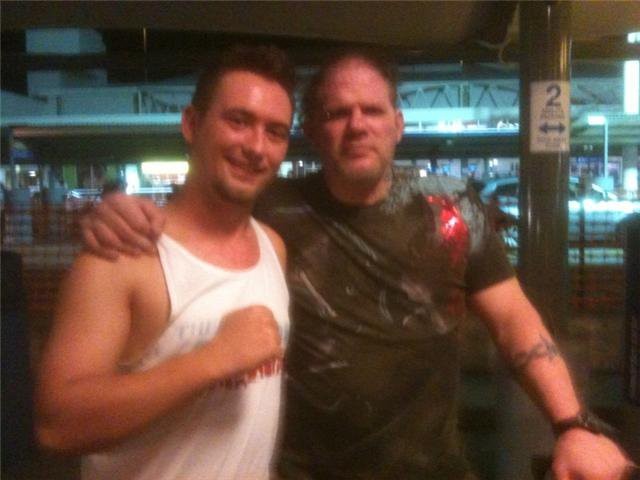 Quote The Raven
I talked to Raven more after and in our short conversations I learned so much. Maybe this was the answer to be different. What if in Perth, Australia the place where even WWE doesn't visit on tour I brought in some WWE talent. Raven was still in TNA at the time and with him coming in we would get a guest coach at the school and a name attraction to sell an event. It was a huge gamble because again its not just he drives in and gets paid x. Its flights from the US, Domestic flights to get him to Perth, Visa Cost, Hotel, Travel, Match fee (which again is much higher than what he would make in the US)  so this idea was either going to send me broke or actually make money.
The Return Home And A Huge Gamble…in the making
I took the gamble. I organized everything with Raven and promotion was on its way. Raven cut a promo for social media, I had newspapers running the story and word was out. Tickets were selling fast but I was still worried because on the day of the event there were only about 200 presolds which was not horrible but wasn't what I imagined either. However, I show time approached I peeked out the locker room door where you can see the front.
Holy S##t there is a massive line! The car park is full, doors are opened and the front of the house staff are running frantically backstage, we need more chairs! How? There are 500 seats in the venue. We rushed to take seats from backstage and the cafe to accommodate (But not Ravens seat haha). From there, we made a last-minute decision to offer standing room seating cheaper and we did it. We filled the place up! The show went off and the place was electric. We sold out of all our concessions after the first match. Merch was selling like hotcakes and our brand was not finally being recognized. It was a huge adrenaline rush after that lasted for days.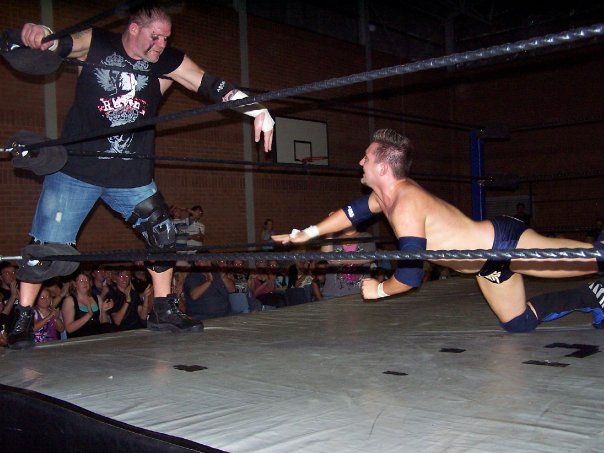 Learning About The Business
The best part was once again learning more and more about the business. While Raven is a unique cat he knows his stuff. The next day we had over an hour in the car to drop Raven back at the airport and he shared more knowledge with us. Not just about in-ring wrestling but about promotion and extra ideas on how to capitalize on the events like we just had.
The return home and the huge gamble had paid off and now I was able to reformat how the company was going to grow. This isn't just now a school that runs little gym shows this is now. All Action Wrestling!