Much more goes into a wrestling show than many realize. For every dozen wrestlers who step into that ring, there are a few dozen more people responsible for putting that show together. You should not notice them if they do their job right. For the Nitro Girls, they had no choice but to get noticed. Every week they went up against the harshest opponents there are; wrestling fans.
One of WCW Monday Nitro's main marketing points was that it was broadcast live. Even when some episodes were pre-taped. While it was a wrestling show, it was still a television show. Commercial breaks meant that the actually-live events had to pause too. WCW President Eric Bischoff needed some filler to keep the crowds amused during intervals. He looked to other professional sports to see what they did. He then realized they had something wrestling did not; cheerleaders and dancers.
Bischoff wanted his dancers to become stars just like the wrestlers. He derived inspiration from the U.K. pop act Spice Girls. The band had become global megastars within a year of releasing their first song. Each member had a unique look and persona that connected with fans better than their music could alone. Bischoff knew he did not have the right expertise to put together a dance group, so he turned to someone who might.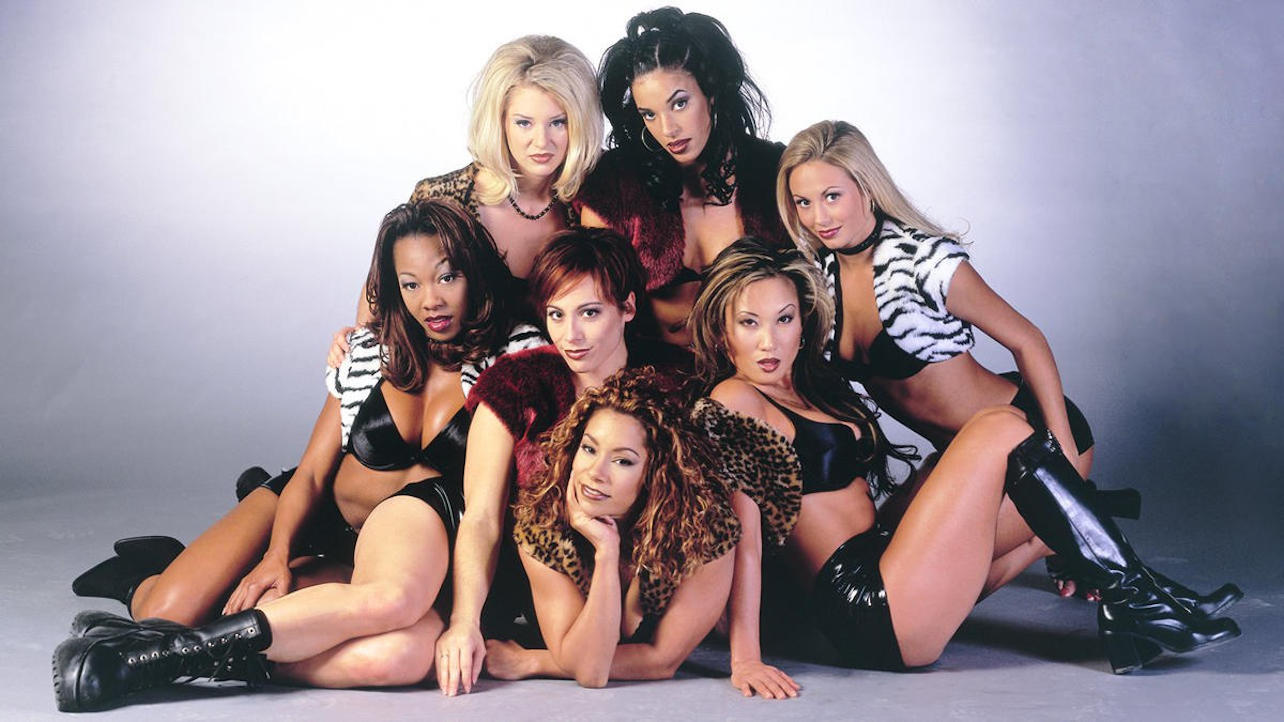 Kimberly Bacon was born in Illinois, but grew up in Florida. She was a student when she first met Diamond Dallas Page in his own nightclub. They married several months later. It was around this time that DDP was beginning his in-ring career after years of being a manager.
The Nitro Girls – Cheer Leaders On The Frontline
One of his gimmicks involved being escorted to the ring by beautiful women he dubbed "The Diamond Dolls". Most of them were women he knew through his nightclub. Kimberly began making semi-regular appearances as part of the entourage in 2004. Bischoff noticed that she stood out, and was the only one who reacted to DDP's matches. He signed her to a talent contract so he could involve her in storylines. In 1997, WCW acknowledged on screen that they were married, with her becoming known as Kimberly Page.
Bischoff learned that Kimberly had professional dance training. He approached her about putting together a dance troupe. She particularly loved Bischoff's interpretation of "diversity". Bischoff gave her access to the resources she needed, but the task proved to be tougher than she thought. Things changed after a chance encounter with a friend.
Melissa Bellin (Spice) was originally from Pennsylvania. She ran a dance school in Atlanta and counted Kimberly as one of her students. Despite their friendship, she did not know Kimberly was involved with wrestling until she heard about the dance group through word-of-mouth.
The two women randomly bumped into each other while out shopping. Melissa asked about the rumours, and Kimberly recruited her almost on the spot. The two would construct and lead the group together. DDP also got involved once the team was complete.
"[Diamond Dallas] Page was involved in making sure we were taken care of. And let us know that the way we carry ourselves sets the tone within the industry helps us. And also too helps Kimberly. As you know, Kimberly was the creator of the Nitro Girls. She was our boss."
– Nitro Girl Chae on the influences of both Pages.
They kept "diversity" in mind as they sought out new members. Three of them were cheerleaders with the Atlanta Falcons football team. Amy Crawford (A.C. Jazz) was from Georgia and was the token blonde. Tayo Reed was a singer before becoming a Falconette, and was the first African-American Nitro Girl.
The Asian representation took the form of Chae Marsh, who was born in Seoul, South Korea. To create a balance between cheerleaders and non, the final spot was given to Teri Byrne (Fyre). The redhead was a new friend of Kimberly. She was a veteran of swimsuit and fitness competitions. Kimberly began to fret that they had too many brunettes, so Spice offered to dye her hair blonde.
The completed group had just under two weeks to be ready. Things were not going to plan. Half of them had never dance for such a large crowd, and only Kimberly have even been to a wrestling show. They also struggled to find a good name to replace Bischoff's working title. The only thing they were happy with was the line-up. Ready or not, "The Nitro Girls" were going to make their live debut on July 14, 1997.
Viewers at home were initially unimpressed. Kimberly danced with five unknown women in plain gym clothes and baseball caps. They were visibly nervous and put a lot of energy into appearing synchronised. But the fans in the arena had a completely different reaction. They enjoyed having six beautiful women dance for their entertainment. While their popularity did not translate well on television, it took just one performance to create a loyal fanbase.
Bischoff and the Girls realised they needed to become more professional. Bischoff increased their budget and gave them more freedom. If they needed anything, Kimberly just had to ask, and they got it. Jazz took a bigger role in designing costumes and routines. The group had become loyal friends quickly.
Other members of management didn't have as much faith in them. They would remind Kimberly to remind them they could be replaced if they underperformed. In just a few weeks, the Nitro Girls had become more professional and polished.
In October, Shawn Michaels walked out of a WWF event after a genuine altercation in the locker room. He allegedly told others that he was "going to Nitro". He never entered negotiations with WCW, but he did go visit friends backstage. This gave him his first experience of the newest Nitro Girl, Whisper.
Rebecca Curci from Florida was added partly because she had a curvier figure than the others. She developed a trademark pose where she put her finger to her lips. This inspired the others to develop trademark poses. Her solo routine with a chair became one of the most popular Nitro Girl segments. It left Shawn infatuated. He asked Kevin Nash to arrange a meeting between them. Shawn and Whisper would keep their relationship a secret due to them working for rival companies.
Tayo left WCW in 1998 to pursue a career in country music. She was replaced with Vanessa Sanchez (Tygress). She would often wear accessories and tiger/leopard print attire. She also joined the group as they reached peak popularity.
WCW capitalized any way they could. The Girls made public appearances with the wrestlers, had their own merchandise, and were featured on stickers, trading cards, and publicity material. When WCW began making websites for their most popular stars, the Nitro Girls were among the first to have one.
It featured exclusive photos and backstage footage. They would sometimes be included in angles and storylines. Alex Wright would sometimes hijack their routines to make his ring entrance. Kimberly continued to be involved with storylines involving DDP.
Not every promotional tactic worked. The company encouraged fans to hold their own Nitro viewing parties. They were mainly popular on college campuses and fraternities. Nitro used to feature a weekly segment where announcer Lee Marshall allegedly reported back from one of these parties over the phone.
With no photos, video or even background noise, viewers were sceptical about whether these parties existed. WCW ran a promotion where announcer Gene Okerlund encouraged fans to video tape evidence in. Once every two months, a winner would get to have Okerlund and the Nitro Girls (and a small TV crew) at their next Nitro Party.
The winners did not always get adequate permissions or security provisions to host these events. Some entrants felt burned when they discovered they had missed the disclaimer that WCW would claim ownership of any tapes they sent in. Fans in the arena heavily booed the segments as it confirmed the Nitro Girls were not there. The plan was scrapped within a couple of attempts.
In September 1998, most of the Girls appeared in a pictorial for Penthouse magazine. Kimberly, Spice, Chae and Fyre all took part in the non-nude shoot. They had various degrees of experience with magazine shoots. Kimberly had represented WCW a year earlier in an issue of Playboy Specials.
A myth falsely claimed that WCW were trying to undermine WWF star Sable's appearance in Playboy. The Nitro Girls had already finished their photoshoot before Playboy reached out to Sable. WCW chose to wait until the magazine was ready to hit newsstands before announcing it.
Sharmell Sullivan (Storm) joined the squad in December 1998. She won the Miss Black America pageant in her home state of Indiana in 1991. Her victory was overshadowed by judge Mike Tyson being convicted of raping another finalist. Sharmell became a professional dancer for various R'n'B artists.
This included a three-and-a-half-year stint with James Brown. When she joined the Nitro Girls, she was featured prominently and was shown front and centre on the Nitro opening sequence. Sharmell would start dating Booker T towards the end of their time in the company.
The Nitro Girls (minus Storm) appeared as unlockable characters in the WCW vs nWo Thunder video game for PlayStation. Kimberly had made her debut in the previous instalment, WCW Nitro. In Thunder, she was the only one with a video, loading screen, and alternate attires.
Kimberly wore a silver dance outfit by default. Spice, Fyre, Jazz and Chae all wore black dance gear to go with Kimberly's "nWo Black & White" attire. Whisper and Tygress wore red crop tops to match Kimberly's "nWo Wolfpac" attire. They all had basic cruiserweight moves. Both games were combined for the Nintendo 64 and PC release of WCW Nitro.
They had their own pay-per-view named 'The Nitro Girls Swimsuit Calendar Special' in August 1999. This would be one of the final appearances for Whisper. She left WCW just ahead of her wedding to Shawn Michaels. She was replaced with Carmel Macklin (Chameleon), a psychology graduate from Pennsylvania.
WCW also ran the Nitro Girl Search. Three hundred applicants competed for a spot on the squad. Former child model Stacy Kiebler (Skye) would be the winner. She had been turned into a wrestling fan by her boyfriend. After she became famous, fans noticed that she can be seen in the crowd for various WCW and WWF events filmed in the Baltimore region.
She was one of three hundred applicants, and was featured heavily in promotions. When it was whittled down to eight finalists, fans voted for her on the Nitro Girls website. Her prize included $100,000 on top of her contract. She continued to work as a cheerleader with the Baltimore Ravens football team and attend college while working for WCW.
"We just basically got told 'Hey, we're doing a contest. So we're going to find another Nitro Girl.' And it was kinda like, 'What?! Oh my gosh!'. It was a bit of a moment where it was like 'Is somebody getting canned?
Is our family going to be broken up?' It was really interesting. I think that this is a normal, unfortunate, tactic. But I think this was a normal tactic in a lot of organisations where fear is used to try and drive the behaviour that you want, or the outcome that you want. So we would be told often that we can be replaced."
– Nitro Girl Spice on how tense things got between them and management.
Those who were there describe 1999 as the year that the bubble burst in WCW. There were too many things that went wrong to be listed here. The Nitro Girls were not immune. Kimberly lost her influence with management. They made decisions on their behalf, and Kimberly had to sell it to the Girls as good news. One such decision was the Nitro Girl Search.
WCW thought they achieved a real boon when they poached WWF's creative team. One of the things Ed Ferrera and Vince Russo disliked about WCW was how highly paid most of the talent were. They did not see the point in Nitro Girls or valets who did not wrestle, did not take bumps did not take part in storylines, or get nude on air. They sought to change this.
Kimberly was placed in a storyline that saw her quit the Nitro Girls. This kayfabe departure greatly reduced her actual involvement with the group. The rest were put into a story line where tensions threatened to split them apart. Spice and Jazz argued over who should lead the group.
Jazz left before the storyline could be completed due to actual tensions with management. Spice finished the story with Tygress instead. Tygress beat Spice in a match become the new leader. They had been trained by Mona (better known as Molly Holly). However, they were only given a few days to learn what they needed to know for their match.
"It's all my thing. Back in mid-June, I started picking the girls. I hand-picked them myself. I decided what kind of costumes we're going to wear. What kind of look we're going to go for. What kind of music we're going to listen to and to dance to.
I don't do the choreography. That's the only thing. A lot of people always aske me if I do it. I just don't have the time. We have two of the other girls who are in charge of choreographing to whatever music I pick out."
– Kimberly Page on what her role with the Nitro Girls truly was.
Their lowest point was when Rhonda Sing (Beef) was in the group. Fans knew her as 'Bertha Faye' in the WWF. Beef was the oldest and heaviest Nitro Girl. Beef was short-tempered, and had little patience for women who were thinner than her. This was a poorly executed story line to introduce Sing into the new women's division they were building. Fans and insiders alike took it as the company body-shaming Sing for her weight. Sing passed away due to heart failure in 2001. She was 40.
In April 2000, WCW underwent a disastrous "reboot." It coincided with the release of their own self-produced film 'Ready To Rumble'. The movie featured several WCW stars, including the Nitro Girls. Actress Rose McGowen played fictional Nitro Girl 'Sasha'. But the re-casting was not limited to the movie. Every Nitro Girl apart from Spice and Chameleon were replaced. The old line-up either became valets or left the company.
Diane (Gold) and Elaine (Silver) were better known as "The Kilimaszewski Twins". They had been modelling and acting for ten years before they joined WCW. They had previously appeared in a backstage skit involving the Mamalukes. Shannon McNeill (Baby) from North Carolina was a cheerleader with the Charlotte Hornet's basketball team.
Chiquita Anderson from Pennsylvania had a college degree in dance. Jennifer Bancalum (Starr) from California was originally called "Sapphire". Allison Pfau (Syren) was also from Pennsylvania. Jamie Cragwall (Naughty-A) from Tennessee was the final Nitro Girl. The new line-up was not put together with the same care as the previous team. They also had a new choreographer did not get along with the group. This was the moment where the drama started. The new Nitro Girls lacked the same guidance and chemistry.
Kimberly ditched DDP to manage New Blood members. It was implied that she was having an affair with Bischoff. She left WCW during a storyline where she was being stalked by David Flair. Shadow was repackaged as 'Paisley', the manager and mouthpiece for The Artist (Formerly Known As Prince Iaukea).
She later left him to support Kwee-Wee before departing WCW entirely. She was not involved with James Brown's appearance at SuperBrawl 2000 even though she was on the show too. Skye was briefly repackaged as 'Miss Hancock', a network executive who loved to do table dances. Then under her real name, she was involved with romance storylines with Flair and Shawn Stasiak. Both Kimberly and Hancock appeared in WCW's final video game, WCW Backstage Assault.
Tygress became a valet for The Filthy Animals, seemingly being the love interest for Rey Misterio, Jr. She would wrestle occasionally. Baby and Chameleon became valets for Chris Kanyon for a short time. Chameleon was repackaged as 'Ms. Jones', the valet, assistant, and lover of Ernest Miller.
She worked on tag match with him before being released. Syren lived up to her name by flirting with men in order to spark rivalries between them. Gold and Silver received a bigger offer from the WWF. They spent a year in the developmental system, but never officially debuted. During the last month of WCW, the remaining five Nitro Girls became dancers during Shane Helms' entrances.
WCW closed when they were bought out by the WWF in March 2001. They also bought out twenty-five talent contracts from AOL Time Warner. Stacy Kiebler and Torrie Wilson were the only two women to be acquired. Both would make their official WWF debuts that Summer.
"Instead of being pro-active. Instead of being creative. Instead of being fresh and relevant. We became afraid. And instead of playing to our strengths, we played to our weaknesses. Instead of playing to our strengths and figuring out how to continue to build what we were really strong at, we looked to our competition. And we tried to be them."
– Nitro Girl Spice on why WCW lost to WWF.
Five of the Girls attempted to form a pop band. Bellin, Byrne, Macklin, Marsh, and Sanchez became Diversity 5. Sharmell was originally a member, but left when she received an offer from WWE. She was replaced with Macklin. There was a belief that Spice Girls had run their course, and there was a shortage of girl bands on the market.
D5 believed they had enough experience and brand recognition to make a quick impact. Spice and Chae admitted they could not sing well and would be carried by the others. They released one double A-side CD single entitled "I Promise / Shake Me Up". They were unable to generate any genuine interest.
The final clue was when they appeared on an episode of 30 Seconds to Fame but were quickly voted off. They women decided that they were too old and had too many commitments to put in the work necessary to make the band a success.
Kimberly and DDP separated in 2004 and divorced the next year. The two have remained close friends. It was Kimberly who got DDP into yoga. She had a small amount of influence in some of his DDP Yoga exercises and marketing. Kimberly appeared on some magazine covers before trying to break into acting.
After a few minor roles, she now lives in Utah and works in marketing and interior design. Maklin also became an actress. Chiquita had a brief stint in Xtreme Wrestling Federation as an "X-Girl" alongside other WCW valets Stephanie.
Bellars (Gorgeous George) and Kristina Laum (Leia Meow). Crawford now runs a cheerleading company. Sanchez made good on her college degree and is now a certified public accountant. Byrne launched a comic book series called 'Stilleto'. She mainly works in enrolment for colleges.
She is also an animal rights activist, having spent her life working with Belgian draft horses. Spice is a qualified doctor who now works as a life coach. A lot of the things she instills in clients are lessons she learned while working for WCW.
The Klimaszewski Twins continue to be successful models and actors. Their biggest roles were as the Coors Light Girls. They also run their own fashion line called ZipperGirls. Chae recently launched 'Ring Along', a customizable organization system for handbags. She has appeared on Shark Tank and received marketing advice from DDP. Prophetess Tayo Reed is now an ordained minister.
She has founded a performing arts center, academy, and preschool. She also founded Yahshua Our Redeemer Church. Inspired by the book of Ephesians in the Bible, all of these are evangelical based. Her stated vision is to encourage young people to develop their God-given talents to enrich the lives of others and themselves.
Stacy would become one of the WWE's most popular divas. She mainly played the valet or love interests to various stars. She also wrestled frequently, but never posed a serious challenge for the Women's Championship. Her face appeared on a lot of publicity material. She left the WWE after a successful appearance on Dancing With The Stars. She is now a full-time actress, and was at one point dating George Clooney. She is presently semi-retired. She is now happily married and a mother of three children.
Rebecca became a housewife after marrying Shawn Michaels. The couple both admit it was an abusive marriage at the beginning due to Shawn's addiction issues and depression. Shawn was forced to retire after a back injury in 1998. He was subsequently fired in 2001 due to his addiction and behaviour spiralling out of control.
Having been raised as a Christian, Rebecca sought help by joining a local church. Strengthening her relationship with God helped her to become a more supportive wife and mother. Shawn suspected she was up to something else and demanded to go to church with her. Instead of exposing a non-existent lie, he exposed the ones he was telling himself.
Shawn gave his life to God. He recovered from his addictions, depression, and injuries. In 2002, he returned to the WWF and managed to remain a main-eventer for several years. He has made no secret about how Rebecca's faithfulness to God and himself helped save his own life. Rebecca was briefly involved in
Shawn's feud with Chris Jericho
. Jericho later admitted he accidentally punched her for real during a segment. Shawn says that Rebecca is responsible for him observing physically and spiritually healthy habits.
Sharmell spent a year in WWE's developmental system before debuting as a backstage interviewer. There had been serious plans for her to become a wrestler. This was scuppered when she sustained an injury during training. She did not last long in the role. She married Booker T in 2005 and then returned as his valet soon after.
She remained in this role until 2009, carrying on through their stint in TNA Wrestling. When Booker T won the King of the Ring tournament in 2006, Sharmell was repackaged as 'Queen Sharmell'. WWE did not copyright the name (yet), which allowed her to keep using it after she left.
While in TNA, she took part in a match with reality TV star Jenna Morasca. It has the dubious distinction of being remembered as the worst women's match in company history. Sharmell retired When she became pregnant with twins. Sharmell recently announced she had been cast in a new TV series. It had not gone into production at the time of writing.
"There is definitely a group chat, and we are on there quite often."
– Sharmell (Nitro Girl Storm) on the friendships they made.
In 2022, Sharmell made a surprise return to the WWE to accept a Hall of Fame induction. This makes her and Booker the second married couple to be inducted. Kiebler inducted her best friend, Torrie Wilson in 2021. On March 27th, 2023, it was announced that Kiebler herself would also be inducted into the WWE Hall of Fame. She will be a part of the 2023 class.
The Nitro Girls will never be respected by fans who are truly interested in the matches. Yet they will never be forgotten by the fans who went to shows and parties just to see them. They were something different. Something that had never been tried before, and has never been replicated since. The Nitro Girls may have been dancers, but they fought for their place in wrestling history.