After being pulled into the ring post and smashed in the leg with a chair by new Empire State Wrestling commissioner The Caesar, a severely deteriorated Kevin Blackwood was left in a precarious situation. This was done by his former manager. Here is what took place at the Ilio DiPaolo Cup Finals.
"Red Death" Daniel Garcia seized this opportunity to apply his variation of the sharpshooter to Blackwood in which he leans back and applies additional pressure onto this opponent, making a one of the most effective submission holds in professional wrestling even more grueling.
Due to this series of unfortunate events, Blackwood was left with no choice but to tap out. This only two wrestlers remained in the 2018 Ilio DiPaolo Cup match: Garcia and "The Patron Saint of Professional Wrestling" Brandon Thurston.
Ilio DiPaolo Cup Finals
Garcia lashed out at the crowd while Thurston worked his way back into the ring and began to fire up. The two competitors then stared each other down and started hitting each other with vicious blows in a battle between teacher and student.
At this moment, all 575 wrestling fans packed into the Frontier Fire Hall in Niagara Falls, N.Y. were glued to final two competitors in the ring. Many were on their feet and cheering. Many were about to explode with excitement. From the front row to the wrestlers and staff backstage, an electric feeling radiated through everyone.
Every person at "WrestleBash" on Saturday, November 24, 2018, was about to witness not just the "match of the night" or the "match of the year". They were about to see what is said to be the greatest in-ring performance in ESW history.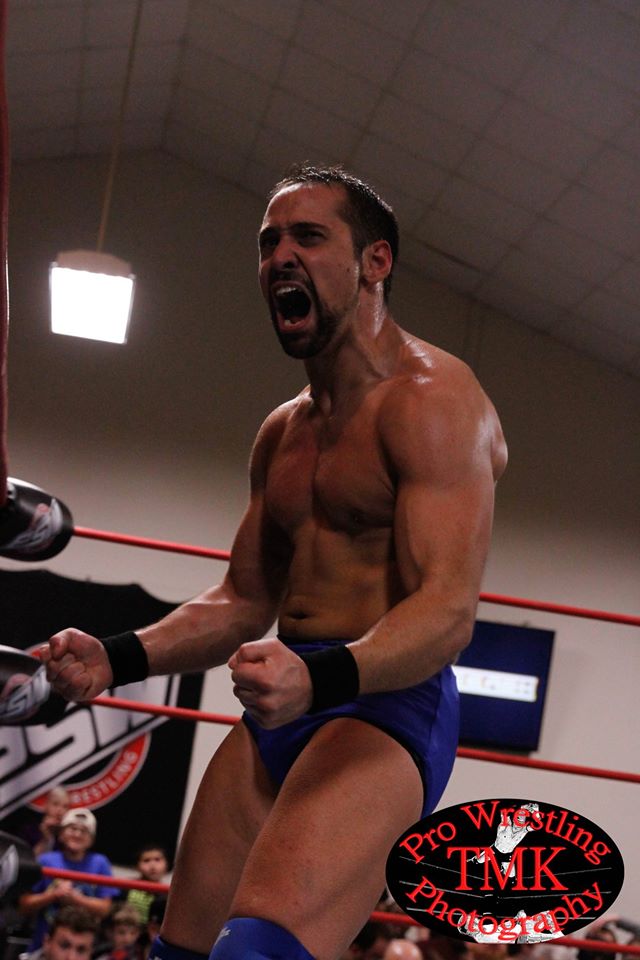 ******
Garcia and Thurston first met each other in January 2017 when Garcia began training at Grapplers Anonymous in Lackawanna, N.Y. where Thurston works as a trainer.
When Garcia started training, the practices were not as well attended as they are presently, according to Thurston. Some nights, it was just Thurston, Garcia, and fellow Grapplers Anonymous trainer Mikey Everynite.
"(Garcia) got a lot of ring time," Thurston said. "It's something special we do at Grapplers Anonymous in giving special attention to each of the students rather than all large classes. So that was my mission to work with him specifically."
Ilio DiPaolo Cup Finals
Thurston recounted a time at practice when he realized Garcia possessed what it takes to excel in professional wrestling.
"One day we were just grappling in the ring," he said. "I couldn't submit him and then he submitted me. He learned pretty quickly. I think it's beneficial to him that he has a worldly view of wrestling. I think that can affect how you put together a match. The more variety you know in wrestling, the more variety you can have in the ring and he has those passions to learn wrestling in many different ways."
Before he began training, Garcia would attended ESW events and looked up to Thurston more than any other wrestler on the shows. Thus, it was a real honor to begin learning the craft of wrestling from one of his favorites on the independent scene. Over time, Garcia went from looking up to Thurston, to forging a friendship with him.
"At first it was a student-teacher relationship, but over the summer me and him became pretty good friends texting each other and stuff," Garcia said. "We were getting closer to each other each day as we go to the match."
******
The finals as they almost did not come to be.
Going into the event, the plan was for Tarik to win the Last Chance Battle Royal at the beginning of WrestleBash and earn the final spot in the DiPaolo Cup match. Tarik and Garcia were going to be the two established heels in the bout.
However, a late cancellation by Mike Mondo created a domino effect on the card. Instead of the Spirit Squad challenging Vince Valor and James Sayga for the ESW Tag Team Championships, Kenny Dykstra was moved into the battle royal and booked to win it and gain the DiPaolo Cup spot. As a consequence, the initial match plans were now out the window.
At first, the plan was for Thurston and Blackwood, two faces, to be the last two competitors. But that did not sit well with those involved with the match.
Ilio DiPaolo Cup Finals
"I was concerned that Blackwood was getting a stronger as a face and beating him would diminish him," Thurston said. "So I said to (ESW promoter Brett Mednik), 'I think me and Garcia could do something really special at the end, especially with him being the most established heel.'"
Other ideas were also considered, including using Rhett Titus and Sean Carr as heels in the final two. But neither wrestler was booked as an established heel in ESW prior to that night. After more consideration, the decision to go with Thurston and Garcia was approved.
Garcia and Thurston did not have a lot of time to go over what they wanted to do at the end, but were pleased with the outcome nonetheless.
"I would have liked to plan more out in advance, but we didn't need to," Thurston said. "We would have put it together at Grapplers Anonymous weeks in advance but we put it together that night. It took a long time to out it all together but the process itself was easy."
Thurston modeled his re-entry into the ring after Blackwood's elimination after the Hulk Hogan-Ultimate Warrior standoff from Wrestlemania 6.
"The moment we finally see each other, I wanted it to be big," Thurston said. "I told him to milk this. I told him to talk sh*t and focus on Kevin Blackwood, looked at the camera and then gave him this determined look, and got back in the ring, started flexing, and fired up and was surprised how loud the crowd roared for me."
******
Both competitors were left staggering after a series of forearms. This led to Garcia and Thurston attempting simultaneous clotheslines, but the stalemate remained until Garcia landed a quick kick followed by a belly-to-belly suplex. Garcia went for the pinfall but Thurston kicked out.
Garcia taunted the crowd and cracked a few back chops on Thurston. Thurston began firing up but Garcia responded with more chops and a running knee into the corner. Garcia next attempted a running clothesline in the corner but Thurston caught him with a tight t-bone suplex into the turnbuckle.
The rejuvenated Thurston spun around Garcia to apply his armbar submission, but Garcia landed a stiff clothesline and went for a quick but unsuccessful cover.
Garcia began pushing Thurston's head toward the mat as he went for a sharpshooter. Thurston blocked the hold with a kick, followed by a further series of kicks which led into a tornado DDT from outside the ropes to back inside the ring. Brandon attempted a pinfall but Garcia kicked out.
Thurston returned to the kicks but Garcia spit in his face and nailed Thurston with a boot of his own. Garcia attempted a packaged piledriver but after a series of counters, Thurston landed a diamond cutter on Garcia. Thurston eliminated Carr with the maneuver earlier in the match, but Garcia managed to kick out on this pin attempt.
Thurston then applied a double chicken wing as he attempted a tiger suplex, but Garcia countered it with a German suplex. Garcia next hit a tiger bomb and quickly followed it up with a running packaged piledriver. Thurston kicked out of another near fall attempt which led to Garcia immediately applying the sharpshooter while also punching Thurston's knee while executing the submission.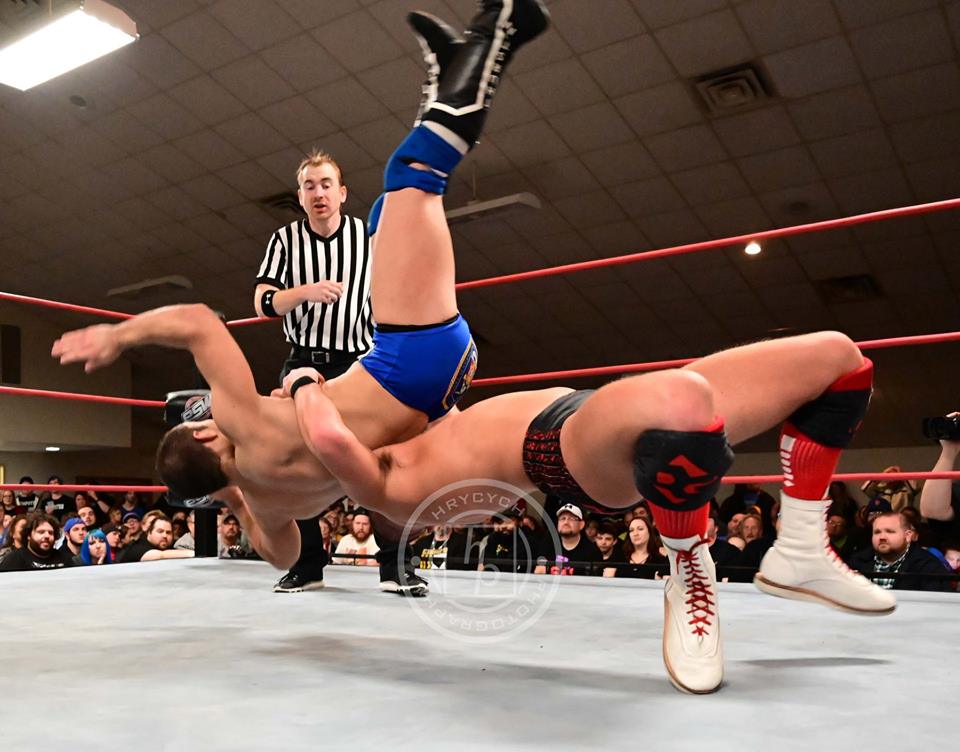 *****
As Garcia cranked back on the hold, Thurston grabbed one of Garcia's arms that came loose and began to apply an armbar submission, while also booting Garcia in the head several times when he cannot fully lockin the hold.
Garcia eventually rolled out of the lock, but Thurston held onto his arm and turned it into a Fujiwara armbar. Garcia next powered up an attempted a power bomb, but Thurston slipped out and bounced off the ropes before spinning around Garcia and fully lynching in the armbar submission in the center of the ring. At this point, Garcia was left with no other choice but to tap out.
"I knew at the end I wanted to give him a bunch of moves in a row and for him to kick out of everything that I had to show him as a face that doesn't give up," Garcia said.
The Frontier audience exploded with cheers including a "This is awesome" chant. Thurston raised the DiPaolo Cup and told the jubilant crowd how special it was to him to win it during this time in his career and also put the ESW main eventers on notice that he would be gunning for the heavyweight title.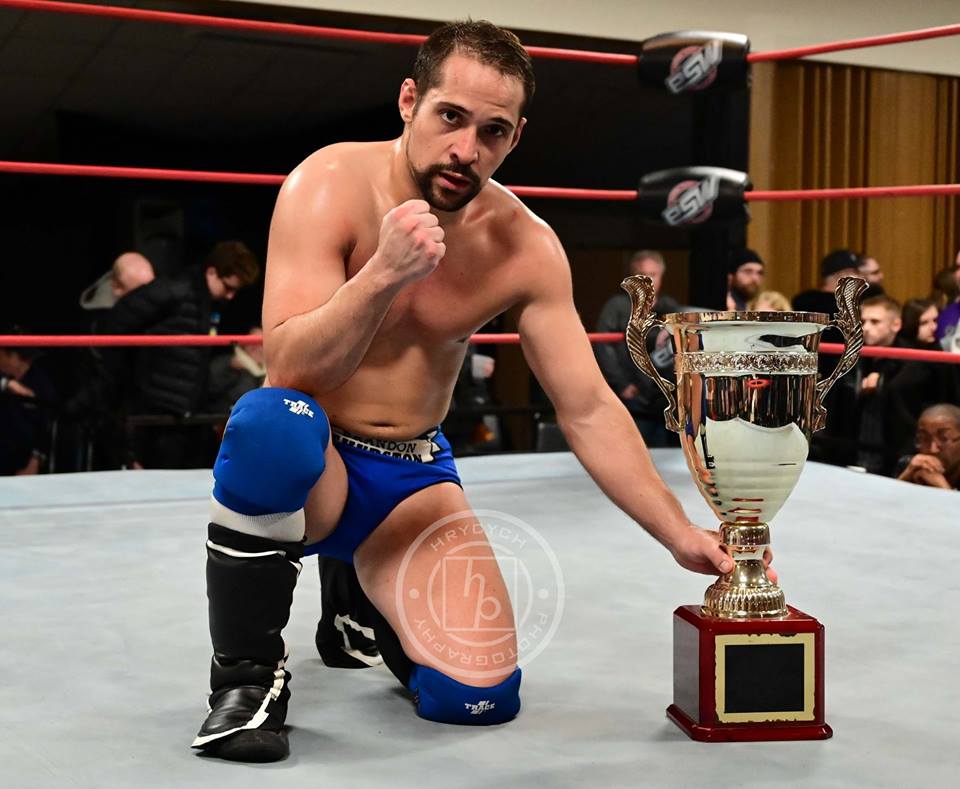 "The reason why it got over is less about the moves and more about the arc of the match and my story over the year," Thurston said. "It also helps that people cared about the wrestlers and that elevated the match as a whole. The (DiPaolo) Cup now has to be the main event of WrestleBash going forward."
******
The grandiose feelings of amazement vibrated throughout the entire building, even backstage. A large contingent of the ESW roster watched the sequence of wrestling from the back and was quite elated on what they observed. Many of the wrestlers and staff lined up just behind the entranceway waiting for the two to return.
As soon as Garcia and Thurston came backstage, everyone in wait erupted with a round of applause in appreciation for what they just watched. The young, confident Garcia who normally presents himself with a noticeable amount of swagger was tearing up as he embraced numerous members of the roster, including Blackwood and his close friend, Puf.
Ilio DiPaolo Cup Finals
"I never really get emotional about wrestling and try to keep it like a business, but I knew how much the night meant to Thurston and it was hard not to be emotional for that," Garcia said.
The typically stoic Thurston beamed with glee as he hugged many people as he came back behind the curtain, as well.
"I didn't expect everyone to be there in the back," Thurston said. "All that represents the all the hard work we do as a wrestling community and that's what matters most to me. Everyone there clapping and hugging me was more sincere than winning a match."
The belief that this was a special moment was certainly undeniable to all that were present. The emotion at the ending to the match touched everyone in a unique way that is not normally felt at such a high-level on wrestling shows in general.
"I don't really cry but I sat in the back for 30 seconds to a minute afterward and had to put my head down and recollect, thinking about stuff," Thurston said. "I knew I was going to win in advance but didn't know it was going to come off like it did."
The high praise from the match also came in a period of Thurston's life. This is after making significant improvements within his personal life.
"(The match) came at a time where my mental health is a lot better and the treatment for it is a lot better," he said. "In the last few months, I've been doing a lot better with social anxiety and depression so it's serendipitous to have this cumulate at once. I'm not miserable and irritable. It's way better to feel well."
*******
Thurston and Garcia will attempt to recreate the magic at ESW's next show on Saturday, January 21, 2019. The two will square off one-on-one when ESW returns to the St. Johnsburg Fire Hall in North Tonawanda, N.Y.  at "A Night at the St. Johnsburg".
"We never faced each other one-on-one before and still technically have not but that changes in January," Thurston said.
Although sequels often fail to build off the originals, the amount of talent and passion Thurston and Garcia exhibited at WrestleBash leave very little doubt that they can continue. To create more in-ring magic when they lock up once again.
"I think we can definitely follow it up," Garcia said. "I think November was just a glimpse. This is a match ESW fans have been waiting for. I just hope the crowd is as invested as they were in the last match."
Ilio DiPaolo Cup Finals
Thurston is also confident in being able to follow it up in January.
"We only did 7 minutes (at WrestleBash) and that was a preview to the match we will have (at A Night at the St. Johnsburg)." Thurston said. "I think we will have more credibility to this dynamic going into it with more emotional investment. This will be a fresh match with more time. ESW has turned into more of the wrestling that I like. In that it can be the most of what wrestling can be. It will be at St. Johnsburg under better lighting and a place where I've wrestled more than anywhere else. We can have the best match of my career, his career and in ESW history."
Check out Powerslam.TV for more content from ESWWrestling including events such as those reviewed by DJ above. Click the icon below to visit the site.