Yeah, you read that right. In the world of professional wrestling, Violent J and Shaggy 2 Dope of the Insane Clown Posse are unsung heroes, and we challenge many to deny it.
"But Violent J and Shaggy 2 Dope can't wrestle!" fans might be ready to retort.
Well, ECW, WWF, and WCW certainly didn't see things that way. 'But JCW is nothing but some backyard trashbag league,' I hear you typing in the comments section.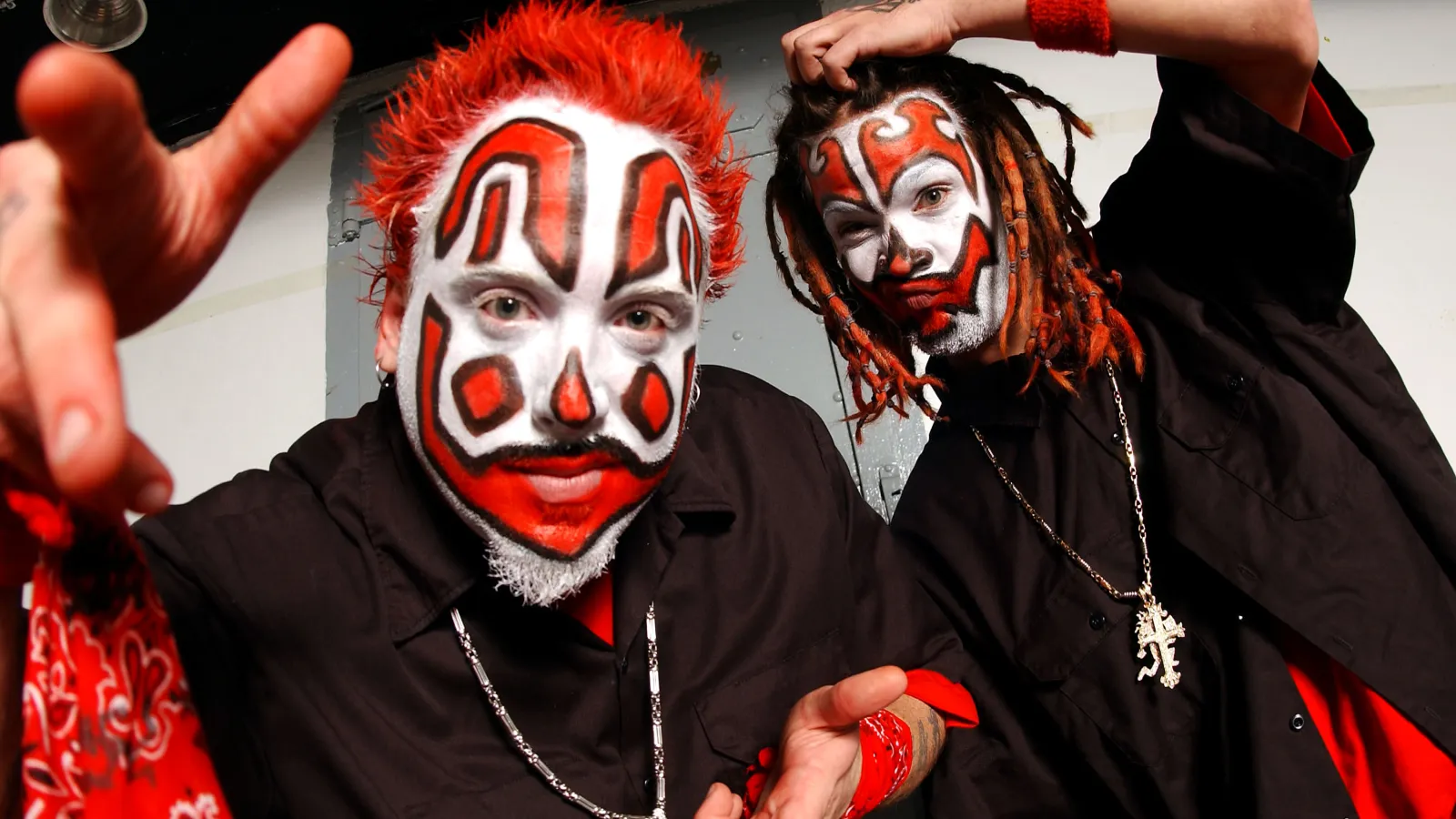 The Insane Clown Posse –
We Need To Talk About The Greatest Show
If Juggalo Championship Wrestling truly was a backyard league, why have wrestlers like Kevin Steen, Colt Cabana, Claudio Castagnoli, and Chris Hero competed for their championships?
Like it or not, ICP have been a credit to the pro wrestling industry ever since they took their first televised bumps at Hardcore Heaven in '97. Today, we'll be looking back at the Insane Clown Posse and their impact on professional wrestling.
Michigan natives Joseph Bruce was born in Berkley in 1972 and Utsler in Wayne in 1975. The two would meet in the late 1980s in Oak Park, a suburb on the North side of Detroit. Initially, they were drawn together as pro wrestling fans, practicing moves in backyard rings of their own construction.
They were also hip-hop fans, big into Beastie Boys, N.W.A., and more local acts like Awesome Dre and Prince Vince. Together with Utsler's brother, John, they would release their first single, "Party at The Top of The Hill," as The JJ Boys in 1989.
However, before they could get serious about making music, troubles in his life forced Bruce to move to River Rouge, a city Southwest of Detroit. While in River Rouge, Bruce would become a founding member of a street gang known as the Inner City Posse.
His involvement with the lifestyle got him into legal trouble in late 1989 when he was jailed for 90 days on robbery charges.
While relatively minor in terms of gangland jail sentences, the time behind bars left an indelible mark on the elder Joseph. He began to turn away from his career as a criminal and toward a career as a pro wrestler.
In 1990, he began a more formal training under former NWA Tag Team fixture, Al Costello. At his first show, he would meet Rob Szatkowski and Terry Brunk, later to be known as Rob Van Dam and Sabu, who were also making their in-ring debuts.
Later, Bruce would invite Utsler to meet them backstage, and the four would remain friends. However, the politics of the wrestling industry would wind up, causing Bruce to retire in 1991.
With no job prospects, he went back to rapping with his friends John and Joseph Utsler, now using the names Violent J, 2 Dope, and John Kickjazz. Later in 1991, they would release an EP titled 'Dog Beats', which received little airplay on local hip hop radio, mainly because the trio were white.
On one of their ventures to get airplay, they learned that local horrorcore pioneer Esham would be making an appearance at that particular station. Bruce was a fan of Esham's work and managed to speak with him briefly and gave him a copy of their EP.
Esham liked what he heard and began to spread the word about the Inner City Posse. While radio exposure brought attention to ICP's music, it also brought unwanted attention to their existence as a street gang. Amid escalating violence and a growing number of criminal convictions, the members of Inner City Posse abandoned gang life.
So, how did the clown thing start?
In late 1991, the Inner City Posse's financial situation was in dire straits. Analyzing the situation, they came to the conclusion that there was nothing differentiating them from any of the thousands of other rappers in the Gangta Rap-dominated scene of the late 80s/early 90s.
They needed to change their look and sound, and they felt a need to change into something unique to Detroit. Taking a page from the man who had brought them onto the airwaves in Detroit, the group decided to transition into the horrorcore subgenre.
However, being devout Christians, they all agreed to avoid rapping about Satan, as Esham commonly did. So what was scary other than Satan?
It was then that Joseph Bruce recalled a dream he had of a hatchet-wielding clown running around the Delray neighborhood in Detroit. Putting this together with the ICP initials, as a way of saying the Inner City Posse had not gone defunct, they became the Insane Clown Posse.
Bruce would later say that he dreamed of spirits visiting him in the form of a traveling carnival. This would become the foundation of the group's dense and arcane "Dark Carnival" mythology.
Just in time for Halloween of 1992, the group would release 'Carnival of Carnage,' a Tales From The Crypt-esque concept album about a traveling carnival that doles out ironic punishments to suburbanites who ignore the plight of the inner city.
The album had distribution to every record store in 120 miles of Detroit, and it sold 17 copies on its first day. This did not hamper Josephs Bruce and Utsler, who have continued to live the clown gimmick for over 30 years.
So How Did They Wind Up Working For "Real Promotions"?
In August of 1997, Extreme Championship Wrestling planned the fourth annual Hardcore Heaven show, which was to be the company's second-ever pay-per-view event. In the lead-up to the show, top stars Rob Van Dam and Sabu reached out to Bruce and Utstler, who were big fans of ECW.
The rappers went to Florida to meet with Paul Heyman and plan their involvement with Hardcore Heaven. During this meeting, Bruce and Utsler brought up their experience as backyard wrestlers, even mentioning their short-lived promotion National All-Star Wrestling.
Heyman initially hoped to have the rappers hype up the crowd before the show, but since they knew how to take bumps, they could surprise the fans by getting physical. And so it came to pass that Bruce and Utsler, also known as Violent J and Shaggy 2 Dope of Insane Clown Posse, got beat up by RVD and Sabu in the opening of Hardcore Heaven 1997.
Sandman would come to the ring to make the save, chasing off ECW's top heels with his signature Singapore cane. The Hardcore Heaven appearance was a one-off deal, but the Insane Clown Posse wasn't finished with pro wrestling.
After their one-off ECW appearance, Bruce and Utsler became fascinated by Japanese deathmatch wrestling, specifically the VHS series Outrageously Violent Wrestling from Japan.
The duo would often entertain themselves by providing their own commentary for matches. Convinced that ICP fans would get a kick out of both the wrestling and their humorous commentator characters Harley "Gweedo" Guestella and "3D" Diamond Donovan Douglas, Bruce and Utlser compiled and released their personal favourite matches as "ICP's Strangle-Mania."
The tapes sold well enough for the Insane Clown Posse to organize their own live event, Strangle-Mania Live, at St Andrew's Hall in Detroit. The sold-out show featured such talent as King Kong Bundy, Abdullah The Butcher, and Mad Man Pondo.
In the main event, Violent J and Shaggy 2 Dope faced duo of their friends, billed as "The Chicken Boys." This was also the start of a relationship between the Insane Clown Posse and Detroit-area booker Dan Curtis, who helped them build connections within the pro wrestling industry. Those connections would pay off a short time later.
The Greatest Show
The following year, Violent J and Shaggy 2 Dope would receive a call from World Wrestling Federation music director Jim Johnston. The WWF was about to debut a new stable of wrestlers, tentatively known as The Parade Of Human Oddities, and Johnston wanted to feature the rapping clowns in their entrance music.
Insane Clown Posse composed the song "The Greatest Show," and WWF management requested that ICP perform the song live during The Oddities' entrance at the 1998 SummerSlam. For Violent J and Shaggy 2 Dope, the opportunity to perform for the WWF at Madison Square Garden was a dream come true.
The WWF asked them to return for a taping on September 1st, where they would accompany Oddities member Kurrgan to the ring for a Shotgun Saturday Night squash match.
When ICP made this appearance, Shaggy 2 Dope and Violent J asked Vince McMahon for a bigger role than The Oddities' hype men. They wanted to wrestle, and Vince agreed.
The Insane Clown Posse made their in-ring debut for the World Wrestling Federation on the October 5th, 1998 episode of RAW is WAR. Violent J and Shaggy 2 Dope subbed in for Kurrgan and Golga for a tag team match against Oddities rivals, The Headbangers.
In that match, The Headbangers worked stiffer than usual, throwing real punches and kicks toward the rappers-turned-wrestlers. In the rematch, ICP realized they would have to respond in kind if they wanted to make it through the match.
Seeing this escalation, Vince McMahon decided to put the kibosh on the whole angle. Instead, Violent J and Shaggy 2 Dope would participate in multi-man matches with the other members of The Oddities.
Throughout this time, neither Bruce nor Utsler had a contract with the WWF. In fact, Insane Clown Posse declined any financial compensation for their wrestling. Knowing that airtime was more expensive than the money they could ask for as wrestlers, ICP reached a different kind of agreement with the WWF.
In lieu of payment, the WWF would instead air commercials for Insane Clown Posse during broadcasts in which they appeared. However, in the three months that ICP worked with the World Wrestling Federation, not one such commercial aired. Upon learning this, Bruce and Utsler terminated their agreement with the WWF.
Following their departure from the WWF, Dan Curtis suggested the duo start their own promotion, which would allow them to indulge in their twin passions of rapping and wrestling.
Together, Curtis and Bruce put together a second Strangle-Mania show, planned as the start of an 80-city tour under the banner of Hellfire Wrestling. Strangle-Mania played to a sold-out crowd at the Majestic Theater in Detroit.
However, Curtis would be found dead in his apartment two days later. The passing of their head booker brought Hellfire Wrestling to an end before it ever began.
ICP Completes The Trifecta
Of the Insane Clown Posse's stints in the major wrestling promotions, WCW was their longest. On August 6th, 1999, Violent J and Shaggy 2 Dope appeared as surprise partners for Vampiro in a six-man tag team match against Lash LeRoux, Norman Smiley, and Prince Iaukea.
In the following weeks, the trio would align themselves with Raven, uniting to become Necro Ward before quickly changing the name to The Dead Pool. This alliance would flame out a month later when ICP took a leave of absence to fulfill tour dates and Raven chose to leave for greener pastures in ECW.
When Violent J and Shaggy 2 Dope returned in 2000, they resumed their alliance with Vampiro. This time known as The Dark Carnival, the stable would grow to include The Kiss Demon and The Great Muta.
Ill-conceived as they were, they would achieve moderate success in the waning days of WCW, eking out victories over Tank Abbot and 3 Count.
The ICP's time in WCW would come to a close due to injury. On September 25th, 2000, Violent J and Shaggy 2 Dope would challenge "That 70s Guy" Mike Awesome to a hardcore handicap match.
The climax of the match was supposed to see Mike Awesome score a pinfall victory after powerbombing Shaggy 2 Dope on the roof of the bus. However, the roof of the bus was very slippery, causing Shaggy to slide off the roof, landing on the floor with a sickening thud.
The resulting injuries put the duo on the shelf while WCW was going under. In spite of this, the Insane Clown Posse remembers their time in the company fondly. "In WCW, we had a great time," Violent J told Corey Graves on After The Bell.
"We started hanging out with Vampiro, and we just hit it off like crazy, with Vampiro and with Raven. We got to work with Muta. We got to work with everybody."
JCW and The Indies
While the tragic death of booker Dan Curtis brought an untimely end to the Hellfire Wrestling tour, ICP never truly dropped the idea of becoming promoters. In December of 1999, Violent J and Shaggy 2 Dope launched Juggalo Championship Wrestling. They planned JCW as a hardcore-centric promotion featuring some of the finest indie talent available.
Their inaugural event on December 19th would see in-ring action from legends like King Kong Bundy, Abdullah The Butcher, and The Rock 'n' Roll Express, along with indie standouts like 2 Tuff Tony and Truth Martini.
That night, Evil Dead would become the inaugural JCW Heavyweight Champion in a 20-man hardcore battle royal, while Violent J and Shaggy 2 Dope would defeat a pair of Doink the Clowns to become JCW Tag Team Champions.
In August of 2000, JCW would get a profile boost when Vampiro defended the JCW Heavyweight Championship against Tank Abbot on Nitro. JCW events would occur sporadically through the early 2000s.
In spite of their inconsistent schedule, JCW filled the void in wrestling left by the fall of ECW in 2001. Between the fall of ECW and the rise of successors like ROH, CZW, and IWA Mid-South, Juggalo Championship Wrestling really carried the torch for independent wrestling.
Moving forward, the focus shifted from ICP and a handful of ex-WWE/WCW talent and towards up-and-coming indie talent like Chris Hero and Necro Butcher.
However, indie crowds didn't quite see it that way. When Violent J and Shaggy 2 Dope appeared at the inaugural Glory By Honor event, the crowd treated them with such hostility that their match was left off the DVD release.
Fans also criticized Bruce and Utsler for the infrequency with which they defended the JCW Tag Team Championships, causing them to vacate the titles in 2007. Also that year, they launched the internet wrestling program SlamTV, producing two seasons over 2007/2008.
Both seasons of JCW SlamTV would get released on DVD, along with the inaugural Bloodymania, becoming some of the first pro wrestling merchandise sold at Hot Topic. In 2010, Bruce and Utsler announced that JCW were going to hold more shows and that all future shows would be taped and released on DVD through HighSpots.
In 2013, they launched the JCW Hall of Fame, with Mad Man Pondo and Evil Dead as the inaugural inductees.
Bruce and Utsler are still active in the music industry, recording and releasing music through their own Psychopathic Records label. While the duo no longer wrestle as frequently as they used to, Juggalo Championship Wrestling is still running today.
The Insane Clown Posse have wrestled for over 3 decades for just about every major wrestling promotion in North America. When the whole scene collapsed in 2001, they carried the spirit of indie wrestling practically by themselves until a proper scene emerged.
Whatever you think of their goofy style, their outrageous music, their dedicated fans, or their hardcore wrestling promotion, you can't deny the Insane Clown Posse's overall positive impact on the world of pro wrestling.