Bullet Club has become one of the most known stables within professional wrestling. You can watch any major promotion and see a Bullet Club t-shirt being worn in the crowd. They are proving how popular this all-heel faction truly is within the wrestling community.
Bullet Club was started in 2013 within the New Japan Pro Wrestling promotion; since then, the club has had five different leaders, leading up to a brand-new leader in 2020 after New Japan Cup 2020 Final. 
After the leadership of Prince Devitt had come to an end, it was crucial to look in a new direction. Following Prince Devitt's exit from Bullet Club, it would be a phenomenal talent from the United States that take over the helm as the leader of the faction. This is the history of Bullet Club part 2.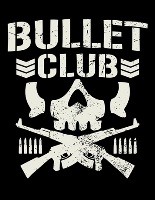 Prince Devitt was removed from the Bullet Club at Invasion Attack 2014. Bullet Club's leadership didn't stay vacant for long though as A.J Styles debuted for Bullet Club at the same event. Styles joined Bullet Club with a bang as he attacked the then-current IWGP Heavyweight Champion Kazuchika Okada.
AJ Styles stood in the New Japan Pro Wrestling ring and declared that Okada was 'still the same young boy he had known within TNA'. He then declared himself as the next challenger for the IWGP Heavyweight Championship.
The History Of Bullet Club Part 2
Even though Styles was the newest member of Bullet Club, he was still working as a full-time roster member in the US for Ring of Honor. He was also working on the American independent circuit. While A.J. Styles was absent, Karl Anderson stepped up as the leader of Bullet Club for the New Japan Pro Wrestling club. Whether Anderson was ever, in fact, the true leader is argued to this day.
While Anderson seemed to run the Japanese side of Bullet Club, Styles was running the American side of the faction.
Many will consider Karl Anderson the second leader of Bullet Club. This would follow with Styles as the third leader. But many will skip over Karl Anderson's leadership altogether. Bad Luck Fale discussed in an interview with Sportskeeda that Anderson would have made an incredible leader if AJ Styles had never shown up.
Bad Luck Fale explained:
"I think you would have seen Anderson take the lead at that point. I reckon it still would have been just as successful under Karl. We had so much fun with him, and I think even if AJ hadn't come, we would have had just as much success." (h/t Sportskeeda)

AJ Styles returned to the New Japan ring on May 3rd, 2014, to take on IWGP Heavyweight Champion Okada at Wrestling Dontaku. The rebirth Bullet Club had been hoping for since Prince Devitt's exit became a reality at Wrestling Donatku. This was due to A.J. Styles beating Okada and bringing the IWGP Heavyweight Championship home to Bullet Club.
Bullet Club also found a new member at Wrestling Donatku as Yujiro Takahashi turned on both Okada and his then-faction Chaos to join Bullet Club. A historic event for the faction as Takahashi became Bullet Club's first-ever Japanese member.
Bullet Club Turns Phenomenal
The History Of Bullet Club Part 2
Now reunited with their maybe leader, A.J. Styles Bullet Club focused their efforts on winning as many New Japan championship titles as possible. Though they did experience a bump in the road as The Young Bucks lost their IWGP Junior Heavyweight Championships. They did so after holding them for seven months at Dominion 6.21. Bullet Club's spirits weren't down for long as Bad Luck Fale defeated Shinsuke Nakamura at the same event.
His win brought the IWGP Intercontinental Championship home to the club. A week later, it was Yujiro Takahashi's turn to bring some gold home. On June 29th, Takahashi faced Tomohiro Ishii for the NEVER Openweight Championship. Takahashi defeated Ishii, making history once again for Bullet Club. As a faction Bullet Club had now won every championship title within New Japan Pro Wrestling.
Bullet Club made their return to the G1 Climax under Styles' leadership in 2014 as Bad Luck Fale, Doc Gallows, Karl Anderson, and Yujiro Takahashi all joined A.J. Styles to compete. Though their G1 run didn't end in success for any of the faction members as they all failed to advance from their G1 Climax blocks, quite a different result than the club experienced under Prince Devitt's leadership.
Bullet Club's luck seemed to be running out after their terrible run in the G1 Climax. On the 21st of September, Bad Luck Fale was defeated by Shinsuke Nakamura, which resulted in Fale losing his IWGP Intercontinental Championship. During King Of Pro-Wrestling on the 13th of October, Bullet Club's bad luck continued as Yujiro Takahashi lost his NEVER Openweight Championship to Tomohiro Ishii.
Then Bullet Club leader A.J. Styles lost his IWGP Heavyweight Championship to Hiroshi Tanahashi.
The History Of Bullet Club Part 2
Spark A Fire within The Club
After losing every singles belt held by the faction, Bullet Club needed some fresh meat to spark a fire within the club. This responsibility fell into the hands of Kenny Omega. Kenny joined Bullet Club on the 8th of November 2012 at New Japan's Power Struggle. Omega came into the company all guns blazing as he challenged Ryusuke Taguchi for the IWGP Junior Heavyweight Championship.
Naming himself 'The Cleaner' Omega promised everyone he would "clean up" not only New Japan Pro Wrestling but also the whole of the Junior Heavyweight Division.
2014 ended for Bullet Club with the 2014 World Tag League. Anderson teamed with Gallows, Styles tagging with Takahashi, and the team of Fale and Tonga all competed in the tournament. Anderson and Gallows did the best out of the Bullet Club teams, ending up in the finals of the 2014 World Tag League Tournament. They faced Hirooki Goto and Katsuyori Shibata but were beaten.
2015 started with a bang for Bullet Club as on the 4th of January at Wrestle Kingdom IX Kenny Omega had his first official match for the faction. The match ended with success for The Cleaner as he defeated Ryusuke Taguchi to become New Japan's IWGP Junior Heavyweight Champion. Wrestle Kingdom IX didn't bring success for everyone within Bullet Club, though.
Anderson and Gallows were defeated by Goto and Shibata and therefore lost their IWGP Tag Team Championship after a year-long reign. They didn't lose the belts for long as at The New Beginning on the 11th of February 2015, Anderson and Gallows regained the IWGP Tag Team belts. At the same event, The Young Bucks regained their previously lost IWGP Junior Heavyweight Tag Team belts.
And Bullet Club leader A.J. Styles defeated Hiroshi Tanahashi to regain his IWGP Heavyweight Championship.
The History Of Bullet Club Part 2
While 2015 started with a huge bang for Bullet Club, their tag team success didn't last very long. On April 5th at Invasion Attack 2015, both The Young Bucks and the team of Anderson and Gallows lost their tag team championships. The Young Bucks lost their IWGP Junior Heavyweight Tag Team Championships to Roppongi Vice. Whereas Anderson and Gallows lost their IWGP Tag Team Championships to Ring of Honor team, The Kingdom.
The Young Bucks faced Roppongi Vice again at New Japan's Dontaku 2015. A win here brought the titles back under Bullet Club control. Bullet Club was part of history once again at Dontaku 2015. As Karl Anderson, Doc Gallows, and Amber Gallows competed in the first New Japan Pro Wrestling match to feature female competitors in over twelve years.
Bullet Club's year of wins and losses continued. Kenny Omega would be next to lose his championship at Dominion 7.5 on July 5th, 2015. Omega lost the IWGP Junior Heavyweight Championship to Kushida. Though Gallows and Anderson were able to regain the IWGP Tag Team Championships at Dominion 7.5 as they defeated The Kingdom members Bennett and Taven.
Bullet Club did experience a blow while competing at Dominion 7.5. Bullet Club leader AJ Styles lost his IWGP Heavyweight Championship to Kazuchika Okada. This was a huge blow for the faction as this was only Styles' second defense.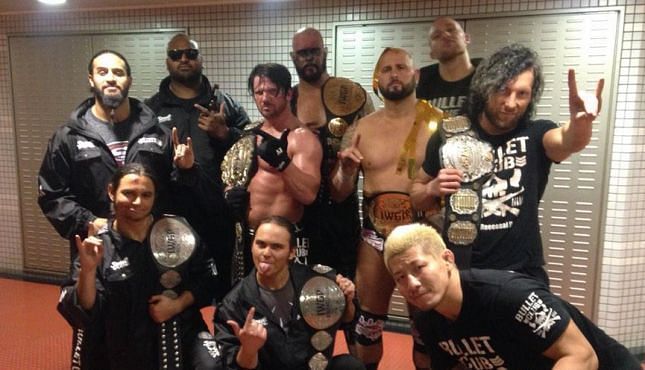 A Faction Rebuilding
Skip forward to August 16th, and The Young Bucks continued their feud with reDRagon. This resulted in the loss of the IWGP Junior Heavyweight Tag Team Championship belts. On the 23rd of September, using his Bullet Club brother Karl Anderson's help, Kenny Omega regained the IWGP Junior Heavyweight Championship from Kushida. Bullet Club finished their 2015 rather quiet, other than introducing Chase Owens on the 23rd of October to the faction.
Jump forward to January 4th, 2016, and the Bullet Club seemed to be in total control of the Wrestle Kingdom 10 main card. The faction competed in five of the major championship matches. The Young Bucks were the first to compete for Bullet Club. They regained the IWGP Junior Heavyweight Tag Team titles by defeating reDRagon.
Bad Luck Fale, Takahashi, and Tonga were unsuccessful in their attempt to win the NEVER Openweight 6-Man Tag Team Championship. Kenny Omega continued Bullet Club's losing streak as he lost his IWGP Junior Heavyweight Championship to Kushida. Bullet Club's luck didn't get any better at Wrestle Kingdom 10. Anderson and Gallows lost the IWGP Tag Team Championships.
Bullet Club leader A.J. Styles was the last Bullet Club member to compete on the card but lost to then-current IWGP Intercontinental Champion Shinsuke Nakamura.
The History Of Bullet Club Part 2
Without A Leader
Bullet Club's leadership quickly became vacant. As out of nowhere following Wrestle Kingdom 10 rumors surfaced that Anderson, Gallows, and Styles were all leaving the company. The destination was WWE. The very next day, A.J. Styles was kicked out of Bullet Club by Kenny Omega, leaving The Cleaner to take control of the faction.
As mentioned at the beginning of this article Styles' leadership has been distributed, with the man himself even announcing he was never truly the leader.
A.J Styles' leadership is also the least talked about for the faction. This is a shame as under Styles 'maybe' leadership, the faction had great success. During his time, Bullet Club managed to hold nearly every belt within New Japan Pro Wrestling. During the period of 2014 to early 2016, Bullet Club made history several times. It is something that is rarely mentioned these days.
AJ Styles may not be the first leader and, therefore, not as remembered as Prince Devitt. He may not be as outspoken as The Cleaner, who took over, either. But AJ Styles brought serious success to the faction. He also made history within NJPW, something no Bullet Club fan should forget. This was The History Of Bullet Club Part 2.
All images and videos courtesy of New Japan Pro Wrestling, Bullet Club, Miguel Perez, and Wrestling Highlights