PROGRESS Wrestling Chapter 39: The Graps Of Wrath. 27th November 2016. The Electric Ballroom, Camden, 2016.
'Ello 'ello 'ello what's all this then? [Alan Partridge voice] It's the PROGRESS Prerogative. Welcome back to the weekly column that looks back at each of PROGRESS's Chapters. In turn, to let you know the sitch. Chapter 38, The Graps Of Wrath ended with a shocking turn of events as Mark Haskins vacated the PROGRESS title. This was due to a suspected career-ending neck injury. That left a big hole at the top of the card and so on this. The very next show, a new champion will be crowned. Every single male wrestler who wins their match on the undercard will advance to the main event. This will be to compete in an elimination match for the big belt.
Yes, that even includes tag teams and both members will qualify from the winning teams in the two duos matches. We will also have the pleasure of Matt Riddle's debut for the company. The start of a great run that has plenty of stone-cold classic matches. That's enough jibber-jabber, for now, let's get to it.
The Graps Of Wrath
FSU vs South Pacific Power Trip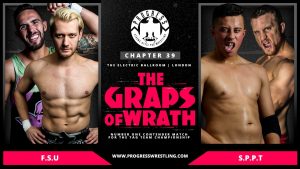 Mark Andrews and Eddie Dennis battle it out with Travis Banks and TK Cooper. This is to secure the first spots in the main event at The Graps Of Wrath. SPPT play their usual trick of entering from behind their opponents rather than through the curtain. It doesn't pay off this time though and FSU chuck them outside for their trouble. Dahlia Black attempts to interject. But it is dealt a frightening razor's edge over the top rope down to her teammates on the floor. Yikes. The body of the match itself is as smooth as you would expect from these four guys. But what's really striking is just how much of a killer Banks looks here.
Even this far out from his big push, he's clearly a main eventer in the making complete with a mean-looking ear wound. He dominates both Dennis and Mandrews throughout the match and it's he who claims the pinfall. A draping DDT (from TK's shoulders) seals the win for South Pacific Power Trip and their place in the PROGRESS title match.
Pastor William Eaver vs Joe Coffey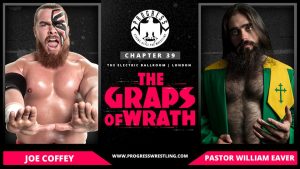 Pastor William Eaver is naturally joined by Sebastian for his match opposite Joe Coffey. Although he has a hold over the good Pastor for reasons as yet unexplained. Seb helps Bill to gain an advantage at every available opportunity. Be it when Eaver is trapped in a submission and he pushes the bottom rope in so that his in-ring avatar can grab it. Or by distracting the referee when the Iron Man has numerous visual victories over the former PROGRESS champ. Indeed, it's Sebastian who proves to be the difference-maker as he distracts referee Paz whilst Eaver taps to a Boston crab.
Pastor grabs that old favorite the rollup (along with a handful of tights) for the three count. Joe Coffey is out, but Sebastian is in the main event? The cocky little douche grabs the mic after the match and says that Eaver has secured him a place in the PROGRESS title match so… yeah, that's happening.
London Riots vs British Strong Style (c) – Tag Title Match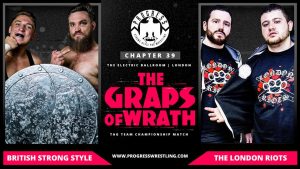 London Riots get their rematch for the PROGRESS tag shields against Trent Seven and Pete Dunne and they kick the match off with a bang. As Seven holds the mic, presumably ready to cut a withering promo on the crowd, James Davies hits him with a shotgun dropkick before he can say a word. He follows up with a wild plancha that Trent struggles to catch and protect him on, followed by a spear from Rob Lynch. The momentum is put on hold by 'Peeee-ter' putting the boots to both Riots after the pin attempt. Alas, for the Riots their early momentum doesn't carry through to the main body of the match as the already injured Lynch takes an extended beating.
Although they manage to connect with some of their bigger moves, later on, the district line et al, British Strong Style are in a different league. Dunne's crowd work, in particular, is absolutely first class as he slows down the pace of his offense to interact with the chants against him. A star is being born in front of our very eyes during the course of this show. The finish has Pete remove the mask that is protecting Lynch's cracked orbital bone and bite his nose. Trent Seven lifts him up into the piledriver, Dunne boots him in the face, the piledriver is executed and that's a win for BSS. They have retained the tag team titles and advanced to the main event in spectacular fashion.
The Graps Of Wrath
Matt Riddle vs Will Ospreay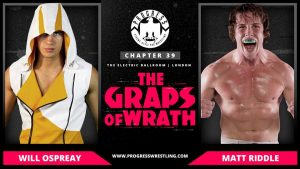 An extremely noteworthy debut is up next as Matt Riddle takes on Will Ospreay. Riddle is someone who will be extremely important to PROGRESS's continued growth; this is no mere guest spot. Continuing the running gag of attacks before the opening bell, Riddle hits a running knee to Ospreay's face before Jim Smallman finishes the introductions. He's obviously a man out to make a big statement as he starts out in a new company. He continues to smash Ospreay with big moves: double knees in the corner, fisherman buster, German suplex, but can't get the three count.
Of course, this is no squash match – Riddle is facing off against a former PROGRESS champion after all. The Aerial Assassin sneaks in some of his trademark big spots, most spectacularly a version of the wall unit utilizing the fire escape steps. It's just that Riddle is too much for Ospreay when it's all said and done. A stiff exchange of strikes gives way to Riddle locking in the bromission for the squeaky clean TapouT and Riddle advances to the main event. For those not keeping count, this represents Ospreay's sixth loss on the trot in a PROGRESS ring.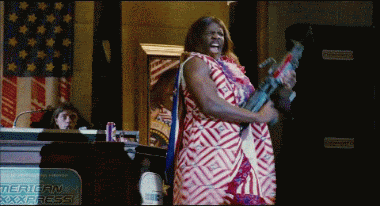 The Graps Of Wrath
Jimmy Havoc vs Marty Scurll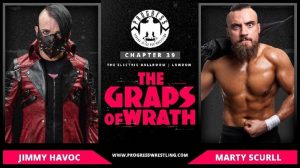 Strangely, for the one blood feud on the card, Jimmy Havoc and Marty Scurll actually wait for the opening bell in their contest. Jimmy starts very hot though with two spears and an acid rainmaker to get a near fall in rapid order. They follow that pace for the entirety of the match and it's fought with the exact viciousness you would hope for from Scurll and Havoc. Of course neither are averse to brawling if not outright cheating and there is a wild brawl outside that sees several audience members get flattened. It was a different time in that regard I suppose.
That propensity for cheating comes to the fore at the close of proceedings as each wrestler attempts to introduce a foreign object. Havoc's attempt to bring a chair into the ring is immediately thwarted and referee Chris Roberts takes a tumble for his trouble. Seeing an opportunity, The Villain reaches for his trusty umbrella but is disarmed by Havoc. Hilariously, Havoc hits himself in the head with the brolly, throws it at Scurll, and takes a dive to the mat. Roberts comes to and, seeing Marty Scurll an umbrella in hand, disqualifies Scurll and awards the victory to the King of the Goths.
A very novel finish for PROGRESS there, and Scurll losing his mind after the final bell only adds to the effect.
The Graps Of Wrath
Nixon Newell vs Katey Harvey – Natural Progression Series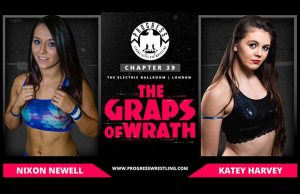 The road to the first PROGRESS women's champion continues as Nixon Newell and Katey Harvey enter NPS4. Unfortunately, the match is somewhat highjacked by the crowd chanting about Harvey's gear which has one silver sleeve. In fairness, "you're just a shit Winter Soldier" is a five-star reference but it's a drop in the ocean of the entire run of chants during the match. Both wrestlers carry on with the match they had planned and execute everything with aplomb. It's just a bit of a shame that the Ultras decided to make their own fun. Newell advances to round two with the shiniest wizard.
The Graps Of Wrath:
Jimmy Havoc vs Matt Riddle vs Sebastian vs Travis Banks vs TK Cooper vs Trent Seven vs Pete Dunne – PROGRESS Title Match
And so we come to the titanic main event to crown a new PROGRESS champion. The last man to make his entrance is Jimmy Havoc but he has a nasty surprise in store for him. Whilst Jimmy poses on the entrance stage Marty Scurll attacks him from behind with his umbrella, smashing it to pieces on Havoc's head and back at The Graps Of Wrath. He is taken to the back by the ring crew as a result and the match starts with six wrestlers instead of seven. The fact that Matt Riddle the sole babyface in the ring very much plays into the opening as the other competitors try to take him out. Riddle takes each out in turn, most spectacularly knocking out Sebastian with a running knee.
The heels soon wise up though and overwhelm him with sheer numbers. There's no honor amongst thieves though and it doesn't take long for Banks and Cooper to start scrapping with Dunne and Seven, Sebastian with… well, all the heels. An absolutely wild sequence of dives sees Trent Seven slingshot Riddle into the front row followed by Trav nearly overshooting Seven with a dive of his own. It's like Paul Heyman booked this match. It's a big move followed by big move non-stop. The first man to fall is TK Cooper after eating a bro 2 sleep and fisherman buster courtesy of Matt Riddle. For some reason, Jack Sexsmith runs in to attack Sebastian but gets a boot to the groin for his troubles.
That immediately brings Jimmy Havoc out from the back who then drills Seb with an acid rainmaker for the pin.
I don't understand what the need for Sexsmith was there, as well as essentially two run-ins in the space of 30 seconds. Odd. Very shortly after that Trent Seven hits Travis Banks with a piledriver from the second rope to eliminate the intense Kiwi. His time will come. British Strong Style takes turns battering Matt Riddle senseless with punches, kicks, and other rudimentary offense whilst Jimmy takes a powder. It's to Riddle's absolute credit that he makes the tag team champions looks so strong as he only gets a couple of kicks in on them.
BSS hit the piledriver – pump kick combo on the King of Bros and Pete Dunne gets the pin. It's down to Trent Seven, Pete Dunne and Jimmy Havoc now. The odds very much stacked against the King of the Goths. BSS give Havoc a good kicking for a minute or two before Jimmy can make a comeback. He then separates the tag champs. A series of reversals with Seven leads to Havoc hitting an acid rainmaker to eliminate the third man. This left just him and Pete Dunne in the ring. Once again, Chris Roberts takes a tumble and misses a visual pin by Jimmy on Dunne. Just do your bloody job Roberts!
That opening prompts Trent Seven to re-enter the ring and help Dunne hit their finisher on Havoc.
Paz runs down to make the count but it's only good for two. Rallying, Jimmy knocks Trent back out of the ring. He hits an acid rainmaker on Pete. But Paz gets dragged out of the ring by Seven. He flings the beleaguered referee into the crowd. They are getting their money's worth on this show. He then slides back into the ring. That brings out Tyler Bate, the man that Trent Seven betrayed at Chapter 33 to form British Strong Style with Dunne.
Bate backs both out of the ring. But then surprisingly turns and blasts Jimmy with a hard right followed by a tombstone.
The Bruiserweight rolls in and covers Havoc for the three count and claims the PROGRESS title. Dunne, Seven, and Bate embrace and hold the title up. S new faction has been made. They were asserting their hold over the company with both singles and tag titles in their possession.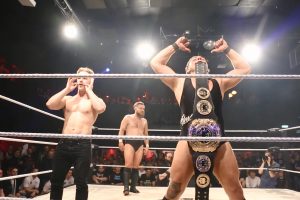 So ends a momentous Chapter for PROGRESS and for British wrestling as a whole. On the night, outing the title on Pete Dunne was considered a bit of a left-field choice. But it caused huge waves in the wrestling world. Would Pete have become the hot prospect in NXT if the rocket hadn't been strapped to him here? Would NXT UK have ever gotten off the ground? If not for having an act as notable as British Strong Style to build around? We can only speculate. But what I do know is that we are about to embark on a fantastic run of PROGRESS shows. This is with BSS at the helm. We'll be here to look back at them every week and hope to see you back with us. Take care of yourselves until next time.
Each episode can be watched on the PROGRESS on Demand service. PROGRESS Wrestling is also available on Powerslam TV.