The AEW Live Experience – Arthur Ashe Stadium, Queens, NY 9/21/22
"Yes! Yes! Yes!"
Bryan Danielson and Jon Moxley were about to battle for the AEW World Championship and Claudio Castagnoli vs. Chris Jericho for my beloved ROH World Championship. Yours truly was going to see some old-school wrestling in person. The kind with holds and moves and submissions and belts that mean something to its audience.
Although a jaded fan of 50 years, I was nonetheless psyched to see these all-time greats.
As I walked toward the massive Arthur Ashe Stadium in anticipation of Grand Slam, I noted not only the smell of weed wafting through Flushing Meadow Park but that the AEW crowd skewered quite young, with most seemingly in their 20s and 30s, the most sought-after demographic.
And with tickets from $35 to $500 plus ringside (before fees no less), they were more than willing to spend that disposable income on their favorite promotion. The first line I noticed was a massive one, as excited throngs breathlessly waited to enter an entire store packed with AEW merch, including a T-Shirt with New York City subway stops beneath the AEW logo. At $40 a pop, I passed that stop right by.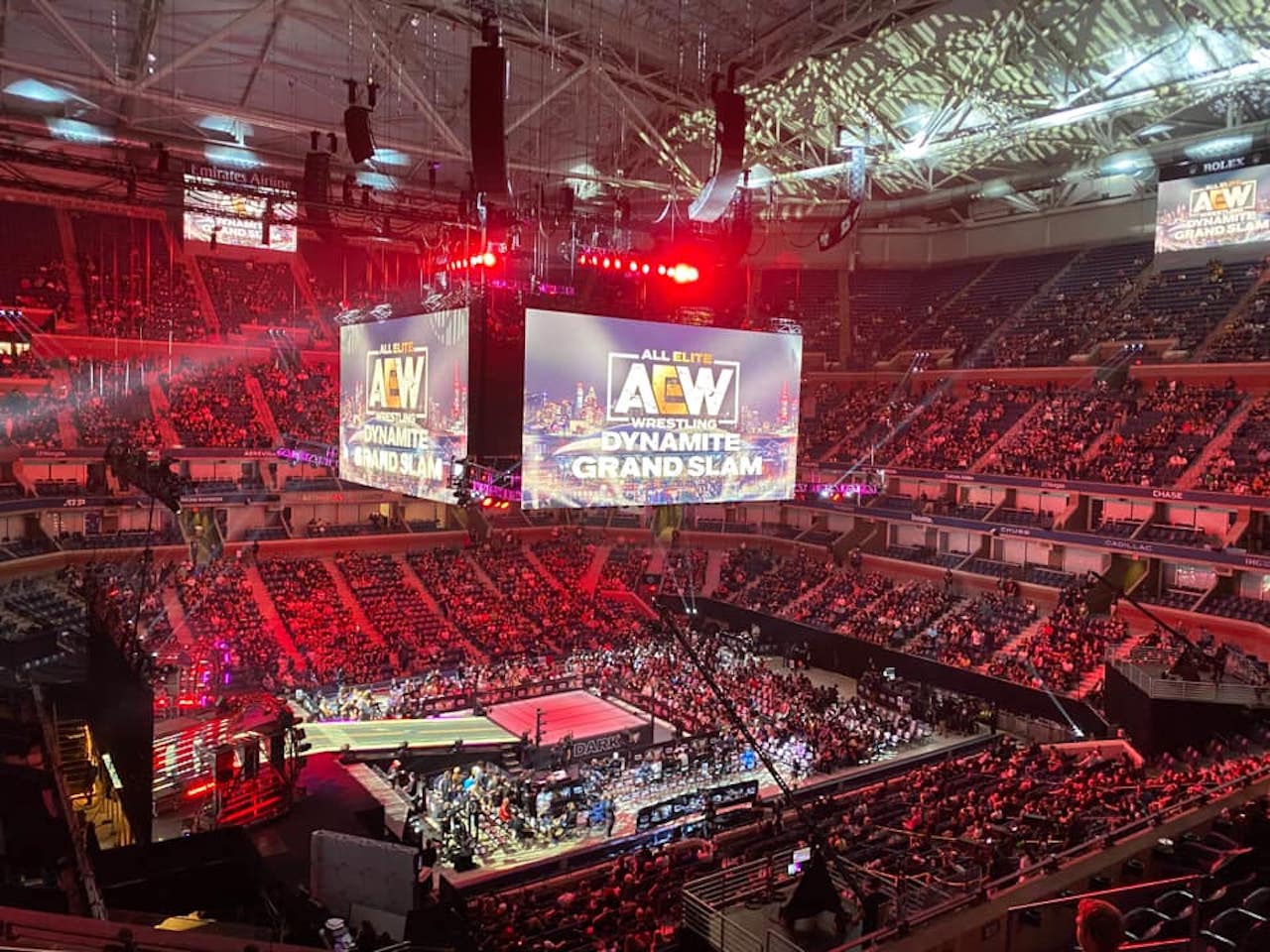 Entering the imposing structure, I immediately realized there were a ton of people there- easily ten thousand plus- but also plenty of empty seats. Moreover, the set up was not ideal for a professional wrestling show.
Yours truly was sitting in the middle of the cavernous building, and from my seat, the largest wrestler looked like Sky Low Low. The best way to describe it was like a live Picture in Picture- THAT's how small the wrestlers looked. With thousands seated even higher than me. I could only imagine what their view entailed.
Add multiple massive screens, cables, skylights, and endless wires, and other equipment ascending to Asgaard and beyond, and what you unfortunately had were horribly obstructed views on two sides of the ring. When reaching his seat, the stranger next to me stared below and exclaimed incredulously, "WTF is this?"
The AEW Live Experience
He was none too pleased. Instead of enjoying the in-ring action, we were watching the show on the largest TV screens in the galaxy. They were so huge that you could see microscopic life in puddles on Mars on them.
While the ticket read 7 PM, we had five to ten minutes of action before 8 PM's live Dynamite. Two matches for AEW Dark Elevation were taped, a solid Skye Blue and Captain Shawn Dean versus Kip Sabian and Penelope Ford mixed bout and a very disappointing quickie Serpentico against Ortiz.
Knowing they had four hours still ahead of Dynamite and Rampage to film, I don't know who thought it was a great idea to have the fans sit there for an hour prior for a few rushed minutes of forgettable wrestling, but such was the case.
Dynamite opened with a quality ROH title match between Claudio Castagnoli vs. Chris Jericho. The fans heartily sang Jericho's theme song and simultaneously loved and loathed him. He remains a fantastic performer, as is wrestling machine, Claudio. And Jericho's attack on ROH's Cary Silkin was also a brilliant mega-heat garnering move. Good stuff and Jericho winning the belt gave it a big-time feel. 3 ¾*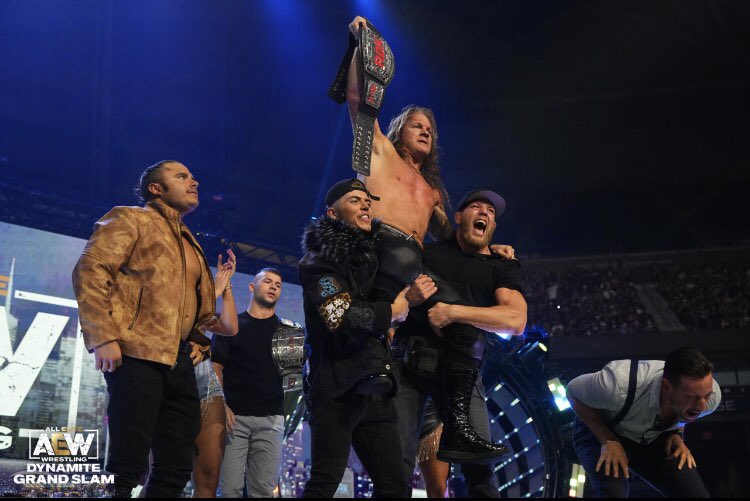 I immediately noticed that although this was all and said and done, merely a weekly TV taping, it had a big-time Pay Per View vibe. Several entrances and finishes had huge flames, fireworks, and even confetti exploding and eliciting roars from the amazed crowd.
The graphics on the screens were slick and got that Pavlovian response they so wanted. The fans popped for each and every entrance and title change. They were invested in every character and angle, and the belts meant the world to them. It all worked, although I would have traded every bit of it to have just been able to see the ring. Yes, sometimes the simplest thing gets lost in the mix.
The Acclaimed got a hero's welcome, although I couldn't understand a word they said on the muffled live sound system beyond "glory hole." Well, ok there, fellows. The match didn't touch their Pay Per View bout a few weeks prior, but the heat was off the charts for this, and the fans love them.
And the whole "Scissor me Daddy A**" thing, as silly as it is, remains totally over. The reaction to their title win was thunderous. Although the bout was a disappointment with expectations for it so high, the experience itself was great. 3 1/4*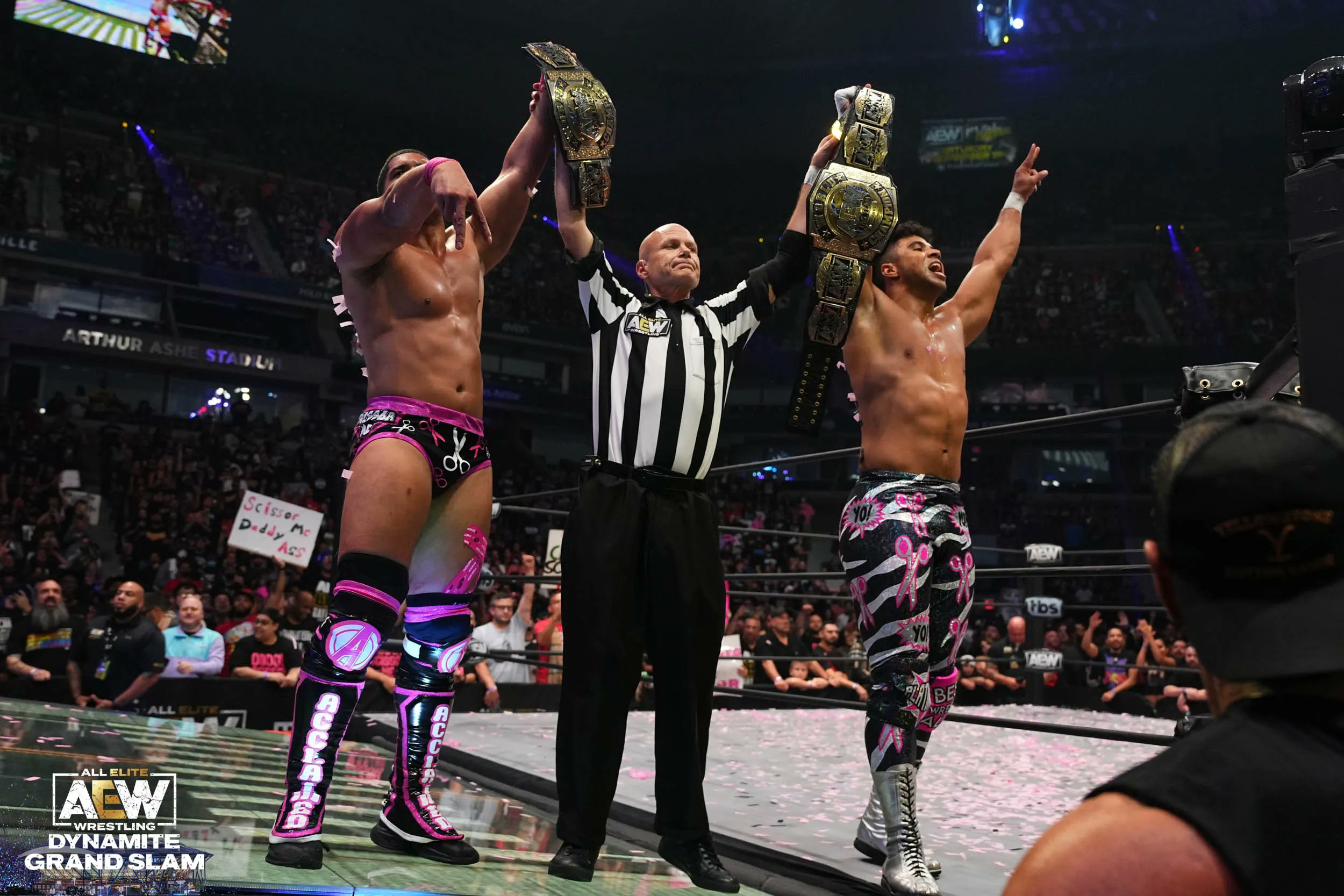 Orange Cassidy versus Pac was in the death slot following two title changes. Solid and entertaining, an abrupt flat ending didn't help its cause. 3*
The Interim AEW Women's World Championship- Toni Storm vs. Serena Deeb vs. Athena vs. Dr. Britt Baker felt like a bunch of rushed spots leading up to an odd angle where they fled in absolute terror from the 120-pound debuting Saraya (fka Paige). I'm not sure what instilled this fearsome flight, but the crowd exploded, and Saraya came off like a major star anyway. Deeb impressed as well. The match itself was pretty forgettable, though. 2 ¾*
MJF was showcased throughout the night. He did an interview, although, unfortunately, again, the audio was unclear. I caught pieces of his schtick, but many of his comical pearls of wisdom were lost to me. His facial reactions to the main event were also priceless.
And from the responses he received every time he appeared on screen, he felt like the promotion's biggest star. Considering some of their headliners "aren't kids"- in their 30s, 40s and beyond, pushing a younger charismatic talent like MJF, who is a great promo guy to boot, makes sense. Although being able to hear said promo live would have "made sense" as well. Work on that next time, Mister Sound Man.
And now it was time for the main event. With only twenty or so minutes left on Dynamite's clock, they came out fast and furious, and it was a helluva scrap. And it brought me back to Danielson's glorious ROH run. Cutting back and forth to MJF with his hilarious facial reactions was quite entertaining initially, but after like 37 times, it became a distraction.
Because, again, not being able to see the ring, we were watching it on the screen, and they kept cutting away from an excellent match to the smirking MJF. Also, with Danielson dominating so much of the bout, I just felt that major star Moxley would have his hand held at the end, which is what transpired. The surprise element wasn't there, but the bout itself was quite good. 3 3/4*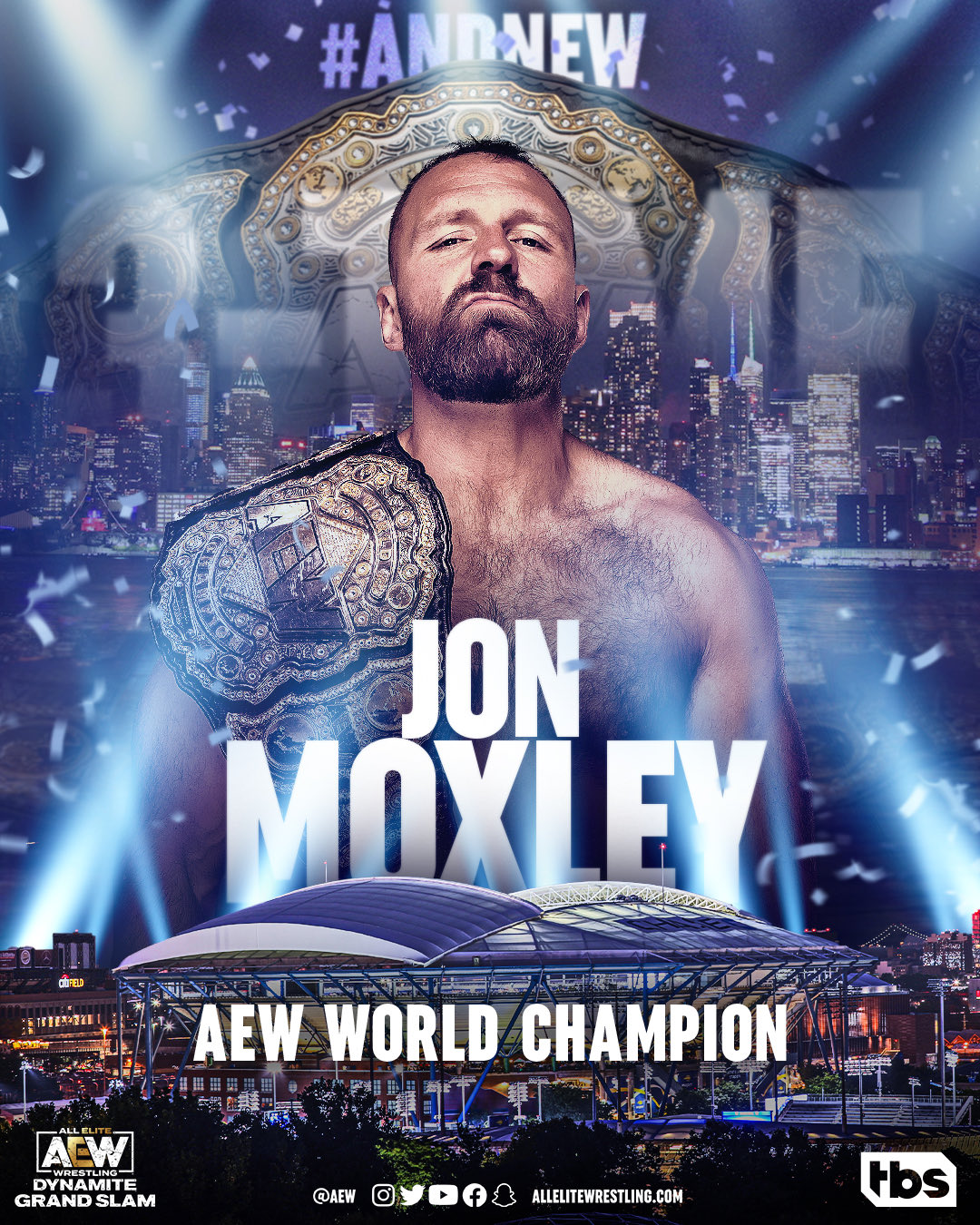 With Rampage regarded as the lesser of the two shows, the minute Moxley-Danielson ended, my entire row and at least a couple hundred people- myself included- headed for the exits. I was watching a TV show on a giant screen anyway and could do the same Friday night in the comfort of my home.
When the smoke cleared, it was a quality card that blew away a WWE house show. It was also quite the spectacle- you knew you were at an EVENT. But it was not a great viewing experience for an old-school fan that wanted to watch some of his favorites in the ring rather than a football field away. And quality-wise, the ROH NYC house shows were superior at a fraction of the price, as were the NWA 1980s cards I witnessed in person.
But the fans love their AEW, sported their gear, swarmed that merch stand, and this was about a million-dollar gate when the smoke cleared. Yes! You read that correctly- a million-dollar gate for a TV taping. The critics and WWE obsessives can do the "outlaw mud show" spiel all they want, but AEW is the real deal, and those fans will part with that cash and support them.
I wish them nothing but the best.
What did you think of this past week's edition of AEW Dynamite from the Arthur Ashe Stadium? Share your thoughts with Evan below in our comment section.
*****
Stay tuned to Pro Wrestling Post for this and additional stories from the wrestling world. Readers can rely on Pro Wrestling Post as their daily source for everything inside the squared circle. As a result, readers can expect daily news, history, and much more. Also, please visit All Elite Wrestling's official website here for news and information on the promotion and upcoming events and FITE TV's official website to watch AEW Dynamite and Rampage for International viewers.