On March 3rd, Stardom would hold a big event at the Nippon Budokan Hall. It was where we saw a solid card from top to bottom. Both Nanae Takahashi and Yoshiko would make their return to Stardom for the first time in six years. It was the first time since the incident with Act Yasukawa, Natsupoi wins the High-Speed Championship from AZM in the opening contest, and of course, our main event of the evening. The show's main event was Giulia defending her Wonder of Stardom Championship against her rival, Tam Nakano, but this time, the loser would also lose their hair in the process. Even before this match happened, there has been a long build-up involving Tam Nakano's story and her desire to win the title. Tam Nakano wins the Wonder of Stardom Championship.
____________________
Wonder of Stardom title match, Hair vs Hair!

Tam's dream is to win the White Belt. Giulia says it's Tam's last chance and Tam is going to be the ugliest bald idol wrestler in the universe. pic.twitter.com/l4kJrww1tN

— We Are Stardom (@we_are_stardom) March 3, 2021
For about two years now, Tam's goal was to win the Wonder of Stardom Championship. Her first attempt was on January 14th, 2019 where she failed to defeat Momo Watanabe. Her second failed attempt would take place five months later, on June 16th, when she fought against Arisa Hoshiki. After defeating Kagetsu in her final singles match in Stardom, Kagetsu endorsed Tam by telling her she should win the white belt, and it was enough to motivate her to try again. When Arisa was forced to retire and vacate the belt in 2020, Tam would take part in the tournament to crown a new champion, and she made it to the finals until she failed on July 26th, 2020, when she lost to Giulia. After this match, Tam tried again when the two had a rematch for the belt on October 3rd, but she still came up short.
Tam Nakano Wins Wonder of Stardom Championship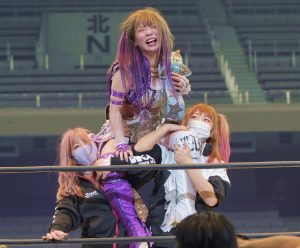 Tam would challenge her one last time, and Giulia accepted it in exchange, she wanted to raise the stakes by making it a hair vs. hair stipulation, and it would also be Tam's last chance at challenging for the title. In nearly nineteen minutes, Tam Nakano would defeat Giulia with the Twilight Dream to finally win her first singles title in Stardom with the Wonder of Stardom Championship! This was considered the biggest win of her career.

After the match, Giulia would keep her promise and have her head shaved in the middle of the ring, and despite Tam winning the title in the main event, Giulia would be the one that's trending on Twitter than the person who won. This shows that despite losing the white belt, people still see Giulia as the company's top future star, and going for the World of Stardom Championship could be happening very soon. Giulia has held the title for 220 days but the story for Tam and this belt has ended with the proper conclusion and a brilliant story leading up to this moment. Congratulations to Tam on winning the Wonder of Stardom Championship.
*****
Be sure to stay tuned to the Pro Wrestling Post for this and additional stories from the wrestling world. Readers can rely on Pro Wrestling Post to be their daily source for all things inside the squared circle. As a result, readers can expect daily news, history, and so much more. Please visit Stardom's official website here for upcoming news and notes.