Sweet Daddy Siki was irresistibly Groundbreaking. Local tv broadcasts both WWF and NWA programming. One could not have picked a better time to be young. Over the course of that summer,  it was at that time that the then-WWE launched a new character portrayed by Butch Reed. The one-time gridiron star was billed as the Natural Man, a muscular and arrogant African American with bleached blond hair.
________________
The character was almost a throwback to heavyweight boxing star Jack Johnson who played up the virility of racial stereotype in a teasing-like fashion.
I thought myself to be a real-life incarnation of the Natural Man character. As a wise friend of mine said, when you're young, life gives you things; as you age, it takes things away.
Sweet Daddy Siki on how he envisioned his character.
The Reed character was a total imitation of Sweet Daddy Siki, who put more people in Maple Leaf Gardens than maybe even Dave Keon. Siki brought kitsch and swag to Canadian wrestling. Necessity was the mother of invention. Where doors were closing in the U.S., Canada was more fertile and welcoming.
While some have referred to Sweet Daddy Siki as the Jackie Robinson of wrestling, respectfully assert that Bobo Brazil was the performer who really broke the color barrier. Where Siki broke ground is in the personification of his character. Brazil was elegant but all business. He was hard-working and humble, never forgetting his blue-collar roots.
Siki was to wrestling what Cassius Clay was to boxing, even in his pre-Ali days. One needn't consult with Howard Cosell to learn that Clay pioneered outlandishness and humor. He made himself a larger-than-life personality and not just a generational talent.
From floating like a butterfly and stinging like a bee to calling out the invincible Sonny Liston as a big ugly bear, Ali was the first African American athlete to "shock and awe" the public with his juicy quotes and antics both inside and outside the ring.
The Sweet Daddy Siki 'Ali Shuffle'
Sweet Daddy Siki did his very own version of the Ali Shuffle. He brought outrageousness to the art form, breaking ground as the very first gregarious and emotion-eliciting African-American wrestler. While a skilled wrestler, no one had ever entertained like Siki. He had a bleach blonde Afro and colorful, even taunting, ring attire. He was polarizing and stood out by design.
In some ways, Siki's look was similar to Superstar Billy Graham, who was quite avant-garde in his own right. Unlike Panasonic, Siki was much more than slightly ahead of his time. He referred to himself as the "ladies' pet and the man's regret." Lines like those were even more bleeding edge than those of Muhammud Ali. Siki didn't push the boundaries; he re-configured them.
One can say that Siki entertained those who were open-minded while outraging those who were blatantly racist. Several decades ago but pretty well yesterday, nothing irked racists more than an African American man being in the company of or even attempting to engage with a white woman. Siki was married to a caucasian, which didn't sit well with those who were happy to stand back and to stand by.
Reginald Siki was born deep in the heart of Texas in 1940. He trained in New Mexico and began his career at the tender age of 15. At the outset of his career, both virulent racism and even "parlor" racism ran rampant. The latter being more "polite" but equally offensive and harmful. Where crosses weren't burned, bridges were. This is a factor Siki would face early on in his career.
While still a rising star, he attended an after-show party in New York and drew all kinds of attention for showing up with his Caucasian wife. Ricky Johnson, yes, Dwayne's uncle, was quoted on the CBC Documentary website as alluding to the fact that this party was the beginning of the end of Siki's success in the United States. In 2017, the network did a documentary on Siki that is well worth watching.
Returning to Johnson's observations.
"He's in the opening matches instead of the semi-final or the main event. He's going lower on the card, they forced him to leave."
Ricky Johnson on Sweet Daddy Siki's departure
America's loss would turn out to be Canada's gain, as we will soon discover. Prior to that, though, let us discuss how Siki effectively dealt with the more vile and dangerous elements of hate and prejudice. He made the conscious decision not to show any fear or apprehension. Siki expressed himself thusly on the issue.
"When they see that you're frightened they'll start running after you. …I didn't run and I got through it."
– Sweet Daddy Siki on his perseverance
Siki's courage allowed him to challenge Nature Boy Buddy Rogers for the heavyweight championship in Greensboro, North Carolina. This was the first integrated title match held below the Mason-Dixon line. In this instance, a comparison to Jacke Robinson is very apropos. The crowd was dotted with members of the KKK in full hate group regalia threatening both the challenger and the champion.
Even before falling out of grace with the American wrestling establishment, Siki chose to make Toronto his home base. He felt much more comfortable in Canada than in the U.S. He found Toronto to be a very appealing home base because of it being smack in the middle of North America; hence travel to and from home was that much easier.
The Toronto move was very wise on his part because, throughout the seventies, Siki appeared on cards and promotions all over Canada. He was a mainstay in Maple Leaf Wrestling, Emile Dupree's Grand Prix wrestling in the Maritimes, as well as the fabled Stampede wrestling out of Calgary.
His attire was outrageous, kind of like a peacock on an energy drink rush. Adding to the equation were his bleach-blonde hair and Elvis-like mutton chop sideburns. Siki referred to himself as Mr. Irresistable. His mic work was so good that both Adam Copeland and Bret Hart were greatly inspired by it when they conceived their own personae.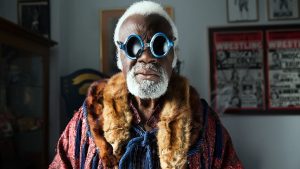 A Pioneer & Versatile Star
Siki was not only a versatile wrestler, but he pioneered the notion of being a cross-over star. As busy as he was in the squared circle, Siki cut four country music albums in the seventies as well. He played in clubs as well. This leads us to ask to what extent he slept at the height of his career. Do keep in mind that he also trained wrestlers in Toronto as well.
Siki's formula is a winning one, without a doubt. While in his early eighties, Siki has only had his activities limited by the pandemic. We can expect that once the outside world becomes safe again, Siki will be out and about as he was before the lockdown.
Until those long-awaited days come, we can reflect on Siki's contributions to the wrestling and entertainment fields. Only a handful of women and men could have endured the threats and disappointments he faced. While at the same reaching creative excellence and enjoying every mile of the journey. Nothing but the utmost respect and regard for this iconic figure!