Oh, SUP. How long has it been? I can tell you exactly how long it's been, actually. The last Southern Underground Pro I attended was back in March in Nashville. That was a fine show but definitely the darkest moment of the year. Two events devastated the promotion, but the March show was proof positive that SUP was not going out without trying their hardest to entertain the fans.
The promotion lost its home base, the Basement East, in early March when a tornado ripped through the eastern side of Nashville. Thankfully the BEAST did not suffer a total loss, but the damage done would leave SUP without its usual venue. Once the pandemic descended upon us all, however, it didn't matter much. Shows were all canceled anyway, and the future of SUP was then completely up in the air.
Fast forward seven months. You'll see why Swing of the Axe is going to be a monumental show for the promotion. We honestly didn't think we'd see a Southern Underground Pro for the rest of the year, if ever again. If that wasn't enough good news, the Basement East is nearly complete with its repairs and ready to host shows again. Before we get back to the BEAST, however, we must first welcome SUP to the Collective! Believe me, this is a fine how-do-you-do with an amazing card!
Collective 2020 Preview: Southern Underground Pro Presents Swing of the Axe
SUP's Swing of The Axe will be one of the first Collective shows, taking place this Friday (October 9) at 4 pm Eastern time. If you won't be attending the event, please do watch it on FITE.tv as a part of their Collective event package. It'll definitely be worth your viewing time, and you'll be supporting one of the best indies on the southern U.S. scene.
Still, if my recommendation alone is not enough, then have a look at the lineup of matches:
To Infinity and Beyond vs. Violence Is Forever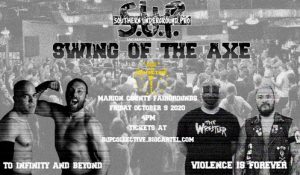 Tag team classic banger on the way! I'm continuously impressed by Cheech and Colin Delaney's tag team specialist skillset, but my admiration comes only to a certain point. Southern Underground Pro is Kevin Ku and Dom Garrini's territory. This show may not be on their home turf, but I don't foresee Violence is Forever giving up a victory on the first show back. Not even to one of the best tag teams on the indie scene today.

Southern Underground Pro Presents Swing of the Axe
Allie Kat vs. Davienne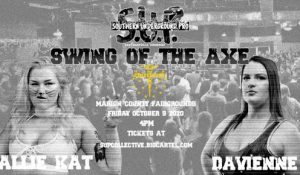 I'm pretty jazzed for this match as this will be my first time seeing Davienne wrestle live. I've seen her in action on Beyond Wrestling's Uncharted Territory and the lady is a powerhouse. Allie Kat has her challenge well cut out for her, but we know Allie Kat has a history of surprising us all in the Southern Underground Pro ring. This could end up being Davienne's biggest challenge yet!
Jaden Newman vs. Anthony Henry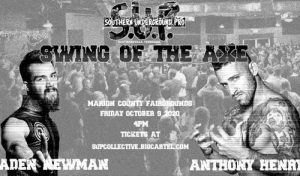 Anthony Henry in Southern Underground Pro for the Collective? This is my song! Anthony's another talent I learned about thanks to Beyond Wrestling and Uncharted Territory. To have him at the Collective is excellent. To have him up against Mr. Ichiban Number One is even better. Oh please kick his ass, Anthony. Preferably before Jaden has a chance to get a damn victory lap in.
Erick Stevens vs. Brett Ison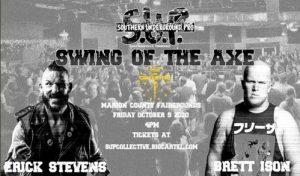 There are a series of must-not-miss matches on this card and this is one of the standouts. There's no way I can predict a winner here, but if we're sticking with the home territory you can't go wrong with backing Ison. The Pitbull has made Southern Underground Pro his stomping grounds (in every sense of the term, he's stomped some mudholes in that ring), so it'll be great to see how Erick Stevens will do going up against Ison. Keep in mind that Stevens is a damn tough SOB as well and we're in for a hell of a fight.
Lee Moriarty vs. Daniel Makabe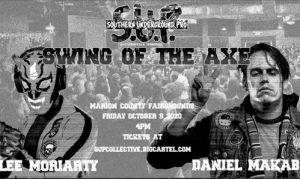 Don't miss this one.
That's all I'll say.
Out of every match at the Collective, this weekend…every match at every show…this will be the one that people will tell you to watch years from now when Moriarty and Makabe are worldwide stars. These are two of the best on the scene in America, in my opinion, and I wouldn't miss this for the world.
Southern Underground Pro Presents Swing of the Axe
Nolan Edward vs. AJ Gray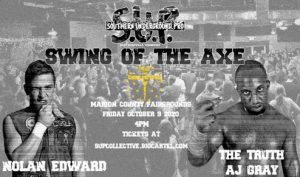 Between Moriarty/Makabe and this match I'm not sure which one will be more memorable, but I guarantee we're in for a classic. For any fan who's curious about the current independent scene or looking to get into who's who, Edward vs. AJ Gray will be one to watch. I'm incredibly proud of both these guys for having come up in the past year despite the seven-month setback that threatened so many careers. Very much looking forward to seeing this one in person!
Jake Something vs. O'Shay Edwards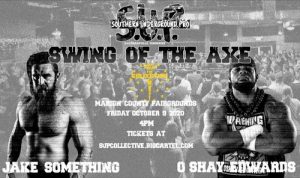 Finally, finally I get to see Jake Something live in action, but I get to see him against someone who may very well rip him apart. O'Shay Edwards is NOTHING to play with. Jake Something is a beast in his own right, however I'm not one to say with 100% certainty that he's the guy to beat O'Shay. In fact, I don't know many guys I could say that about, because not many guys actually can beat O'Shay. Is Jake Something that guy, or will this Friday just be his lucky day?
Southern Underground Pro Presents Swing of the Axe
1 Called Manders vs. AC Mack (Bonestorm Championship match)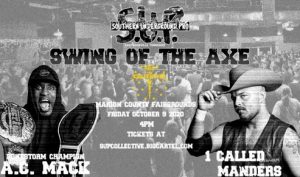 HERE IT IS! This is the one we've been waiting for since March, everybody. This is where I will say with full confidence that we WILL have a new Bonestorm Champion going into the weekend. It is Manders' time, ya'll. AC Mack has had his reign of terror in SUP long enough, but I wholeheartedly believe that will all come to an end at the hands of 1 Called Manders this Friday. However, I can't be too bold in my statements. Knowing AC Mack, he'll do anything within his power to hold on to that damn belt. We're aware of the depths of chicanery AC will reach, but I still have plenty of faith in Manders that he'll be the one who finally gets the gold off this guy and around his waist. Do it for SGC!
I'm getting hyped just writing about this card, but we're only just a few days away from all of it taking place in Indianapolis! Check out this event at 4 pm EST on FITE.tv, and catch the many other great Collective shows all Friday, Saturday, and Sunday!