Shawn Michaels and Triple H are two of the biggest stars in WWE history. Together they created one of the most popular groups in wrestling with D-Generation X. While they created success as a team, between their two separate runs as D-Generation X, Triple H, and Shawn Michaels became bitter rivals who fought in a very heated, blood feud.
When Shawn Michaels returned to WWE television after 4 years out of the ring, he convinced Triple H to join him on Monday Night Raw, and on their first episode back on television together as a team, Triple H said he had a surprise for The Heartbreak Kid. That surprise was the reformation of D-X, but it was a double-cross as Triple H delivered a pedigree to everyone's surprise.
The following week, Michaels was viciously attacked in the parking lot with someone smashing his head through a car window. It was later revealed that it was Triple H who attacked him to prove a point that his former best friend was weak.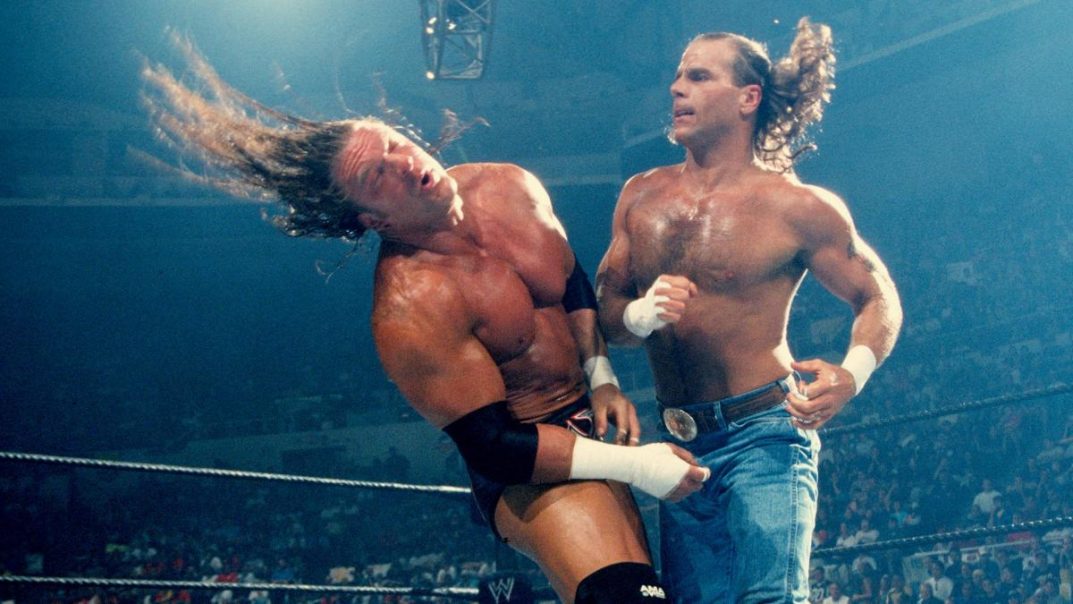 Shawn Michaels and Triple H – The Heartbreak Kid faces The Game
An Unsanctioned Match was announced for Summerslam between the two. With Michaels out injured with a back problem for over 4 years, nobody knew what type of performance we were going to see. But HBK was his old self, looking like he never missed a minute in the ring and managed to gain an upset victory over Triple H in a weapon-filled match.
An upset Triple H gained revenge after the match, delivering a sledgehammer shot to the back of Shawn Michaels. Withering in pain, HBK was stretchered out of the arena after the attack.
With Michaels out injured again, Triple H was awarded the World Heavyweight Championship by Eric Bischoff, but at Survivor Series, Bischoff ordered Triple H to defend his championship inside the Elimination Chamber. The sixth entrant announced was the returning Shawn Michaels.
Shawn Michaels and Triple H- Michaels recaptures WWE Championship
At Survivor Series 2002, held at Madison Square Garden, New York. HBK won the match in a what became a magical moment in WWE history with the triumphant Shawn Michaels pinning Triple H to become champion once again.
The following month at Armageddon, Shawn Michaels defended his World Heavyweight Championship against Triple H in a Three Stages of Hell match. With their rivalry at boiling point, Bischoff made the match with the first fall being a street fight, second fall a cage match, and, if necessary, a third fall contested as a ladder match.
Their match was a brutal affair, with the first fall seeing a flaming barbed wire 2×4, but it was Triple H who picked up the fall after hitting a pedigree. The second fall saw Shawn Michaels pick up the pin as he delivered a splash of the top of the cage through a table. The last fall, HBK almost had the match won, but Triple H pushed him off a ladder, sending him crashing through tables set on the outside. Triple H retrieved the championship to regain his World Heavyweight Championship.
Whilst over the next year, their rivalry never stopped; they would only square off in tag team matches on RAW, where Michaels was teaming with fellow wrestlers who had problems with Triple H and his group, Evolution. They would square off once again in the second-ever Elimination Chamber at Summerslam 2003 for the championship, this time Triple H retaining the title. But it was at the end of 2003 that Shawn Michaels and Triple H once again squared off for the richest prize on Monday Night RAW.
Shawn Michaels and Triple H – Handicap Match
On December 15th, Shawn Michaels pinned Triple H in a handicap match and earned a shot at Triple H and the World Championship. The title match took place on the December 29th episode of Monday Night Raw; Triple H and Shawn Michaels battled to a double pin in their championship match.
In response to the double pin, Stone Cold Steve Austin, who was going under the title of Sheriff of Raw, announced that Triple H would defend his championship against Michaels in a Last Man Standing Match at the Royal Rumble. Unfortunately, their contest at the Royal Rumble also ended in a draw, both unable to answer the 10 count after a hard-hitting match.
The following night on Raw, Shawn Michaels protested that he deserved another chance for the World Heavyweight Championship. But the 2004 Royal Rumble winner, Chris Benoit, came to the ring and said that at Wrestlemania XX, he would be challenging for the WWE World Heavyweight Championship against Triple H. This gave HBK no chance of gaining a rematch against Triple H.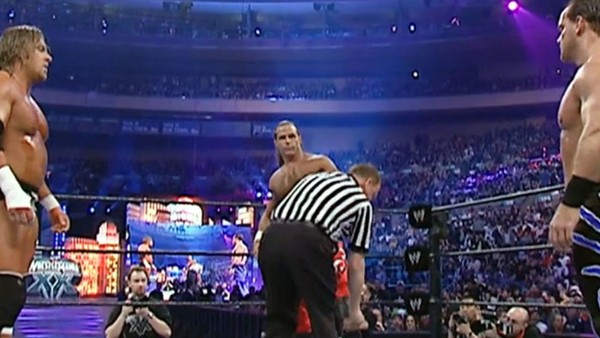 Shawn Michaels and Triple H – In a Triple Threat Championship match at WrestleMania XX
On the February 9th episode of RAW, Chris Benoit and Triple H held a contract signing for the main event of Wrestlemania. Triple H signed the contract, but before Benoit could, Michaels made his presence in the ring. HBK delivered Sweet Chin Music to Chris Benoit and signed the championship contract instead of him. Stone Cold Steve Austin later decided that the World Heavyweight Championship match at Wrestlemania would be defended in a triple threat match in the show's main event.
WrestleMania XX saw Chris Benoit win the World Heavyweight Championship, and the following month at Backlash, he would successfully retain the championship in a rematch. Shawn Michaels challenged Chris Benoit for the championship on an episode of RAW, but Triple H interfered and cost Michaels the match. With both unable to control themselves and Shawn Michaels being suspended for attacking Triple H, Eric Bischoff booked the two to settle their rivalry once and for all inside Hell in a Cell.
The match was the main event of Bad Blood 2004. Both Triple H and Shawn Michaels bled during the match, which saw them use tables, ladders, and steel steps alongside the cell itself as weapons. Shawn Michaels was defeated by Triple H to end their rivalry after delivering two consecutive pedigrees.
Before both put their differences aside and reformed D-Generation X, they would square off a handful more times in tag team matches on RAW. But at Taboo Tuesday 2004, Shawn Michaels won a fan vote to face Triple H once more for the World Heavyweight Championship. Triple H picked up the victory after Edge interfered and speared HBK.
The bitter and heated rivalry between long-time friends dominated WWE Monday Night Raw for two years on and off. It mostly revolved around the pursuit of Triple H is World Heavyweight Championship but turned into a battle to prove who was truly the better member of D-Generation X. Some of their matches are proof as to why some consider them two of the best wrestlers ever, and it certainly showed that Shawn Michaels could still tell a story inside the ring like no other.