On March 30th, 2003, Shawn Michaels and Chris Jericho faced off against one another at WrestleMania XIX. The lead-up to the match involved a series of attacks between the two superstars. What began as Jericho initially sharing about how much he looked up to Michaels raveled completely into something else.
Jericho went from being told he 'could be the next Shawn Michaels' to being the 'first Chris Jericho.' In the weeks leading up to their confrontation with one another, a series of things took place as Shawn Michaels and Chris Jericho were the marquee matchup.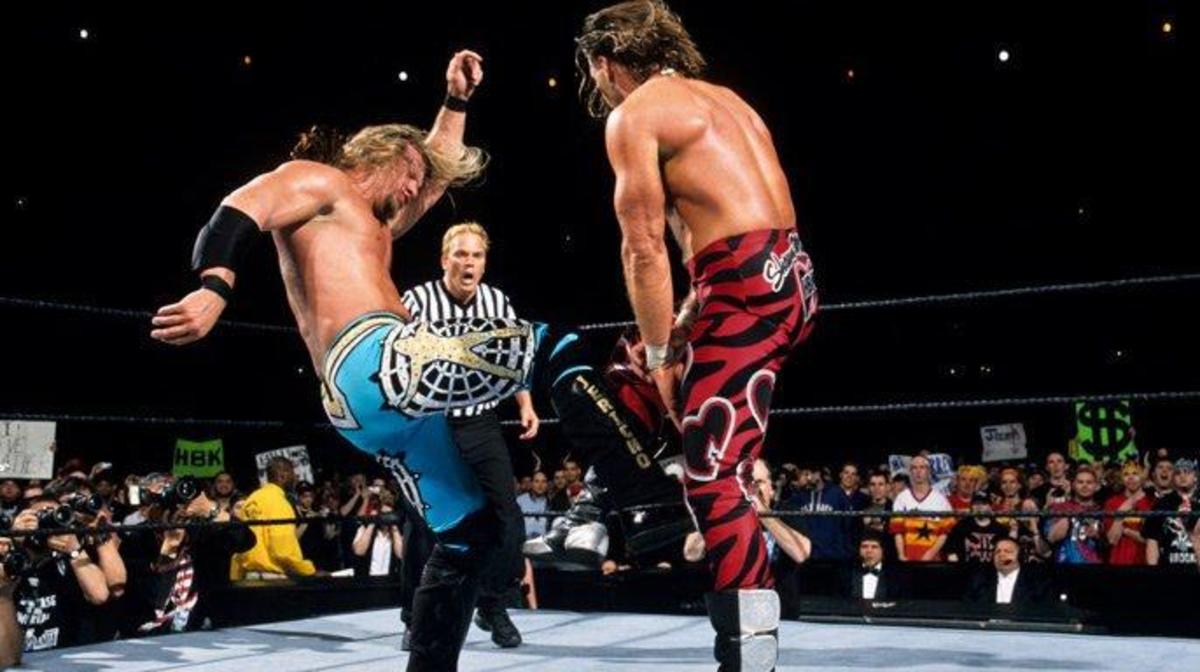 At the 2002 WWE Armageddon pay-per-view, Michaels lost his World Heavyweight Championship to Triple H. Their rivalry appeared to come to an end, but another one was soon forming. Shawn Michaels was a guest on Chris Jericho's Highlight Reel in-ring program.
Several things were said, one of which was that Chris Jericho had looked up to Michaels as a child. That everything Michaels did in the ring was his inspiration for being a wrestler. If fans were to see visuals of a young Shawn Michaels and a young Chris Jericho, they could see the similarities in appearance between the two.
As the segment progressed, Jericho was relentless with his criticism of Michaels. However, he went as far is essentially calling him a has-been. Chris Jericho's ridicule would eventually get the better of him. He momentarily turned away from Michaels, and that was his first mistake. When Jericho turned back, he walked right into Michaels' sweet chin music.
Shawn Michaels and Chris Jericho
– Their Battle Within The Battle

Jericho told himself that there wasn't a plan for it to result in anything more, or so he thought.
It was never supposed to be. It was a one-shot thing where I did a Highlight Reel, and I was calling him old. Which is funny because he was 37 and I was 32. I was just kind of demeaning Shawn on the Highlight Reel, he super kicked me in the face, and that was supposed to be the end of it.
We walked to the back, and I remember Vince sitting there, smiling. Vince looks at Shawn and Shawn goes 'It's money' and Vince said, 'You're f**king right, it's money.'
That was where that whole angle started. It was supposed to be me and Edge that year, originally. But that happened in mid-December, and after that, it's like I think we've got something here with Jericho and Michaels for WrestleMania.
– Chris Jericho on how the match came about with Shawn Michaels at WrestleMania XIX.
This planted the seed for a feud that would go into an interesting 2003. Before the 2003 Royal Rumble, Chris Jericho, in a quest to show that he was better than Shawn Michaels, took part in a special matchup. In an over-the-toprope challenge, Jericho defeated Batista, Kane, and Rob Van Dam. After winning, he decided he wanted to enter the Royal Rumble as the second entrant.
He came to that decision because Michaels was going to be the first entrant in the match. Once the Royal Rumble came around, Michaels came to the ring first and awaited Jericho. When Jericho's music played, a Chris Jericho impersonator stood atop of the rampway, distracting Michaels in the process.
It was, in fact, Christian dressed up as Jericho. This caused Jericho to attack vs Shawn Michaels in the ring from behind. It wouldn't be long after the attack when Jericho eliminated Michaels from the matchup.
Shawn Michaels and Chris Jericho
– The Journey and Battle At WrestleMania XIX
However, Michaels wouldn't waste much time achieving retribution either. He distracted Jericho leading to Test eliminating him from the Royal Rumble as well. There wasn't a challenge for a match for the weeks leading up to WrestleMania but rather a case of one-upmanship. The two men agreed, and the stage was set for their one-on-one match at WrestleMania XIX.
The match itself was met with a great deal of storytelling on the part of both parties. In the earlier part of the match, Michaels attempted to work on the legs and lower back of Jericho. As the match progressed, both men would hit each other with top rope planchas and take the fight to the outside.
Jericho locks in the Walls of Jericho at one point outside the ring. It was clear that Jericho was going to focus on Michaels' surgically repaired back. With Jericho inside the ring, Michaels crawled to make his way back inside the ring.
When Michaels makes his way to the ring apron, Jericho hits his patented springboard dropkick. He then continues to slap and berate Michaels, saying, 'I'm better than you'. Jericho is slowly and methodically working on the back of HBK. Whether it is a rear chinlock with a knee resting in the back of Michaels or a series of Walls of Jerichos.
Michaels finds an opening turning an attempted back body drop into a DDT. Both men are then on their feet, and then a case of the student trying to best the teacher.
Jericho hits a flying forearm and then nips up, much like Michaels would do. Michaels would then nip up from behind and take the fight to Jericho. The Heartbreak Kid can feel it and hits a moonsault on a standing Chris Jericho. Jericho then attempts another Walls of Jericho, but Michaels reverses it.
Shawn Michaels and Chris Jericho – The Drama Within Their Epic Battle

After a series of near pinfalls, Jericho drops Michaels. He then hits his bulldog and follows up with a lionsault off the middle rope. Jericho then attempts a pinning attempt but Michaels kicks out. Michaels attempts a hurricanrana but Jericho counters it into another Walls of Jericho. Shawn Micheals then makes his way to the ropes. Jericho climbs to the top rope and hits a reverse elbow on Michaels.
Michaels then teases hitting Sweet Chin Music vs Chris Jericho and then hits him with it. Jericho makes the pin but again only for a count of two.  Michaels is now back in the corner and hits Jericho with a crossbody and a series of punches. HBK then teases a Walls of Jericho but hits a slingshot to the corner turnbuckle.
Shawn Micheals and Chris Jericho – Betrayal
With both men on the top turnbuckle, Michaels reverses a belly-to-back suplex in mid-air. Micheals then climbs the top rope, but Jericho kicks the referee causing the ropes to shake HBK off the top. He then hits a top-rope elbow drop. Michaels teases a Sweet Chin Music, but it is reversed Jericho and turned into another Walls of Jericho. He finally reaches for the ropes and causes a break.
Michaels then hits Sweet Chin Music out of nowhere! But Jericho kicks out at two. With both men fatigued, they exchange blows in the corner. Micheals reverses a back body drop into a rollup pin for the one…two…three.
After their WrestleMania XIX match, Michaels offers his hand to Jericho to shake it. However, Jericho, out of respect but goes in for a hug. He then kicks Michaels causing him to crumble to his knees. A memorable finish to a memorable match between these two legends was when Shawn Micheals and Chris Jericho were on the marquee.