There are very few women who have had the longevity in wrestling that Serena Deeb has had. Throughout her 15-year career, she has been apart of 7 different promotions. She also has a knack for teaching as she's spent years training talents in WWE. Currently, she is signed to All Elite Wrestling, where she'll be a perfect fit. She can help their women's roster grow, which is just what AEW needs.
________________
Serena had a phenomenal debut match against Thunder Rosa, and the fans were enamored by it. WWE released her due to the pandemic cuts, which is a total loss for them. WWE has one of the best women's divisions in the world, and they just gave their best trainer to their competitor. Serena Deeb is excited for the opportunity to be a part of AEW. So, let's take some time to learn a little bit more about her in this week's Talent Preview.
Serena Deeb

Serena Deeb was born on June 29th, 1986, in Oakton, Virginia. She was the only girl growing up in her neighborhood, but luckily for her, she was a tomboy. She got her first taste of professional wrestling when she joined her friends to watch a WWF Pay Per View. At the age of 12, Deeb was hooked.
She turned out to get more into wrestling than her friends that introduced her to it. Serena would only watch WWF, and she idolized Chyna. She told her mom that she would be a professional wrestler one day, and she was serious. Deeb eventually started researching schools to be trained and found Ohio Valley Wrestling at the age of 16. She moved to Louisville two years later when she turned 18 and joined OVW.
Serena credits Rip Rogers as her most influential trainer while at OVW:
She also gives credit to Mickie James for helping her early on:
Beginning of Her In-Ring Career
Serena started her in-ring career on the November 4 OVW house show. She teamed with Fuji Cakes but would lose against Shelly Martinez and Beth Phoenix. Deeb would continue to lose alongside Fuji Cakes but made a change a started teaming up with Kasey James.
Later she would start a feud with ODB at an OVW Six Flags event. This would eventually lead to ODB declaring herself the inaugural Women's Champion after lying about winning a tournament in a different country.
Deeb would soon claim her first Women's Championship during the main event of the September 13 episode of OVW TV involving ODB, Beth Phoenix and Katie Lea. This would be Serena's first of 6 total OVW Women's Champion reigns. She was pulling double duty in the mid 2000's while working at OVW and Shimmer simultaneously. She was never able to capture the Shimmer championship but come 2009 she was about to move to Florida.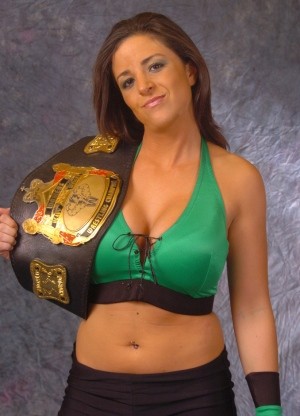 Serena made her debut on July 15, 2009, at a Florida Championship Wrestling house show where she teamed with Maria and Angela Fong to win against the team of Natalya, Layla, and Alicia Fox in a six Diva Tag match. She would debut on FCW television against Layla and pick up the win.
She received a name change that would now see her as Mia Mancini, the daughter of a mafia boss. Deeb would then become the second Queen of FCW by defeating April Lee. She would start defending her Crown against main roster talents such as Gail Kim, Savannah, and Natalya. Serena would stay in FCW through the early months of 2010 and would leave shortly after losing in the final to determine the first FCW Divas Champion.
Serena Deeb | Main Roster
After 5 years of training and wrestling, Serena Deeb had proven herself worthy of a main roster spot. She debuted in dramatic fashion as she jumped over the barrier and joined CM Punk's Straight Edge Society. To join the group, she needed to shave her head bald, and that's just what she did.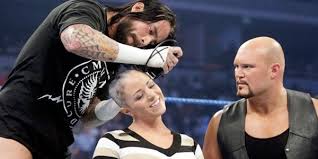 The group had a lot of intrigue, and not many factions had women at the time. Deeb's stint in SES did not last long as she was caught drinking at a bar by a fan. WWE released her from her contract because she wasn't keeping kayfabe out of the ring. It was an unfortunate thing because many things have changed in the wrestling world, and kayfabe is at the top of it.
The Undertaker back in the 90s surely tried his best to keep his deadman persona alive at all times, but around 2010 it wasn't as heavily stressed. Deeb's journey would continue into the indies, where she continued to gain experience.
Serena Deeb returned to Shimmer and worked with Ring of Honor due to their partnership together. She would also have a brief stint in TNA where she lost in a squash match against Awesome Kong.
Serena would also work in Women Superstars Uncensored, Wrestlicious, Shine, and Queen of Combat. She finally got her first tour in Japan in 2011, working for Yoshihiro Tajiri's promotion Smash. Deeb would, unfortunately, suffer a serious concussion later that year and took a 3-year hiatus.
Return to WWE
The year was 2017, and enough time had passed to forgive Deeb for breaking kayfabe. Serena returned to WWE to participate in the first Mae Young Classic on July 13, 2017. She defeated Vanessa Borne in the first round but fell short against Piper Niven in the second round. Serena had impressed the WWE brass enough to offer her a contract to be a coach at the Performance Center.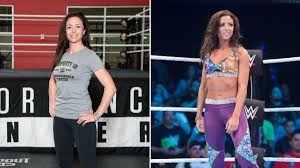 She spent a good 3 years with the company and provided the women of NXT with great lessons. Serena Deeb assisted in building one of the best Women's rosters in professional wrestling history. But of course, that wasn't enough to prevent WWE from letting her go due to pandemic cuts.
Serena Deeb is All Elite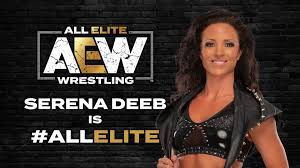 Serena Deeb shocked the wrestling world when she came to AEW and had a banger of a match against NWA Women's Champion Thunder Rosa. It was interesting to see two competitors not signed to AEW in a match together. However, that did not stop them from creating magic in the squared circle.
Deeb did her job perfectly as she showed how great Rosa could be leading up to the All-Out matchup against Hikaru Shida. Deeb debuted on the September 2nd episode of Dynamite, and it was announced officially that she was signed to a contract on September 22nd.
Serena Deeb and Thunder Rosa had unfinished business, and the two met again, but this time for the NWA Women's Championship. The veterans again put on a classic, but in an unexpected finish, Serena Deeb became the new NWA Women's Champion ending Thunder Rosa's 277-day reign. This is interesting because it further shows that NWA and AEW have a good working relationship. Deeb is under an AEW contract but is the reigning NWA Women's Champion.
Serena is a great asset to the AEW and now NWA. She will do tremendous things for the women on both rosters. Of all of the talents released this past April, it's easy to state that Serena Deeb will be the biggest loss to the WWE.
Not only did they lose one of their best trainers, but they let their top competitor swoop her up to assist their women's division. Time will tell how long it will take to see progress in the division due to Deeb's influence. But all fans can be excited for the future of the women's division thanks to Serena Deeb.