Fans of SCWPro, let's take a trip back to April 2021, and now SCWPro Presents Heartbreak. The venue is Bierstube Bar and Grill in Moline, Illinois. The event, SCWPro Reborn. It was the first time, due to the pandemic, the stars of SCWPro were performing in front of fans since September of 2020.
The night was filled with action-packed matches; each wrestler had an extra skip in their step being in front of fans once again. Headlining the show was the 1 Called Manders versus Johnny Wisdom for the SCWPro Heavyweight Championship.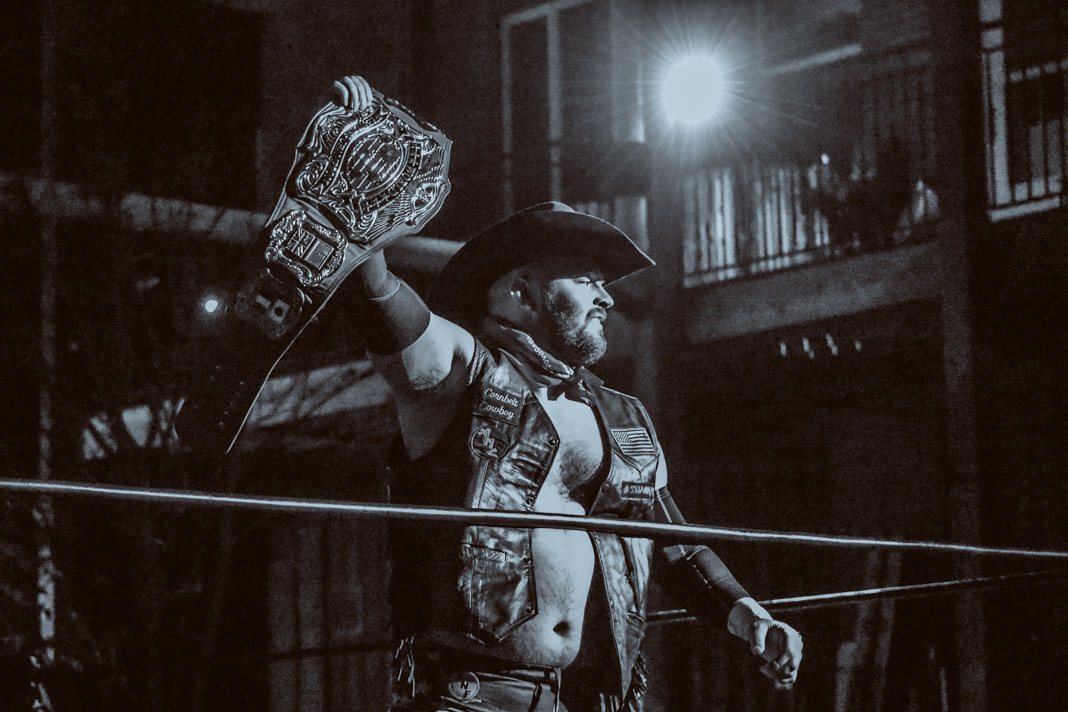 For 15 months, the 1 Called Manders reigned atop SCWPro. Night in and night out defending his "lady in red" against all comers.
Enter Johnny Wisdom. 
Leading up to their title tilt, Wisdom pleaded with Manders to give him an opportunity at the title.
After Manders accepted, Wisdom attacked him during a workout session, making this match even more personal. In response to the attack, Manders added the stipulation that Wisdom put his career on the line.
Wisdom, driven by an obsession to become champion, accepted, and his 17-year career was officially on the line.
SCWPro Presents Heartbreak
The match was a hard-hitting brawl that went all over the Bierstube patio area. Neither man willing to stay down, both hell-bent on walking out as champion. With the referee incapacitated, Wisdom smashed a beer bottle across Manders head before earning the three count with his "Title Shot" finisher.
Since their brawl at the Bierstube, Wisdom has been a fighting, albeit reluctantly, champion. Fending off challenges from the likes of Shain Boucher, the Shug, and in an intense feud, Mason Beck.
Manders, much like Wisdom, spent 2021 fighting anyone brave enough to step in the ring with him. Matches with Damien Saint, Effy, and most recently Conan Lycan serving as SCWPro highlights.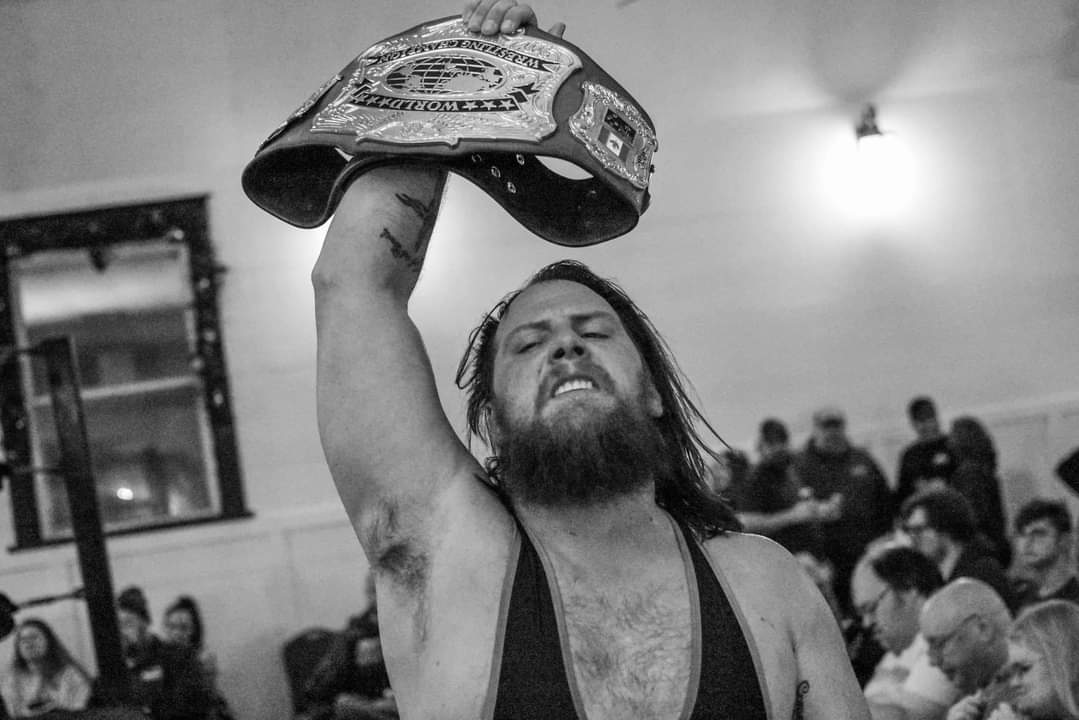 His victory over Lycan at SCWPro Genesis earned him this title match opportunity.
Making this Saturday's Championship match even more intriguing is what awaits the winner of this feud, number one contender Deonn Rusman.
Returning from injury and winning the Prestige Rumble last month, Rusman will face the winner of this feud for the Championship at SCWPro's two-night extravaganza EPIC next month.
Whichever man emerges from this reignited feud to face Rusman will have earned it as fans can rest assured this will be an all-out war.
SCWPro Presents Heartbreak
JT Energy & Augustus Draven vs. Nevin Knoxville & King Steven Youngblood
Everyone loves when Hall of Famers return to action, even if it's just one night, well everyone except JT Energy and Augustus Draven. Energy, the current SCWPro Iowa Champion, and his right-hand man Draven didn't take kindly to SCWPro Hall of Famers Nevin Knoxville and King Steven Youngblood entering the Prestige Rumble.
Feeling slighted by missing out on the Rumble, the duo, collectively known as the MistNight Society, have taken to social media to lambaste the SCWPro legends. Not ones to sit idly by receiving insults and threats, Knoxville and Youngblood have stepped up to the plate to try and silence the nefarious duo. It's the new age versus the old school in what should be an entertaining tag team match.
SCWPro Presents Heartbreak
Beauty vs. the Beast
Heather Reckless vs. Connor Braxton
Heather Reckless fears no man. Her ambition and drive have thrown her into the ring with many of SCWPro's most prominent and baddest wrestlers. This Saturday, she will be at a major size disadvantage against Connor Braxton but is still meeting the challenge head-on.
Braxton, whose frustrations with colleagues Ript Studwell and James Thomas, hit a boiling point during SCWPro Genesis when the three were defeated by Reckless, Corn Boi, and Latin Thunder.
Combining that loss and his failing to become the number one contender to the SCWPro Championship at the Prestige Rumble led to Braxton challenging Reckless. A challenge she quickly accepted with a swift kick to the groin.
Conan Lycan vs. Matt Cage
For months Matt Cage has been looking over his shoulder. Never knowing when and where the Shug would attack him next. Their rivalry, one of SCWPro's most intense throughout 2021, gets more explosive every SCWPro show. 
Most recently, during the Prestige Rumble, Cage, who was one of the final four competitors in the match, was distracted by the Shug, who was disguised in the audience. Losing his focus for mere seconds ended up costing Cage as he was quickly eliminated. 
Saturday, Cage has his hands full in Conan Lycan, making things even tougher is not knowing when the Shug will appear again. Nevertheless, Conan Lycan has hit a pivotal point in his SCWPro career. 
After back-to-back losses to JT Energy and 1 Called Manders, Lycan now finds himself trying to find his way back into title contention. A win over Cage could be just the thing Lycan needs to regain his momentum towards a future championship opportunity. 
QC Cup Match
Dustan Moseley (C) vs. Latin Thunder
Current QC Cup holder Dustan Moseley is coming off one of the most brutal matches in recent SCWPro history. During SCWPro Genesis, Moseley put an exclamation point on his rivalry with Krotch. It was during their match when he defeated the uber-popular SCWPro veteran in a Last Man Standing Match.
That match left both men bruised and bloodied, but Moseley's ingenuity ruled the day when he zip-tied Krotch to the ring ropes, so he was unable to answer the ten count. With Krotch seemingly in his rearview mirror, Moseley now looks to solidify his reign as QC Cup Champion.
Waiting to meet him Saturday is former tag team champion Latin Thunder. One of SCWPro's strongest competitors, Thunder, is one-half of Thunder Corn with Corn Boi and could use this opportunity to advance his singles career to new heights.
---
Along with these matches, fans can expect to see current Tag Team Champions. They can also expect the Prodigal Sons (Eric Eznite and Malik Champion), Krotch, Corn Boi, Shain Boucher, and more. It's the next step on the road to EPIC, and SCWPro is sure to deliver an action-packed night inside the Walcott Coliseum.