Epic; a long poem, typically one derived from ancient oral tradition, narrating the deeds and adventures of heroic or legendary figures or the history of a nation.
This Saturday at the Blue Grass Community Center, SCWPro narrates their latest book of adventures when their biggest event of the year, as SCWPro Presents EPIC, takes place. Starting the show Saturday night will be the SCWPro Heavyweight Championship match between champion "The Unsolved Mistery" JT Energy and "The Devil Dog" Dustan Moseley. 
Having the chance to set the tone for SCWPro's biggest show of the year is an opportunity for both competitors are looking to thrive in. 
"Epic is SCWPro's version of WrestleMania, and I've tried year after year to make memorable moments for the fans to talk about for years to come and on April 8th I plan to make another that will live in the SCWPro fans minds forever." – JT Energy
"It's WrestleMania for SCWPro.  It's where talk meets action, where the dust settles, and where my hand gets held high in the sky. And New SCWPro Heavyweight Champion." – Dustan Moseley
The intensity heading into this championship collision escalated quickly in the past couple of months. 
At the Prestige Rumble in January, JT Energy won the SCWPro Title for the very first time. Not to be outdone, at the end of the night, Moseley earned a championship match at EPIC  when he won the Prestige Rumble. 
The following month at Heartbreak, Energy teamed with Dante Leon to defeat Moseley and Eric Eznite. Which leads us to Lovesick. That night, Moseley took things to eleven when he viciously attacked Energy with a steel chair following the champions' victory over Johnny Wisdom. 
Repeated chair shots and a jackhammer left fans with the final image of Moseley standing tall above the falling champion with the SCWPro Championship held high. 
The assault further proved to Energy that the Devil Dog is not to be taken lightly. 
"The Devil Dog has been one to watch since his debut. I have watched his path of destruction through many of the same opponents I went through on my rise to the top. I think that someday Moseley, just like me ,will be talked about as one of the greats that existed in SCWPro history" – JT Energy
After being on the shelf for "Luck is for Losers" Energy returned at Hawkamania XXX: Walkin' the Walk & Hawkin' the Hawk to confront his challenger. An intense back and forth between champion and challenger developed and in a shocking turn of events, Energy made it seem that he was having to relinquish the championship. 
However, the ruse was revealed during Moseley's over-the-top celebration. A low blow by Energy started the attack and it finished with a plethora of chair shots followed by a devastating scissors kick. 
This time the champion stood tall with the title held high. Energy's revenge gave the fans a glimpse of the old JT Energy, one of SCWPro's most devious performers of all time. Something that didn't sit well with Moseley. 
"He's a nasty civilian, just like the SCWPro fans. Don't get me wrong, he's a great champion, but he's not superior like me." – Dustan Moseley
Both Energy and Moseley's confidence is high as we head into EPIC. Energy, in the midst of his first title reign atop SCWPro, wants to continue building his legacy as one of SCWPro's all-time greats. 
"This chapter in my story isn't over yet, we are just getting ready to start a new chapter. After all these years I'm so proud to represent SCW Pro going into Epic as The Champion.
The event was where I debuted in 2016 and after all these years, being able to open this event with the SCW Pro Championship on my shoulder is a dream come true." – JT Energy
For Dustan Moseley, this is his opportunity to prove his confidence, and swagger is warranted as he continues his ascent to the top of SCWPro. 
"It means that the work has been put in. It shows that Honor, Courage, and Commitment can take you far. I'm not in this position by mistake, I'm here because this is my mission. And April 8th my mission will be accomplished. And New SCW PRO Heavyweight Champion." – Dustan Moseley
The championship match begins a night of action that could set the course SCWPro's future. Grudge matches, title matches, old rivals, new rivals and a street fight – you name, this card has it. Let's take a look. 
SCWPro Presents EPIC
Six-Man BlueGrass Street Fight
"Infamy" Deonn Rusman, Joeasa, Robin Steele vs Connor Braxton and "The Shadow Hunters" Augustus Draven & Jay Marston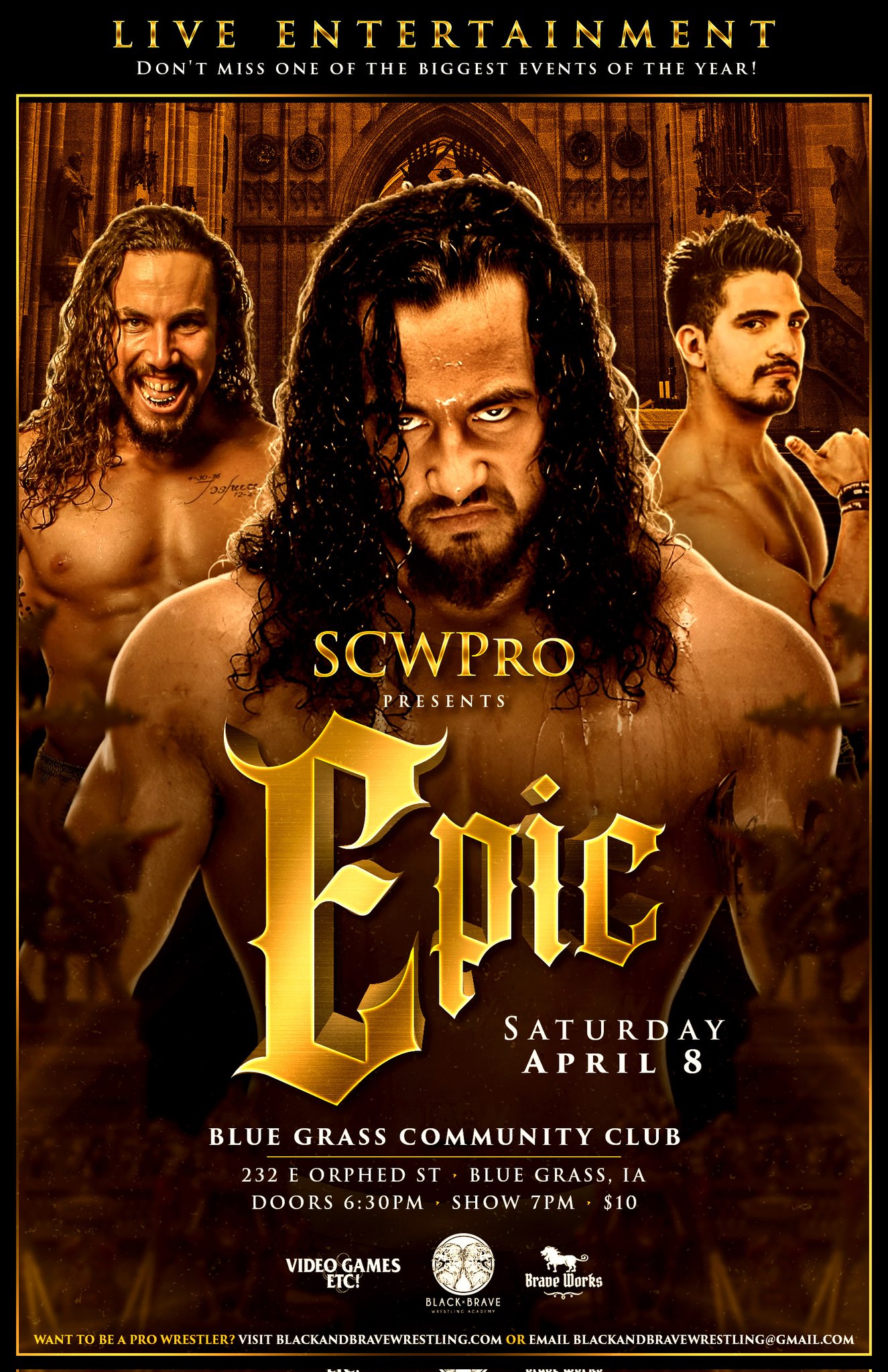 While the SCWPro Championship Match gets things started Saturday night, this one will surely end the show with a bang. The genesis of this impending war didn't start the night Braxton and his cohorts ambushed Joeasa and the returning Steele after Heartbreak. 
No, there's history within this tale. SCWPro fans know Infamy as one of the toughest and most beloved groups to ever step inside an SCWPro ring. One of the most interesting facts is that their creation came at the expense of one Connor Braxton. 
Check out how it all began here:
The former SCWPro Champion would love nothing more than to ruin the reunion of the team beloved by the SCWPro fans. Jay Marson has his own axe to grind with Infamy as well. 
During his time in Collateral Damage, Marston waged wars with Infamy. His firsthand experience against Rusman, Joeasa, and Steele could come in handy Saturday night. Three of SCWPro's biggest moments of 2023 came in the build-up to this battle.
First off, Connor Braxton cut ties with former partners Ript Studwell and "Primetime" James Thomas in a violent fashion. 
Bringing in the unhinged Draven and the ultra-violent Marston immediately put the SCWPro roster on notice. Moment number two came when Braxton, Draven, and Marston attempted to take out Joeasa after the "Godfather" and Braxton squared off at Heartbreak.
The shocking return by a chair-wielding Robin Steele sent the nefarious trio reeling and the crowd home happy. At "Luck is For Losers," the third moment arrived in the return of "Iceberg" Deonn Rusman. 
With his "Infamy" brethren in a precarious position and about to receive dual conchairto's, Rusman's long-awaited return elicited a hero's welcome from the SCWPro faithful. Seeing all this unfold caused SCWPro promoter Marek Brave to emphatically announce that at EPIC, this six man tag match would be a "BlueGrass Street Fight." 
The team that emerges from this battle as the victors will undoubtedly be considered the most dominant force in SCWPro.
"Braxton saw Joeasa as a threat to his top position within SCWPro and he tried to eliminate that threat quickly, seeing strength in the numbers advantage of his newly formed group.
Little did he know, when one member of inFAMy is around, the others are not far behind. The returns of Robin Steele and Deonn Rusman were equally electric and now the most dominant trio in the near 20 year history of SCWPro is whole once more." – SCWPro Promoter Marek Brave.
---
SCWPro Presents EPIC
Fatal Four Way Iowa Championship Match
"The Shug" Shane Hollister © vs Krotch vs Corn Boi vs Johnny Wisdom
Currently around the waist of "The Shug" Shane Hollister, the SCWPro Iowa Championship is one of Iowa's most sought-after titles. It has a prestigious lineage and a pension for delivering some of the most exciting matches on any SCWPro card.
It's no wonder why, heading into EPIC this Saturday, three of SCWPro's most decorated stars want what Hollister has.
Stepping into the ring at EPIC with Hollister will be former SCWPro Champion Krotch, two-time SCWPro Champion Johnny Wisdom and multi-time SCWPro Tag Team Champion Corn Boi. Three bonafide threats to Hollister's reign.
"All three of my opponents are great athletes that I won't take lightly. Wisdom and I have had our battles. Krotch is one of my great friends and we've both been doing this a long time. Corn Boi is the new blood and part of the future of SCWPro." – The Shug 
For Wisdom and Krotch, it's an opportunity to become SCWPro grand slam champions, as the Iowa Championship is the only title that has eluded them in the promotion. As for Corn Boi, it's the next step in his journey as a singles competitor after moving on from his partnership with Latin Thunder.
Leading up to this, the three challengers competed in an elimination series of matches, with the first to two victories earning his shot at EPIC. Corn Boi defeated Wisdom, then was defeated by Krotch. Wisdom created a three-way tie with a win over Krotch. 
Which led to a triple threat match at Hawkamania XXX but still nothing was solved as the three simultaneously pinned each other. This is easily the Shug's stiffest test as Iowa Champion, and the man of the SCWPro people is ready to meet it head-on. 
"I'm not done; therefore I'm the past, present, and still the future. There's a hell of a lot of fight left in this old dog.
"
– The Shug.
---
SCWPro Presents EPIC
QC Cup #1 Contender Battle Royal
Winner Faces "His Chosen Champion" Eric Eznite
Much to the chagrin to the SCWPro fan base, "His Chosen Champion" Eric Eznite is once again the QC Cup Champion of SCWPro. 
With some "divine" intervention from his personal colossus Garrote, Eznite won the Cup for the second time in a six-man scramble match at Hawkamania XXX. Having the Cup back in his possession has taken Eznite's hubris to astronomical levels. 
"When HE CHOSE ME- He chose me to WIN. Championships are MY DESTINY. 
I'm going into EPIC, to reestablish WHY HE CHOSE ME. WHY I AM CHAMPION. 
I'm going into EPIC to show every single SINNER why they should follow me. Because I am THE BEST." – Eric Eznite
Some of the competitors scheduled to compete in the battle royal are Chuck Brewster, Malik Champion, Shain Boucher, and Jared Thumb. 
But knowing SCWPro, there will be more than a few surprises for this all-important battle royal. One competitor who could make a huge difference is the man who stands beside Eznite on his righteous journey, Garrote. 
The man in black will be out to make sure no one earns a shot at Eznite's precious Cup. 
SCWPro Presents EPIC
SCWPro Tag Team Championship Match
"Partners in Rhyme" Niko Kline & MFG © vs Mason Beck & A Mystery Partner
The Partners in Rhyme have been in the crosshairs of Mason Beck for months. Their unscrupulous elimination of Beck from the Prestige Rumble made them public enemy number one for the big man and the SCWPro fans. 
After a brief suspension for getting a little too physical with SCWPro referees, Mason Beck began his hunt for the SCWPro Tag Team Titles. At Hawkamania XXX, Beck earned a title opportunity when he defeated the champs in a No Countout, No Disqualification Handicap Match. 
But the title opportunity came with one condition; he had to find a partner. Beck will reveal his partner Saturday night, and it will be interesting to see if the two will have enough chemistry to dethrone the champs. 
Champions that have proven time again just how cohesive they have become. Their confidence is high, and do not fear Mason Beck; they will be out to prove a point at EPIC. 
SCWPro Presents EPIC
Singles Match
Frontman Jah C vs Dante Leon
Two of SCWPro's most popular and charismatic stars step in the ring together once again. Lots of history between these two. Something Jah C alluded to when he challenged Leon to this match. 
Watch the Frontman's challenge here:
Both are eager to get back into title contention in SCWPro, and a win at the biggest show of the year could be that first step. 
Neither lacks confidence, and they know each other all too well, which, in a card full of potential show stealers, makes this a favorite to do just that. This is the definition of a can't-miss confrontation. 
SCWPro Presents EPIC
Singles Match
Aminah Belmont vs Kaia McKenna
The Phoenix Princess Aminah Belmont has made a claim as the top female wrestler in SCWPro. Her boastful claims have some merit as she has seen a string of success competing in the promotion. 
A recent business arrangement with John Bonhart has paid off, as he has been in her corner for multiple victories of her. Awaiting her Saturday night is a returning Kaia McKenna. A shoulder injury sidelined McKenna in 2022, and now she's ready for a triumphant return in front of the SCWPro fans. 
Before the injury, her in-ring momentum was picking up steam; Saturday night is her chance to pick up right where she left off. These two have done battle before, and their rivalry reignites Saturday night.
---
It's the biggest show of the year for SCWPro, and with the line-up of matches they have scheduled, this has the potential to live up to the show namesake and then some.