As of right now, there is nobody within the WWE that is on the level of the Tribal Chief, Roman Reigns. The reigning Universal Champion controls Smackdown with an iron fist, alongside Paul Heyman and Jey Uso.
Reigns has evolved into WWE's most effective and loathed villain with a blend of power, agility, and technical offense. In honor of Asian American Pacific Islander Heritage Month, Pro Wrestling Post takes a look at the current head of the Anoa'i family's table, the fearsome Roman Reigns.
Roman Reigns – Man of Culture
Born on May 25, 1985, Leati Joseph "Joe" Anoa'i was born in a family of wrestling royalty. A huge variety of Samoan wrestlers have come from this family, including the Usos, Umaga, Rikishi, and Yokozuna. Roman's father, Sika Anoa'i, is one-half of the legendary team, the Wild Samoans.
His brother Matthew was mostly known as Rosey, a member of the 3-Minute Warning team and later, tag team partner of the Hurricane. The Anoa'i family is also deeply tied to the Maivia family, bonding superstars such as The Rock alongside the Anoa'i family.
Attending Georgia Institute of Technology, Joe began to prosper in the world of American Football. In 2007, Joe was signed to the Minnesota Vikings, a tenure cut short after Joe was diagnosed with leukemia. After going into remission, Joe bounced around teams, joining the Jacksonville Jaguars and the Edmonton Eskimos. After being released, Joe retired from the world of football.
Welcome to Florida
In 2010, Joe finally signed with WWE, arriving in the developmental brand known as Florida Championship Wrestling (FCW). Debuting on August 19th, Joe was now known as Roman Leakee, a Samoan Juggernaut that was a part of a 15 man battle royal.
Though he was not the victor of the match, Leakee managed to make an impact as a powerhouse. 2 years later, Leakee started to feud with FCW Heavyweight Champion, Leo Kruger, becoming the number one contender by defeating Dean Ambrose and Seth Rollins.
Despite failing to defeat Leo, Leakee continued his hunt for a championship, winning the FCW Tag Team Championships alongside Mike Dalton. They soon lost the titles to CJ Parker and Jason Jordan, but Roman's journey was just beginning.
As FCW began to change, it was replaced by NXT, which became WWE's new developmental brand. Now known as Roman Reigns, Roman was a feared presence on the show, a narcissistic powerhouse.
Roman Reigns – Hound of Justice
On November 18th, 2012, Survivor Series was interrupted by a trio of NXT superstars known as the SHIELD, being Reigns, Rollins, and Dean Ambrose. The mercenaries brutalized Ryback and John Cena, claiming to be a group battling injustices in the company.
The SHIELD took WWE by storm, brutalizing Ryback and Team Hell No at TLC 2012 in a Tables, Ladders, and Chairs match. Eventually, the team was revealed to be hired by CM Punk, acting as the current WWE champion's enforcers. The SHIELD broke away from Punk in hopes of continuing their quest for justice, drawing the ire of multiple veterans.
The SHIELD had their first Wrestlemania match at Wrestlemania 29, defeating Randy Orton, Sheamus, and Big Show. From there, Reigns and Rollins won the WWE Tag Team Championships against Team Hell No, while Ambrose defeated Kofi Kingston for the United States Championship.
After multiple defenses and victories, the SHIELD joined Triple H, becoming the Authority's enforcers. Losing the tag titles to Cody Rhodes and Goldust, the SHIELD continued to dominate the roster, and eventually, the trio faced off against another trio, The Wyatt Family.
After a crippling loss to the Wyatt Family on February 24th. 2014's Elimination Chamber Pay-Per-View, it seemed that cracks were forming in the group. That all changed when the group turned face, battling against the Authority with a new sense of justice. Defeating Kane and the New Age Outlaws decisively at WrestleMania XXX, the SHIELD became the targets of the newly reunited Evolution.
After multiple brawls, matches, and attacks, the SHIELD defeated Evolution at Payback 2014, but their victory was short-lived. In a turn that changed the landscape of WWE, Seth Rollins betrayed his brothers, joining the Authority.
Going Solo
Enraged by his backstabbing brother, Reigns turned his ire towards the Authority, defeating Randy Orton at Summerslam 2014. While preparing to take down Seth Rollins, Reigns suffered a hernia, forcing him out of action for a few months. After his return, Reigns turned his attention towards the Royal Rumble. Slowly growing as a polarizing figure, audience reactions towards the Samoan hero grew sour.
His Royal Rumble victory acted as the final nail in his coffin, as fans grew resentful towards him. Even an appearance (and endorsement) from The Rock couldn't save Reigns, as fans turned on the babyface.
The hashtag '#cancelwwenetwork' caught fire on social media, and the entire event was seen as a failure. Fans began calling Reigns the company's new 'golden boy,' continuously booing the Big Dog.
At Wrestlemania 31, Reigns faced off against WWE World Heavyweight Champion Brock Lesnar. Fans were extremely divided, but WWE decided to throw a curveball, as Seth Rollins cashed in his Money in the Bank briefcase and became champion. Reigns repeatedly tried to get to his championship instead of battling Bray Wyatt, Big Show, and a variety of other threats.
The Unrelenting Ascent To The Top
At Survivor Series 2015, Reigns defeated fellow SHIELD brother Dean Ambrose for the WWE championship but was swiftly defeated by Sheamus, who cashed in his own Money in the Bank briefcase.
After a month of brawling and even challenging Vince McMahon, Reigns defeated Sheamus for the WWE championship. He then went on to lose the title at 2016's Royal Rumble after being eliminated by Triple H. Reigns defeated HHH at Wrestlemania 32, this time promising to have a lengthier reign.
Reigns battled against AJ Styles for the WWE championship multiple times, but it was poetically Seth Rollins who defeated him for the championship in the end. On July 24th, 2016's pay-per-view, Battleground, the SHIELD finally battled each other in a triple threat for the WWE championship, a match that Dean Ambrose won. Reigns went on to be suspended for violating the WWE wellness program, which pushed him onto a lower place of the card.
Roman Reigns went on to defeat Rusev for the United States Championship at Clash of Champions 2016, but that was not enough for the Big Dog. Reigns started a feud with Universal Champion Kevin Owens, working alongside the newly reformed Seth Rollins to battle Owens and Chris Jericho.
Reigns was unsuccessful, eventually starting a new rivalry with Braun Strowman. After successfully defeating Strowman at Fastlane 2017, Reigns turned his attention to the Undertaker.
Roman Reigns – This is My Yard
At Wrestlemania 33, Reigns battled the Undertaker in hopes of cementing himself as WWE's top face. He was successful, managing to take down the legend, despite the crowd's jeers. Reigns planned to move on to the world championship picture but was instead attacked by Strowman. Injured, Reigns was defeated by Braun in multiple matches, and despite Roman clawing his way into a Universal Championship match, he was unsuccessful.
Reigns started a new war against John Cena, and at No Mercy 2017, Reigns defeated Cena to reclaim his position as the top guy. Reuniting the SHIELD, Reigns waged war against the Miz and his allies, such as the Bar.
At Survivor Series 2017, the SHIELD battled The New Day in an inter-promotional tag match, one that the SHIELD won. With this new rush of momentum, Roman went on to defeat the Miz for the Intercontinental Championship, becoming a grand slam champion.
After being unable to win the 2018 Royal Rumble, Reigns managed to win a number one contendership Elimination Chamber, going on to challenge Brock Lesnar for the Universal Championship.
Surprisingly, Reigns was unsuccessful at Wrestlemania 34, though he remained relentless in his pursuit for the gold. It was only at August 19. 2018's Summerslam that Reigns finally defeated Lesnar for the championship with an earth-rattling spear.
A Warrior Outside Of The Ring
"We all knew about it. But it was his timing and as a family we supported his thoughts and when it was right for him to come out with it.
I can't tell you how proud I am of him of being able to speak up because it's a domino effect in helping other kids diagnosed with leukemia. As we see on a weekly basis, he's doing the charities and meet-and-greets and bringing awareness to that disease.
It's a beautiful thing as he's utilizing his platform. It's bigger than wrestling and that's one thing we're so happy he's able to get out there and bring awareness."
Rikishi speaking on how proud he is of Reigns' use of his platform to educate on leukemia. (h/t Wrestling Inc)
Things changed on October 22. 2018, as Roman revealed that his leukemia had returned. Audiences were shaken to the core, and Roman's real-life battle and optimism made fans want to cheer for him. When he thankfully returned on February 25. 2019, fans rejoiced.
Reigns brought back the SHIELD, defeating Baron Corbin, Drew McIntyre, and Bobby Lashley at Fastlane. At Wrestlemania 35, he triumphantly defeated Drew McIntyre before moving to Smackdown for the rest of the year. After a few run-ins against McIntyre and Shane McMahon, Reigns was attacked by a mysterious assailant. This was revealed to be Erick Rowan, who, alongside Luke Harper, sought to make a name for himself at Roman's expense.
Alongside Daniel Bryan, Reigns defeated the two villains at Hell In A Cell 2019. He then started a new rivalry with King Corbin. King Corbin decided to bring in his followers, such as the Revival, Dolph Ziggler, and Bobby Roode, and in turn, Reigns turned to the Usos for help.
At 2020's Royal Rumble, Reigns defeated Corbin in a falls count anywhere match, ending their bad blood. When the Covid-19 pandemic began to take the world by storm, Reigns was deemed immunocompromised thanks to his recent leukemia problems.
Roman Reigns – The Tribal Chief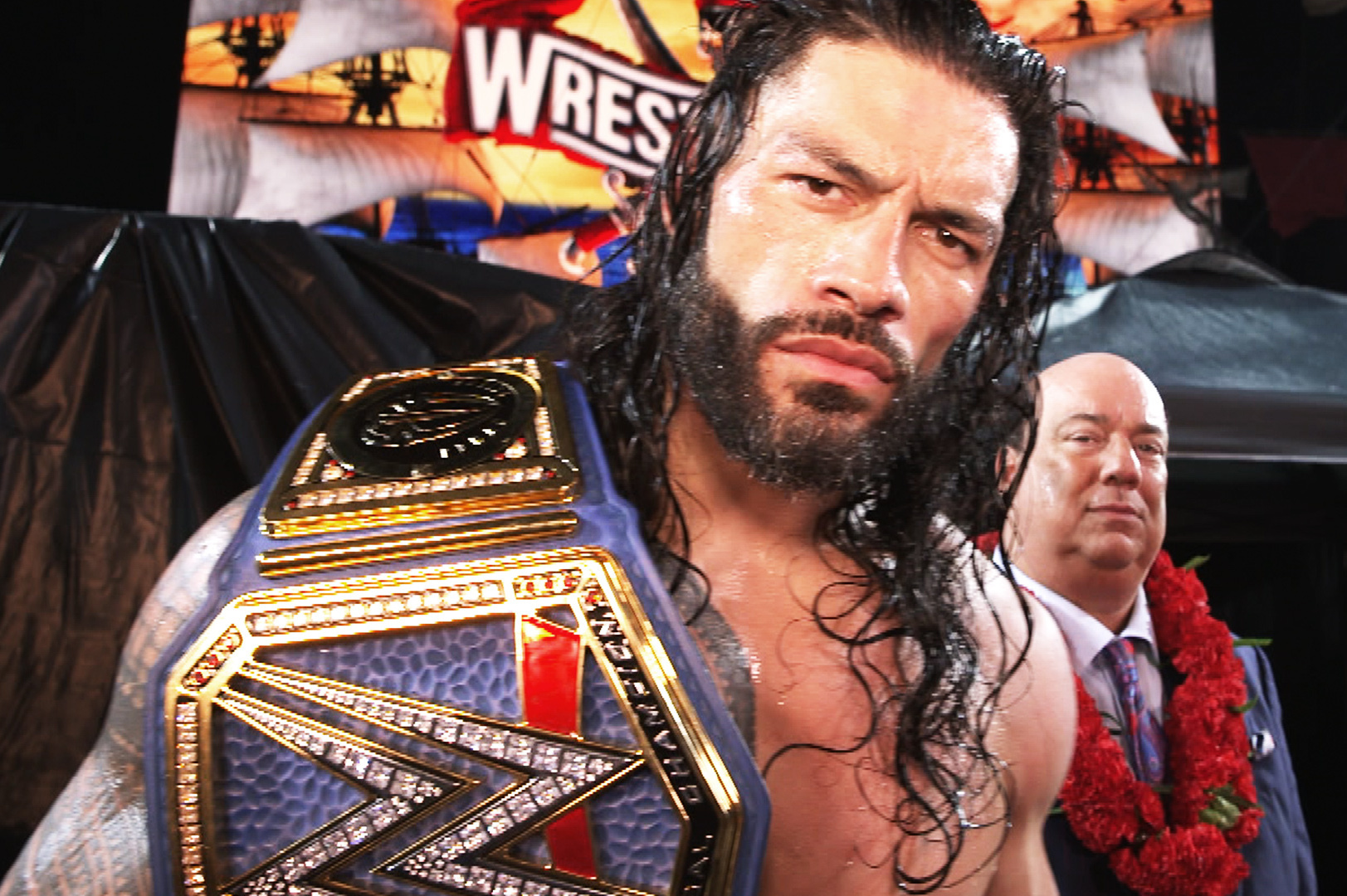 After Roman was deemed immunocompromised, he sat out of Wrestlemania 36 and a large portion of 2020. However, a newly villainous Roman Reigns attacked the Fiend and Braun Strowman on August 23rd, at Summerslam 2020. Reigns changed his attire, joined forces with Paul Heyman, and even introduced a new submission finisher, the Guillotine Choke.
Suddenly, Roman was a completely different individual, an egotistical brute. Heyman sang his praises, reminding the world of his legendary Samoan lineage. Roman's promos became frightening and intense, yet calm and collected. He showcased his brutality by beating his own cousin, Jey Uso, near unconsciousness at Clash of Champions 2020.
"Proud is that we're all family, we're all first cousins. Roman Reigns is also my godson too, so that's not why I'm proud of him. I'm just proud of our family and our accomplishments. Like I said, the shoes that we had to fill were not small.
To be able to stay on top for so many years, decades even, generations even, it's something to be proud of and to take with you."
Samu speaking on how proud he is of Roman and the Samoan Dynasty. (h/t Wrestling Inc
Reigns furthered his new persona at Hell In a Cell 2020. It is there where he used a ruse of fake tears to put Jimmy Uso in a chokehold. In the process, forcing Jey to surrender and join him as his right-hand man. Following his victory, Reigns defeated a variety of opponents, such as Kevin Owens and Daniel Bryan.
At WrestleMania 37 Night 2's main event, Reigns defeated both Daniel Bryan and Royal Rumble winner Edge. He pinned both men at the same time. Recently, Roman defeated Cesaro at Wrestlemania: Backlash. With the Swiss Superman defeated, there's no telling who Roman's new rival will be. All that's left to say is hail to the chief.