For ROH TV Episode #518, three matches have been announced to take place. Two of the matches consist of quarterfinals for the ROH Women's Championship tournament. The third match involves a no disqualification match between former friends and now bitter rivals. Demonic Flamita and Rey Horus will come at each other with all the fire and animosity that has grown between these two since April. After Flamita's split from the group, it became imperative for him to distance himself from the rest of MexiSquad.
_____________________
With the semi-finals of this tournament right around the corner, two unlikely quarterfinals, competitors face each other in Quinn McKay and Rok-C. In contrast, Miranda Alize and Nicole Savoy look to advance in their quarterfinals match and face the winner of Allysin and Trish Adora. So who will leave with honor after episode #518 of ROH TV?
ROH Women's Championship Tournament
Quarterfinals
Rok-C Quinn McKay
What happens when two unlikely names advance in a tournament? The answer is anything can happen. On one side, there is the unlikely advancing Quinn McKay over Mandy Leon. The other side of the ring is the 19-year old who defeated the former ROH Women's Champion Sumie Sakai. This time around, both women come in as unlikely women to advance in this tournament.
Of the two, the Prodigy, Rok-C, has a huge upside regardless of the result. The difference here is nothing no one expects anything from Quinn McKay, making her one to advance all the more likely. However, if someone is likely to cost someone a chance to advance here, Mandy Leon would cost Quinn rather than Rok-C. Regardless of whoever advances faces the winner of the Angelina Love and Max the Impaler in the semi-finals.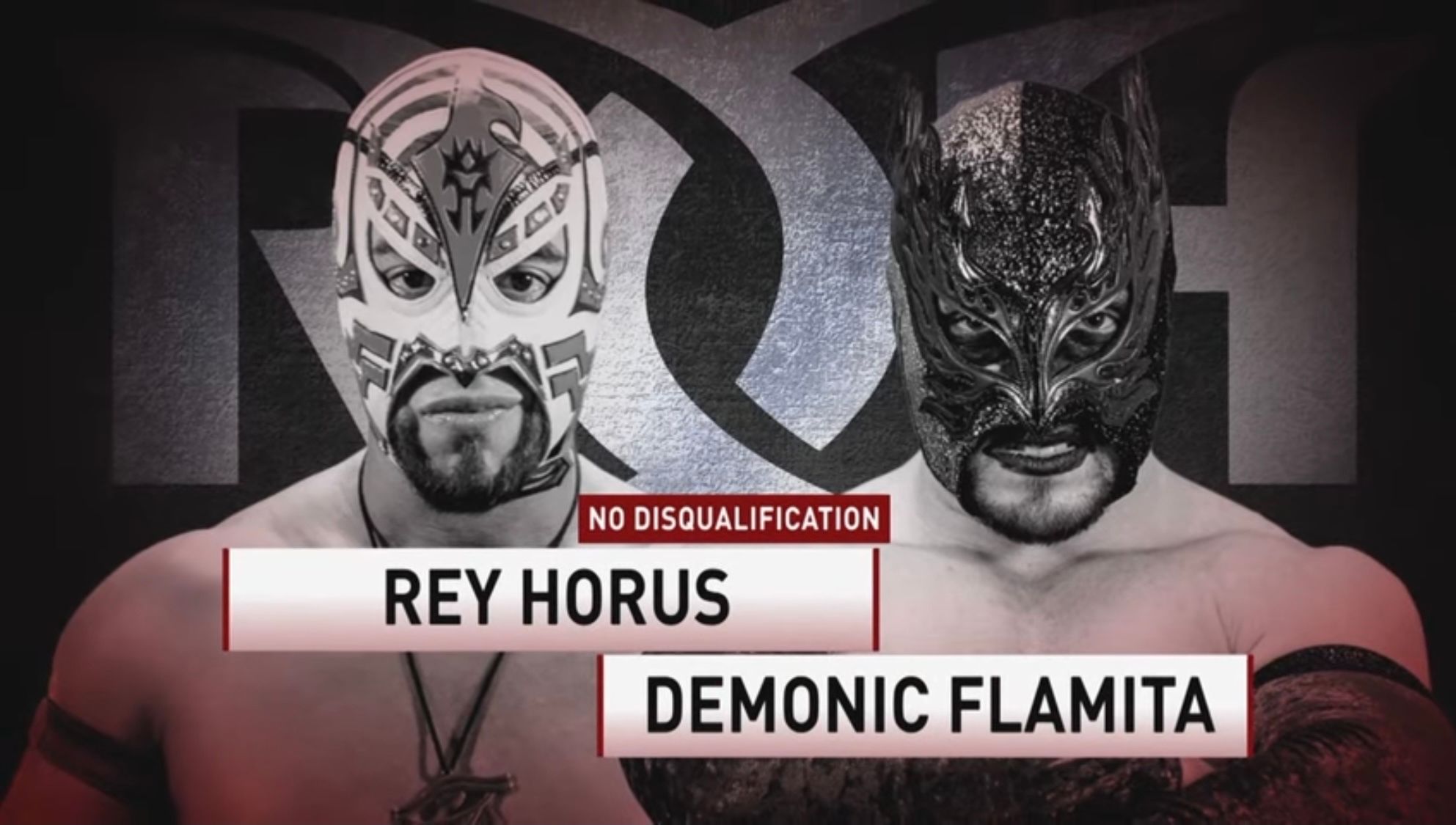 No-Disqualification Match:
Rey Horus vs. Demonic Flamita
The last time these two faced one another, it was clearly a sign that the MexiSquad was no more. Flamita has changed his tune, and gone is the fan favorite and friend to Horus and Bandido. In his place is a man that has reached into a much darker side of his psyche. The third-generation talent no longer wanted to be with those that he had been connected with anymore. It became clear that the luchador is more concerned looking out for himself more than anyone else.
As it's been stated in the past, while their time in Ring in Honor only traces back a couple of years, their time with one another goes further back than that. This match is as much about retribution for Horus after being attacked the last time these two faced each other after the match. Will Horus win handily against Demonic Flamita, or will his emotions get the better of him?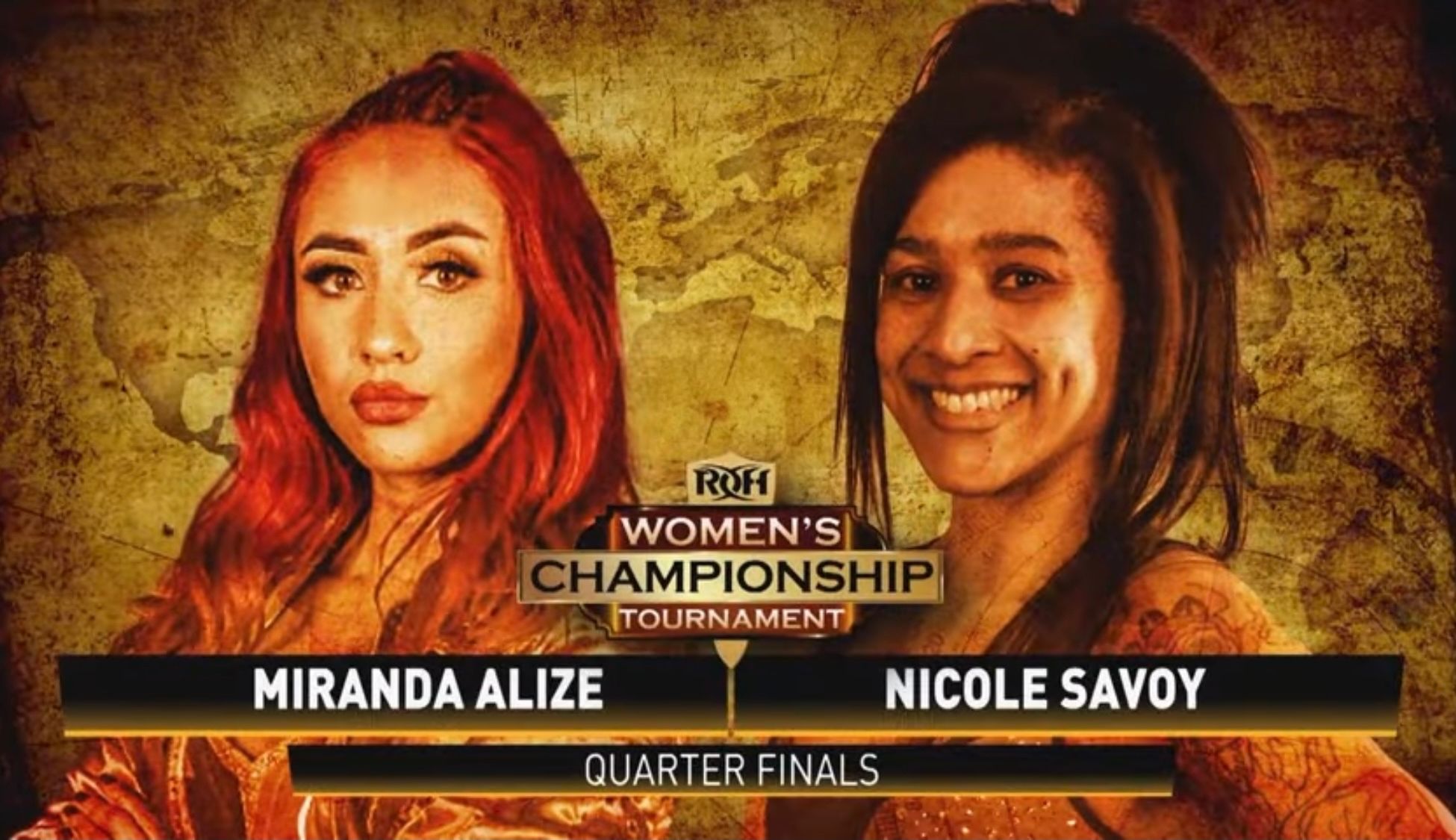 ROH TV Episode #518
ROH Women's Championship Tournament
Quarterfinals
Nicole Savoy vs. Miranda Alize
The next of the quarterfinals matches involve highly recognized women on the independent scene. Savoy has a moveset that is best described as technical as she is one to lean on the ground and pound style. With an extensive background in MMA (including Muay Thai), Savoy will just as easily make someone tap out as she is capable of snapping a limb. The ten-year veteran has competed all over North America, in particular SHIMMER. This match is her third of the year and second for Ring of Honor. She is coming into this match as a serious threat to advance.
For Miranda Alize, a trainee of Booker T and Reality of Wrestling in her hometown of Houston, Texas, she too brings a wrestling pedigree to this tournament. While they have never faced each other one on one, they have teamed together in Japan, often successful in the process. So who between them will stand alone?
What To Expect:
Will Mandy Leon play a role in one of the quarterfinals matches?
The results of Glory By Honor Night One
Was a new ROH Champion crowned in Philadelphia on Friday, August 20th?
******
Be sure to stay tuned to the Pro Wrestling Post for this and additional stories from the wrestling world. Readers can rely on Pro Wrestling Post to be their daily source for all things inside the squared circle. As a result, readers can expect daily news, history, and so much more. Please visit Ring of Honor's official website here for news and information on the promotion and upcoming events.