Rey Mysterio is a first-ballot Hall of fame inductee. His career spans decades and, in his own way, revolutionized the Lucha style and wrestling itself. He has won championships across the globe, and in 2006, he had his biggest moment when he won the WWE World Heavyweight Championship at WrestleMania 22. This moment is widely talked about, but what is forgotten about is his second World Heavyweight Championship.
In the lead-up to the Fatal Four Way pay-per-view in June of 2010. Rey Mysterio won a battle royal to earn a place in the championship match at the event. Mysterio would eliminate Kane last in the match. Something that will come back to haunt Mysterio. The master of the 619 defeated Jack Swagger, Big Show, and CM Punk to win his second World Heavyweight Championship at the pay-per-view.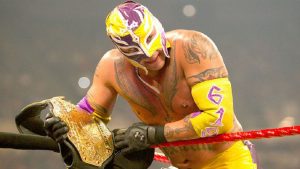 His reign would last only 28 days as WWE failed to establish him as a top main event star. The start to his reign wasn't the ideal start for the new champion. He missed his first SmackDown show as champion. Upon his return, Jack Swagger applied the ankle lock and beat him down for two weeks straight. He was not allowing Mysterio any offense as champion, fueling opinions that Mysterio was always booked as a weak champion.
Former WWE head of talent relations and announcer Jim Ross spoke about Vince McMahon's opinion on Mysterio being champion on his podcast Grilling JR.
"I think Vince's issue with Rey was one word: size. Nowhere had the top guy in WWE been of Rey's size, at least in my tenure there, which began in '93, as I mentioned. Rey would be the smallest World Champion in the history of the company. I think that was Vince's unsettling decision.
"But was Rey over? Hell yeah, he was over. His merch sales showed that. What you hear from the audience when he came out, you can tell that people loved him. They cheer for the underdog."
At the Money in the Bank pay-per-view, Rey Mysterio defended his WWE World Heavyweight Championship against Jack Swagger. The all-American American was the champion going into the Fatal Four Way Match the month previous; he was keen to regain his championship.
Mysterio successfully defended his championship against Swagger. Whilst Swagger applied the ankle lock, Mysterio slipped out of his boot, delivered a hurricarana, and pinned him. Irate after losing, Jack Swagger attacked Mysterio, besting him down.
It was Kane who would come out to save Mysterio, but Kane had won the Money in the Bank briefcase earlier in the night. Kane delivered a choke slam and a tombstone to Mysterio after cashing his World Heavyweight Championship opportunity on an injured champion. Pinned Mysterio, Kane became the new champion ending an uneventful 28-day reign for Mysterio.
Rey Mysterio's long-time friend Konnan spoke on his keeping it 100 podcast about how former SmackDown writer Court Bauer spoke to him about Mysterio's Championship reign.
"Everybody in the creative wanted Rey to be the champion except Vince [McMahon]. And Vince kind of gave in. And he was like, 'Alright, I'm gonna make him champion, but this is the date that we are going to take the belt off.'
So they were thinking to themselves, oh good. We'll just make him as strong as we can up to that date. And Vince kept burying Rey, just to show them that they were wrong."
With stories that Vince McMahon didn't want Rey Mysterio to be his champion and set a date to end the run says a lot about how his second reign as champion played out. Rey Mysterio was one of the most over-wrestlers in WWE history, but this championship reign is forgotten about in history. That's mainly down to weak booking with a short reign lasting only four weeks.