Riot City Wrestling (RCW) presents Strength 2019 was the big event that the company held on Saturday, April 27th, 2019.  There were matches held in what is known as the Strength Cup Tournament, we were left with four men Kurt Baron, Dean Brady, Rocky Menero, and Cadie Tre.  These four men would compete in the semi-finals matches held on April 27th with the two winners advancing to the finals on the same night.  The winner of the Strength Cup Tournament is then granted an upcoming championship opportunity at the RCW Championship.  The promise of these four men in a tournament coupled with the other matches that were on the card and you can guarantee that Strength 2019 was going to be memorable.  Riot City Wrestling offers up the matches from their events absolutely free through their YouTube channel https://www.youtube.com/user/RiotCityWrestling, so make sure to go over to their channel and give them a subscribe to help support the work that they do.
Speaking of the work that Riot City Wrestling does that we as fans get for free, just take a moment to let that sink in.  The production at RCW is incredible for an independent wrestling company.  Everything from the promoting of events, to ring set up, to the rampway visuals, camera work, referees, and commentary as well.  All of that combined with these women and men giving it all they have, putting their bodies on the line, and perfecting their crafts all because of their absolute love and desire for this industry.  The hard work is definitely seen in all aspects of what you get from an RCW show and I am sure that seeing them live is even more exciting and breathtaking than the already incredible content that is provided via the RCW YouTube channel.  Right now you can go and check out Strength 2019 so if you do not wish to have it spoiled then please check it out first before continuing on with this review because there is certainly spoilers on their way.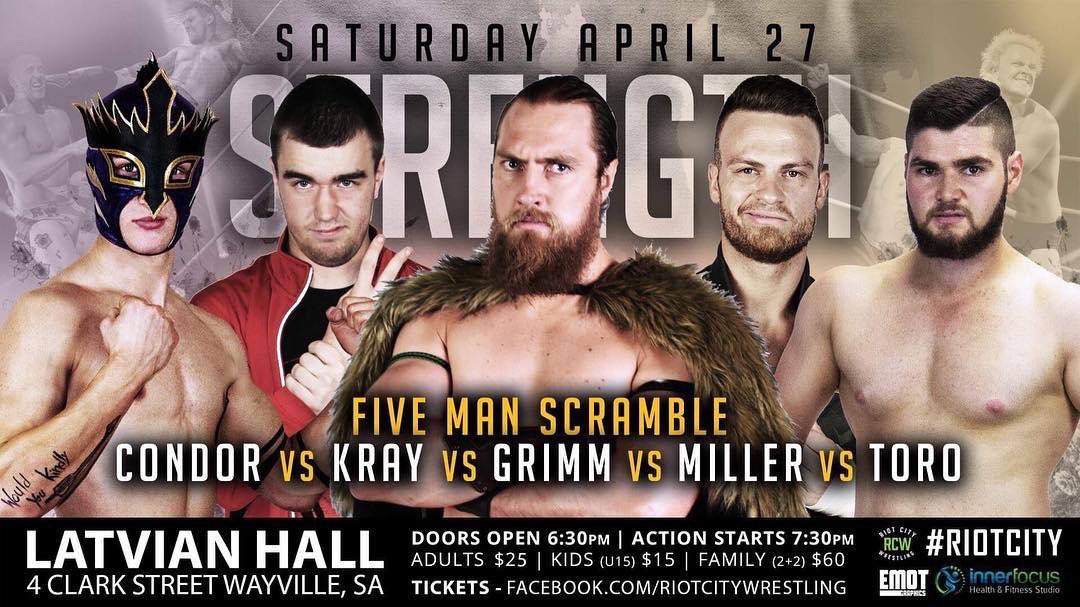 Photo / twitter.com/rcwrestling
The very first match on the card for Strength 2019 is a five-man scramble.  This match is explosive right from the opening bell.  As is the case with most multi-person matches you can expect a lot of fast-paced, and a lot of people getting their moves in as well.  These types of matches truly are perfect to start a card off with.  It is an opportunity to get a lot of faces out there and give the fans a real burst of energy which prepares them for a very explosive and exciting night of wrestling action.  Grimm really takes control of this match at times and shows a real dominance, that is until a distraction from Jimmy C allows Steve Miller to pick up the victory in this match.  Grimm is very irate that he allowed Jimmy C and Steve Miller to get the best of him in this one, and you can bet that the bad blood between these men is far from over.  A very enjoyable start to the show with this match.
Photo / twitter.com/rcwrestling
The very first of the semi-final matches in the Strength Cup tournament is the next match up.  The Skyscraper Kurt Baron taking on the ever-popular Cadie Tre.  The size difference here is insanely in the favor of Kurt Baron, so someone the likes of Caqdie Tre truly needs to plan out their strategy well when going to war with such a large and intimidating opponent.  Cadie Tre must have been preparing hard for this encounter, either that or his heart and determination carried him through a hell of a battle with Kurt Baron.  Cadie Tre looked strong and was at times very close to picking up the unexpected victory over Baron, however, once Kurt Baron hit the Skyliner it was all over and Kurt Baron was heading to the finals of the Strength Cup.
Photo / twitter.com/rcwrestling
The second semi-final match is up next and the thought of having to go into this one with Kurt Baron waiting on the other end for you has to weigh quite heavily on the competitors.  Rocky Menero and Dean Brady though would never let the thoughts get them completely down, these two incredibly talented wrestlers went in with laser focus and gave us a really spectacular encounter to witness.  At the end of this one though World Class, Chris Basso decided to exact revenge on Rocky Menero costing him the match and sending Dean Brady through to the final to meet Kurt Baron.  There is a real rivalry brewing between Rocky Menero and World Class Chris basso which is leading into what should be an explosive fight when the two get the chance to face each other inside the squared circle.
Photo / twitter.com/rcwrestling
Savannah Summers vs Miki Fortune is up next and this one contested in a street fight.  These two women have a score to settle with one another.  The winner of this match would be the number one contender for the RCW Women's Championship against the current champion Indi Hartwell.  The last match that these two women had ended in no contest, however with street fight rules we are promised to have a winner out of this one.  This match is absolutely exciting from the opening bell when these two ladies take the action to the outside of the ring.  There are some breathtaking moments in this matchup and these two really take some risks in order to become the number one contender.  In the end, it is Miki Fortune who manages to pick up the victory and earn herself that championship opportunity against Indi Hartwell.
Photo / twitter.com/rcwrestling
The Armstrongs vs The Parea is tag team action at its finest.  The Parea is one of the most exciting teams in RCW and is starting to get more attention as they continue to grow as a team in the wrestling industry.  The Armstrongs are tough and intelligent wrestlers who will do whatever it takes to assure that they remain at the top.  These two teams just absolutely work perfectly inside the squared circle, two perfectly balanced styles that suit the entire feud make this match a true delight to watch.  Now some people may get upset at the end of the match as the Armstrongs do get themselves disqualified, but this only assures that we are going to get that next even more exciting chapter between these two teams.  The Armstrongs might still be the RCW Tag Team Champions as a result of the disqualification, but that will only fuel the fire that burns inside The Parea even more.  The next time these two teams meet up will be epic, and this match is only just scratching the surface of what is yet to come from this clash.
Photo / www.facebook.com/riotcitywrestling
There might not be a lot of love from the fans for the Skyscraper Kurt Baron but you can not deny the physical specimen of a man he is, and how he uses his size and strength to dominate opponents and climb his way up the ladder of Riot City Wrestling at Strength 2019.  Dean Brady has got potential that in some ways has not even been fully tapped in to yet, which means if he is only going to get better with time then we are on the verge of witnessing the rise of a true superstar in the industry.  Dean Brady brings the fight to Kurt Baron in this match and there is that little bit of hope that the fans get watching thinking that Dean Brady has managed to win, however Kurt Baron once again just proves that he is on another level at the moment and he picks up the victory.  Kurt Baron is the winner of the Strength Cup tournament and is now entitled to an RCW Championship match.
Photo / www.facebook.com/riotcitywrestling
Matt Hayter really had to run his mouth quite a lot to get the attention of the RCW Champion Zak Sabbath.  While Hayter believes that he deserves to be at the top of the RCW ladder, Zak Sabbath believes that wrestlers should have to earn their place.  Sabbath agrees to a match here against Matt Hayter, but talk about the opportunity of a lifetime for Hayter.  Matt Hayter gets the attention of the RCW Champion and now all he has to do is prove to the world that he is able to go toe to toe with the champion and it would put the world on notice.  Well put on notice we were, the main event ends up being a show-stealing encounter and did prove that Matt Hayter was far more than just someone who could run his mouth a lot.  There is a moment in the match where the referee calls the three count with Sabbath being pinned and Matt Hayter believing that he has pulled off the upset and become the new RCW Champion.  The decision is quickly dismissed though as the referee is well aware of the mistake that was made and the match is ordered to continue.  This was enough for Sabbath to recollect himself though and he ends up picking up the victory over Matt Hayter and retaining the Riot City Wrestling Championship at Strength 2019.  Zak Sabbath now has Kurt Baron to worry about coming up, but he may also want to watch his back when it comes to the likes of Matt Hayter.  Hayter was honestly as close as one can get to winning without actually getting the win, and while that will frustrate the young wrestler it will also allow for him to realize that with a lit bit more preparation he may just be right in that title picture for years to come.
Riot City Wrestling Strength 2019 is out of this world exciting entertainment.  Each and every match does what any card should which is start off solid and only continue to get stronger through the entire night.  There were many matches on this card that were exciting and easily close to being show-stealing matches, but then you get to the main event and it draws you right in and leaves you absolutely satisfied. Riot City Wrestling Strength 2019 was a very enjoyable show and one that everyone should take the time to go and check out.  Many great matches and incredible production overall make the viewing experience of RCW events worth the time of investment.  Excellent work as always from our good friends at Riot City Wrestling.
To read our preview for Riot City Wrestling's Strength 2019 event click here.