Monday Night Raw opened backstage as a black van pulled into the arena. Akam and Razar, the AOP exited the van. Charly tried to ask them why they attacked Kevin Owens last week. They replied to her in foreign languages before telling her in plain English that she looked nice. Seth Rollins came down the ramp and stood in the middle of the ring to deliver an 'apology.' He said that he loves the business, loves WWE and all the superstars in the back. He said that he considered them family and went on to say that he was out of line for criticizing them last week during the Raw Town Hall Meeting. The main event would involve Carrillo, Mysterio, and Ricochet facing the OC.
"Everyone's a critic, but not everyone's got the guts to be a leader." – @WWERollins #RAW pic.twitter.com/ppauH69F2M

— WWE Universe (@WWEUniverse) December 3, 2019
Then he called out Kevin Owens so he could apologize to his face. Kevin Owens came out and was having none of Seth's apologies; he said the entire thing smelled like 'bullshit.' The AOP came out next and Seth tried to convince Kevin that the two of them should team up and take on Akam and Razar. Kevin was wise to his antics and said he knew that this proposed match would end with the three of them jumping him and beating him down. Seth and the AOP would eventually leave the ring.
Kevin Owens wanted to fight somebody, anybody; so he issued an open challenge
Just before the commercial break, the cameras cut to the back and we saw Lana and Bobby Lashley quite possibly making their way to ringside to accept Kevin's open challenge. After the break, Lana came out to the stage alone. Kevin Owens wanted no parts of anything to do with Lana and her love triangle storyline. He continued to cut her off to the delight of the crowd before telling her that she made him throw up in his mouth. Lashley finally came out to accept the challenge and he and Lana made their way down to ringside, with two off-duty officers in tow.
The match would end in a disqualification after Akam and Razar hit the ring and attacked Kevin Owens for the second straight week. They ended up dragging him up the ramp and out of sight. During that commotion, Rusev appeared (in violation of Lana's restraining order) and attacked Bobby Lashley. The security guys gave a half-hearted chase but Rusev escaped. Lashley and Lana then berated them for not doing their jobs. Apparently, some line was crossed or something said that raised their ire and eventually put Lashley in cuffs. As they were leading him up the ramp, Lana slapped one of them across the face and she too was cuffed and led out of the arena.
Tozawa and Drew McIntyre faced off next, but before the match got underway
The Scottish Psychopath gave Tozawa the option to leave the ring and forfeit the match. He declined and suffered a brutal beatdown because of it, falling victim to Drew's Claymore Kick. Drew grabbed a microphone and called out Randy Orton before the show went to commercial break. Back from the break, Orton came out to answer the callout from Drew. He told him that if he had a problem with him, they could solve it.
Ask, and you shall receive…#TheViper @RandyOrton is here. #RAW pic.twitter.com/qkRrUbXtCo

— WWE (@WWE) December 3, 2019
Their interaction was interrupted by former United States Champion AJ Styles and The O.C. who were still angry about Randy Orton's interference last week which caused Styles to lose his title to Rey Mysterio. McIntyre would leave the ring before the three on one beatdown ensued. Orton tried to fend for himself as best he could but the numbers game was too much. Humberto Carrillo and Ricochet came down to attempt to help Randy but the tide wasn't turned until Rey Mysterio showed up to help them clean house. The matchup between Carrillo, Ricochet, and Mysterio against the OC appears to be official now for later on in the evening.
Tony Neese came looking for a fight with Aleister Black, and like many others before him, he fell victim to a Black Mass and suffered a quick defeat.
After the match, Charly spoke with Buddy Murphy backstage, who said he didn't regret knocking on Aleister's door and that Black takes himself a little too seriously.
Andrade along with Zelina Vega took on Eric Young in singles competition. After a surprisingly competitive, back and forth match, Andrade would go on to pick up the win. After the match, 24/7 Champion R-Truth came out with NASCAR drivers Michael Waltrip and Kyle Busch. Waltrip revealed his referee shirt and Busch rolled up Truth to become the new 24//7 Champion.
.@RonKillings has regained the #247Championship from @KyleBusch! Watch how it all went down! ?#RAW pic.twitter.com/NyrDVSidbP

— WWE (@WWE) December 3, 2019
No Way Jose forgot to tell his congo line dancers not to mess with whatever Rowan is carrying in that cage. He suffered two devastating claw slams from Rowan and lost in quick fashion.
Charlotte Flair took on The Kabuki Warriors in a 2-on-1 handicap match. The Women's Tag Team Champions, Asuka and Kairi Sane utilized frequent tags (as well as blind tags) to maintain the upper hand throughout the match. Charlotte gave it her best, mounting momentum and trying to isolate one of the two Warriors, but it wasn't enough. Kairi would make a blind tag while Asuka was trapped in Charlotte's Figure Eight. She hit the InSane Elbow from the top rope and picked up the win for the Kabuki Warriors.
The Raw Tag Team Champions, the Viking Raiders squashed a couple of jobbers.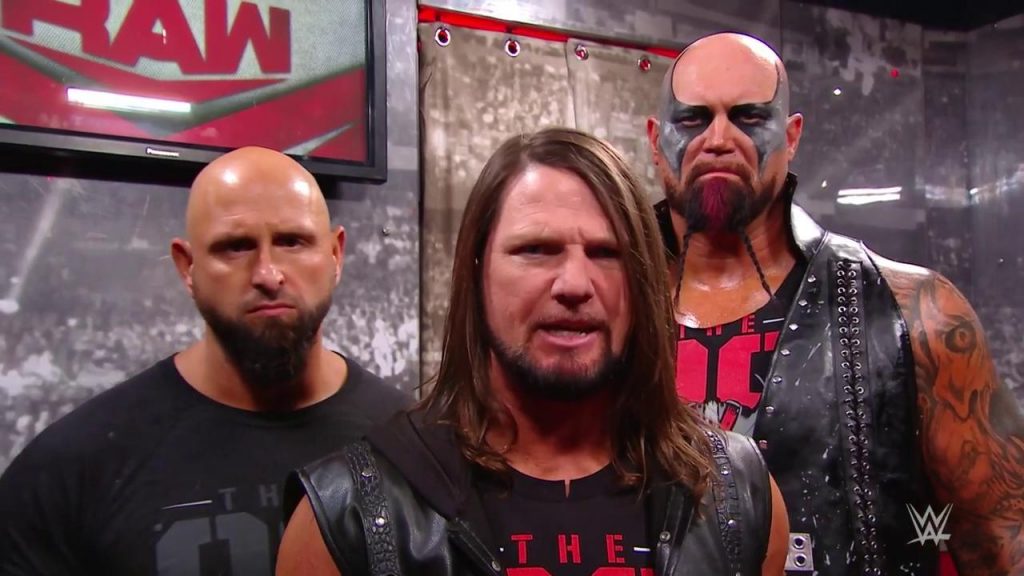 Humberto Carrillo, Rey Mysterio, and Ricochet took on AJ Styles and The OC in a six-man tag match
Hard-hitting with plenty of high-flying spots by the babyfaces, the match ended as Ricochet tried to deliver a second rope head scissors to AJ, only to have it countered into a second rope Styles Clash for the 1-2-3. After the match, AJ stood alone in the ring and from out of nowhere, was dropped by an RKO to end the show.
A HELLACIOUS #StylesClash propels @AJStylesOrg & #TheOC to VICTORY in this incredible #6ManTag main event on #RAW! pic.twitter.com/ctVZ5U51UE

— WWE (@WWE) December 3, 2019