Rachel Dubois and Carrie Orser. How many Stepsisters have actually stepped into the ring over the decades of Women's Wrestling?  Let alone how many actual Sisters have accomplished this task? Certainly not as many as there has been Brothers who have made a career in the ring. That's real brothers, not Kayfabe brothers.
George and Sandy Scott, Rick and Scott Steiner, John, and Chris Tolos to name a few. Or in a lesser case twin brothers in the ring, The Battens, Mcguires, Coles, and The Headhunters form the 80s or the USOs tag team, Jimmy and Jey. Another Identical Tag team were brothers Pat and Mike Kelly who terrorized many territories from the 70's and 80's.
Wrestling sisters are a little more uncommon than their male counterparts. One example of sisters who have recently worked are the Bella twins of WWE fame. Brie and Nikki are both former WWE Divas champions. They have had great careers during their time in the ring, which lasted 14 years. And are both in the WWE Hall of Fame. Quite an accomplishment for those two Ladies from California.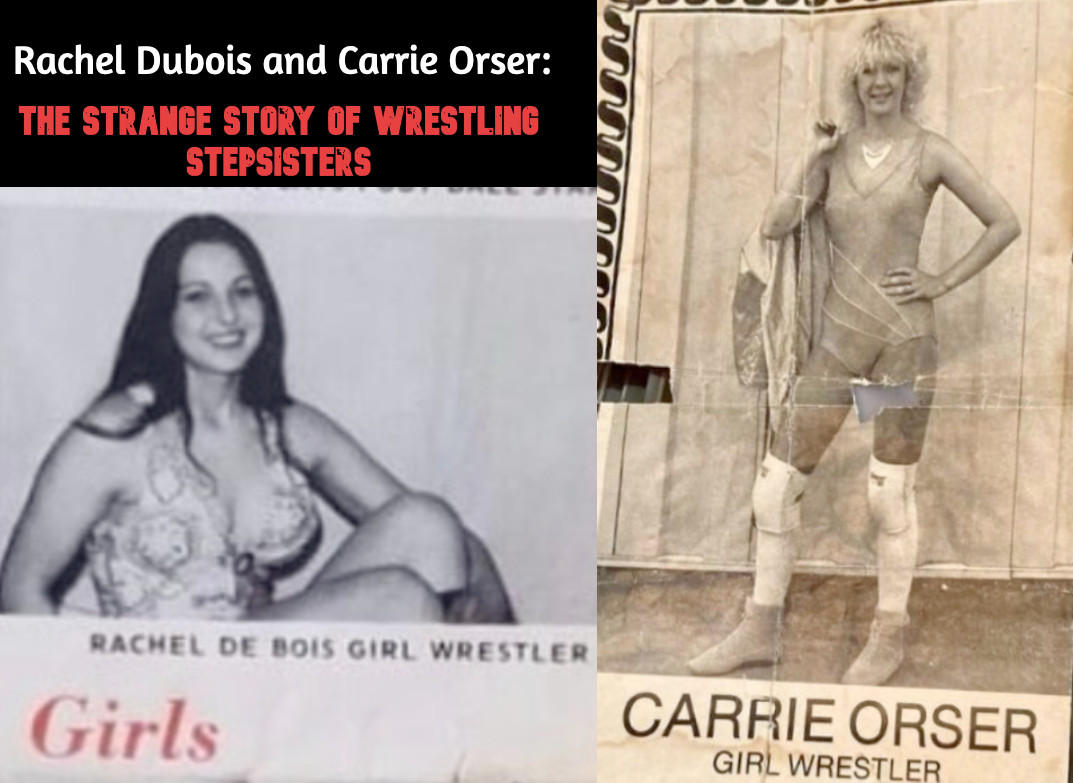 Rachel Dubois and Carrie Orser:
The Strange Story of Two Wrestling Stepsisters
Dave Mckigney was an Outlaw Promoter in the Canadian Province of Ontario. He promoted over 1200 shows over his career from 1965 to 1988 without the aid of a Television outlet. His career ended in a van accident which also took the lives of Adrian Adonis and the aforementioned Pat Kelly in Newfoundland, Canada.
Mckigney was much better known as The Bearman or Wildman, along with his first trained wrestling Bear, Terrible Ted. He had an old school carny way about him as he started in the business in the mid-1950s with a few other more famous stars, Waldo von Erich, Baron Mikel Scicluna, and Geeto Mongol, in a small Promotion based just north of Toronto called the CCWA.
His promotion, which was mostly a summer schedule, was successful enough to be able to pull in many huge stars over the years, like Archie "Stomper" Gouldie, Bobo Brazil, King Curtis, Baron Von Rascke, Cowboy Bob Ellis, Blackjack Mulligan, Mark Lewin, Kevin Sullivan, Larry Zybysko, Andre the Giant, and The Sheik.
Dave married Leona 'Lee' Gargus in the '60s and took in her two children, Conrad and Rachel. Both of the kids would grow up in the Wrestling business in different ways. Conrad was Dave's right-hand man for years helping with the promotion and being the designer of his iconic and much sought-after wrestling posters.
Rachel was encouraged to be involved in the business but in a more physical way. Dave had promoted women's wrestling in Ontario (which was illegal) long before the Ontario Athletic Commission stipulations were lifted in the late 60s.
They wrestled in Ontario in exhibitions called "Judo Demonstrations" the ladies would get in the ring and perform a few moves, and tempers would flare, and a wrestling match would ensue. Some of the more famous Ladies to appear in the ring over the years for Big Bear Sports Promotions(Dave's Business name) were Fabulous Moolah, Bette Boucher, Joyce Grable, Doris Ponds, Diamond Lil, and Darling Dagmar.
Beverly Shade from Florida was already a veteran of the ring by the time she traveled up to Canada to work Dave's summer schedule throughout Ontario in 1970. Some of her opponents for those first few seasons were Carmen Monge and Alma Mills. She enjoyed the easy schedule so much so that first summer, she ended up returning for the next two wrestling seasons.
During this time Beverly was a guest at Dave's cabin in the woods where he ran his promotion and where he kept his wrestling bears. Rachel was keen to learn the ropes and would be pushed as a beautiful young babyface wrestler. It was in the ring set up on Dave's property that she would learn the ropes from her Stepfather and Beverly Shade.
When asked about some of her early matches and her picture in the newspaper ads, Rachel said, "Oh , my that's when I was still a little chubby, I don't like that picture". She eventually turned into a beautiful young Lady who captivated many Male fan's hearts.
Rachel had a youthful, pretty look and always portrayed as the good girl in the ring. She worked her stepfather's circuit for 5 years competing both with and against Beverly, Sandy Parker, Mills, and another Ontario young Lady, Jenny Baxter. Rachel did a bit of Travelling over her short career as she wrestled in Upstate NY, Kentucky, Texas, Kansas, and North Carolina, and on TV in Bruno Sammartino's Pittsburgh promotion.
From 1972-'74, her Stepfather worked in conjunction with the WWA territories as Dave was sharing talent with Wilbur Snyder and Dick the Bruiser's promotion. Some of her battles in the WWA were with Princess Jasmine and TN Turner and Mary Jane Mull and she also wrestled in mixed Tag Team matches with Midget wrestlers on each side. Rachel eventually gave up on the business and retired in the mid '70s.
Dave's life took a horrible turn in 1978 when one of his trained wrestling bears Smokey was out of his pen and went into Dave's cabin. For an unknown reason Smokey attacked and killed Dave's girlfriend Lynn Orser. The sad story is well chronicled in the book "Drawing Heat". It made quite the Sensational news story in Ontario at the time and was nearly the death null on his promotional career. He eventually was able to train other wrestling bears and his nom de ring as The Bearman continued on.
Lynn Orser had a daughter named Carrie who unfortunately was at the house at the time , she lived with Dave after the accident and grew to love the business and all of the famous guests at the cabin. Carrie loved all of the wrestling bears and she had no fear whatsoever of them. They were just like pets to her growing up. Carrie did what most wrestling kids did, hang around arenas, man the picture tables and sold tickets. She trained to wrestle in the ring on Dave's property. Along with a friend Eva Gabriel she hit the mats in 1984, doing summer tours only, while still attending school.
Carrie along with Eva worked for four years in singles against each other or in tag teams with Donna Day and Debbie Combs on the circuit. Her career was essentially over with the passing of her stepfather in 1988. It is unknown why she wasn't booked on that fateful tour of eastern Canada, as the Ladies match certainly would have been a draw for some fans.
Not very many hopefuls make it into the squared circle to compete at any level, thousands have trained and not been able to make the grade. Dave Mckigney had two stepdaughters compete in the ring, Rachel Dubois and Carrie Orser. A story of uncredible odds and even stranger circumstances stacked up against two young Ladies, that made, their mark albeit rather briefly in professional wrestling history.
*****
Stay tuned to Pro Wrestling Post for this and additional stories from the wrestling world. Readers can rely on Pro Wrestling Post as their daily source for everything inside the squared circle. As a result, readers can expect daily news, history, and much more. Also, please visit National Wrestling Clippings Alliance on YouTube here, which commemorates wrestling's past with extensive information. Also, to visit their Facebook page, please click here.