The origin of Proud-N-Powerful, one of the most dangerous tandems in AEW, goes back roughly fifteen years. In Total Nonstop Action Wrestling, The Latin American Xchange, or LAX, was formed in 2005. From there, various members came and went, including Hernandez, Homicide, and Low Ki.
The two individuals that Chris Jericho brought into his Inner Circle paid an immediate dividend. Santana and Ortiz, collectively known as Proud-N-Powerful, will be the collective subject in this piece.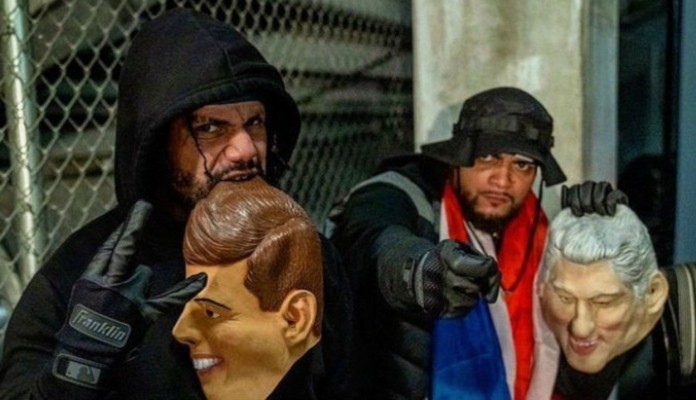 Proud-N-Powerful – The Latin American Exchange Of A New Generation
Proud-N-Powerful debuted in wrestling at different points, Santana entering in 2007 and Ortiz in 2008. In the years that followed, they wrestled separately across the independent circuit before starting teaming in mid-2012. Collectively, they began in Fighting Spirit Wrestling as EYFBO.
Humorously, the acronym in question stands for "Entertain Your Fing Balls Off." Santana and Ortiz started working together in FSW, wrestling sporadically in the New York City-based promotion.
In February of 2013, EYFBO scored its first win as a team, winning a three-on-two handicap match at FSW Initiation. The following July, EYFBO debuted for Beyond Wrestling, competing in a four-way tag team match that was won by Dan Barry and Bill Carr. Santana and Ortiz's work in Beyond Wrestling continued into 2014, working with the likes of Milk Chocolate and The Hooligans.
They also competed for the Warriors of Wrestling Tag Team Championship on a few occasions, ultimately winning the title in August in another four-way tag team match. Though they failed to win that year's Beyond Tournament for Tomorrow 3:16 Tournament, they would go on to hold the WOW Tag Team Championship throughout the remainder of 2014.
They debuted for House of Glory in December, going on to make additional appearances afterward.
EYFBO continued their WOW Tag Team Championship reign into 2015, losing at January's New Beginnings event by count-out. Santana and Ortiz then set their sights on Jersey Championship Wrestling, where they first appeared the year prior.
In April, they competed in the promotion's Tag Team Jersey J-Cup, making it to the finals, where they lost to The Beast Squad. The following May, they lost the WOW Tag Team Championship in a three-way ladder match, only to capture the JCW Tag Team Championship one week later at a different event.
Proud N Powerful: HOG Tag Team Champions
In August, they saw success at HOG, winning the promotion's tag team title by besting Danny Demanto and fellow AEW signee Joey Janela. September of 2015 saw EYFBO debut for Game Changer Wrestling, where many future AEW wrestlers worked.
In their first GCW match, they defeated Smiley and Marq Quen; they would best them again one month later. By December, however, EYFBO would lose the HOG Tag Team Championship to Private Party.
In February of 2016, EYFBO made their Combat Zone Wrestling debut, challenging for the promotion's tag team championship at Seventeen. They also sought to reclaim the HOG Tag Team Championship, held by Private Party during this period. EYFBO debuted for Limitless Wrestling in May, besting Private Party in their first match in the company.
As they continued to wrestle in CZW, tag team gold neared for Santana and Ortiz. By December, EYFBO planted its flag in the company as not only first-time CZW Tag Team Champions but two-time HOG Tag Team Champions.
IMPACT Wrestling
In early 2017, Santana and Ortiz appeared in Impact Wrestling. They were part of LAX, the faction they would become closely associated with. Alongside members such as Homicide and Konnan, they feuded with stars including Laredo Kid and Garza Jr., the latter of whom would become NXT Cruiserweight Champion as Angel Garza.
In March, Santana and Ortiz would win the IMPACT World Tag Team Championship. By April, they were also GFW Tag Team Champions; they would become the final recognized titleholders before the unification with the IMPACT World Tag Team Championship in July.
In August, LAX dropped the GFW Tag Team Championship to Jake and Dave Crist, oVe. Not to be denied gold, though, LAX would end 2017 as both IMPACT and WrestlePro Tag Team Champions. In terms of tag team wrestling, LAX had plenty to prove.
They pushed through the early half of 2018, holding gold across various companies, IMPACT and HOG being prominent examples. Santana and Ortiz would make their joint debut for Westside Xtreme Wrestling in April. In the Germany-based promotion, LAX worked with the likes of Monster Consulting and Ilja Dragunov.
Recapturing Glory
The same month, LAX dropped the IMPACT World Tag Team Championship to the team of Eli Drake and Scott Steiner at Redemption; LAX would win the championship back in short order. Around this time, dissension began to rise in the larger LAX stable.
Konnan took umbrage with Eddie Kingston, known as King in Impact, who he accused of taking over the group. This led to Santana and Ortiz taking Konnan's side in the feud, whereas King would be joined by Homicide and Hernandez.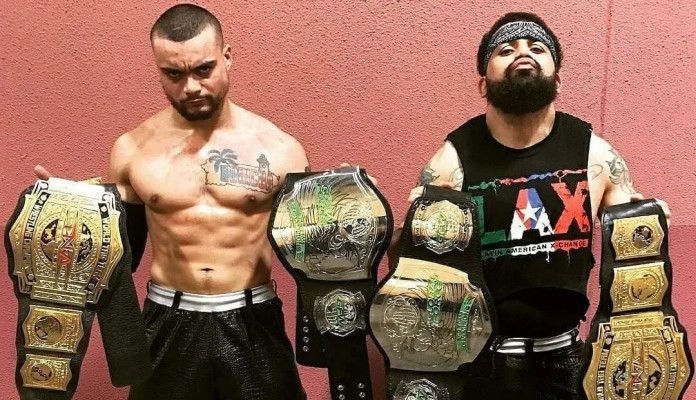 LAX vs. LAX
Due to the aforementioned feud, Santana and Ortiz faced Homicide and Hernandez, known as The OGz, in multiple encounters. In July, at Slammiversary XVI, LAX defeated their former stablemates in a 5150 Street Fight. Fast forward to October, where LAX and The OGz, would meet once more at Bound for Glory.
In a six-man Concrete Jungle Death Match, the trio of Santana, Ortiz, and Konnan bested Homicide, Hernandez, and King. The same month, LAX appeared for PWG at their Smokey and the Bandido event. It was here that they challenged The Rascalz for the PWG World Tag Team Championship.
LAX would also appear for PROGRESS in December, challenging for said promotion's tag team championship as well. Heading into 2019, LAX began to feud with The Lucha Brothers, Rey Fenix and Penta El Zero M, in IMPACT. In January, LAX dropped the Impact World Tag Team Championship to their future AEW talents during IMPACT's Mexico tapings.
In the months that followed, though, LAX would continue their winning ways. Santana and Ortiz would win the tag team titles from AAW and The Wrestling Revolver. In April, they challenged The Lucha Brothers for the IMPACT World Tag Team Championship at Redemption.
In a Full Metal Mayhem Match, LAX regained their titles. They would go on to drop said titles to The North, Josh Alexander and Ethan Page, in the summer. However, the summer was just beginning to heat up for the future Proud-N-Powerful.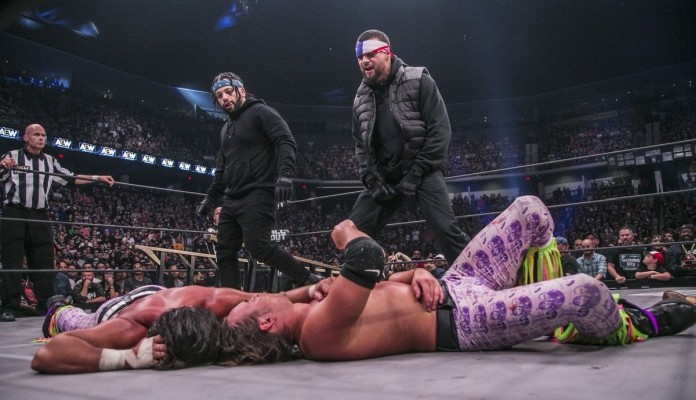 Proud-N-Powerful in AEW
In late August, AEW held its fourth pay-per-view event, All Out. It was here that Santana and Ortiz made their shocking debut, attacking The Young Bucks and The Lucha Brothers following their Escalera De La Muerte.
The following October, AEW World Champion Chris Jericho brought Santana and Ortiz into his stable, The Inner Circle. Jericho said he recruited them to AEW, regarding them as his fighters of the group.
Santana and Ortiz would become known as Proud-N-Powerful, scoring victories over the likes of Jurassic Express and The Young Buck, the latter team being one they feuded with in late 2019.
Whether they're holding things down in AEW's Inner Circle or wrestling across the globe – they made their Lucha Libre AAA Worldwide debut this past September – Proud-N-Powerful is nothing short of a dangerous tandem. They have proven this not only with multiple title victories but their trademark aggressive offense.
As Jericho accurately said, they are "pit bulls," possessing a collective scrappy mentality. It will be this will to fight that takes Proud-N-Powerful to the top. Perhaps they will wear the AEW World Tag Team Championship before 2020 is done.