wXw Germany present Drive Of Champions live in Hamburg Germany on Friday, June 14th, 2019. wXw has been putting on amazing matches since their incarnation as a company. Every single event just goes about outdoing the predecessor to it.
wXw has always been the home and is still currently the home for many of the names that wrestling fans know today. If you are a fan of wrestling but haven't ventured into watching the independent scene then wXw would be a very solid choice to start out with. wXw produces an excellent quality video. Which is then matched by the amazing action that is going on inside the squared circle.
Drive Of Champions is going to be another absolute wrestling extravaganza where some of the best in the business today will go to war.
Photo / www.wxw-wrestling.com
wXw World Tag Team Championship Schadenfreude Invitational Gauntlet Match
Aussie Open vs The Crown vs Rise vs Pace & Leon vs Jay-FK
First of all, for those of you English speaking wrestling fans, a Schadenfreude technically translates to malicious joy. So you can refer to this as the "malicious joy invitational gauntlet match". What you can expect is no matter how incredible the tag team champions Aussie Open are, they are simply at a severe disadvantage. It would take something special in order for the Aussie Open to retain. If any team is going to give you heart and determination Aussie Open certainly can. They deliver both in strides and may shock everyone by overcoming all the odds and coming out of this match still in one piece.
Photo / www.wxw-wrestling.com
Wheeler Yuta vs Veit Muller
In singles competition, Wheeler Yuta goes one on one with Veit Muller. These two men are going to tear each other apart with the hope of putting everyone on alert that they are ready to claim gold. Which one of these two exciting wrestlers will claim victory and continue to climb the ladder of success
Photo / www.wxw-wrestling.com
wXw Shotgun Championship
Emil Sitoci vs Avalanche
The name of the show, Drive Of Champions, no other match truly captures that name as this one does. Emil Sitoci will defend his wXw Shotgun Championship against Avalanche. There is a lot at stake with this particular encounter though, as you will soon find out later.
Avalanche could become the new wXw Shotgun Champion and then go on to be in the main event all in one night. Emil Sitoci could come out with a very successful championship defense and then see himself involved in the main event match.
Neither of these two men can allow for the thought of what is to come after cloud their focus. They need to keep their minds centered on the task at hand. The wXw Shotgun Championship is a very prestigious honor in the wrestling world. Both men know this and will focus on assuring they walk out of the match with the championship belt.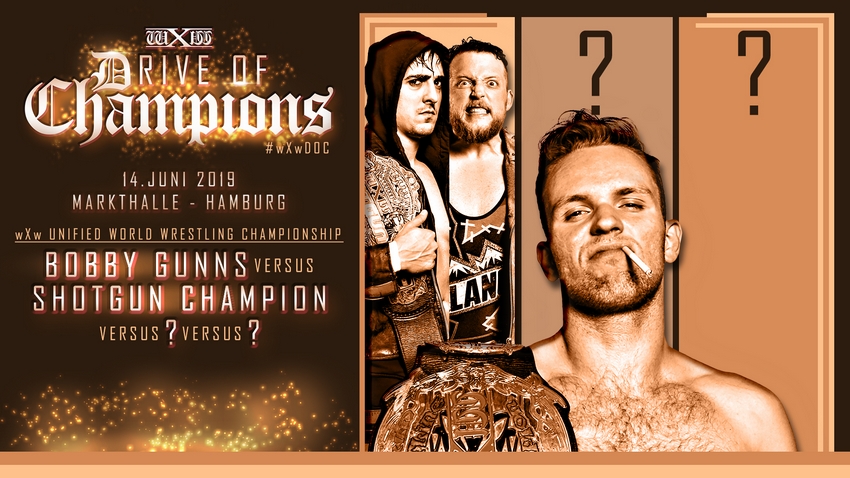 Photo / www.wxw-wrestling.com
wXw Unified World Wrestling Championship
Bobby Gunns vs Shotgun Champion vs? vs?
As of right now a lot of mystery still surrounds the opponents set to face Bobby Gunns for the wXw Unified World Wrestling Championship. It has been announced that the winner of Emil Sitoci and Avalanche will go on to compete here in this match as well.  There are still two other wrestlers set to be put into this matchup. The Champion Bobby Gunns will not have any time to prepare for his opponents.
He'll certainly show no fear no matter who ends up inside the ring with him. There is a massive opportunity at stake for either Emil Sitoci or Avalanche. Either one of them could potentially walk out of Drive Of Champions as both the wXw Shotgun Champion and the wXw Unified World Wrestling Champion. This would definitely be an accolade that would open the eyes of the entire wrestling world and set their career skyrocketing.
Drive Of Champions once again features some of the most incredible independent wrestling talent in the entire world. wXw knows how to deliver an amazing card, memorable matches, and the production values are really quite sensational as well. There is no reason for you not to be setting some of your wrestling schedules aside to check out wXw. Why not start it off by checking out wXw presents Drive Of Champions.