wXw Germany is closing out the calendar year with another big event featuring some big names that fans are not going to want to miss. On top of some of the most exciting professional wrestling that you will be able to witness there is also going to be the 2019 wXw Hall Of Fame Inductee.
wXw has a very storied history over their 19 years as a company, and on Saturday, December 14th, 2019 the company celebrates in a big way. It is time to now take a look at what is in store for wXw 19th Anniversary.
wXw 2019 Hall Of Fame Inductee:
Robbie Brookside
Most fans may know Robbie Brookside for his current role with NXT, but Robbie Brookside the wrestler made an impact in every single place that he wrestled. It will be almost 15 years exactly to the date that Robbie Brookside won the wXw Unified World Wrestling Championship at the 4th Anniversary Show.
Robbie Brookside will get recognized for the impact his wrestling career had on wXw while he was the champion. Brookside joins a very elite group of names in the wxw Hall Of Fame.
wXw Women's Championship
Amale vs Meiko Satomura
Amale the wXw Women's Champion has had a strong 2019. Seven years in the industry and now she is putting the world on notice. Amale has had a long list of top quality wrestlers to compete against, and she has managed to conquer them all.
If you want a big-name opponent then look no further then Meiko Satomura. Many may remember her as a semi-finalist in the second Mae Young Classic. Satomura is currently the Progress women's champion a title that she won after defeating Jordynne Grace. These two women are lighting up the world with their work this year, and now their in-ring collision should be nothing short of amazing.  Expect this match to be one of the most talked-about matches by the end of the night.
Kassius Ohno vs Lucky Kid
wXw is looking to end the year with a real bang which is noticed with the announcement that Kassius Ohno will be in action at the 19th Anniversary. Lucky Kid has been around the business for quite some time now. But in the last couple of years, he has taken his game to all new heights. Lucky Kid continues to give stand out performances and audiences find themselves getting behind this young man. Kid has a lot of experience and youth on his side but he is coming up against strength and athleticism combined in the form of Kassius Ohno.
Fans who have faithfully followed NXT will know of Kassius Ohno from there. However many fans around the world remember the days when he was lighting up the world on the independent scene. Kassius Ohno now has an opportunity to once again harness what made him one of the biggest standout wrestlers not too long ago. This match is going to be exciting and full of everything a wrestling fan is looking for.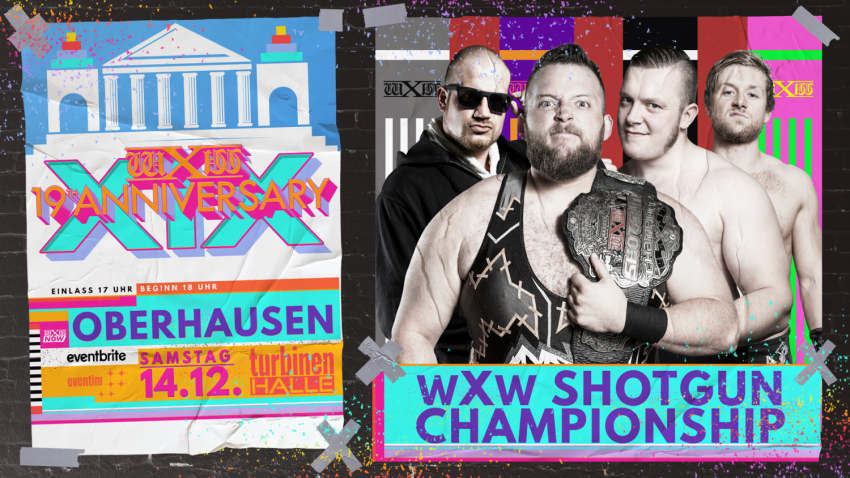 Photo/@wXwGermany
wXw Shotgun Championship Fatal 4 Way
Avalanche vs Jay Skillet vs Absolute Andy vs Veit Muller
Avalanche the current wXw Shotgun Champion is tasked with putting his championship on the line in a fatal four-way encounter at 19th Anniversary.  The odds are insanely stacked against Avalanche as he comes up against three incredibly gifted opponents, all of whom are true threats to the champion's reign.  Veit Muller posses a threat as he is hungry for success right now, having had the least amount of ring experience from the rest of his opponents is not about to stop this tough in-ring professional from reaching the top.
Jay Skillet much like Avalance has ten years of in-ring experience much of which has been centered on tag team success, now looking to make that break in singles competition Jay Skillet has all the tools to dominate and come out victorious in this match up.  Absolute Andy not only brings the most experience to the ring here but he is also one of the most decorated wrestlers competing on the entire card. Andy has even been to the top and held the companies top championships, Absolute Andy already knows what it takes to conquer his opponents and walk away with championship gold.  This match is sure to be a true battle between some of the absolute best wrestlers for one of most prestigious championship titles.
Photo/@wXwGermany
Singapore Caning Match
Alexander James vs Jurn Simmons
These two individuals are often referred to by fans as highly underrated wrestlers at 19th Anniversary.  If you have yet to experience the work of Alexander James or Jurn Simmons then take a moment to go and check out some of their previous work.  You will also find out that these two have become true forces to be reckoned with inside the squared circle.  With the added stipulation of a Singapore cane being allowed in this match one could only imagine the kind of carnage and punishment that these two men are going to put one another through.
Photo/@wXwGermany
wXw Unified World Wrestling Championship 3 Way Dance
Timothy Thatcher vs Bobby Gunns vs David Starr
The champion Timothy Thatcher not only has to step inside the ring again with former champion and the man he defeated Bobby Gunns but now add in the talent of David Starr to the mix and you have yourself one insane main event for the company's top prize.  David Starr brings a wealth of experience to this match having competed all over the globe making him a real contender to walk out as the new champion.  Bobby Gunns may be the youngest individual in the match but the former champion knows how to obtain a victory by any means necessary.  Timothy Thatcher will need his years of experience behind him to retain his championship.  This match will easily be a show-stealing contender from these three extremely talented wrestlers.
wXw Germany is celebrating 19 amazing years as a company and they are sending off 2019 with this amazing solid lineup.  The stacked card combined with the induction of Robbie Brookside to their Hall Of Fame will make for one monumental event.  wXw has proven for years why they are one of the most trusted names in independent wrestling from across the world, and with their 19th Anniversary show, they will only solidify this statement.  Make certain to have your tickets or get signed up for the wXw Germany streaming service in order to take in all of the fun of this amazing event.  wXw celebrates their first 19 years and looks forward to heading into another new year as solid as they have ever been, along with the backing of the fans there is nothing that is going to slow down wXw Germany.