After Roppongi 3k won the Jr Tag League at Power Struggle in November in a fatal three-way against reigning tag champs Suzuki Gun's El Desperado and Kanemaru and Bushi and Shingo Takagi from Los Ingobernables, we all expected a traditional tag match. A lot of people have grumbled about whether there was even a point to having the Jr Tag League if the winners didn't get their singles match against the champs, but I don't really have any issues myself. We present the preview of the Wrestle Kingdom 13 IWGP Jr Heavyweight Tag Team Triple Threat.
All three teams are crazy talented and, if it's anything like the match in November, it's going to be an amazing Wrestle Kingdom match and they're going to put the Jr division on the map and set the bar for the Heavyweight tag team triple threat match! In this preview, like the one I did for the gauntlet, I'm going to have a look at each of the three teams separately and then let you know my predictions because it's going to be another amazing match on an amazing card.
Wrestle Kingdom 13 IWGP Jr Heavyweight Tag Triple Threat
El Desperado and Kanemaru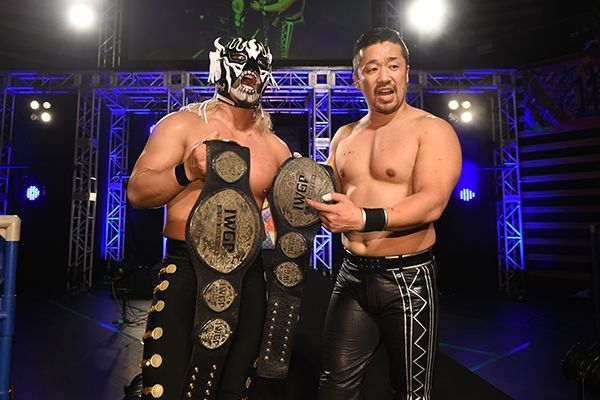 After beating Roppongi 3k for the titles on the NJPW Anniversary show in March, come Wrestle Kingdom, El Desperado and Yoshinobu Kanemaru will have had the longest single reign of a Jr Tag Team since the conception of the belts. Even though there's been some speculation on the prestige of their reign, because of the very few defences, I think Despy and Kanemaru have kept those belts in a very Suzuki Gun manner: only putting it on the line when they have too and using any tactics (including whiskey) to make sure they kept those belts.
One also can't underestimate the talent of these two guys because Kanemaru is a veteran in this business winning championships galore and Despy, although less experienced, has also won several tag team championships in different promotions. Together, they both have amazing tag team chemistry and work so well together. However, I'm not ruling out any Suzuki Gun tactics in this match but also look out for the pure wrestling talent of the two guys because I don't think Suzuki Gun are going to let these titles slip from their faction without a fight!
Wrestle Kingdom 13 IWGP Jr Heavyweight Tag Triple Threat
Roppongi 3k
I think now is the time for them to get those tag belts back and they've got the winds at their back (as Yoh likes to say). They've both worked so hard since they came back from their amazing runs in the Best of the Super Jr where Sho showed how dominant he was but where Yoh also came into his own to tagging with Ishii and Jay White in the G1.
They've got the most momentum because they are the winners of the Super Jr Tag League and already have an advantage by having pinned the champs during the Tag League and in the finals! With two very different styles between the two of them, with Sho being the power and Yoh being the speed, they've got all grounds covered and their tag team continuity and experience puts them at a real advantage in this match. Let's also hope that Rocky's been teaching them some of that sneaky style because I think they're going to need it!
Bushi and Shingo Takagi
No one really knew what to expect when Los Ingobernables de Japon announced their new Jr addition Shingo Takagi (I mean I still question whether he's a Jr at all) who was going to be Bushi's tag partner for Jr Tag League #WeMissYouHiromu. However, from the word go, the chemistry just seemed to be there between Bushi and Shingo and it's probably more to do with the amazing chemistry LIJ have with each other in general.
They're a force to be reckoned with because of their versatility and ability to compliment each other with Bushi's more high-flying lucha libre style with the hard-hitting style of Shingo, it's a similar dynamic to Sho and Yoh. Even though some people are annoyed that the Shingo and Bushi got added to the match, it's perfect booking because LIJ is such a popular faction anyway and having a third team gives all the teams, especially the champs, an even harder job at winning the titles. No matter whether they win or lose, Bushi and Shingo are going to be a real force in this match and might even be the deciding factor in the end!
Realistically, all three teams have equal chances of winning and it all depends on the way the booking goes. They could keep the titles on Desperado and Kanemaru to make this longest single reign really mean something, they could put them on LIJ and please the crowds or it could go my way: Roppongi 3k for the win! I mean that's just my preference and I wouldn't really mind if any of them won because they're all amazing teams and have got something to prove.
Who Wins?
So, that's my look at the IWGP Jr Heavyweight Tag Team match and across the site we've got articles looking at all of the other matches so give them a read if you've got a chance! I've also written a longer post on my blog Wrestling Chatter on the entire Wrestle Kingdom card so give that a read if you want a brief look at all the matches (https://wrestling-chatter.blogspot.com/2018/12/wrestle-kingdom-preview.html)!