On Sunday, March 24th, Smash Wrestling returns to the Phoenix Concert Theatre in Toronto. It will be the first time in almost two months. As Smash presents the highly anticipated card titled Tell All Your Friends. As the name suggests, the show will feature an array of matches that will appeal to a wide swath of wrestling fans. It features key figures from the Smash roster, returns by stars that have previously shone in the Smash ring, and key performers from international promotions. Here we Preview: Smash Wrestling Presents Tell All Your Friends (3/24/19).
Many of these matches have not only never been seen at a Smash show, but have never been seen anywhere. Fans of wrestling who want to check out a unique, diverse show should make their way to the Phoenix for Smash's first show of the Spring. And tell all your friends.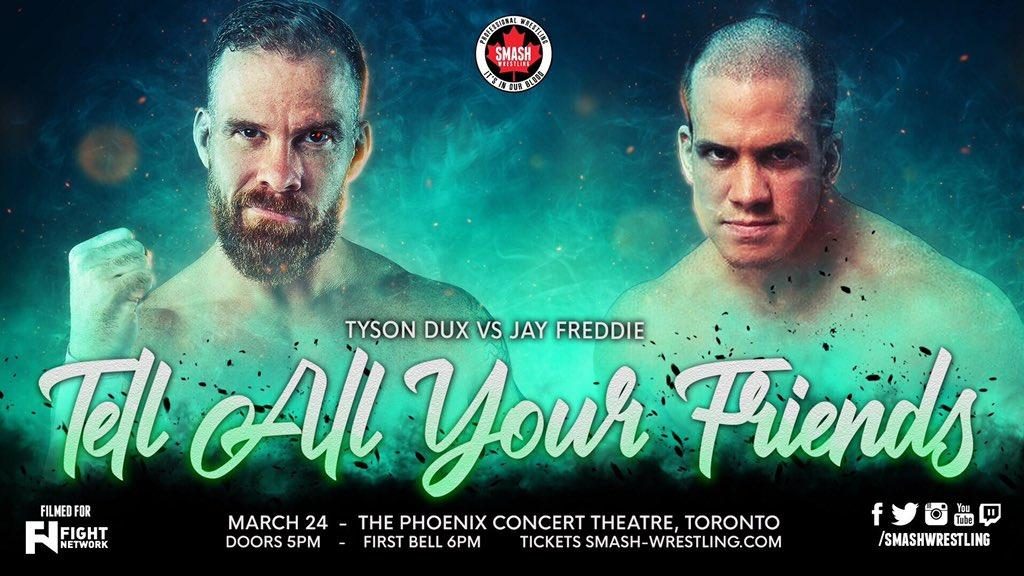 Preview: Smash Wrestling Presents Tell All Your Friends (3/24/19)
Tyson Dux vs. Jay Freddie
This is an intriguing match because it features two longtime veterans of the ring wars. Not only have these men traveled all over the independent circuit for over a decade (two decades in the case of Dux), but they have been mentors to many other talents in the world of wrestling. But this match is not about passing down knowledge to others. This is about two ring generals drawing upon their knowledge and experience to present a quality pro wrestling bout for the crowd in attendance.
Dux is one of the Four Pillars of Smash. He is also a regular at the promotion's shows. Smash know's they can always count on a smooth, crisp, and skilled performance from him. Over the last few months, they have learned that the same is true of Freddie. A meeting of the two will doubtless be a clinic.
Sebastian Suave vs. Matt Cross
One man is one of the Four Pillars of Smash Wrestling, someone who has been a key part of the roster from day one. The other is a veteran of the ring with nearly twenty years in the business, who has traveled around the independent circuit and also performed for most of the world's biggest promotions. Fans can count on seeing 'The Endorsement' Sebastian Suave at each and every Smash show no matter where it takes place, but Cross has been appearing for the company on a regular basis for a long time himself. Cross is a former Smash Wrestling champion, a title that has so far eluded Suave.
About featuring the smooth aerial moves of Cross and the skill and technique of Suave should be compelling, and showcase their abilities in impressive fashion. However, the end result will likely be affected by the involvement of 'The Endorsement's' advisor, the under-handed, shameless Anthony 'Kingdom' James, who never shies from exploiting a situation for his own benefit, or that of his client.
Preview: Smash Wrestling Presents Tell All Your Friends (3/24/19)
The Renegades vs. TDT vs, Kill/Screen
Non-stop action is clearly what will be featured in this triple threat tag team match. Kill/Screen, led by 'Hacker' Scotty O'Shea, has been a disruptive, ominous presence in Smash Wrestling, and O'Shea and his follower Anthony Gaines will bring a brutal element to this match. The always entertaining Team de Tabernac, or TDT, make their return to Smash, and the duo from Quebec should be able to match Kill/Screen in physicality while bringing a certain je ne sais quoi to the contest.
Façade and Jason 'The Gift' Kincaid are two members of 'The Renegades,' a faction that formed in the Dramatic Dream Team promotion in Japan. They will bring an aerial element that can take this match to the next level, and ensure a frenetic pace is kept up throughout. It seems like a strong possibility that the winner will get a future title shot against the champions, Halal Beefcake, as they will have to achieve victory over some tough competition.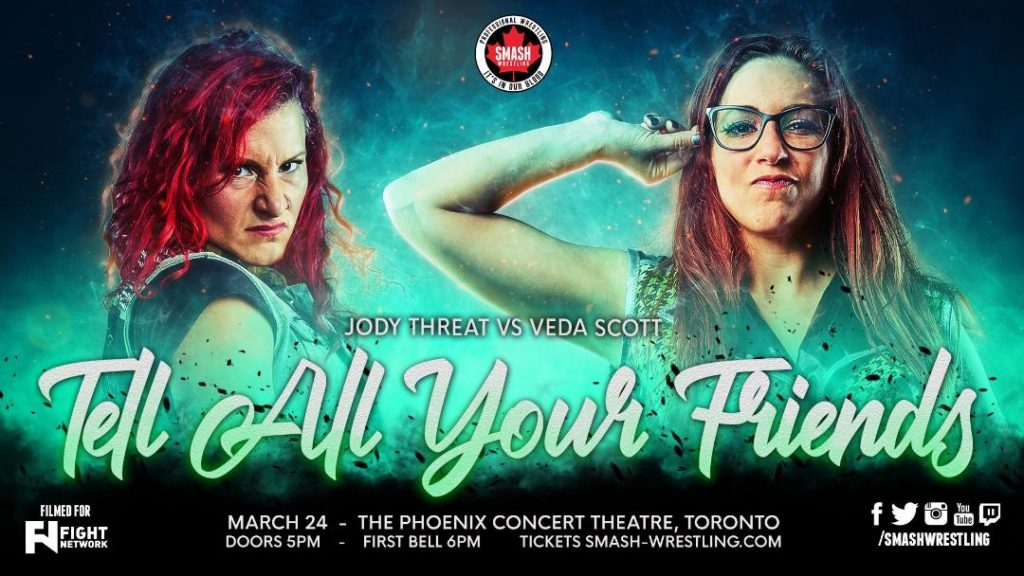 Jody Threat vs. Veda Scott
Smash has always put women's wrestling at the forefront, giving talented female grapplers the opportunity to showcase their ability, and this show is no different. Both of these women have participated in the CANUSA Classic, Smash's annual all-woman tournament, and will return to the Smash ring to renew hostilities. Both are very experienced in-ring performers who will be appreciated by the crowd, but given that Scott has always shown an aptitude for getting under an audience's skin it is likely the Toronto fans will throw their support behind their fellow Canadian. There is sure to be no love lost between these opponents, which will make for a compelling battle, as Canada and the US once again battle in a Smash ring.
Preview: Smash Wrestling Presents Tell All Your Friends (3/24/19)
Jordynne Grace vs. Carter Mason
Thicc Mama Pump may have signed with Impact Wrestling a few months ago, but she returns to Smash Wrestling, where she has enjoyed a great deal of success over the last few years. Originally she was slated to face LuFisto, but an unfortunate knee injury has not only prevented the long-time veteran from wrestling at this show but caused her retirement from the ring. Stepping in to face Grace will be Carter Mason, changing the complexion of the contest from a women's division match to an intergender battle.
Mason has been on the rise in Smash over the last year and a half or so, and in a video announcing this match, Grace said she had noticed his ascent and wanted the challenge of facing him. The man who calls himself the King of the North (KOTN) has challenged for the Smash championship on a couple of occasions and faces a new challenge as he pits his aerial style against the powerhouse Grace. Though this match was born out of tragic circumstances, it has the chance of being a standout contest on this very full card.
The Kevin Bennett Experience vs. The Butcher and The Blade and The Psycho
This six-man tag team bout was some interesting aspects to it. On one side, tag team polygamist Pepper Parks ('The Blade') brings together the two men with whom he has formed successful tandems. Parks and 'Psycho Mike' comprise the 'Well Oiled Machines,. Together they have enjoyed a great deal of success in Smash Wrestling. This includes having held the tag team titles. Meanwhile, Parks has traveled the independent circuit as part of another tag team. 'The Butcher and the Blade' with Andy ('The Butcher of Buffalo') Williams. The build to this match has seen teases of friction, or perhaps jealousy, between Parks' partners.
Meanwhile, the always obnoxious Kevin Bennett teams with the current Smash tag team champions Halal Beefcake, Idris Abraham and Joe Coleman, to form the opposition. The story of this match, beyond the intensity that, unsurprisingly given their name, will be brought by the Psycho and the Butcher, will be the cohesiveness of each team. The Smash audience is always eager to see Bennett suffer a beating, and it will be interesting to see if his partners are able to prevent that from happening.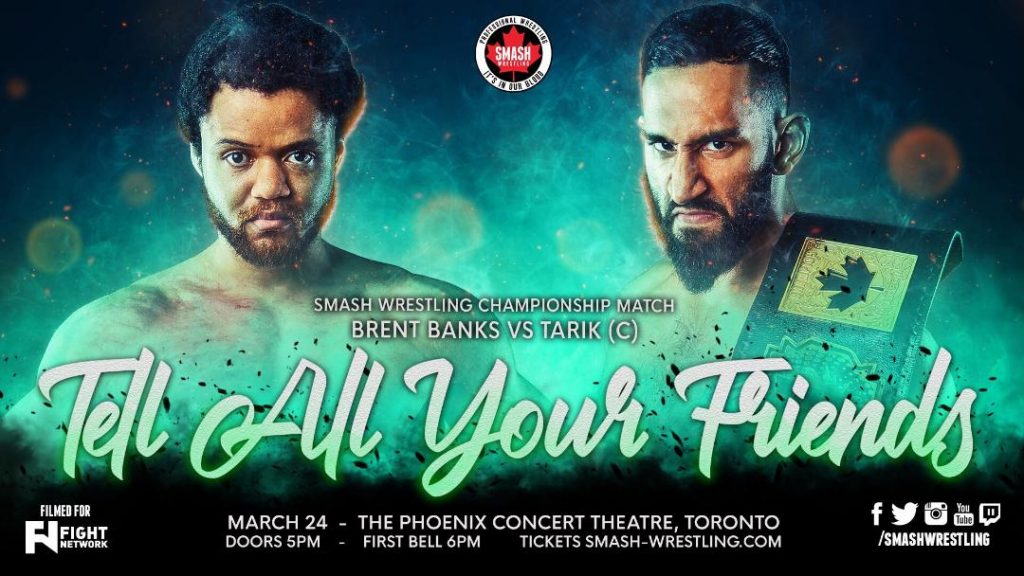 Smash Wrestling championship: Tarik (c) vs. Brent Banks
Two of The Pillars collide in a battle for supremacy at the top of Smash. Tarik has proven to be an exceptional representative of the company. Since winning the title late last summer, he has taken part in a number of excellent bouts. In the process facing many of the stars of the Smash roster. On the other hand, Brent 'Money' Banks has been a tag champion in Smash. But has never had a singles belt, despite consistently being a standout performer.
These two have a long history with each other and a similar pedigree. But they still, have contrasting styles that should make for a compelling contest. The athletic Banks will showcase his fast-paced style against the stiff striker Tarik. These two can be counted on to bring the goods at every Smash show, and now that they are in the ring together they can go to the next level.
Preview: Smash Wrestling Presents Tell All Your Friends (3/24/19)
'Speedball' Mike Bailey vs. 'The Machine' Brian Cage
Though these men have traveled the world and been in the wrestling business for years. They have never been in the ring together. Smash has been trying to book a match between these two for a year and a half. Now, finally, they will meet at Tell All Your Friends. Their styles certainly contrast. Bailey is fast and acrobatic, thrilling crowds with his aerial attack. While Cage is pure and simple a monster, perhaps the most powerful man in the business today. He is also capable of some jaw-dropping aerial moves!
Bailey will set a fast pace. But Cage is very likely to keep up, and get his stuff in along the way. Fans in Toronto are very fortunate to be able to witness this meeting of superstars on the independent circuit in Bailey and Cage. Cage has been dominant in IMPACT Wrestling for several months. And is poised to be their champion sooner rather than later. This one should not be missed.