On Sunday, December 16th, Smash Wrestling returns to the Franklin Horner Community Centre as they usher in In Your Dreams. The event has seen some recent lineup changes. In one case due to the unfortunate injury to Marko Stunt which will see him not be able to compete for some time. However, it isn't the only change that has been made; with the Stunt injury came the addition of independent star 'The Gift' Jason Kincaid.
While there are no championship matches slated for the event there is sure to be conflict, blood and action throughout. In Your Dreams also ushers in the return of 'Hardcore Prince' Jimmy Havoc. Will Havoc once again be baptized in blood? It is sure to be an exciting night. Rest assured there will be no nightmares about this card as it is stacked from top to bottom.
Jason 'The Gift' Kincaid vs Carter Mason
While this wasn't the originally scheduled match, it certainly has all the makings of being a fierce and hard-hitting battle. As many are aware Mason was originally scheduled to face-off against Marko Stunt. However, an injury to Stunt left a vacancy and suitable opposition, for Mason, who was hungry, for a challenge.
Kincaid has a wealth of experience behind him, including having been in the Ring of Honor top prospect tournament a few years back. The match may be a little too close to call, but if we had to pick someone that is likely to escape this match with a win, it would be 'The Gift' receiving an early Christmas present.
Jody Threat vs KC Spinelli
In the only women's match announced for the card, two women that are no stranger to one another or to Smash Wrestling. Threat has been a longstanding member of the women's division while Spinelli has shown her value when competing as part of SMASH shows.
Whether they have competed at the #CANUSA event or at other SMASH events, both women have brought it. In Your Dreams will once again be an opportunity for both women to showcase their skills and bring it at SMASH's last event of 2018.
'Psycho' Mike Rollins vs. Kikutaro
One of the most intriguing matches of the year pits two men that are as similar as they are different. Fans of SMASH are all too familiar with 'Psycho' Mike Rollins, whether it has been his work in singles or as part of a tag team with Pepper Parks. Rollins brings a whole new dynamic to the ring not often seen by fans today. However, what can fans expect from a match against Kikutaro?
The 42-year old Japanese star has been competing as Kikutaro since 2009. During that time he has competed for such promotions as DDT, Oskaka Pro Wrestling and All Japan Pro Wrestling. Will this purely be a comedy match, or will we see a much more psycho side of Mike Rollins? Will he be bringing a whole new level of violence to this encounter with the well-known Japanese star?
Puf vs. Muscle vs. Stryder vs. Greed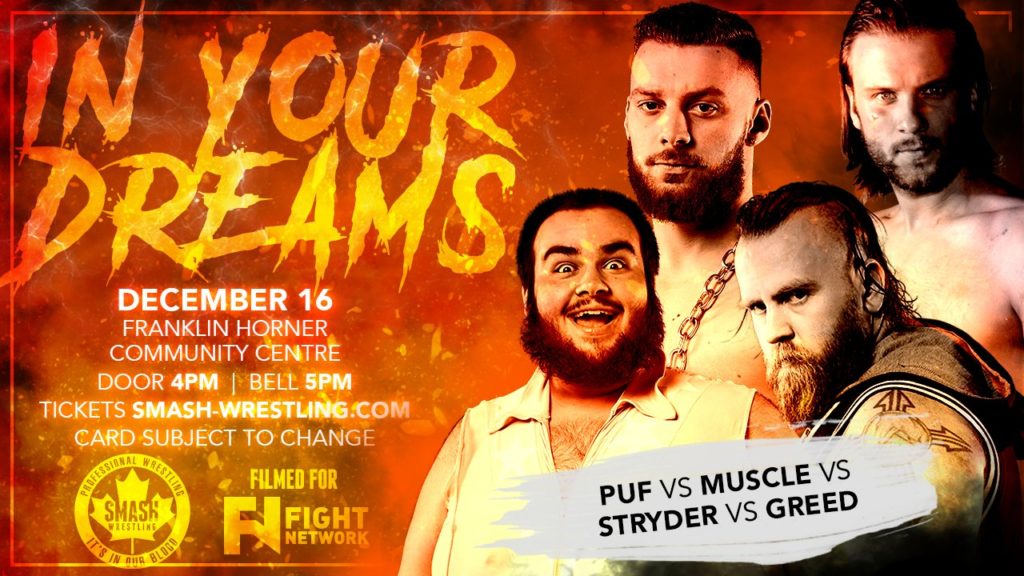 This match is an interesting contrast in styles, sizes, and movesets. With 'The Muscle' having played different roles with SMASH over the past few months, this could be the match that pushes him in a different direction. A direction that causes fans to forget his time as the bodyguard for Kevin Bennett.
It is also an opportunity for the legend of Puf to continue to build. Someone that it will be interesting to keep an eye out on is John Greed. He has gone through so much, and this appears to be a time where he is a front-runner, rather than , a part of the matchup. And how will Stryder fare? Will he be the one to wipe out the rest of the competition?
The Pillars vs Kevin Bennett Experience
This six-man tag match is as much about bringing together friends as it is about being a highly competitive match. When Brent Banks and Tyson Dux, the current SMASH tag team champions, along with Tariq the current SMASH champion square off against Halal Beefcake (Joe Coleman and Idris Abraham) and Kevin Bennett, it is sure to be a fun ride of a match.
One side holds the gold while the other has gone through a career metamorphosis, and intend to enter the promised land of championships. Will this be the match where Bennett manages to get the better of Tariq, sending a message in the process? What role will Halal Beefcake and the Smash tag team champions play in this matchup as well?
Two Butchers and a Blade vs Kill/Screen
On the surface this match appears too likely to be the most violent contest of the night, given the personalities of the men involved. One half of Violence Unlimited, Tyler Bateman, comes to Canada in and teams up with Pepper Parks and Andy Williams to take on Scotty O'Shea's new Kill/Screen triad. These men are primed to take it to one another.
Since Williams has the least amount of experience of everyone in the match, will that play a part in his team's success? Or will the overconfidence of the Kevin Bennett experience ultimately cost them? Fans are assured of one thing in this matchup and that is blood will be spilled in this hellacious battle.
Best of 5 match 3
Sebastian Suave vs. Daniel Garcia
It is taking place after the first two matches of this series have gone down. It could prove to be, in the event, the series is tied it could give one of them an advantage. It is a battle of two highly skilled, technically savvy competitors who have been built a compelling rivalry. With that said, will the hard-striking Garcia fall prey to the experience and psychological manipulation of 'The Endorsement?'
Fans have seen several backstage vignettes of Suave attempting to get into the head of Garcia. It may very well be a case where Garcia ultimately beats himself rather than Suave costing him the win. Suave isn't new to this and is willing to resort to any means in order to get the best of 'Red Death.' Will he do it? Only time will tell.
Jimmy Havoc vs Holden Albright
The match, unfortunately, came about at the last minute. Originally it was PCO who was scheduled to face Havoc, but he had to withdraw from this booking because of his new exclusive deal with Ring of Honor. However, with a new face comes a new opportunity.
Albright is slated to face not just a notable name, but easily one of the most engaging talents on the independent circuit today in Havoc. How will Albright fair? Will he be able to withstand Havoc's quest for blood? Check out SMASH Wrestling on Sunday, December 16th to find out who will walk away as the winner and who will not walk away at all.