PROGRESS Wrestling presents its fourth annual Live Unboxing event on December 30th in The Electric Ballroom. It's also Chapter 100! This is the show that does not announce any matches or even the talent that is appearing beforehand with Unboxing Live IV: A New Hope. It's also Jim Smallman's farewell to the company that he started alongside his colleagues seven odd years ago. It's gonna be emotionallllll. Me and the lads will be at this one, so feel free to get us a drink as always 🙂
As you might expect, it's a bit tricky to try and preview a show like this one. I thought I'd just try and give a wishlist of things that I thought might be rather jolly should they happen. Which they won't. Previously, we've seen surprise appearances from 205 Live's Jack Gallagher, NXT's Marcel Barthel, the returns of Rampage Brown and Will Ospreay and plenty besides. Based on that, I've gone a wee bit loopy and fantasy booked this thing out the wazz. Onwards!
PROGRESS Tag Title Match
Jordan Devlin & Scotty Davis (c) vs Ilja Dragunov & Cara Noir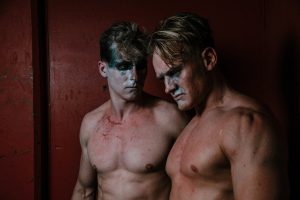 We're going bold for the first prediction folks! Ilja Dragunov and Cara Noir have spent the last several months feuding with one another, and consequently pretty much falling in love with one another. It's been a beautiful, subtle storyline and what better capper could it have than for the two to team up in the ring? Get the masterminds at WWE to mash up their completely incompatible entrance themes, and voila Dragunoirov is born.
Jordan Devlin and Scotty Davis have an excellent tag reign thus far. They've had scorchers opposite Grizzled Young Veterans and NXT's Lorcan and Burch. A match against the two hottest singles stars in PROGRESS would add another impressive string to their bow. To quote Brock Lesnar *high pitched yelp* "let's do thiiiiis"!
The Return of Marty Scurll
During the gap between his ROH and (probable) AEW contracts, who wouldn't love to Marty Scurll back for a match? The only two-time PROGRESS World champion hasn't wrestled for the company since his loss to Zack Sabre Jr at Chapter 55. Yes, it's been a long old time since we've seen Scurll wrestle in a PROGRESS ring.
And there are a lot of wrestlers on the roster now who weren't on there the last time he was in a PROGRESS ring. How about a match against David Starr? No, what about him facing off with Timothy Thatcher? Bit of a stretch this next one, even for me, how about he challenges Eddie Dennis for the PROGRESS Unified Title? I think I need a little lie down.
Proteus Title Match
Paul Robinson (c) vs Will Ospreay
If anything has been consistent at Unboxing events gone by, it's that Will Ospreay makes a surprise return. At Unboxing II, he faced off with Travis Banks in a World title match. At Unboxing III, he and Paul Robinson reformed the Swords of Essex to win the tag titles from Aussie Open. Put 2 and 2 together, and that equals 5 people – Ospreay is challenging for the Proteus title, there I said it. Will is no stranger to hardcore style matches having had more than his fair share against Jimmy Havoc for PROGRESS. I'm telling you, this one is a can't miss, pulled out of thin-air prediction at Unboxing Live IV: A New Hope.
Miscellaneous appearances: Kenta Kobashi, Roman Reigns and Demolition. Book it JJG!