In the world of pro wrestling, nothing ever remains the same. It is truly destined to change. At HOG's last event, C4, two announcements were made… the next event would be on November 16th and a new majority owner has purchased HOG, as per Mick Foley.
A Monumental Announcement ‼️‼️‼️

At #C4 @RealMickFoley gave the HOG faithful an announcement that shocked the wrestling world.

For more information and tickets to our next event #NoLimit on November 16th Visit https://t.co/DiJtQb7zg3 pic.twitter.com/cSyZGIfh72

— House Of Glory (@HOGwrestling) October 14, 2019
Fast forward to today, Hip-Hop legend and entertainment entrepreneur Master P has been revealed as the new owner and, of course, the name of the next event would be No Limit. Named after P's infamous label. And as a new era is issued in, we preview what is sure to be a strong start to House of Glory's future. And an event dedicated to a fallen soldier, former HOG star, Matt Travis.
---
Low Ki vs. Leroy Green
Leroy Green has become one of the most viral wrestlers in recent memory. Wrestling with a Nintendo Switch in hand, "Big Game" has raised the ire of Charles Mason over the past few HOG events. But when you are the 'Billionaire Playboy' you are sure to have some powerful friends.
As announced, Mason, who already has a big championship match on the same night, has called in one of the most dangerous men on the independent scene to handle his dirty work, The Professional Low Ki. As much as I love the much needed, much-earned attention Leroy has gotten over the past month, Low Ki is a different animal. He has no real disregard for the punishment he gets or dishes out. Green will continue to impress with his concentration to be a Leaderboard Buster during the match, but not enough to keep Low Ki down.
A Professional Acquisition ???@Charles___Mason wants @leroygreen_SF dealt with at #NoLimit the degree that he has acquired the services of "The Professional" @OneWorldWarrior.

For Tickets Visit https://t.co/DiJtQb7zg3 pic.twitter.com/e1vtem0rIO

— House Of Glory (@HOGwrestling) November 5, 2019
Prediction: Low Ki returns to HOG to pick up an emphatic win
——-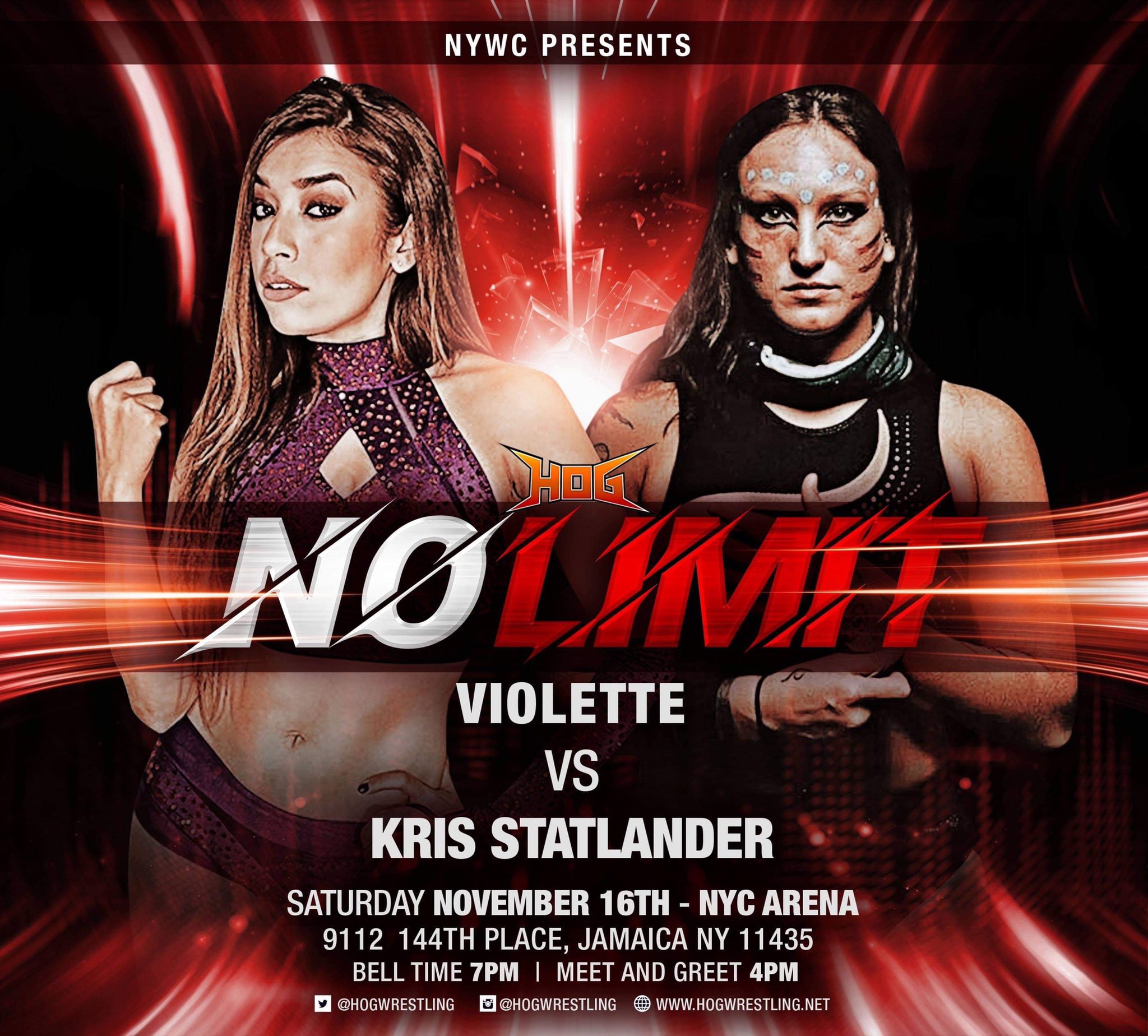 Violette vs. Kris Statlander
Kris Statlander has been impressive from her many appearances in Beyond Wrestling. But the former Create-A-Pro Wrestling grad is running up against HOG royalty. Against the longest-reigning, self-given, former HOG Women's Wrestling Champion Violette.
This match brewed from the two women confrontation at the C4 event when Violette had choice words for former WWE superstar Melina. I fully expect the 'intergalactic superstar' to continue her independent rise. Violette may need to re-group to re-establish herself as a top star in the Queens-based company.
Prediction: The Galaxy's Greatest Alien Statlander gets an upset win on the first-ever HOG women's champ
——-
Charles Mason vs. Dezmond Xavier vs. FACADE vs. ? vs. ? vs. ?
Announced on October 20th via their official Twitter account, the longest-reigning HOG 6 Way Champion Charles Mason has officially put his title up for grabs. He faces 5 hungry competitors as the rascal Dezmond Xavier, the ninja FAÇADE, and 3 other unannounced contenders who all will do battle for this cleverly created title.
For Dez, it's a debut I've personally waited for a long time. I feel he would match up well with the majority of the HOG roster. FAÇADE is an interesting case as I haven't seen much of his work. So he may be my dark horse pick here.
There hasn't been an announcement of the other competitors. But with appearances such as nZo and Dvon Dudley, it looks like we may be in for some surprises for this match. However, based on this decision coming from his legal counsel, I still fully expect Mason to continue to "pleasure" us with his presence as champion.
Prediction: Sneaky tactics and underhanded movements will be the result of Charles Mason walking out as champion still.
——-
Mantequilla vs. TJ Perkins for the HOG Crown Jewel Championship
The 'Lucha Hero' has been on an amazing run since winning the vacant Crown Jewel Championship. He won the title back at December's HOG 8 event. But the career resurgent TJ Perkins, since leaving WWE, has been on a hot streak on the independent scene.
I expect Mantequilla to continue his historic reign. TJ's debut here may be too big to pass up an opportunity to bring more prestige to the title.
Prediction: TJ Perkins taps out the luchador for his first title win in HOG.
—–
With an announced meet and greet with the WWE Hall of Famer Kurt Angle, former WWE and Impact Women's Champion Victoria, former ROH & Impact valet So Cal Val, Mae Young Classic competitor Renee Michelle, and appearance by the legendary tag team Rock n' Roll Express, once again House of Glory Wrestling will be the talk of the town.
— House Of Glory (@HOGwrestling) October 15, 2019