This Sunday, September 22nd, 2019, at 5 pm, The Greektown Arena, or 310 Danforth Avenue, Eastminister United Church (for those unfamiliar) Greektown Wrestling is holding a very special event! A farewell show to AEW superstar, Sonny Kiss! They're calling it DEUCES and will headline with a six-man tag match that will have Sonny Kiss, Channing Decker, and Bill Collier take on RJ City, Franky The Beast King, and Jock Samson.
With such an event a special event for Greektown Wrestling fans, I just had to ask Channing Decker about Sunday. I mean how special could it be for him to do this for someone from the Greektown family? Luckily enough! He answered a few questions with a voice message to answer about this special event for the Greektown original, Sonny Kiss.
 Jesse: "We've talked about before how Greektown is known for helping develop local talent, so how special is it to know that a Greektown original is off to a major promotion AEW and that your promotion had a hand in that journey?"
 Decker: "What that means to me personally is a sense of validation, that the talent and people we believe in are being rewarding accordingly, and that you know how happy we are for a performer and person of Sonny Kiss's ilk to be able to achieve such great things, and you know I know that so many people on Sunday are going to be so thrilled to say their goodbyes and there well wishes to him as he has been fortunate enough to be so close with so many fans and members of the community with Greektown Wrestling, and that really is the beauty of it right there, it is a family and we are happy to see one of our family members go on to very big and beautiful things and we very much hope and look forward to keeping in touch with our friend Sonny."
 Jesse: "A lot of performers on the card like Space Monkey, Tabernak De Team, Jock Samson, yourself, Atlas, all have been around with Sonny Kiss, how important was it to you personally to have a card filled with friends and close working relationships to not only have one hell of a night of wrestling, but also help celebrate a great farewell to Greektown original Sonny?"
 Decker: "It was very important to me to have a card that reflected the spirit of Greektown Wrestling, which is the community, which is the core roster that we've had from the day one, its building those relationships and now having an opportunity to celebrate them, and so do to it with anyone else other than the crew that we got here with it seems kinda crazy to me so, I'm so thrilled to have the roster that we do have available for this event on Sunday, it's going to be great, and I know there's so many people in Greektown and the community and not just the locker room that are really happy to say their own well wishes and their own goodbyes to Sonny, so, you know, immensely important for me, and I'm just so thrilled to be a part of his last match on the independents which is this Sunday."
 No lies here! This Greektown Wrestling has put on a stacked card! Tag team matches, titles matches, IMPACT stars, so much is going on at Greektown DEUCES, So let's get into it!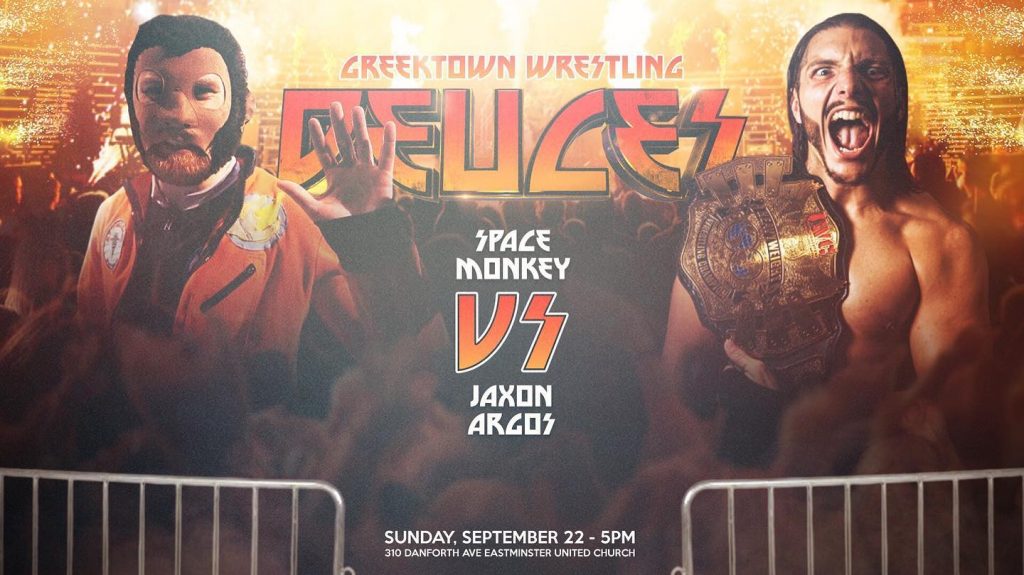 IWC Championship Match!
Space Monkey vs Jaxon Argos (champion)
Jaxon Argos comes through the Danforth for the first time! That's right, Jaxon Argos the IWC (International Wrestling Cartel) Heavyweight champion is bringing his IWC Championship to Greektown Wrestling! He'll take on Greektown Wrestling fan favorite, Space Monkey! Jaxon Argos, the IWC Heavyweight champion, returns to Canada for what will be one hell of a match. The champion has one heck of a resume that he's bringing to the Danforth, I mean he's the only ever 2X Rookie of the Year (2016, and 2017) as well being one half of the 2018 Tag Team of the Year. I'm sure you think it's over just with that, but don't kid yourself though, because Space Monkey is legit! Holding nine championships in his career, as well as having a great tour in Japan this year, his popularity is only growing, especially within the Greektown fandom, don't think Space Monkey isn't coming in representing Greektown looking for a championship win this Sunday! I wouldn't expect any warm welcome for Jaxon Argos though….
  OH AND SPEAKING OF JAXON ARGOS!
Had the pleasure of talking to Jaxon Argos and asked if he has anything to say to the Greektown fans ahead of this Sunday's event, and boy did he ever! 
"To the Greektown fans, I truly from the bottom of my heart mean it when I say… you are SO LUCKY that I am coming to Toronto. I'm truly something special and genuinely handsome. I am finally returning to Canada for the first time since the first match of my career 3 years ago in Calgary and it warms my cold Calgarian heart to return to the Motherland. I'm coming to Toronto as the IWC Heavyweight Champion and I am going to absolutely DESTROY Space Monkey. I hate Space Programs, I hate Monkeys, and I HATE bananas!"
Looks like Jaxon Argos isn't playing around when he shows up to the Greektown arena this Sunday!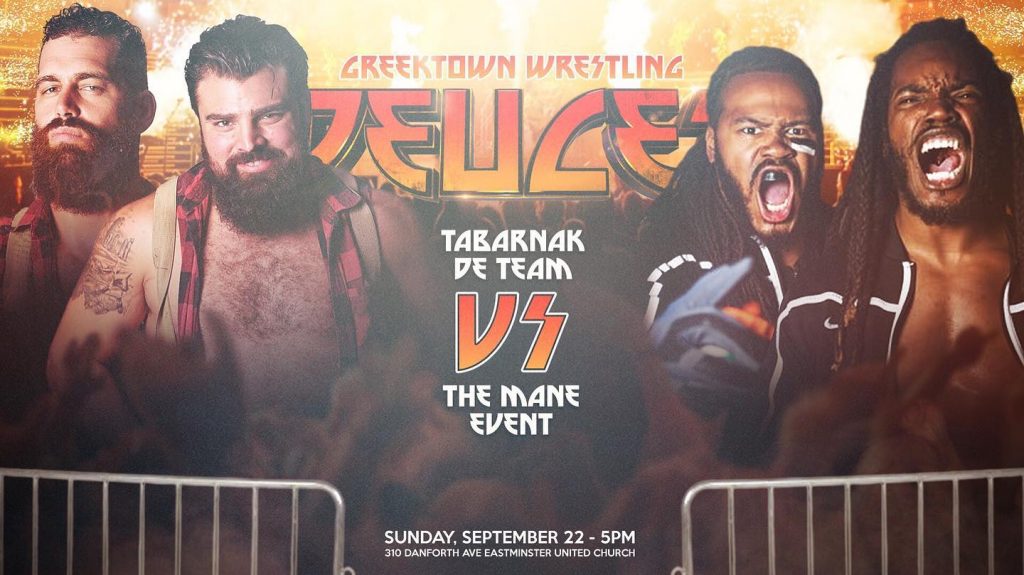 Tabarnak De Team vs The Mane Event 
This tag team match is going to be awesome! All I picture is a legit brawl, Le Tabarnak De Team are one great tag team, and they are super popular in Ontario as well as Quebec and the Maritimes. They're fast and hard-hitting and look forward to the fight every time they step in the ring, and luckily for us, the fans, The Mane Event like to do the same thing! The Mane Event has also made a Greektown appearance in the past, and currently hold the PCW tag team championships, as well as hold the Blackcraft tag team championships. Both teams come in looking to prove who the better tag team is, as well put on a great tag team match for the Greektown fans, and help celebrate the great times they've had with Sonny Kiss! 
 I was fortunate enough to have the chance to ask the Mane Event about this Sunday's event as well as about Sonny and they had this to say.
 "We're excited to come back to Toronto after almost a year. Last time we were there we didn't pick up the W, but this weekend will be different. Wrestling is huge in Canada and always has been. We're happy to be back wrestling in front of a great crowd in a historic country for Pro Wrestling. As far as Sonny goes, no one is more deserving of the opportunities presented to him. He's an amazing talent and an extremely hard worker, a true inspiration, especially for other black wrestlers. We wish the best of luck to Sonny at AEW, and his future in wrestling."  
John Atlas vs Brent Banks
John Atlas will take on another returning performer to Greektown, Brent Banks. John Atlas, a Greektown original, he's held the Greektown Cup and is fresh off a WWE tryout this Summer. Atlas had defied the demon Cancer, he tells the story in his WWE tryout, here's the link you should check it out if you have time.
Regardless of his story, his story comes this Sunday, is a one on one match with Brent Banks. Brent Banks is a fantastic performer, but I won't get into that when Bill Potts from our home here @prowrestlingpost did a fantastic job doing an indie spotlight on him, check it out here!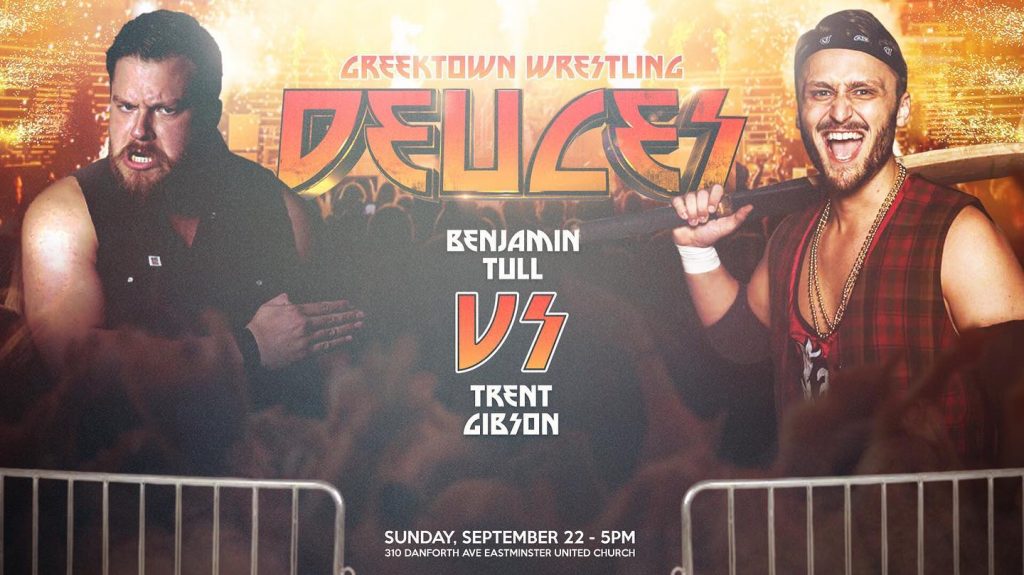 IWS TITLE MATCH
Benjamin Tull vs Trent Gibson
 After such an impressive showing from Hotwired by Benjamin Tull, he defeated Space Monkey retaining his IWS championship! Now returning, he puts the belt on the line again against Greektown original and one half of the tag team, The Fraternity, Trent Gibson! With Trent having home-field advantage, you have to wonder if the Greektown boy can pull this off and win a title and celebrate with the Greektown family, I mean, what a gift that would be for Sonny Kiss! Just one problem, his name, is Benjamin Tull. At 6'2, around 230, this powerhouse looks to take down Trent in his town retaining his title for the second time on his second appearance for Greektown! Can anyone in Greektown beat Tull? I guess will see come Sunday!  
Kevin Blanchard vs Kevin Blackwood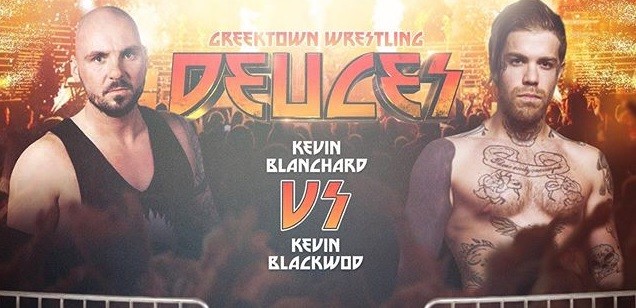 The newcomer to Greektown Kevin Blanchard comes on Sunday to face off against a familiar face on the Ontario Indies, Kevin Blackwood! Blanchard is a tough SOB from Quebec, he's well known for success as he holds four titles at this present time! That is something to pay attention to come Sunday, but don't ever count Blackwood out. He's not in the Pro Wrestling Illustrated top 500 for nothing, this guy is legit, and could also be in the Greektown Cup picture if he comes out with a win Sunday. 
 Aiden Prince vs Kobe Durst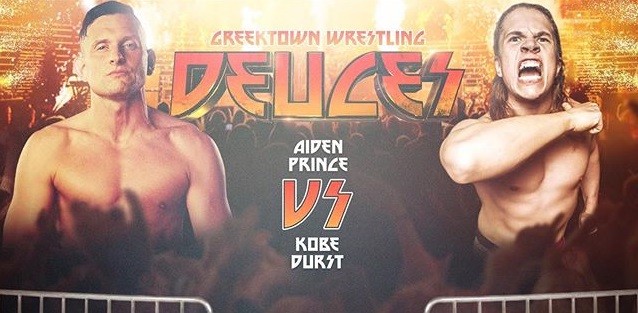 Aiden Prince versus Kobe Durst could potentially steal the show! Aiden Prince appears on IMPACT as of late and has proven just how good he is in the ring. He even had an x division championship match against Jake Christ, you can review the match here. Greektown fans are very fortunate to see Aiden Prince, especially going against a good youngster Kobe Durst. Kobe is a great performer, really talented, he's appeared everywhere in Ontario, been on the Shwa Style Podcast, and this match could put him on the map as a contender for the Greektown Cup (if he wins) I messaged Kobe on Facebook just to ask how great of an experience this could be for him, anything to see what is going on in his head about this huge opportunity. Kobe pleasantly responded!
  "I'm excited to be in the ring with Prince. We were actually BlackCraft tag champs for a second before the decision was reversed. Such a cool dude, and someone I always working with or against! Also having just worked with Channing at IDDC last weekend, I'm excited to see what Greektown has in store!"
 Former teammates clash and they both look for a huge win on Sunday!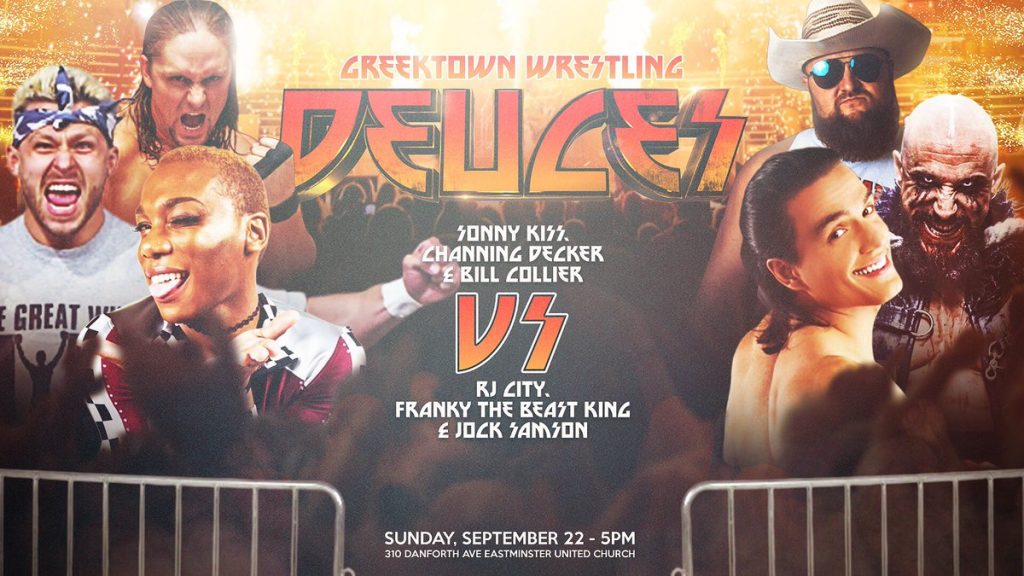 Sonny Kiss, Channing Decker, Bill Collier, vs RJ City, Franky the Beast King, Jock Samson
Six-man tag baby! Sonny Kiss's last match on the Indies is at home with three other Greektown originals in what is a farewell match. This one is going to be a doozy! Sonny teams up with Channing Decker and Bill Collier (first ever Greektown champ) to take on FORMER Greektown champion RJ City, Franky the Beast King, and Greektown most hated man and the GOAT Jock Samson! There is so much drama! Like last Hotwired, RJ City lost Greektown championship in a triple threat match that included Rhyno. So expect RJ City to wake up and have coffee in his underwear because that's a thing him and David Arquette like to do, come to Greektown, and make sure Channing Decker knows about the rematch policy come Sunday. Franky the Beast King brings size and the intimidation factor to his team, but don't think "BIG TIME" Bill Collier is going to come out and start exchanging hands! With both men the big men on their respected teams, a lot of double teams are going to happen, and this fight may, well, let's be serious, it will enter the crowd! Unfortunately for RJ City, Franky The Beast King, their teammate Jock Samson, has never won in Canada!
Jock Samson had this to say ahead of the event Sunday, "I'm gonna pin Sonny Kiss and send his sweet as to AEW with a Loss and end my 0-52 losing streak"
The Greektown champion, Channing Decker, will bring his gold and represent the promotion as its champion teaming up with friend Sonny Kiss, and what a gift it would be for Decker to help Sonny get his final win on the Indies on Sunday!
Regardless, hands down, this is the match of the night! A fight that'll be one remembered and a memory that'll last Sonny a lifetime!