Game Changer Wrestling (GCW) returns to the House of Independents, Asbury Park, NJ for Curtain Call on Monday, September 30th, and will be paying tribute and saying farewell to Joey Janela, Jungle Boy, and Marko Stunt, as they will be exclusive to All Elite Wrestling (AEW) shortly.  Joey Janela has been a key player in Game Changer Wrestling's success and rise to the spotlight within the indy wrestling world and social media.
Orange Cassidy vs Ethan Page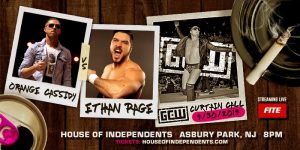 The trash-talking Canadian superstar Ethan Page will be taking on the enigmatic Orange Cassidy.  The chemistry in this matchup draws much speculation, as Page's loud-mouthed ego clashes with the humbleness of Cassidy's dispassionate presentation.  Will Page manage to get under Cassidy's skin which occasionally brings out sudden fiery in him?
Perhaps Cassidy's stubborn will to remain calm in his lethargy will serve as an advantage in tempering frustrations within Page, who often relies on mind games which may prove futile against Cassidy.  As is usual with matches with Orange Cassidy, this one may be the most unpredictable on the card.

Jungle Boy vs Jake Atlas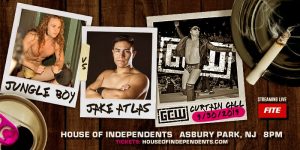 As Jungle Boy bids farewell to GCW, he will certainly go out with a bang in taking on Jake Atlas, an opponent so agile in his craft, that he is often booked in manners such as this for the purpose of bringing out the best in others. Both of these athletes are among the most gifted in the business today, as far as aerial warfare, defying physics and lightning-quick chain wrestling are concerned. 

The differences in talent between these two competitors in the nuances.  Jungle Boy may have a slight advantage over Atlas in overall high-flying maneuverability.  However, Atlas compensates with a slight edge in his technical wrestling abilities and perfected craftsmanship in taking simple maneuvers -such as a springboard arm drag- a notch higher than every competitor out there. 
Tony Deppen vs David Starr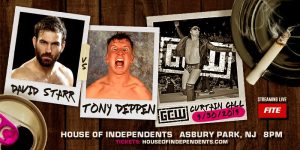 Tony Deppen will be taking on David Starr in what will certainly be a story of willpower between both athletes. Starr is a veteran in this business, and Deppen is just breaking out of his proving ground as a new up and coming star in the business. Both wrestlers display a similar level of willpower that constantly exasperates their opponents and brings fans to their feet in dragging out matches far beyond their expected endpoints.
This is one more match that will bring out the best in both opponents and should demonstrate what storytelling and in-ring psychology is all about. 
Chris Dickinson vs Matthew Justice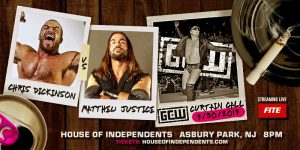 It would not be a GCW card without a hard-hitting and stiff matchup such as Chris Dickinson and Matthew Justice bruising each other up in what will certainly cause spectators to cringe in a guilty pleasure for Curtain Call.  Power and hard strikes will be aplenty here, as these two brutes unleash rage and carnage in the ring. Expect this to be an especially graphical hoss fight, with heavy boots to the face, a display of muscle and might, and perhaps a few doors to shatter under the weight of these juggernauts. 
Other Stars on the Card

Also included on the card is GCW champion Nick Gage, Teddy Hart, up and coming deathmatch superstar Orin Veidt, and high flying newcomer Blake Christian, but their matchups have yet to be announced.  Joey Janela, the presumed star of this final showdown of his.  Perhaps it is GCW's intention to leave the fans with a handful of surprises, as it is quite unusual for so much of the card to be unannounced this close to the air date. Catch Curtain Call live this Monday on Fite.TV where it will be streamed, or head over to Asbury Park and catch the action live if you can manage to still obtain a ticket for this sold-out event!