DEFY On Edge!
December 14, 2018
Washington Hall
Seattle
Truth be told, we here in the Pacific Northwest, have been fortunate enough to see vision, experience, timing, and ingenuity come together and create something quite special. This is a rare thing. Not everyone is so lucky to be in the right place at the right time. Even if you are simply a spectator, you are a part of something no one else gets to experience outside Washington Hall. There are many great promotions in the wrestling industry, but nothing quite like DEFY. The symbiotic relationship between the performers and the audience is a tangible force. It can't be captured on film or described with feeble words. One must be there to have an almost mystical experience that comes from such an event.
On December 14th we get to have one last hurrah before we close out 2018 and celebrate the two-year anniversary of DEFY in January 2019. With the quality of story, matchups, eye for talent and production values, one could mistakenly believe it has been around for many years… Perhaps decades. How else could a promotion produce something so fantastic and polished?
Five matches have been announced for On Edge. As is typical of this promotion there is usually one or two unannounced matches on the card. They like to surprise the audience, and it seems unlikely they will let us down this time around.
Singles Match
Penta El Zero M vs. Chris Ridgeway
I feel very comfortable predicting this will be a favorite for many. Penta El Zero M is an industry icon. It is a rare person who calls themselves an indie fan who doesn't know who Penta El Zero M is! This Mexican native is one of the premier high flyers in the game today and held over twenty championships in his decade-long career. As of this writing, he is the current PCW Ultra Heavyweight Champion facing a challenge from DEFY Champ Shane Strickland. By December 14th we'll know if he retained or if Shane added another belt to his collection. Regardless Penta El Zero M is going to be a crowd favorite and I pity the man or woman who must face him…
Speaking of which… Chris Ridgeway is our man! Traveling all the way from the UK, Ridgeway is joining us at On Edge, making his DEFY debut. This Liverpool native has gone up against some of the best talent in the UK, having performed with Progress, IPW, and OTT. He currently holds the FNW British Championship, a belt held by the likes of Marty Scurll and Mark Andrews. Considered to have a highly technical style it will be quite an experience to watch him compete against Penta El Zero M!
Singles Match
Brian Cage vs. Jack Evans
Does Brian Cage need an introduction? I think not. We've seen him at Washington Hall before. I don't think I'll ever forget the brutal battle he had with Shane Strickland for the DEFY Championship back in July at the United show. This man is a stacked fighting machine and when he enters the ring, he means business. He's a regular with Impact and Lucha Underground and he's held more titles than there are words in this article!
I don't know what Jack Evans was thinking when he agreed to this match up! Well, I'll eat my words, because Jack Evans is no joke either. This high-flying luchador has just shy of two decade of experience in the industry working with promotions such as CMLL, Lucha Underground and AAA. He's held numerous championships including ones in each of the previously mentioned promotions. There are few who take more pleasure than I when Jack gives Sammy Guevarra a hard time in his vlogs.
One of the things I am looking forward to the most about this match, is both men have over thirty years of experience between them. There is no question, this is going to be good!
Singles Match
Schaff vs. Brody King
Everyone loves a grudge match, especially when the two men are already one for one against the other. Here is the third match, the tiebreaker, the match to end all matches!
Schaff continues his streak as our local hero. He is fresh off a win against Willie Mack from PDX3 City of Roses. This was no small accomplishment. Schaff has proven himself one of the best professional wrestlers active in the Pacific Northwest. There is not any doubt this notoriety will extend well beyond the boundaries of this region. Will he take the tiebreaker? We know he's capable of it and we'll have to wait and see on Friday, December 14th.
Brody King has been a DEFY regular and he will be making an appearance many of us fear will be his last here in Seattle Washington. Reports are stating, he's been signed to Ring of Honor. What does this mean exactly? We can't be certain, but it seems likely this is an exclusive contract and we may not see him in Seattle again, at least for a while. As a result, DEFY is giving us one more match before we say a final fair well to someone who has become a member of the DEFY family.
On a personal note, being a fan of independent wrestling is somewhat of a bittersweet experience. We get to see our favorites up close and interact with them. It's an experience we don't typically have with wrestlers who make it into larger televised promotions. Performers often aspire to these big promotions because they offer a degree of stability; financially and in other ways. It is a big success for them. Even though we grieve the loss of personalization and close interaction, or seeing them every month at our local promotions, it is important to be happy for them and cheer for their success. I do so for Brody King. I will miss you, and I will celebrate your success, not only because you deserve it, but because you earned it!
Tag Team Match
Amerikan Gunz vs. No One Lives
The Amerikan Gunz will make their third title defense on December 14th! These champions recently defended their belts against one of the best Tag Teams in the business today, LAX. Ethan HD and Mike Santiago work well together and it seems they get better with each passing month. Their coordinated moves are executed flawlessly, and they continue to impress me even if they hail from the 253.
As for their challengers… We have the grotesque, odious, wretched, filth-ridden denizens of the Portland sewers… No One Lives. The Devil Drexl and Dr. Kleiver will make another appearance at Washington Hall. Apparently getting their asses kicked by Tommy Dreamer and Cody Chhun at PDX3 wasn't enough to banish these two back to the cesspools of hell. Could these menacing blights prevail over the Amerikan Gunz? They are more than capable. I've seen them pull some underhanded tactics that would make your toes curl. This is going to be one of the most down and dirty matches we've seen at DEFY… I might need a shower after this one!
The Pride vs. "Classic" Cody Chhun & Randy Myers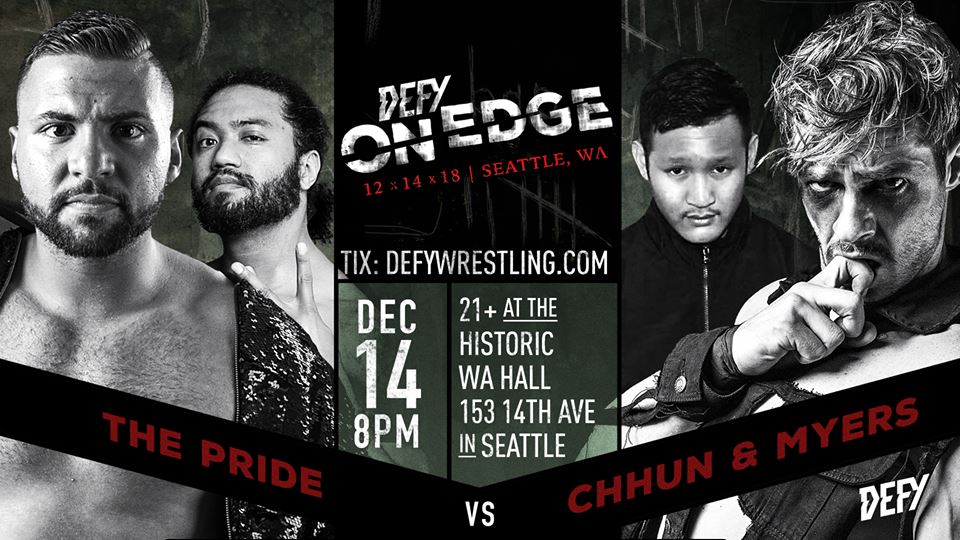 At DEFY PDX3 last month Cody Chhun was a part of a tag match with Carl Randers against the 1%, Royce Isaacs and Jorel Nelson. At the end of this match Carl Randers turned on his partner. Guillermo Rosas came out of the locker room wearing all black, a break from his colorful flair, and assisted Carl in beating down Chhun. This unseemly event was broken up by Tommy Dreamer who came out with a kendo stick and chased Rosas and Randers away.
It was very clear something had gone down between Chhun, Carl and Guillermo. This became even more apparent when Chhun came out later that evening to help Tommy Dreamer vanquish the Devil Drexl and Dr. Kleiver. Following this match Carl and Guillermo came out and took on Chhun and Tommy Dreamer. These two men held their own, but the tides were turned with King Khash came out and put Tommy Dreamer down and helped Carl and Guillermo finish beating Cody Chhun into a pulverized slab of human flesh.
Now at DEFY On Edge we have a last minute match announcement. The Pride, Carl Randers and King Khash are uniting as tag partners. This isn't the first time. These two have a prestigious past working together, having worked a dark match for the WWE together. It would seem they decided to unit to take down their former locker room friend.
Cody is not one to be underestimated, however. He has his own friends in the DEFY locker room and it would seem he is bringing in none other than the "Weirdo Hero," Ravenous Randy Myers. Without a doubt this is going to be a fascinating match as we watch these four men burry the hatchet in one another's backs.
There is someone missing here… Where is Guillermo Rosas? He came out and helped with the beating on Cody. Has he rethought his deep dive into moral dubiousness? Is he going to wait on the sidelines to help his friends if they need it? Perhaps he's going to sit this one out and see what happens. I for one think he's going to be a wild card, lurking in the locker room waiting to make his move.
In other news, we have learned that DEFY has decided to partner with Mary's Place. Those who are unfamiliar with this fantastic program can see a video here:
Defy Wrestling announced: "DEFY wrestling is partnering with Seattle based organization Mary's Place, a group who provides safe, inclusive shelter and services that support women, children and families on their journey out of homelessness, to help raise 2 million dollars to create the new rapid exit shelter in Seattle."
DEFY Championship
Shane Strickland vs. Artemis Spencer
We've only had a handful of champions in DEFY's relatively brief history. Shane Strickland has held the belt longer than anyone, and has been, by far, the most popular of the title holders. No one can deny this man has got it going on! He has style, presence and he can work a room like few others in this business. He has the rumor mill abuzz right now. We're lucky to have him but we all know every champion will eventually fall. Will December 14th be the night Shane Strickland's championship comes to an end? It could be…
Artemis Spencer has been a crowd favorite at the DEFYance since his debut. He has been considered by many to be one of the best-underrated talents in the business. Those of us who are regulars at Washington Hall, know what he's capable of. We've seen him dive off the balcony to obliterate his opponents. We've seen him stand after getting kicked in the face, blood pouring from his mouth and win a match. We have no doubt, Shane Strickland will face one of the most dangerous challengers to his title when he steps into the ring with Artemis Spencer!
DEFY On Edge! will be an outstanding entry in the promotions history books. Come to Washington Hall on Friday, December 14th and join the DEFYance! This is a 21 and older event. There will be food and drinks available for sale, provided by Lunchbox Laboratory!