Welcome to the first edition of Brace For IMPACT preview: , the weekly IMPACT Wrestling preview here on Pro Wrestling Post for 6/16/20. With Slammiversary just one month away, things will be heating up in IMPACT Wrestling. Last week, we learned that Tessa Blanchard will be defending her IMPACT World Championship in a 5-way elimination match at the PPV. But who else will make their way onto that card tonight? Will Deonna Purazzo make her presence known? Will The North enter Slammiversary XVIII as Tag Team Champions? And Will Moose be defending his TNA Championship? Let's get into this…Brace For IMPACT 6/16/20
Reno Scum Returns!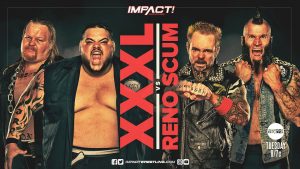 Adam Thornstowe and Luster "The Legend" of Reno Scum return to action tonight, but XXXL has other plans. Super heavyweights Larry D and Acey Romero are looking to stop Reno Scum before they can build momentum. The stakes are high in this tag team bout, as a win for either side pushes them closer to the coveted tag team championships.
Hit Man vs Man-Beast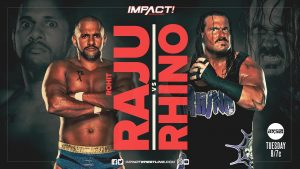 Last week, Rhino addressed his recent attack on Rohit Raju. Rhino said he was sick of hearing his protege complain about his lack of opportunities. The Man-Beast decided to teach him a lesson by way of Gore. Backstage, The Desi Hit Man approached Rhino about forming a tag team, but Rhino declined. The Man-Beast explained that he already has a tag team partner, and that tag team partner has kids. Will The Man-Beast teach his protege another lesson tonight? And will this "mystery partner" make his IMPACT debut?
Brace For IMPACT – 6/16/20
The Virtuosa Speaks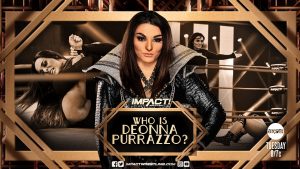 Last week Deonna Purazzo made her intentions clear when she laid out Knockouts Champion Jordynne Grace. However, we still don't know much about the self-described Virtuosa. This Tuesday, IMPACT Wrestling will delve into the history of the most sought-after performer in women's wrestling and answer the question: Who is Deonna Purrazo?
TNA Champion vs TNA Veteran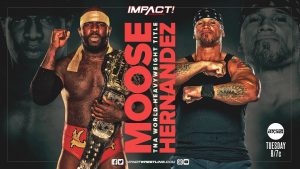 This week on IMPACT Wrestling, Moose will defend his TNA World Heavyweight Championship against TNA veteran Hernandez. Moose has held the old TNA Championship since the Rebellion special. That night, he defeated Hernandez and Michael Elgin in the main event. With Tessa Blanchard sidelined by travel restrictions, Moose declared himself TNA World Heavyweight Champion. Will the young, hungry competitor hold onto the most prestigious prize in the company? Or will the wily veteran shut him down? Find out when these two athletic giants meet in the ring!
Preview: Brace For IMPACT – 6/16/20
Tag Team Championship
The North Vs The Rascalz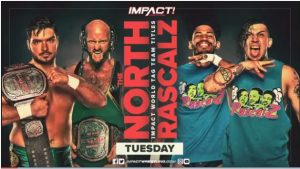 While sidelined by travel restrictions, IMPACT Tag Team Champions Ethan Page and Josh Alexander have been honing their skills in Canada. They return to action tonight, defending their titles against Zachary Wentz and Dezmond Xavier of The Rascalz. Dez and Wentz have had their hands full lately, investigating the attack on partner Trey Miguel. Can they re-focus their efforts on the tag titles? Or will The North remain the top tag team in IMPACT Wrestling?
Preview: Brace For IMPACT – 6/16/20Street Fight
Eddie Edwards vs Ace Austin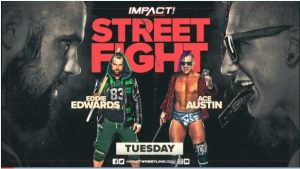 Edwards and Austin will join Michael Elgin, Trey Miguel, and Tessa Blanchard in a 5-way elimination match at Slammiversary. In the meantime, however, the pair intend to breathe new life into their rivalry with a street fight. Last year, the two came to blows when Ace tried to get into Eddie's head by sleeping with his wife, Alisha Edwards. Eddie hasn't forgotten, and will certainly bring that heat into their street fight this week. Whoever wins tonight will pick up a lot of momentum heading into Slammiversary.