On Saturday, December 28th AAW Pro presents The Windy City Classic XV. The showcase will also appear on FITE TV. From Merrionette Park, Illinois AAW looks to once again build on its previous fourteen-year history with this event. While some may be looking to recover from the holidays, these men and women are looking to pulverize one another leading into the new year.
It looks to be another stellar card with long-time rivalries likely coming to an end and other one's potentially ramping up. Among the matches featured on the night include a Bourbon Street Fight, A Dog Collar Match and championship matches on the card as well. This is AAW Pro's Windy City Classic XV.
Bourbon Street Fight
Eddie Kingston and David Starr vs Curt Stallion and Jake Something
WRSTLING has imploded! At least that is the narrative that could be spun in this matchup. Fans of AAW Pro are aware that these four men were at one time aligned with one another. That alliance has now come to an end with championships being costed by past friends. For those unaware Something's Heritage championship reign came to an end when Eddie Kingston happened to get involved in his match with PACO. Something will be looking to exact some revenge when it comes to this tag match.
Both Stallion and Starr have to be laser-focused on wanting a future championship opportunity against Josh Alexander. Whoever walks out of this match the winner will also have bragging rights saying that they made WRSTLING.
AAW Pro Heritage Championship
PACO vs. Hakim Zane
In a match, no one likely saw coming with PACO capturing the Heritage Championship after defeating Jake Something. In less than a month, however, PACO is already defending his title against a man with a ton of animosity against Chicago. He realizes that PACO was left laying this past fall in the middle of the ring. Will that same fire that led PACO to capture the AAW Heritage Championship be what guides him in this match? If he isn't focused on retaining the title it could be what costs him.
Zane didn't mince any words in a promotional video showcasing just what he intends on doing when the two face one another. At the same time, Zane also shared his displeasure for the AAW Pro fanbase as well. Could we see a Windy City revolt when this match takes place?
Kimber Lee vs Hyan
This first-time matchup between an experienced veteran in Lee and Hyan should be fun. A trainee of Booker T's Reality of Wrestling, Hyan is a five-year pro that has continued to rise in popularity in ROW. Now, however the three-time ROW Diamonds Division champion steps in the ring with the current SHIMMER champion. She may have been under the tutelage of Booker T she is busy now on blazing her path.
Lee is also no stranger to holding the AAW Women's Championship as well holding it for six months in 2018. Lee is among the most in-demand women's wrestlers on the independent scene. When future meets present the result is likely to be fireworks! Fans will want to keep an eye out for this match.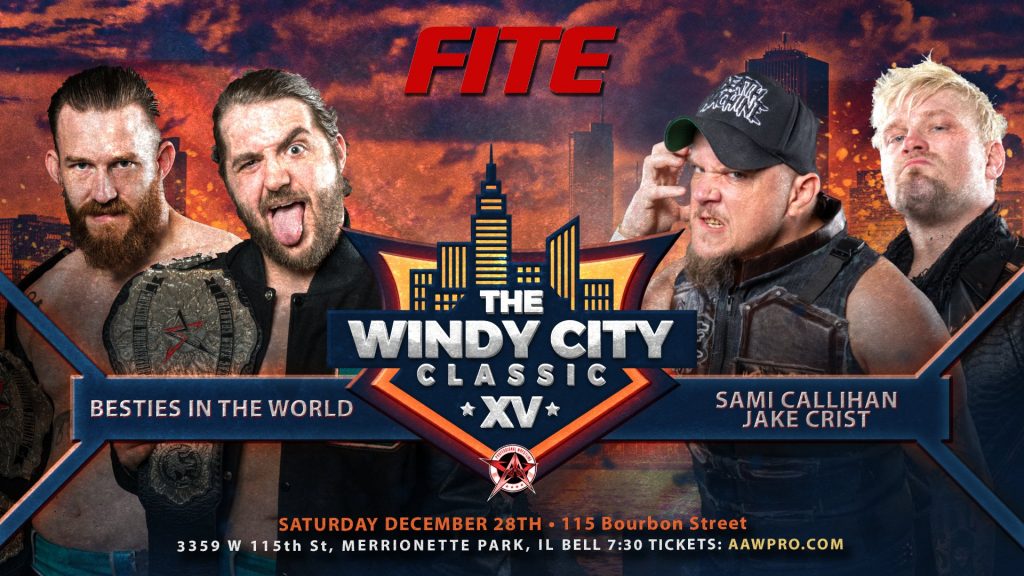 AAW Pro Tag Team Championship
Besties in the World vs Sami Callihan and Jake Crist
It is a long time coming but it is finally here. The tandem of Crist and Callihan, affectionately two-thirds of oVe will challenge for the tag team titles. Fitchett and Vega have been a dominating tandem during their time in AAW and this matchup suggests no different. To be the best, you have to beat the best and this pairing face two men that are as close brothers without being them in Callihan and Crist.
Despite not tagging with his brother Dave, Jake is working alongside someone as familiar to him as his own family. Callihan is a former AAW champion but now enters the chance to compete for the tag team championships. Will the Besties in the World retain or will oVe reign supreme at Windy City Classic XV?
AAW Women's Championship
Jessicka Havok vs Kris Statlander
These two are no strangers to one another and this match will prove it. In a rematch for the AAW Women's championship, Kris Statlander looks to capitalize this time on her opportunity. The fierce Havok Death Machine will continue her what is now seventh-month reign as champion. She has faced some of the best women on the independent circuit today.
Now she faces the Galaxy's Greatest Alien as she squares off once again with Statlander. Statlander's stock at the moment couldn't be higher. With her arrival in AEW and exposure to a mainstream audience, fans can't seem to get enough of her. Will this be the night where she end's Havok's 280 plus day reign as we walk into 2020? Check them out on FITE TV this coming Saturday to find out the result.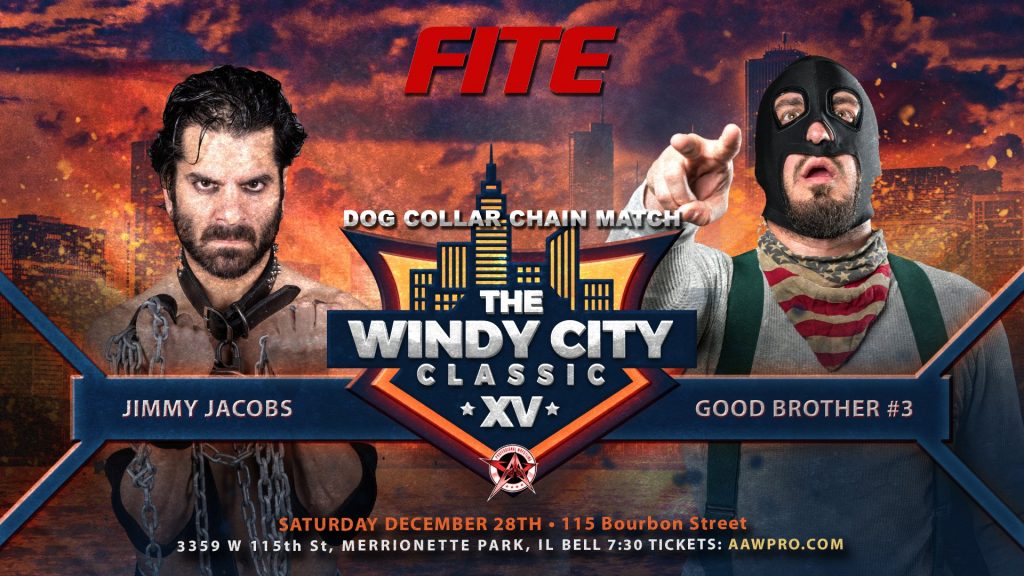 Dog Collar Match
Jimmy Jacobs vs. Good Brother #3
Jacobs doesn't believe him and we can't quite understand why that is. Good Brother #3 couldn't possibly be Mance Warner. As a man of his word, Warner lost his loser leaves AAW match earlier this year. It should be a foregone conclusion that trying to enlist some sort of bounty on the head of Good Brother #3 seems albeit unfair if we are free to give our opinion. Regardless of whether or not we believe Good Brother #3's true identity, they are both in store for a fight on this night. The stakes between them couldn't be any higher.
A dog collar match has had some of the most brutal battles in its existence. While we aren't sure whether it will reach the heights of the Valentine/Piper one during their days in Mid-Atlantic we are certain that it will be a bloody affair between the both of them. Will there truly be a winner?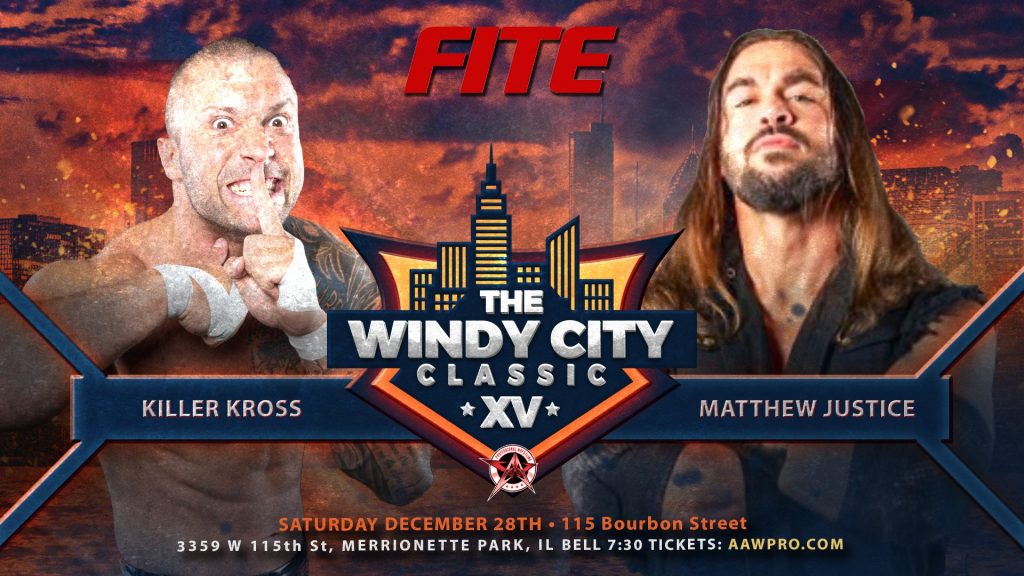 Killer Kross vs Matthew Justice
As he comes of the announcement of his formal release from IMPACT Wrestling, Killer Kross is ready to battle. Across the ring from Kross, this year will be former JT Lightning trainee, Matthew Justice. Armed with an array of moves that showcase a sense of fearlessness, Justice is no stranger to competition in the ring either. He is a prominent figure in AIW as an Absolute Champion and a two-time Intense Champion to his list of accomplishments.
At 34 years of age, Kross has a new lease on his professional life. He is free to move around and face anyone and everyone in the industry. Could this match be the start of a longstanding relationship with AAW? Kross has come to play and Justice best be prepared to play as well at Windy City Classic XV.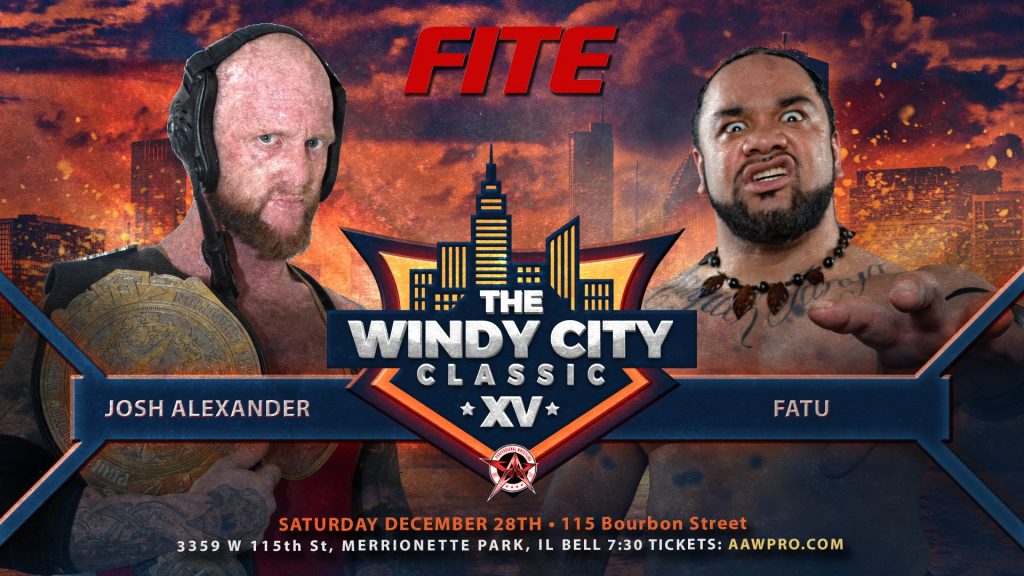 AAW Heavyweight Championship Match
Josh Alexander vs Jacob Fatu
When a Samoan Werewolf faces off against a Walking Weapon, the result is almost emphatically going to be destruction. These two men are built different but make no mistake their common desire to maintain their dominance against the other is all too similar. In the case of the current MLW Heavyweight Champion, Fatu a win would simply add to his championship collection. He is all too willing to show that everything he is achieving in MLW isn't by chance.
For Alexander, he is equally going to bring the fight to Fatu and showcase just how dangerous he is. While a tale of the tape certainly gives Fatu a size advantage this may be a case of will, desire and tenacity between them to usurp their will this contest. This match alone is worth the price of admission at the Windy City Classic XV.