Long-time fan/wrestler/trainer/promoter "Pistol Pete" Marquez, of La Puente, California, who wrestled professionally for over 26 years, passed recently while In-Hospice at only age 65. He was a booker, trainer, worker, and more for West Coast promotions and schools like California Championship Wrestling, International Wrestling Federation, and United Wrestling Council after retiring primarily as a SoCalif-based worker. Marquez was also a TV and film stunt coordinator besides being long-time financial secretary for the International Machinists Union Local 177.
________________________
He was an original CAC Board Of Director when I came aboard in 1992 and dedicated his time serving on boards for March Of Dimes, the LA chapter of MakeAWish, City Of Hope, Guiding Eyes of America, and more. Any fellow friends of Pete know how busy and devoted he was to every cause and usually the first to arrive, last to leave. Just as he was with his wrestling career, always helping guide and advise as a locker room leader.
Which got me to side-bar-thinking, with Undertaker/Calloway no longer in WWE locker rooms regularly since his retirement match last year. Who might be a locker-room leader now? The obvious would be HHH, even though he seldom wrestles(but he's usually always back there). Or he and Michaels at least in the NXT d.r. Jericho is a sure bet for AEW. But who in Impact, MLW, NWA, ROH, and others? During the Attitude Era, was there a locker room leader for women like Trish, Lita, Jazz…maybe Jacqueline?
Pistol Pete Marquez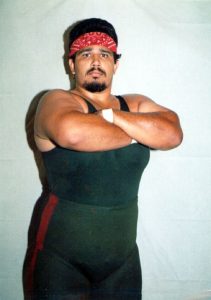 Pete debuted on the syndicated(Spanish International Network/SIN) Hollywood Wrestling Office television named "Pistol Pete" (taped every Wednesday at the Olympic Auditorium in downtown LA)about the same time as when Bill Anderson and Jesse Hernandez also debuted for my home base promotion in 1978. He wrestled for us until our Lebell-office closed in December of 1982 and reportedly purchased soon after by Vince McMahon Jr well before he went national in late 1983! Think about that as Vince Jr also began promoting in Northern California against Verne Gagne in early 1982 after my other secondary boss Roy Shire retired and closed shop.
Although Pete could cut amazing heel promos, he began in showbiz with a nonspeaking stunt, accomplice, and henchmen roles on major TV shows like Remington Steele, Murder She Wrote and several times appeared on local Southern California news programs helping promote local indie shows like on KNBC-4 and CW/KTLA-5. He broke through in movies appearing in many popular ones like Weird Science(later also appearing as Sphinx in the tv version), Club Fed, Misfits of Science, How I Got Into College, Hard Time On Planet Earth, Don't Call Me Frankie, Woman In Red and more.
Plus 1985 guilty pleasure: Grunt! The Wrestling Movie, along with his long-time tag-partner Buddha Khan, John Tolos, Adrian Street, Steve Strong, Dick Murdoch, Dan Spivey, Destroyer/Dr. X Dick Beyer, Victor Rivera, Bill Anderson, Count Billy Varga, Ray "Thunder" Stern, Alex Knight, Sal Lothario (Jose's brother), Steve DeSalvo, Toru Tanaka, Wildman Jack Armstrong, and more. Pete also helped train our 80's GLOW stars along with Mando Guerrero.
Piledriver School
Pete helped train quite a few wrestlers at his dojo as well as at the Piledriver School. He also appeared on mid-80's WWF Superstars television ala his many other L.A.-based friends and fellow Cauliflower Alley Club brothers like Riki Ataki, Bobby Bradley Sr and Jr, and of course Louie Spicolli. When Pete debuted, he had a solid mid-level push for months, even getting to start honing his later great mike skills with our then tv-announcers Gene Lebell, Jeff Walton, and Miguel Alonzo handling "locker-room" interviews.
Pete thankfully also came with fellow Los Angeles office enhancement talent to my 2012 Los Angeles Wrestling Office reunion, including Mando Lopez, the original Bengali, Billy Rogers, Ric Draisin, and others. He saw long-time friends of his who also wrestled for Mike Lebell(our big boss & head promoter) like Jesse Hernandez and Bill Anderson, who drove Billy Graham to it from Phoenix. When Pete took the mike, he tore down the house with his stories of Black Gordman and Great Goliath, leaving "presents" for him in his gym bag his first-week wrestling.
His Recent Health Issues
Pete quietly suffered several strokes the last few years and one just last month, along with a massive infection his immune system couldn't submit. His family had hoped he'd get into boxing, providing him with lessons and gym time. But all his fan years idolizing Fred Blassie made his decision to seek wrestling training instead. His first match at 18 was in 1974 after years of doing backyard wrestling in a ring he built, pretending to be either Blassie or his lead foe in Canada's Golden Greek John Tolos. "Brudah Pete, we're going to miss you big-time," as he'd say.
Then Cauliflower Alley Club president/founder and my boss wrestler/actor Mike Mazurki, Pistol Pete, Mando Guerrero, and CAC secretary/wrestler Maria Bernadi shot in 1988. This was most of our CAC board members back then. Lou Thesz and Red Bastien put me on CAC's board in 1992. Pistol Pete Marquez was a total fixture at our annual CAC functions and doing volunteer work for us the rest of the year. 
Pete also served as a stunt and reality show coordinator and a boxing/wrestling coordinator on several TV commercials, shows, and films. He also helped his sons and daughters get into theater, tv, and movies along with him. One of his more famous Los Angeles wrestling tv tagline innuendos was "Pistol Pete never shoots blanks!"