As one of WWE's current premier talents, Piper Niven has been making waves in professional wrestling since she reached adulthood. With Niven making her Raw debut on the June 14, 2021, episode of the broadcast, it's only a matter of time before this woman gets her hands on championship gold. Why? This woman is a champion inside and outside of the ring – exuding nothing but bravery in every step she takes.
Two years ago, Piper Niven would use Bi Visibility Day to announce her status as a bisexual woman on Twitter. To us, bisexuality (and all sexualities) should be celebrated daily – but the month of June emphasizes that point even more so. In an effort to highlight LGBTQIA+ athletes during Pride Month, it's time for us to dive into the life and career of Scotland's own Piper Niven.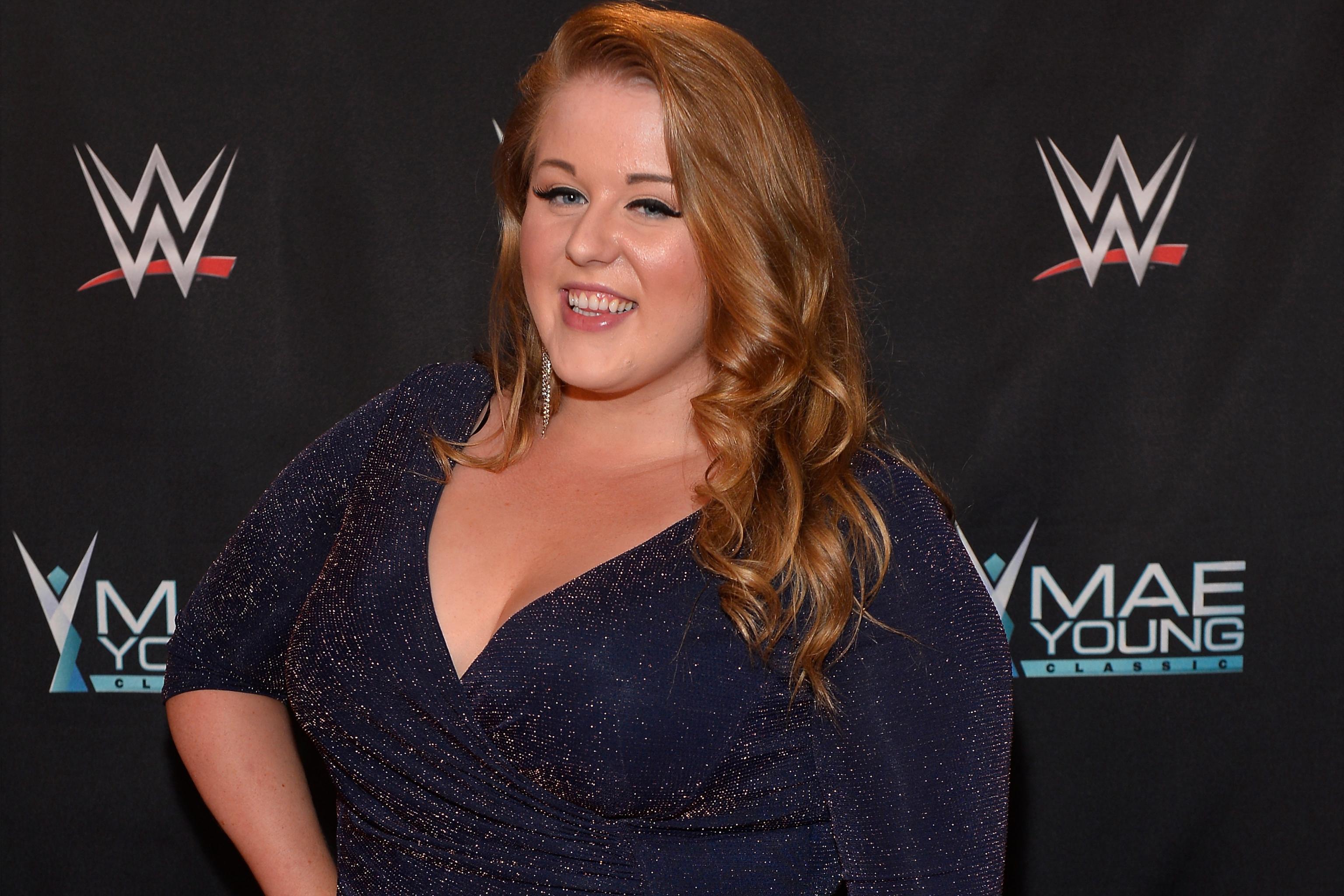 The Genesis of Kimberly Benson
On May 6, 1991, Kimberly Benson would be born in Ayrshire, Scotland. Not much is known about Benson's upbringing, but it's understood that she would be interested in professional wrestling during her younger years.
In 2008, at the age of 18, Benson would begin training under the tutelage of Mikey Whiplash and WWE's Killian Dain. A year later, on March 7, 2009, Benson would make her in-ring debut at a Scottish Wrestling Alliance event. Under the name "Vyper," she would compete in mixed tag team competition alongside Barry Miller against Mark Stevens and Nikki Storm.
Miller and Vyper would be successful in this contest. Throughout the next couple of years, Benson would wrestle as "Vyper" until October 8, 2011, where she would debut in Pro-Wrestling EVE as "Viper."
Viper would continue to wrestle around the UK independent scene, building a repertoire of great matches in the process. On November 30, 2013, Viper would get her hands on her first bit of championship gold. At SWE Uprising, Viper would defeat Jason Costello to become the new SWE Future Division Champion.
Viper would have one successful championship defense against Sammii Jayne. However, Jayne would eventually defeat Viper and Debbie Sharp in a three-way match to win the SWE Future Division Championship on February 22, 2014. While Viper's first championship reign may have ended at 84 days, it would only be the first of many for the Scottish wrestling icon.
Viper's Venomous Dominance
On May 31, 2014, Viper would make her debut in Showcase Pro Wrestling's In Your Club event. In this match, Viper would contend for the vacant SPW Women's Championship in a match against Sara, which she would win. Over the course of the next year and a half, Viper would successfully defend the championship against Sara, Leah Owens, and Carmel.
No one truly knows what happened to the SPW Women's Championship, as Viper's last defense of the title took place on November 7, 2015. SPW (later renamed Pro Wrestling ImPulse) would close down in 2017.
In a big break for Viper, she would compete on TNA's reality television show TNA British Boot Camp. As TNA's answer to WWE Tough Enough, TNA British Boot Camp would pit a multitude of British independent wrestlers in competitions against each other for the chance at a TNA contract.
The show would premiere in 2014; however, Viper would be eliminated from the competition during stage 2. Friend of Viper, Mark Andrews, would win the competition that year!
Piper Viper – Venomous Dominance
In May 2015, Viper would win a 20-woman rumble match to become the new Fierce Females Women's Champion. She would go on to have a Sammartino-like reign with this championship, holding it for 1,122 days.
In August 2015, prominent Scottish wrestling promotion Insane Championship Wrestling would announce a tournament to crown the inaugural ICW Women's Champion. Viper would be announced for this tournament, and she quickly became a fan favorite for the ICW faithful.
Viper would defeat Kasey Owens in a match that truly put the ICW women's division on the map in her first-round match. In the midst of her ICW pursuits, Viper would become the first AOW Women's Champion in a gauntlet match at AOW Revelation.
That November, Viper would fall to Kay Lee Ray in the ICW Women's Championship Tournament semi-finals. Despite this setback, Viper would be added to the finals of the tournament by ICW Commissioner Mick Foley anyway. On November 15, 2015, at ICW Fear & Loathing VIII, Viper would defeat Kay Lee Ray and Nikki Storm in a three-way match to become the inaugural ICW Women's Champion.
Championship Pursuits
As a double champion, Viper would go on a winning streak with multiple championship defenses. She would successfully defend the AOW Women's Championship against Lana Austin and Nikki Storm, as well as the ICW Women's Championship against Carmel, Nikki Storm, and Kay Lee Ray.
These championship defenses led to an eventual four-way ICW Women's Championship match between Viper, Carmel, Storm, and Ray. At ICW Friday Night Fight Club #2.05, Carmel Jacob would defeat Kay Lee Ray, Nikki Storm, and Viper in 9:04. This would end Viper's reign at 49 days.
In 2016, Viper would make her way to Japan to compete under the banner of the Stardom women's promotion. In her first match for Stardom, Viper would team with Kaitlin Diemond to defeat Oedo Tai (the team of Kris Wolf and Kyoko Kimura). For the next few months, Viper would compete in multiple championship matches.
However, she would come up short in all of them. Viper would compete in Japan and the UK for continuous months. She would attempt to reclaim the ICW Women's Championship from Carmel Jacob. However, she would come up short in these attempts as well.
Viper's next notable moment in her career took place on November 12, 2016. At AOW Remember Remember 2016, Lana Austin would defeat Viper in a No Disqualification Match for the AOW Women's Championship. Beltless, Viper would move on to greener pastures.
Entering The Classic
Throughout the rest of 2016 and 2017, Viper would continue competing for Stardom, ICW, and the newly debuted WCPW. However, in July 2017, Viper would gain an opportunity to showcase her wrestling ability on a grand stage.
On July 13, 2017, Viper would debut in World Wrestling Entertainment in the WWE Mae Young Classic Tournament. In her debut match, Viper (now competing as Piper Niven) would defeat Santana Garrett to continue to the second round of the tournament. She would wrestle Serena Deeb in the second round of the tournament, whom she would also defeat.
Niven was making waves on social media as a relative newcomer to North American wrestling. She would compete against Toni Storm in the quarter-final match of the tournament but would come up short in this bout. Despite losing the tournament, Niven was making headlines for providing great Scottish representation in WWE.
Becoming The Belt Collector
Following her appearances in WWE, Niven would revert to her "Viper" name. She would contend in a litany of championship contests in Stardom, ICW, and Pro-Wrestling EVE. She would eventually find success on August 13, 2017, where she (alongside HZK and Io Shirai) would defeat Team Jungle's Hiroyo Matsumoto, Jungle Kyona, and Kaori Yoneyama to become the new Artist of Stardom Champion. This would be the beginning of a dominant reign for Viper's stable, Queen's Quest.
As one-third of the reigning Artist of Stardom Champions, Viper would make her way back ICW to reclaim her lost title. She would be successful on February 12, 2018, where she defeated Martina to become ICW Women's Champion for the second time. On February 24, 2018, Viper would compete against PCW Women's Champion Rhio for the title but would come up short.
This would spark a feud between Rhio and Viper, seemingly culminating at PCW Live in Halifax, where Viper defeated Rhio to become the new PCW Women's Champion. However, despite this feud appearing to be over, Viper would defend the championship against Rhio and Nightshade in a three-way match one night later, where she would drop the title after holding it for 1 day.
Within the period of this feud, Viper would also win the SWA Undisputed World Women's Championship in a match against Toni Storm at Stardom Dream Slam in Tokyo, Japan. Later in April, Viper would go on to win the ABC Women's Championship in a battle royal for the vacant belt. At this point, Viper holds five championships in professional wrestling. Viper was on a roll, but every roll eventually gets rocked.
Piper Niven – Building Her Name
On April 15, 2018, Queen's Quest would vacate the Artist of Stardom Championship following the Stardom draft. This would only be the beginning of Viper's slight downfall on the independent scene (a downfall that would be short-lived). On June 24, 2018, at Fierce Females Sweet Sixteen, Jayla Dark would defeat Viper to win the Fierce Females Championship. Thus, Viper's aforementioned 1,122-day reign would be over. Less than a month later, Viper would also lose the ABC Women's Championship to wrestler Jetta.
Viper would defend the ICW Women's Championship and SWA Undisputed World Women's Championship against Kasey, Martina, and Tam Nakano. In late 2018, Viper would compete in the inaugural EVE International Championship four-way match. In this match, she would add another championship to her resume, defeating Jordynne Grace, Kasey, and Laura Di Matteo to become the first champion. She would go on to lose her ICW Women's Championship to Kay Lee Ray in a critically acclaimed contest at ICW Fear & Loathing XIV.
A Year of Turbulence
2019 would be a year of turbulence for Viper – both personally and professionally.
On January 14, 2019, at Stardom's 8th Anniversary event, Viper would defend both her EVE International Championship and SWA Undisputed World Women's Championship against Utami Hayshishita. However, Hayshishita would come out of the event victorious, ending Viper's championship reigns in the process.
Viper would go on to find success in the UK-based World of Sports promotion. On January 18, 2019, Viper would defeat Bea Priestley and champion Kay Lee Ray to become the WOS Women's Champion. However, this title reign would be cut short a mere one day later after Priestley defeated Viper for the title. Viper wasn't out of the title picture yet, however, as Viper would regain the championship one week afterward in a singles match with Priestley. Viper would defend the championship successfully against Priestley but dropped it on February 3, 2019, to relative newcomer Chardonnay.
In April 2019, Viper would return to WWE, appearing in a battle royal at WWE Worlds Collide: Brands Collide. Now wrestling as Piper Niven again, Niven would begin making appearances on WWE NXT UK. In her first match on the brand, Niven would defeat Reina Gonzalez in a five-minute contest. When Niven wasn't wrestling in WWE, she would continue wrestling on the independents for EVE and ICW (as Viper). This would lead to the EVE Wrestle Queendom 2 event, where Viper would defeat Kay Lee Ray to become the new EVE Champion. However, she would drop the championship to Rhia O'Reilly the same night and begin making more consistent NXT UK appearances.
Piper Niven – A Peek Into Her Personal Life
On September 23, 2019, Kimberly Benson would publicly come out as bisexual on social media. On this day, Benson would tweet:
"Happy #BiVisibilityDay! Guess who's ready to tell the world?"
The post would be accompanied by a picture of the NXT UK star pointing to herself. This announcement was a victory for the LGBTQIA+ community and for Benson herself, who received an outpouring of love and support after her announcement. At the time, this made her the third WWE contracted talent to publicly announce their presence in the LGBTQIA+ community. Two months later, Benson would announce that she was engaged to her then-boyfriend.
On December 13, 2019, Benson would announce that she suffers from Bell's Palsy. She would do so in a semi-humorous social media post, stating:
"Who's got two thumbs, a funny face, and has bell's palsy?"
Of course, the answer was her. She would attempt to make light of the situation, stating that she can now do a "smashing people's eyebrow" and how she was going to turn heel and adorn herself with "cool eye patches, a cape, and even some kind of Mr. Biggleworth cat." While the wrestler would attempt to make light of her disability, she was crushed upon receiving her diagnosis. However, she is not determined to let her Bell's Palsy slow her down.
NXT UK – Piper's Playground
On January 12, 2020, Piper Niven would compete against Kay Lee Ray and Toni Storm in an NXT UK Women's Championship Triple Threat match at NXT UK TakeOver: Blackpool II. While Niven would not be successful in this challenge, this match would put her on the map as a premier Scottish athlete.
Afterward, she would begin wrestling exclusively on NXT UK. In March 2020, the COVID-19 pandemic began to influence the global population, and wrestling was not left out of that impact. As NXT UK tapings ended, Piper Niven would go on a six-month hiatus from professional wrestling. However, she would return on September 24, 2020, where she would unsuccessfully challenge for Kay Lee Ray's NXT UK Women's Championship.
Piper Niven – A Main Roster Future
As mentioned earlier in the piece, Piper Niven recently made her long-awaited main roster debut on WWE Monday Night Raw. While this debut may have been unprecedented, no one can say that it wasn't deserved. In her Raw debut match, Piper Niven (whose name they wouldn't refer to) would defeat Naomi in a one-minute contest after filling in for the newly returned Eva Marie.
While reports indicate that Niven is in line for a gimmick change and repackaging, we've yet to see anything from Niven on television confirming that; however, we most definitely have confirmed a partnership between Eva Marie and The Megaton Barbie after what went on Monday Night Raw. How will Piper Niven fair on the main roster? We'll have to wait and see. To us, though, there is only one thing for certain.
The Scottish Women's Warrior has arrived.