On Tuesday, January 4th, NXT New Years Evil 2022 is set to take place. From confrontations to featured championship matches, the card starting off the year is well put together. Fans will also be privy to see the Phenomenal AJ Styles confront the brash and overly confident Grayson Waller. Additionally, fans will likely be excited about the main event of all the championship matches featured.
The NXT Cruiserweight Championship and the NXT North American Championship will be unified on this night. However, who is likely to walk out the new unified champion? Will we see Carmelo Hayes walk away with the new NXT Cruiserweight North American Championship, or will it be Roderick Strong?
Also, Who is likely to walk out as the NXT Champion? Could this be the dawning of a new champion ushering in the emergence of Bron Breakker as champion? Or could this be here the old guard remains, and Tommaso Ciampa remains champion?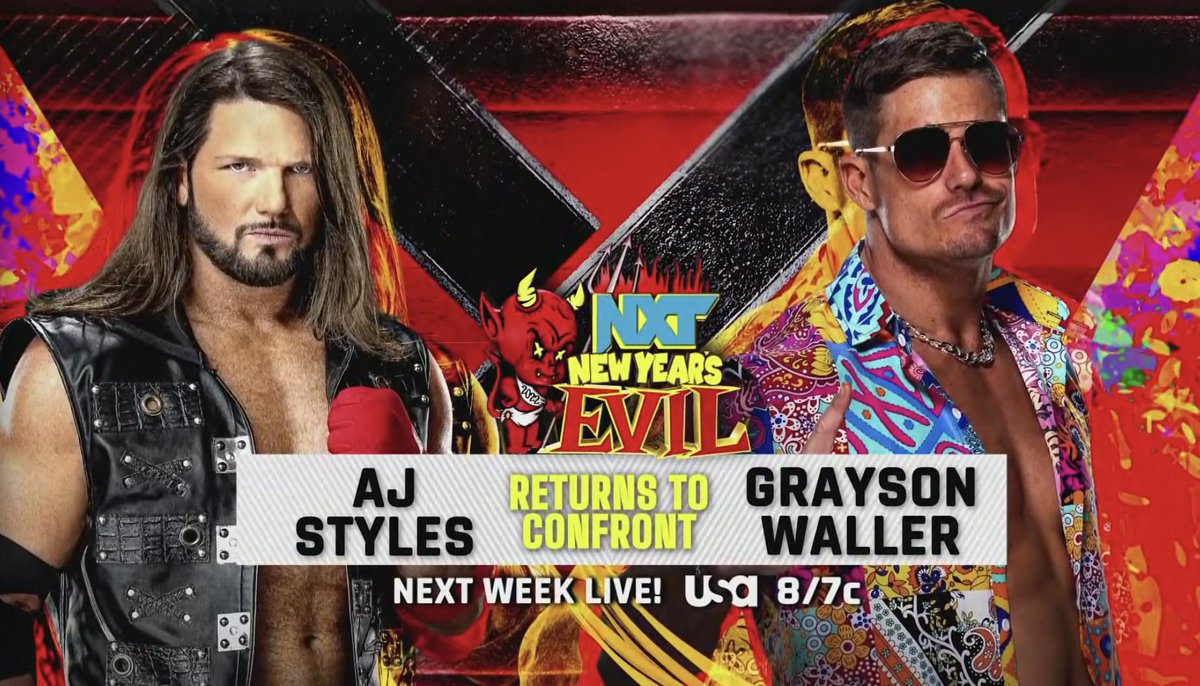 NXT New Years Evil 2022
AJ Styles returns to confront Grayson Waller
Over the past few weeks, we've seen an exchange between former WWE Champion AJ Styles and Grayson Waller. On the heels of Waller's attack on Johnny Gargano, we have seen the rise of the Grayson Waller Effect. Since that attack, Waller has spoken about the new guard and how it is all about being social media savvy. So forget about paying your dues and whatnot.
This appears to have gotten the ire of the Phenomenal One. A couple of weeks ago, AJ Styles came to NXT 2.0 and spoke with Waller. He didn't see him as a 'superstar' just yet. It was as though Styles was set on putting Waller in his place very quickly. Will this be a case of these two eventually coming to blows? There already is an instance in which Waller doesn't respect Styles and what he did to get to where he is today.
Or could we also see Omos play a role in this confrontation between them as well?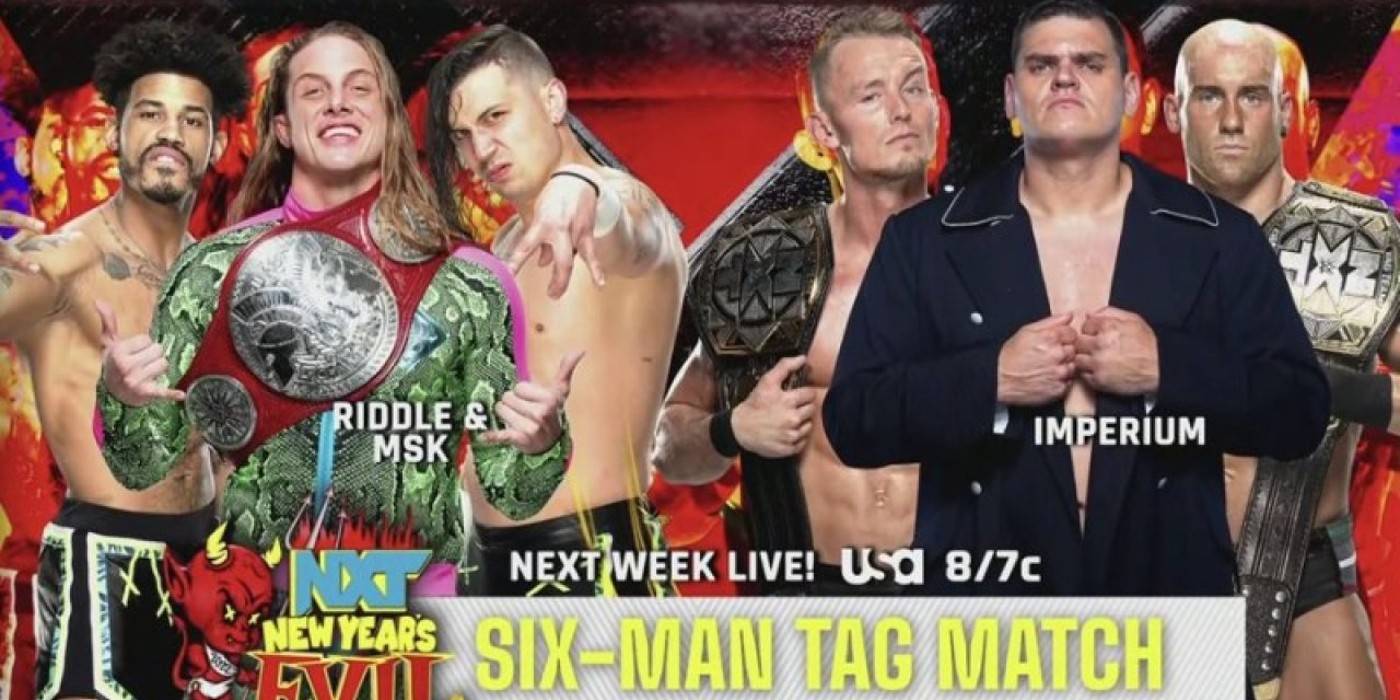 Six-Man Tag Match
Riddle & MSK vs. Imperium
After losing the NXT Tag Team Championships, MSK went on a journey. The duo was set to rediscover who they were as a tag team. In doing so, they were set to locate the shaman. It was the shaman that would help them to find their inner ability once again. The tag team championships meant so much to them, so only someone who could relate to them and succeed as a tag team competitor could relate.
So as their journey unfolded, they would eventually reach their destination. It was at that point that they found the shaman. The shaman was, in fact, a co-holder of the Raw Tag Team Championships, Riddle. With suggestive other similarities between MSK and Riddle, the trio would try and reach a HIGHER state of mind and body. They would eventually confront the current champions with aspirations of settling the score.
However, at this point, Imperium's leader Walter and the Shaman, Riddle, would become active participants in this feud, setting the stage for this month.
NXT New Years Evil 2022
NXT Cruiserweight & NXT North American Championship Unification Match
Carmelo Hayes vs. Roderick Strong
The name of the match is a mouthful. So while the official naming of the match isn't official, what is official is the name of the new title. The NXT Cruiserweight North American Championship. How will the title look? At the time of this writing, no images appear to be floating around. The look of the NXT Cruiserweight title has always been the one; this previewer has had a greater affinity of the two. That said, NXT has long had a history of creating beautiful championships for the most part.
The two men involved in this match are a battle of the present against the future. Strong has long had a history of holding championships with the brand. As a former NXT North American Champion, Roderick Strong knows what it means to hold the title. In Carmelo Hayes, fans are fully aware that if he says when he shoots that he doesn't miss. Will that prove again to be true on this night?
NXT New Years Evil 2022
NXT Women's Championship
Mandy Rose (c) vs. Cora Jade vs. Raquel Gonzalez
Despite the graphic saying the match is taking place in two weeks, this battle is happening this Tuesday. While Raquel, as the former champion, is determined to capture the NXT Women's Championship, it is Cora Jade that came relatively out of nowhere to contend for the title. From Jade's winning fall at NXT War Games to this championship opportunity, it appears the trajectory for success is entirely behind the Cora Jade Movement.
Rose will likely benefit from the help of Gigi Dolin and Jacy Jayne to help her secure a win. However, while that scenario is likely to be attempted, is it a given that this strategy will help Rose retain? For Raquel Gonzalez, despite being the most accomplished in NXT of the three women in this match, that isn't a given that the title will end up around her waist at the end of the match. As a result, we could see Mandy retain walking out of New Years Evil.
NXT New Years Evil 2022
NXT Championship
Bron Breakker vs. Tomaso Ciampa (c)
These two have traded pinfalls on one another, with this likely being the rubber match between them. In the case of Bron Breakker, his rise since his debut on NXT 2.0 has been meteoric. His look, feel and attitude as it comes to the NXT Championship all appear to be headed in the directory of a new champion being crowned. For Tomasso Ciampa, his title reign to begin NXT 2.0 has cemented him as a fighting champion.
He has been the brand's face and has been in so many different roles within the company. Tomasso Ciampa has been a vital part of the brand, whether it's a tag team champion, a threat for the NXT UK Championship, or the NXT Champion. A win by Bron Breakker here wouldn't just cement a changing of the guard on the brand, but the confidence management has that he can help to elevate the brand to the next level.
******
Stay tuned to Pro Wrestling Post for this and additional stories from the wrestling world. Readers can rely on Pro Wrestling Post to be their daily source for everything inside the squared circle. As a result, readers can expect daily news, history, and so much more. Please visit WWE NXT's official website here for information on the promotion and upcoming events.