For the NXT 2.0 preview for 10-19-21, three matches were announced. With each of the matches announced, there is something different attributed to each of them. One of them is an ongoing feud between two emerging talents on NXT 2.0. The second pits to future opponents as tag team partners, and the last involves a triple threat match with championship implications. The show will also include a singles match with the recent NXT 2.0 arrival in Tony D'Angelo.
With Halloween Havoc one week away, the singles and title pictures are becoming more apparent. So what will fans see what will happen as this week's episode unfolds. What matches could be last-minute additions to the card? Here is this week's preview for NXT 2.0 for 10-19-21.
NXT 2.0 Preview for 10-19-21
Odessey Jones vs. Andre Chase
Over the past few week's the growing animosity between Jones and Chase has boiled over. With Jones and Chase going head-to-head, fans have witnessed several different scenarios play themselves out. First, fans will recall Jones having to shut Chase up as he attempted to interrupt the Lumis/Hartwell wedding, then Chase interfered in Jones match against LA Knight. Jones has finally had enough, and so this match is set to take place.
From a single's perspective, Jones and Chase both have a great deal at stake here. A win here has to move either one up in the rankings for either the NXT North American or NXT Championship. If one was to think who among them is likely to walk away victorious, it might very well be Jones. From his rise in the NXT Breakout tournament to his continued exposure on the brand, it appears that the powers that be seem to have high hopes in him.
NXT 2.0 Preview for 10-19-21
Tony D'Angelo In Action
Somewhere James Gandolfini is likely looking down and smiling at the arrival of Tony D'Angelo. Upon his debut, he has also appeared on Lash's show. But with D'Angelo's debut and reminding fans that he is part of the 'family business,' fans have yet to see him have a significant challenge to square off against. As it stands right now, D'Angelo is likely to be pushed in the singles division.
While it has yet to be announced who will face off against D'Angelo, whomever it will be is someone that be used to enhance D'Angelo's rise. That said, D'Angelo would be better suited to face someone that has a little more notoriety behind them. But, whoever it is, when the match is all said and done, D'Angelo is likely to be the one that will make the family business proud.
Tomasso Ciampa & Bron Breakker vs. Grizzled Young Veterans
If any match is sure to have tension from the onset, it would be this one. As fans are aware next week, both Breakker and Ciampa will face off against one another at Halloween Havoc for the NXT Championship. So while the question that would be often is asked is, can these two co-exist as they face the former NXT UK Tag Team Champions? So while the easy answer would be no, a more important question is why they would need to be?
A loss by Ciampa and Breakker doesn't appear to mean something either way. It doesn't seem as though the tag team division is where this duo is headed anyway. For Breakker, if anything could be predicted, it would be he has an opportunity to make a statement in this match. Whether it is by accident or on purpose and either during or after the match, something is likely to happen between Breakker and Ciampa.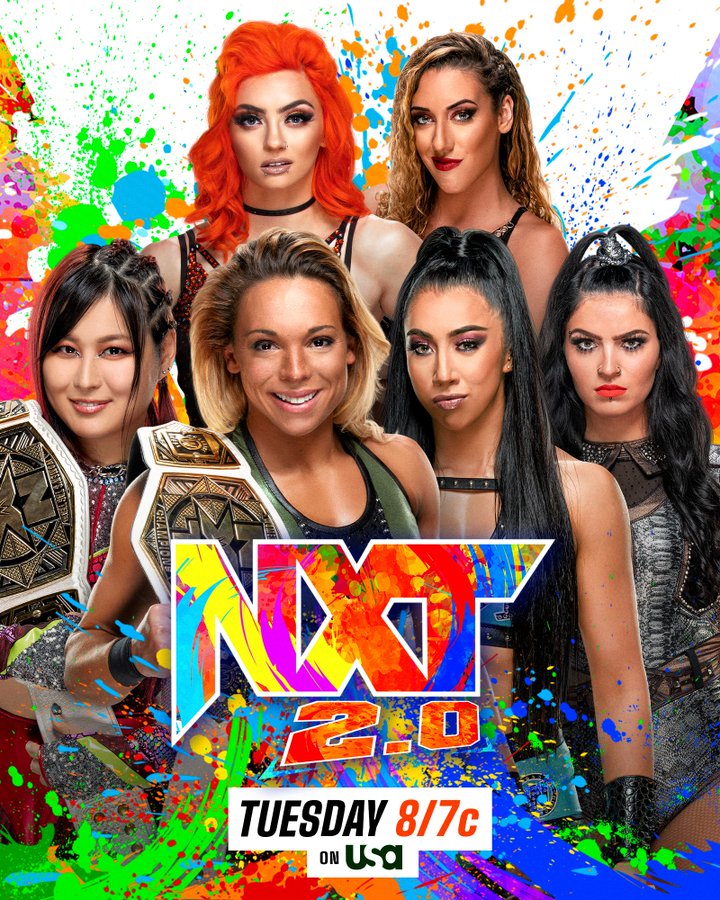 NXT 2.0 Preview for 10-19-21
One competitor from each tag team will battle in a Triple Threat Match Tuesday night.
As a prelude to next week's triple-threat NXT Women's Tag Team Championship, the competitors will have a single's triple-threat match. As stated above, one member of each team will be represented in this contest. It hasn't been announced who will face whom. However, it is fair to make presumptions about whom will face whom in this match.
Fans have yet to see Persia Pirotta step into the ring on-screen here. It is also likely to see Stark represent her team as well (for no other reason other than a hunch), and Lacey Layne could very well be the last competitor in this contest. While the winner doesn't walk away with the title, they may very well have a psychological advantage going into Halloween Havoc.
What To Expect:
Bron Breakker & Tomasso Ciampa have a confrontation
Mandy Rose and Raquel Gonzalez face off for the final time before Halloween Havoc
MSK address the attack by Imperium
******
Stay tuned to Pro Wrestling Post for this and additional stories from the wrestling world. Readers can rely on Pro Wrestling Post to be their daily source for everything inside the squared circle. As a result, readers can expect daily news, history, and so much more. Please visit WWE NXT's official website here for information on the promotion and upcoming events.