On Wednesday, March 12, 2003, NWA-TNA presented NWA-TNA PPV 36. In the latest of our NWA-TNA/IMPACT Sunday Night RetroViews. Recaps of how both NWA-TNA PPV #34 and NWA-TNA PPV #35 went off the air. Vince Russo called out Jarrett to sign a contract with SEX.
Jarrett instead played a tape that saw Russo's son talk about how lousy of a Father Russo was. Will Russo said that he hated living in Georgia because he didn't have any friends. Vince began to swear at his son, saying he will give him a beating when he gets home. Jarrett removed the SEX shirt he was wearing and attacks Russo!
However, David Flair, Erik Watts, and Brian Lawler attack Jarrett! Watts even choke-slams Jarrett through a table. Watts grabbed a microphone and says that Jarrett will regret what he did to them! NWA-TNA PPV #34 goes off the air. AJ Styles comes down, to the ring goes to hit Jarrett with a steel chair but instead hits Raven on accident!
Styles still hits Jarrett with the steel chair before going after Raven on the floor. David Flair and Brian Lawler went after Jarrett with a burlap sack. Jarrett was able to fight them off until Watts hits Jarrett with a baseball bat. Lawler connected with a top rope leg drop on Jarrett. Flair pulled out the old NWA World Heavyweight Championship out of the burlap sack. Watts choked Jarrett with the baseball bat.
NWA-TNA opening video.
Jeff Jarrett makes his way to S.E.X. locker room he has a baseball bat in his right hand. Jarrett is trying to get into S.E.X. locker room until security comes out and stops him. Jarrett tells Mike Tenay, and Don West get Erik Watts to the TNA Asylum. Ring Announcer Jeremy Borash introduces Konnan. Konnan makes his way to the ring, and introduces his new tag team, Halloween & Damien. Konnan joins Mike Tenay and Don West on commentary.
NWA-TNA PPV 36
Halloween and Damien vs.  Jerry Lynn and David Young
Halloween & Damien attack Lynn & Young from behind before the bell. Young with a Spine Buster on Halloween goes for a pinfall and gets a two count. Halloween & Damien double-team Young with a wheelbarrow and drive him face-first into the mat, Damien goes for a pinfall gets a two count. Lynn, with a Hurricanrana on Damien goes for a pinfall gets a two count.
Damien with a Muscle Buster on Lynn goes for a pinfall gets a two count. Referees Andrew Thomas, Mike Posey and a TNA staff member help David Young to the back. Meanwhile, in the ring Halloween and Damien go to double team Lynn Wheelbarrow Lynn counters it into a rollup gets the 1-2-3!
Winners: David Young & Jerry Lynn. 
After the match, Konnan gets in the ring, he's yelling at Halloween and Damien. Jerry Lynn gets into the ring and confronts Konnan attacks Lynn from behind Konnan with a Roll through Lariat on Lynn. Halloween and Damien try to pull Konnan off Lynn. Mike Tenay throws it backstage, to Goldylocks conduct an interview with Erik Watts gets attacked by Jeff Jarrett.
Local promoter, Bert Prentice and TNA security pull Watts and Jarrett apart. Erik Watts makes his way to the ring; Mike Tenay talks about Watts he played Quarterback at University of Louisville, he's the son of "Cowboy" Bill Watts. Watts says he didn't come here, to fight tonight.
But he's clearly in Jarrett's head. Jarrett comes out to the ring Watts and Jarrett both have baseball bats in their hand's local promoter, Bert Prentice and TNA security pull Watts & Jarrett apart. TNA referees Andrew Thomas and Mike Posey escorts Erik Watts backstage. Mike Tenay tosses it backstage, to Goldylocks conducts an interview with NWA X-Division Champion, Kid Kash accompanied by Trinity.
Gets interrupted by Amazing Red. Amazing Red says if it wasn't for Trinity Kid Kash wouldn't have the NWA X-Division Championship tells Kid Kash to leave her in the back and walks away. Kid Kash asks Trinity what is he talking about? To end the interview. D'Lo Brown makes his way to the ring, on commentary Mike Tenay says Brown is the newest member of the NWA-TNA roster.
Fans chant D'Lo! D'Lo! D'Lo! D'Lo Brown says for the better part of a month people have been asking me What are you going to say about the WWE? When you get a LIVE microphone in your hand? Because of the reaction you people gave me I'm not going to waste my time on those SOBs. Fans chant D'Lo! D'Lo! D'Lo!
Backstage, Jeff Jarrett attacks Erik Watts as he enters the arena. Tenay tries to hype up Watts and his abilities. Watts comes out and says he has gotten into Jarrett's head. Jarrett runs out and tries to attack Watts yet again, local wrestling promoter, Bert Prentice, referees, and security rush to the ring, to pull apart Jeff Jarrett and Erik Watts.
Backstage, Goldylocks talks to TNA X-Division Champion Kid Kash. Amazing Red comes over and says that if it wasn't for Trinity, Kash wouldn't be the champion.
Here comes D'Lo Brown, who is the newest member of the roster. Brown will, at some point, get an NWA World Championship match since he signed a contract with TNA. Brown doesn't care about the WWE anymore. He talks about the WWE, saying he wasn't good enough or wasn't a team player. He got tired of the politics and hitting a glass ceiling.
Brown promises to be a superstar in TNA. Sonny Siaki makes his way down to the ring and shakes Brown's hand. Siaki introduces himself to Brown. He wants Brown to join SEX. Brown proceeds to say he is here to be by himself. Brown turns down the offer. Siaki goes to insult Brown but is slammed to the mat and Brown hits the Lo Down off the top rope to close the segment.
NWA-TNA PPV 36
TNA X-Division Championship Match
Jonny Storm vs. Amazing Red vs. (c) Kid Kash with Trinity
It was a quick-paced contest early on, with each man getting some nice moves in. Jonny Storm hit a Hurricanrana on Amazing Red off the top rope, but Kid Kash catches Amazing Red and hits a powerbomb. Amazing Red hit the Red Star Press and a cartwheel kick on Kid Kash.
Storm hit a reverse Hurricanrana on Amazing Red off the middle rope. Kid Kash springboards across the ring to hit a somersault dropkick on Jonny Storm. They do a double-release German suplex out of the corner, which sends Amazing Red flying across the ring.
Trinity hits a moonsault on Amazing Red on the floor, but Storm takes her out with a dive as well. Kash is able to finish Storm off with the Money Maker, goes for a pinfall gets the 1-2-3!
Winner: Kid Kash.
After the match, Amazing Red gets attacked in the ring, by Kid Kash for shoving Trinity to the mat. Really good 3-Way NWA X-Division Championship match between Jonny Storm, Amazing Red and NWA X-Division Champion, Kid Kash.
Backstage, Sonny Siaki wants to know where his backup was, but Mike Sanders shoves him away. Glenn Gilberti is the voice of reason saying that Vince Russo brought them here. Christopher Daniels assures him that they are going to win the NWA World Tag Team Championships.
NWA-TNA PPV 36 
Ron and Don, the Harris Brothers vs. "King of Old School" Steve Corino and The Sandman
It takes thirty seconds for the Harris Brothers to pin Corino following the H-Bomb.
Winners: The Harris Brothers
Sandman was busy with his beer on the floor. After the match, they all have a brawl with plenty of weapons. Corino is busted open due to the attack, which shocks no one.
Backstage, Mike Sanders says he only has an A-game. Sanders says TNA is bringing in enhancement talent to make him feel good. Gilberti tells Sanders he better beat his mystery opponent tonight or not return to the backstage locker room.
"The American Dream" Dusty Rhodes comes out to the ring for a promo. Rhodes is here to talk about the New Generation of TNA. He calls out Flair, Lawler, and Watts. Rhodes defends Jarrett for not being the reason that Watts, Flair, and Lawler didn't succeed in the business. He says David is just like his father and is an a-hole.
Dusty puts Lawler over as being a talented kid but is acting like a fool. Dusty Rhodes slaps Lawler and attacks both David and Lawler. He turns his back and is attacked from behind. D'Lo Brown runs out to make the save, but Erik Watts shows up and attacks Dusty. Jeff Jarrett runs out to make the save.
Backtage, XXX is with Goldylocks. Low-Ki says that Triple X never lost the tag titles to begin with. He says that AMW is going to be in trouble tonight.
Before the next match, Mike Sanders dedicates this match to Vince Russo. His opponent ends up being Hacksaw Jim Duggan.
NWA-TNA PPV 36
Mike Sanders vs. Hacksaw Jim Duggan
Duggan worked on Sanders early on with several clotheslines. Late in the match, Sanders misses a middle rope clothesline, and Duggan nails him with a leaping clothesline, goes for a pinfall, and gets the 1-2-3!
Winner: Hacksaw Jim Duggan.
After the match, Gilberti comes out and tries to attack Duggan, but Duggan fights them both off until Gilberti chop blocks Duggan's leg.
Goldylocks is with AJ Styles up in the balcony area. Styles wants a piece of Raven and then Jarrett to be the undisputed champion. Styles sees Raven and throws a chair at him. Raven tries to get at Styles, but the Harris Brothers hold him back.
A video promoting the NWA-TNA World Tag Team Championship scene is aired.
NWA-TNA PPV 36
NWA Tag Team Championship Match

Christopher 

Daniels and Low-Ki with Elix Skipper vs. "Cowboy" James Storm and "Wildcat" Chris Harris

The tag titles match starts off with all four men brawling on the floor. Harris nearly pins Daniels following a top rope cross-body. Daniels is double-teamed by AMW and is sent into Low-Ki. Daniels stops Storm with a kick to tag in Low-Ki. Storm is worked on by both Low-Ki and Daniels as Low-Ki hits a dropkick while Daniels holds Storm.

Storm avoids Low-Ki in the corner and clotheslines Daniels to tag in Harris, who cleans the house with a backdrop and clothesline. Harris nearly pins Daniels with a full nelson slam. Harris catches Low-Ki in midair to hit a sit-down powerbomb. AMW hit a Hart attack clothesline and follow up with the Death Sentence on Daniels, but the referee is pulled out during the count by Low-Ki.

Skipper drops Harris with the Play of the Day but Harris still kicks out. Harris spears Low-Ki. in midair on an attempted handspring kick. Harris has the sharpshooter on Daniels and Storm hits Skipper with a super kick as he looked to hit Harris with a chair. Harris hits the Canatonic on Low-Ki.

The referee is distracted when Harris blocks being hit with a title belt by Daniels and hits him with the belt instead. Low-Ki nails Harris with the other belt and Daniels goes for a pinfall on Harris and gets the 1-2-3!
Winners: AND NEW NWA Tag Team Champions, Low-Ki &
Christopher 

Daniels.

Outside, Sonny Siaki attacked D'Lo Brown until Jarrett made the save by running Siaki off.

Glenn Gilbertti comes back out with Hollywood. He says Russo wanted to take SEX out of Tennessee. Russo would take them to California. Gilbertti says Hollywood is issuing an open challenge. The challenge is answered by one of the cage dancers, Lollipop. They have a catfight until Hollywood rips off Lollipop's top exposing her breasts. Jeremy Borash enters the ring to cover her up.

Jeff Jarrett comes out to join Mike Tenay and Don West's commentary table for the main event.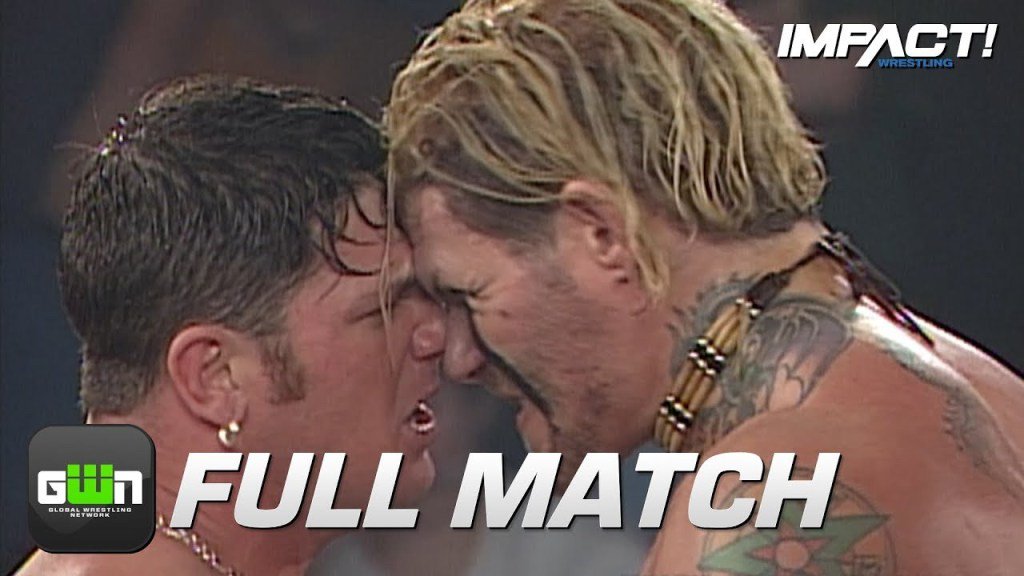 NWA-TNA PPV 36 
#1 Contender for the NWA World's Heavyweight Championship
Raven vs. AJ Styles
Styles nearly hits the Styles Clash early but Raven broke free and bailed to the floor. Raven crotches Styles on the guardrail on a springboard attempt. Raven whacks Styles over the head with a chair and Styles is busted open. Raven delivers a clothesline and a running knee lift. Styles puts a sleeper on Raven, but Raven breaks free with a jawbreaker.
Styles clothesline and spin kicks Raven before hitting a reverse DDT. Styles attempts a springboard, but Raven powerbombs him, goes for a pinfall gets a two count. Styles battles back with a super kick for a two-count. Styles hits a Hurricanrana and goes for a pinfall getting a two count.
Styles plants Raven with a DDT but couldn't get the win. Styles tries for a slingshot cross body on the floor but Raven counters with a gut buster. Raven pie faces Jarrett, who attacks both Raven and Styles. Styles goes to the top rope and attempts a Missile Dropkick Raven rolls out of the way.
Styles hits the referee Rudy Charles with a missile dropkick, and Raven plants him with an Evenflow DDT referee Andrew Thomas runs down to the ring, counts the pinfall Raven gets a two count. Styles hits the Styles Clash on Raven and goes for a pinfall getting a two count.
They both go down after a chair shot/spin kick combination move, and they both are pinned. Both referees make the three count, but who won?
Winners ??
NWA-TNA PPV 36 goes off the air.