If you're looking for a company with a chaotic history to take a deep dive with, look no further than Total Nonstop Action / IMPACT Wrestling! Welcome back to the NWA-TNA/IMPACT Sunday Night RetroView series. In its third showcase on television, NWA-TNA is proud to present NWA-TNA 3 (and I am proud to present the NWA-TNA PPV 3 RetroView!) This one-hour and forty-five-minute card emanates live from the Nashville Auditorium in Nashville, Tennessee. This show featured commentary from Mike Tenay, Don West, and… oh yeah… Ed Ferrara is still here. So what's in store for this event? Let's find out!
NWA-TNA PPV 3
Welcome To The NWA!
We start off tonight's show with an absurd amount of pyro. Next, we cut over to our commentary team, where I notice that Don West is wearing the loudest suit in human history. Apparently, this would become a trend for West on the show (stay tuned for more on that). Next, we witness Mike Tenay introduce the NWA President (and no, we're not talking about Billy Corgan). For some reason, Tenay introduces Mr. President as "Jim Miller," but the nameplate that flashes on the screen reads "Jim Wilson." Nevertheless, Miller announces that he was in Japan to scout talent for NWA-TNA, and he has found a wrestler who will be competing next week against Ken Shamrock for his NWA World Heavyweight Championship.
This man would end up being Takao Omori. Jim hands Tenay a trophy on behalf of the National Wrestling Alliance to welcome TNA to the NWA family. Now, it's time for our first contest.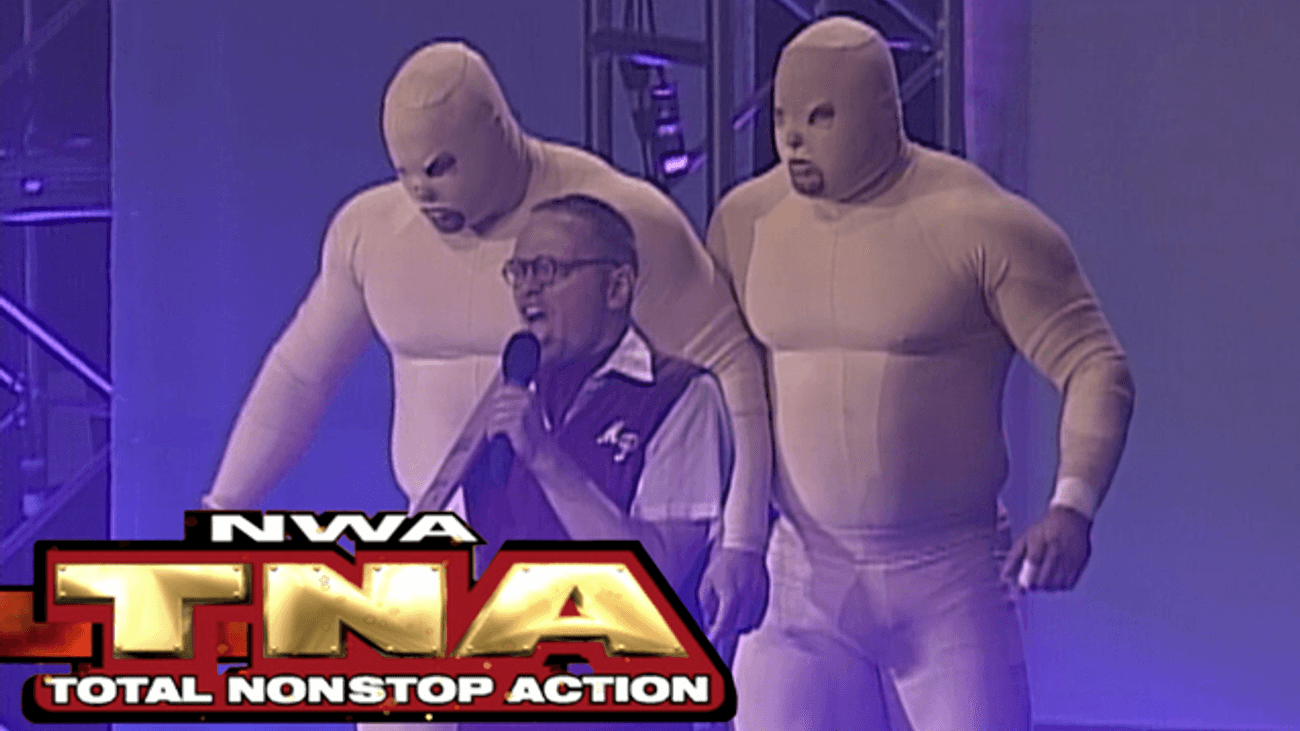 NWA-TNA PPV 3
NWA World Tag Team Championship Tournament Semi-Final Match:
America's Most Wanted (Chris Harris & James Storm) vs. The Johnsons (Richard Johnson & Rod Johnson)
In our opening contest of the night, we witness a match between the newly established team of Chris Harris & James Storm and the comically named "The Johnsons." The Johnsons are accompanied by their manager, Mortimer Plumtree, at ringside.
The bell rings, and the match is underway. Harris and Johnson start off in this one. Harris is a house of fire, taking down Johnson with multiple strikes and quick grapples. Storm eventually tags in, leading to Johnson dominating him. The Johnsons double team Storm, but Storm manages to turn the tide by reversing the patented Flying Nothing with a big boot. We get a double down from this spot, and Harris makes the hot tag to clean house. In the finish of the match, we get an awesome Powerslam/Dropkick combination from Harris and Storm to get the pinfall victory.
Match Result: America's Most Wanted (Chris Harris & James Storm) defeated The Johnsons (Rod Johnson and Richard Johnson) via Pinfall in 4:42.
Walker's Words: Overall, this contest was fine. I will never understand the appeal of The Johnsons, and their inclusion on this card makes it harder for the product to be taken seriously. Nevertheless, the right people won!
Mortimer Plumtree is furious with Harris and Storm moving on to the finals of this tag title tournament. After the match, The Johnsons choke out Plumtree and toss him to the ground. Welp, that partnership lasted a whopping three shows.
"Hey yo, my ass!"
We get shots of NWA-TNA's favorite dancing women in cages to transition us into Scott Hall's entrance. Scott Hall starts his promo with his trademark "Hey yo." However, with the line of the night, Jeff Jarrett makes his way onto the ramp to state, "Hey yo, my ass!" Jarrett doesn't want to wait till the main event to get his hands on Hall. He says that they can fight "right now," but big Jim Miller stops Jarrett's tirade, informing Jeff that the NWA President makes the matches. Suddenly, K-Krush attacks Hall from behind in the ring, but Hall fends him off to end the segment. It seems like we're getting Hall vs. Jarrett in the main event.
Tournament Turmoil
After another shot of the dancing cage women, we transition backstage to see Chris Harris and James Storm bloodied and looking worse for wear on the ground. Goldy Locks (NWA-TNA's interviewer) is tossed out of the room by NWA Vice President Bill Behrens. What is going to happen to tonight's NWA World Tag Team Championship match?
NWA-TNA PPV 3
Anthony Ingraham vs. Monty Brown
Next, we get a match between Anthony Ingraham and Monty Brown. Ingraham gets a jobber entrance. Brown, however, is making his debut in the company tonight. Brown cuts a promo on his way down to ringside. In this promo, Brown tells Shamrock that he wants to face him for the title belt. He plans on showing the crowd exactly how he plans on winning the belt from Shamrock.
The bell rings, and the match is underway. Ingraham immediately goes after Brown, but Brown quickly puts an end to that. Brown drops Ingraham with the Alpha Bomb to pin him and win the contest.
Match Result: Monty Brown defeated Anthony Ingraham via Pinfall in 1:31.
Walker's Words: This match was a decent showcase for Brown. Super dominating performance and a solid pre-match promo. Completely unrelated to the match, I absolutely love Monty Brown's entrance theme here. It's just so freaking electrifying.
Psycho Dwarf Is In The Building
After shots of the dancing cage women, we transition into the backstage area where Goldy Locks is trying to find NWA President Jim Miller. She asks The Hot Shots – a young up-start tag team passing by – if they had seen Miller, which they have not. Suddenly, the entire show takes a shift.
"I'LL GIVE YOU AN INTERVIEW! THE MIDGET WANTS TO TALK!"
Uh oh. Here comes the "Psycho Dwarf" Puppet. Puppet says he wants to wrestle someone and calls out Beetlejuice (of The Howard Stern Show fame).
"I WANT TO SEE A MIDGET BLEED!"
Oh my gosh, Psycho Dwarf is going to make his way down to ringside and kill someone. That was an insane promo and somehow provided some legitimacy to a division that was typically considered the "bathroom break" division in the early days of NWA-TNA. That was way better than I was expecting.
Semi-Final Match for the NWA World Tag Team Championship Tournament: The Rainbow Express (Lenny & Bruce) vs. Buff Bagwell & Gran Apolo
Next, we have our final semi-final contest in the tournament to crown new NWA World Tag Team Champions. First, Lenny and Bruce make their way down to ringside while the camera transitions backstage to the newly established team of Bruce Bagwell and Gran Apolo. Bagwell speaks on behalf of the team, claiming that he is "#1" whereas Apolo is "#2". Apolo doesn't seem too happy with the claims that he is the "#2" man on the team. Bagwell and Apolo then make their way down to ringside.
The bell rings, and the match is underway. Bruce and Bagwell start off in the middle of the ring. Bruce hugs Lenny, and this crowd is not fond of the two men who live a "different lifestyle" (according to Don West). Bagwell whips Bruce into the ropes, leapfrogs, and drops his opponent with a hip toss. He immediately takes to hotdogging and grandstanding.
One minute into the match, and Alicia is making her way down to ringside. For the past two weeks, we have seen Alicia receive money during matches from different members of NWA-TNA staff – notably referee Slick Johnson and ring announcer Jeremy Borash. Then, Ed Ferrara whips out money and hands it to Alicia, not answering Tenay or West's questions on the matter.
Apolo and Lenny are now in the ring. Commentary is being blatantly homophobic at this point (primarily West and Ferrara). The story of the match is simple. Bagwell will hit a big move, showboat, and then get attacked from behind. This would eventually lead to Bagwell and Apolo's downfall. At the finish of the match, Bagwell hits a Blockbuster and panders to the crowd, leading to Lenny hitting a superkick and scoring the pinfall victory.
Match Result: The Rainbow Express (Bruce & Lenny) defeated Buff Bagwell & Gran Apolo via Pinfall in 5:49.
Walker's Words: This match served its purpose and did what it needed to do. I'm interested to see where they go with The Rainbow Express. They originally came across as an enhancement talent team on first viewing, so I'm hoping for something better with this tandem.
"My Name Is Marcus!"
After the match, Buff seems very upset. This leads to Ferrara taking Bagwell a microphone to air his grievances. Bagwell gives his infamous "My name is Marcus, don't call me Buff no more!" promo. Then, in one of the most unintentionally comedic lines on the show, Bagwell states:
"Nobody gave a sh*t about my broken neck. I just got beat by two gay guys."
I mean… okay, Marcus. Bagwell announces that he is packing his bags and going home.
Ken Shamrock Is Confused
After more shots of the dancing cage women, we witness Jeremy Borash introduce the NWA World Heavyweight Champion Ken Shamrock to ringside. Shamrock says that he is confused and then pauses for an uncomfortable period of time.
Me too, Ken. Me too.
He responds to Monty Brown's request for a title shot by accepting it. At this point, the "What?" chants fill the building. They will not go away the rest of the show.
Suddenly, we witness Minister James Mitchell make an appearance in the rafters of the venue. Mitchell says that Shamrock doesn't need to worry about the other two opponents, but he does need to fear Malice – whom he is wrestling in the main event. The lights go out, and Shamrock is knocked on the ground. They come back on, and Malice is standing over him to end the segment.
Jerry Lynn Wants a Partner
We cut backstage to Goldy Locks, who is attempting to speak with NWA Vice President Bill Behrens. Behrens is on the phone attempting to figure out how he is going to replace AMW in the main event of the show. Jerry Lynn is also there pestering Behrens to let him find a partner and compete in tonight's main event. Behrens has better things to deal with and brushes Lynn off.
Hardcore Midget Match:
Todd Stone vs. Puppet
In a match that is touted as a "Hardcore Midget match," Puppet seems to have found someone to tango with tonight. Puppet makes his entrance to a surprisingly large pop. Stone makes his entrance, but Puppet attacks him before the bell rings.
The bell rings, and this match is underway. Right out of the gate, we get an influx of trash-can-based offense. That's pretty much the full match. Puppet wins with a trash can shot to the head and a three-count.
Match Result: Puppet defeated Todd Stone via Pinfall in 1:56.
Walker's Words: I am entertained. The crowd was slightly dead… but slightly is a better reaction than last week's crowd had for the mini's match.
After the match, Puppet would go on a rampage at ringside. He attacks referee Slick Johnson, Jeremy Borash, and Don West at ringside with a kendo stick. (West deserved it for that outrageous suit). Puppet chases Slick Johnson backstage to end the segment.
Shamrock's Condition
We get shots of the dancing cage women that transition us into Goldy Locks backstage. Goldy Locks is attempting to get an update on Shamrock's medical status following the brutal attack by Malice. No one knows if Shamrock will be able to compete tonight.
NWA-TNA PPV 3
Francine vs. Taylor Vaughn
Next, we get a recap of last week's "Miss TNA Lingerie Battle Royal." Francine and "Miss TNA" Taylor Vaughn are set for a contest here, but it never truly gets underway.
Pre-match, Francine attacks Vaughn with a belt, but Vaughn manages to take control and choke Francine with the belt instead. Despite the bell never ringing, the referee disqualifies Vaughn for her excessive brutality. Francine wins… I guess.
Match Result: Francine defeated Taylor Vaughn via Disqualification in 0:00.
Walker's Words: This time could have gone to anything else on the card. Literally, anything else.
After the match, Ferrara makes his way to ringside to console Francine. Ferrara puts his hand on Francine's breast, leading to Francine slapping Ferrara to end the segment.
A Shocking Match
Next, we have Hermes Sadler making his return to NWA-TNA television. Recently, NASCAR Driver Hermes Sadler has been making special appearances on NWA-TNA programming. He comes out and thanks to the crowd for having him back on the show. This would lead to K-Krush making his entrance, egging Sadler on for a fight. Eventually, after enough trash talk, Sadler would spear K-Krush and challenge him to a match. Krush accepts, and the segment ends.
NWA-TNA PPV 3
NWA World Championship Match:
Ken Shamrock (c.) vs. Malice
After shots of the dancing cage women, we move on to Ken Shamrock's first NWA World Championship defense since winning the belt two weeks prior.
The bell rings, and the match is underway. Spoiler: there isn't much to this contest. Malice dominates Shamrock throughout the majority of the match, working the neck predominantly. Shamrock gets absolutely no offense in on Malice within the first four minutes of the contest. In his first offensive move of the match, Shamrock locks in the Ankle Lock. However, Malice would get to the ropes to break the hold. In the finish of the match, Shamrock would gain a flash roll-up for the pinfall victory.
Match Result: Ken Shamrock (c.) defeated Malice via Pinfall to retain the NWA World Heavyweight Championship in 5:55.
Walker's Words: That was rough. I was really expecting better from this contest, truly. Malice has such a good look to him, and Shamrock has a legitimacy edge to him. This was hard to watch.
NWA-TNA PPV 3
NWA X Championship Match:
David Young vs. AJ Styles (c.)
After more dancing cage women, we get to see AJ Styles defend his newly won NWA X Championship for the first time ever. His opponent is David Young, a man accompanied by the one and only Bobcat.
Young starts off brawling before the bell rings, leading to him gaining the advantage on the NWA X Champion. Bobcat couldn't care less – she is so self-absorbed at ringside. Styles hits a beautiful dropkick, reminding me just how much I love early AJ Styles. In a bit of an awkward spot (with flawless recovery), Styles attempts a tope con hilo to Young on the outside, but Young seemed like he was out of position. Styles was forced to transition the spot into Hangman Page's Buckshot Lariat… but from the inside to the outside of the ring. That was such a cool move, even if it was unintentional.
Young gets a surprising amount of offense in on Styles, but Styles just keeps kicking out. Commentary is really putting over Styles' ability as an in-ring performer. In the finish of the match, Styles drops Young with a middle rope Styles Clash, pinning Young to retain his title.
Match Result: AJ Styles (c.) defeated David Young via Pinfall to retain the NWA X Championship in 8:46.
Walker's Words: What a great palette cleanser after that stinker of an NWA World Championship match. Great stuff!
NWA-TNA PPV 3
NWA World Tag Team Championship Match:
The Rainbow Express (Bruce & Lenny) vs. ???
Prior to making their entrance, Bruce and Lenny announce to Goldy Locks – and the rest of the world – that they are not heading down to ringside for a championship match. Instead, they are heading down to ringside for a coronation.
The Rainbow Express make their way down to ringside. But, instead of the championship coronation they were expecting, they were granted a match against two surprise opponents. In a shocking moment, Jerry Lynn makes his way down to ringside with his new partner – NWA X Champion AJ Styles. Both of these men had competed in a match to crown the first NWA X Champion on last week's show, and it seems as though Styles managed to earn Lynn's respect in the process.
Before the bell rings, Bruce and Lenny hit ax handles on the newly-formed team of Lynn and Styles. Styles had just competed in the match prior to this one, so he seems a little out of gas. We get an awesome springboard crossbody spot from Styles onto all three men, firing up the crowd in the process.
While Lynn may be no spring chicken, he definitely managed to move like one. Lynn was fired up, and he was bouncing all around ringside to tear Bruce and Lenny to shreds. In the finish of the match, AJ Styles hits a top rope Styles Clash to pin Bruce and become a double champion alongside Jerry Lynn.
Today in #IMPACTHistory: @AJStylesOrg and @itsjerrylynn became the first World Tag Team Champions in TNA history. (NWA-TNA PPV #3) pic.twitter.com/4POocs7l2y

— IMPACT (@IMPACTWRESTLING) July 4, 2021
Match Result: AJ Styles (c.) & Jerry Lynn defeated The Rainbow Express (Bruce & Lenny) via Pinfall to win the NWA World Tag Team Championship in 12:23.
Walker's Words: Great match! Go out of your way to watch this one if you can. I love the way they're building Styles up like a beast. However, someone needs to get that man some new entrance music. The rip-off Bruce Springsteen track isn't exactly getting Styles over as much as his wrestling acumen.
NWA-TNA PPV 3
Goldy Locks Finds Jim Miller
After shots of the dancing cage women, Goldy Locks manages to find Jim Miller backstage. However, Miller doesn't exactly look that comfortable.
For some reason, NWA President Jim Miller is tied up, shirtless, and has the letters "FU" written over his stomach. Instead of being concerned, Don West makes fat jokes at this poor man. What is going on in this company?
NWA-TNA PPV 3
Brian Christopher & Scott Hall vs. Jeff Jarrett & K-Krush
Following a wild main event on the NWA-TNA #2 PPV, Scott Hall and Brian Christopher are teaming up to stop the evil forces of Jeff Jarrett and K-Krush. Let's get into this week's main event.
The bell rings, and the match is underway. Hall and Jarrett immediately brawl to the outside, leading to Krush and Christopher doing the same thing. With everyone in the crowd, commentary and camera crews alike are struggling to keep up with the action.
Christopher and Krush make their way back into the ring. Brian attempts the Hip Hop Drop (a great name for a move), but Krush avoids it. Krush is jaw-jacking with the crowd, and I am absolutely into it. Why is this guy feuding with Brian Christopher and a NASCAR driver? If you put this dude with Ken Shamrock – that's money!
In the finish of the match, everyone is back in the ring. Hall is attempting to tag in Christopher, but Christopher pulls his hand away and attacks Hall instead. What?! The referee takes a bump, and Hall attempts to fend off three different men – one of which being his own partner. However, Hall would eventually be overtaken by the trio. Christopher drops Hall with the Hip Hop Drop, leading to Jarrett pinning Hall for the victory. Krush and Christopher share a hug in a really weird moment.
Match Result: Jeff Jarrett & K-Krush defeated Brian Christopher & Scott Hall via Pinfall in 11:41.
Walker's Words: This match was so disappointing. It was all punches, kicks, and suplexes. There was absolutely no drama, and Brian Christopher's apparent heel turn didn't get much of a reaction from the crowd. Nevertheless, I'm at least excited for Christopher to have a darker edge to his character. I just didn't think it was necessary.
Following this match, Jarrett would attack Hall with the trophy which Jim Miller gifted to the promotion. Thus, the show goes off the air with Jarrett standing tall.
NWA-TNA PPV 3
Overall Report
Overall, this show wasn't exactly the easiest watch. However, it did have some standout moments. Right off the bat, I think that the matches involving AJ Styles were awesome. They've been doing a decent job building intrigue in the "Alicia getting paid off" storyline.
Alternatively, the NWA World Championship match really let me down. I'm also disappointed that AMW was taken out of the main event, as they are one of my favorite parts of early NWA-TNA. However, I can only assume that this will lead to something bigger in the future for them.
Whether you love it or you hate it – one thing is certain with NWA-TNA programming – there's always something interesting to look forward to. Next week's edition of the show will feature another NWA World Championship match and a match between Hermes Sadler and R-Truth. Of course, we will be talking about that in the next edition of the NWA-TNA RetroView series.
Sleeper Hit Of The Show: AJ Styles (c.) vs. David Young
Low Of The Show: Francine vs. Taylor Vaughn
Match Of The Night: The Rainbow Express (Bruce & Lenny) vs. AJ Styles (c.) & Jerry Lynn