On Tuesday, November 15th, 2022, NWA aired their Season Premiere of NWA Powerrr on YouTube & Fite TV as we review NWA Powerrr SURRRGE for 11/15/22. We have 3 matches we got Jordan Clearwater defending the Television Title against Mims. Odinson is in action against Ryan Davidson & the main event, Kratos goes 1 on 1 with Aron Stevens. We will also hear from the new World Heavyweight Champion Tyrus.
Kicking off this week's Powerrr with Kyle Davis in the ring as he introduced World Heavyweight Champion Tyrus to open the show. Idolmania Sports Management all came down to the ring to celebrate their victories at Hard Times 3.
Austin Idol called Davis Kyle Doofus and said that he and everyone else doubted Tyrus and the rest of his group. Idol cut this promo with his back to the hard camera to which Davis said I'm glad you found the hard cam.
Tyrus put over Jordan Clearwater for winning the Television Title and Cyon for winning the National Title. BLK Jeez said that it was what successful men looked like. Tyrus then talked about how there were various contenders already in line for a World Heavyweight Title shot.
Tyrus also said that Clearwater & Cyon could cash in any time for a World Heavyweight Title shot. Clearwater needs to win seven in a row with the Television Title.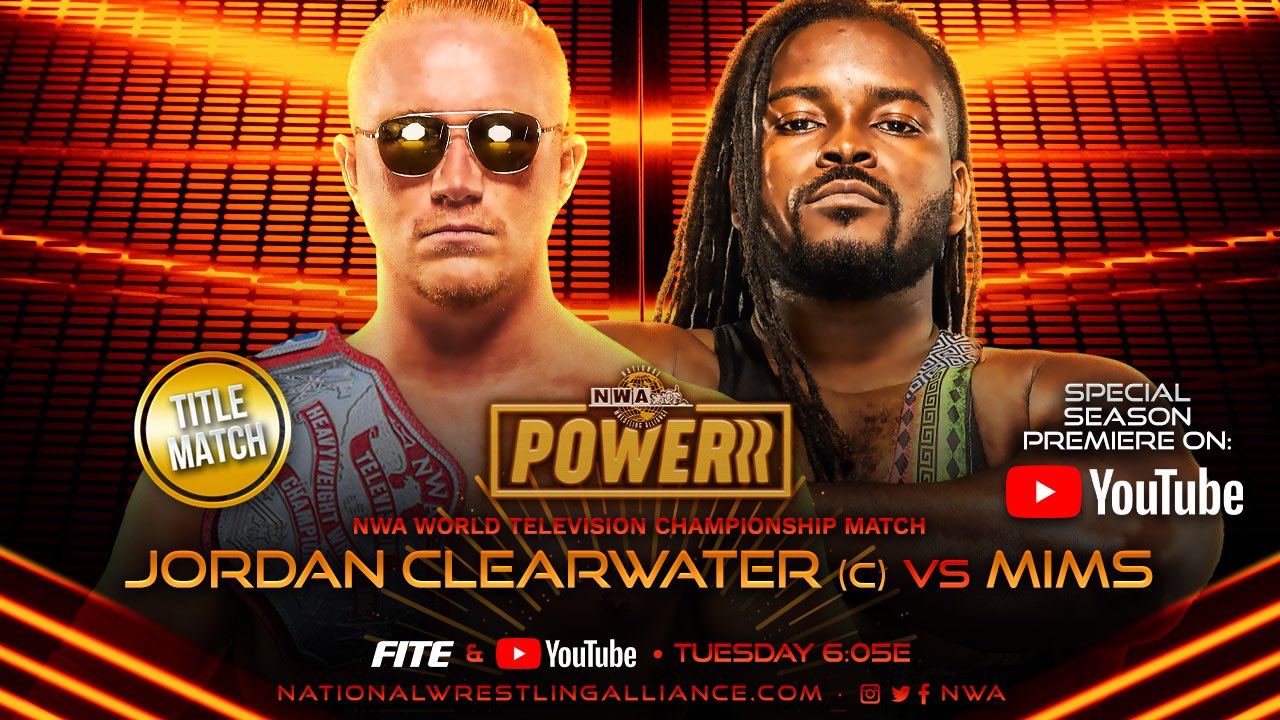 NWA Powerrr SURRRGE for 11/15/22
Television Title Match
Jordan Clearwater (c) vs. Mims
Jordan Clearwater trying to run the clock down, including poking Mims in the eyes and using offense to keep him grounded. Mims started to fight back with 2 minutes left, but Clearwater gouged the eyes again. Clearwater suplex Mims for a near fall.
Clearwater hit a clothesline after a sunset flip attempt that he kicked out of before going to a chinlock. Mims made a brief comeback before eating a Midas touch big boot from Clearwater. Then, time ran out.
Winner: No One (Time Limit Draw) (6:05) (Jordan Clearwater retains)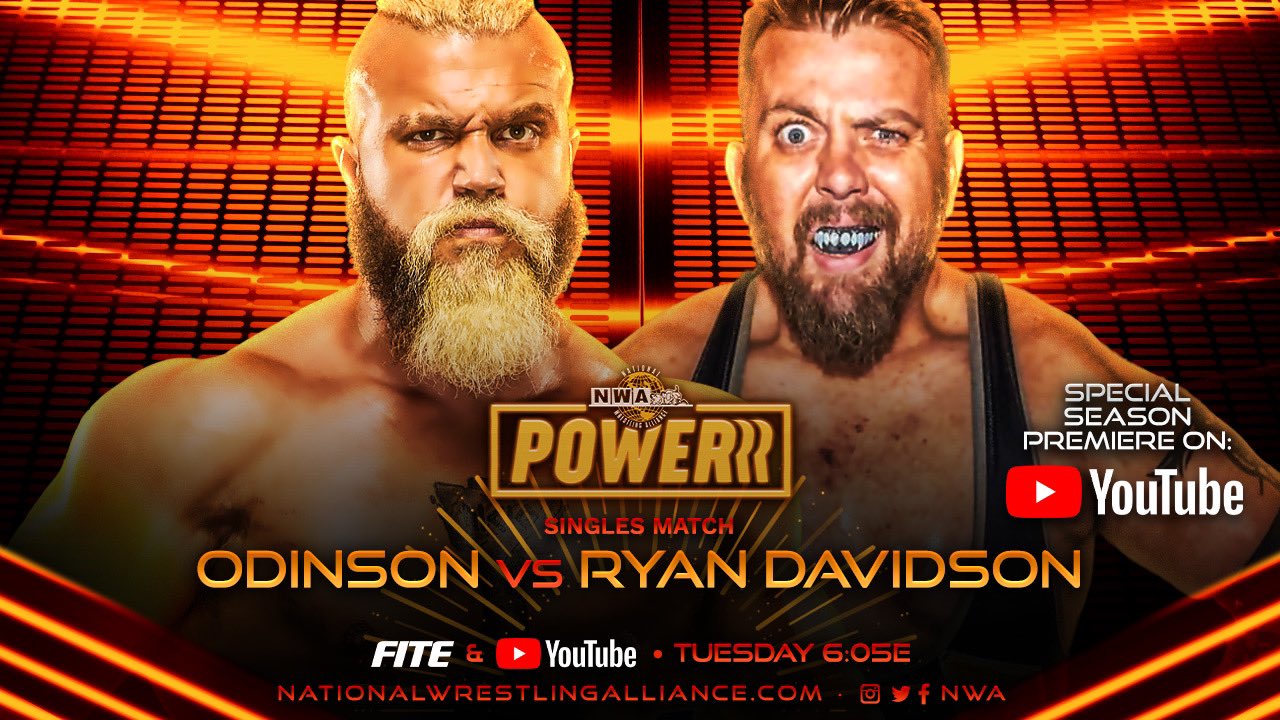 NWA Powerrr SURRRGE for 11/15/22
Odinson vs. Ryan Davidson
Ryan Davidson was in control on Odinson to open the match, but he was soon working Davidson over with European uppercuts.
Davidson got the heat on Odinson then he hits a dropkick. Odinson hit a springboard uppercut for a two count and went for a Torture Rack, but Davidson attacked the arm and then hit a power slam for a two count. Odinson countered a fireman's carry into an Irish whip and hit the Pounce for the win.
Winner: Odinson
May Valentine is with Aron Stevens, and she asked about him being booked to face Kratos tonight. Stevens claimed he was a manager, not a wrestler, and thought it was stupid. Valentine called him the greatest pro wrestler of all time and that she didn't want them to hurt him since he was retired.
May Valentine is joined by The Country Gentlemen & they talk about facing The Fixers for the United States Tag Team Titles on NWA USA this Saturday.
Before the match, Aron Stevens came out to the ring and claimed he was protesting and asked that the fans remain silent to protest him wrestling because he was retired.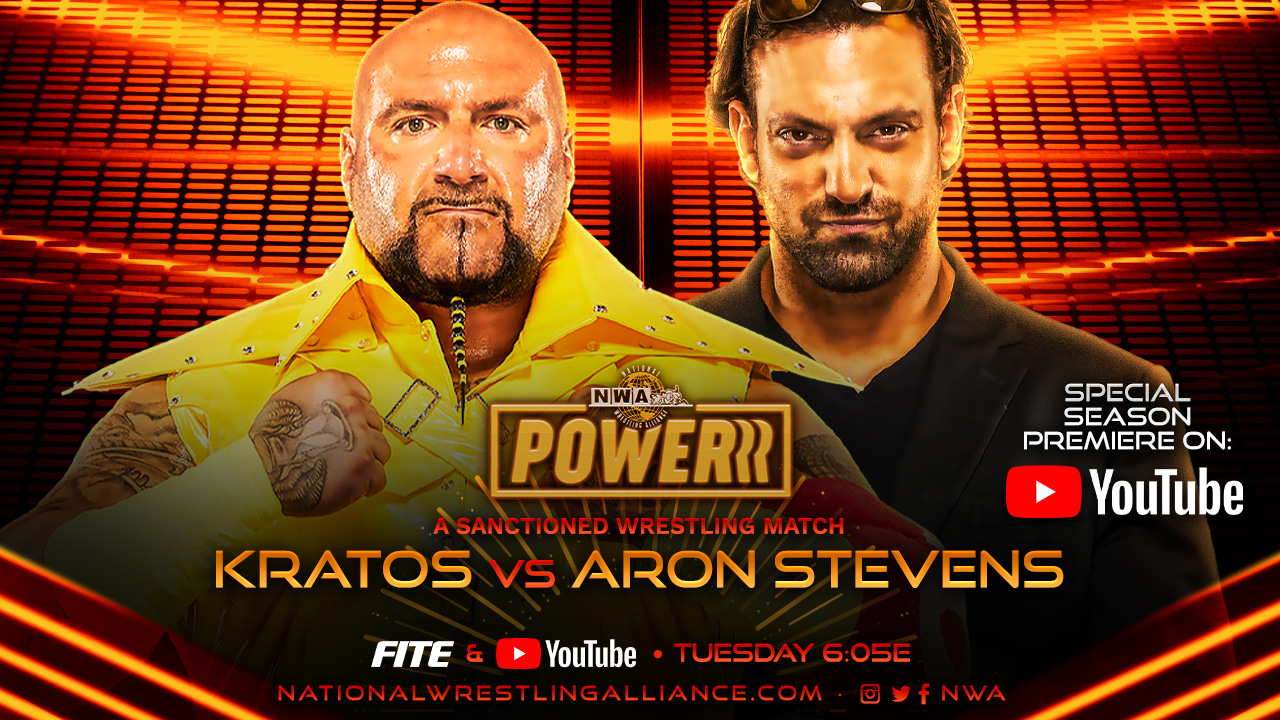 NWA Powerrr SURRRGE for 11/15/22
Kratos vs. Aron Stevens
The match starts off with Aron Stevens leaving the ring in fear as Kratos came into the ring. Stevens attempted to load his glove before the match but the referee forced Stevens to remove it or else be DQ'd. Stevens removed something from the glove before taking it off and put it in his pocket.
Stevens claimed he didn't have a wrestling license so if Kratos touched him he would sue him. Stevens attacked Kratos from behind and then said his license was good for two years, so ring the bell. Stevens turned around into a flying knee. Kratos hit a suplex and then two masked people ran in and attacked, causing the DQ.
Winner By DQ: Kratos 
After the match, they kept attacking Kratos unit Question Mark II tried to make the save, but the 2 masked men laid them out too. Stevens put on his glove, loaded it, and punched Kratos in the face.
Please share with us what you thought of this past week's edition of NWA Powerrr in our comment section below.
*****
Stay tuned to Pro Wrestling Post for this and additional stories from the wrestling world. Readers can rely on Pro Wrestling Post as their daily source for everything inside the squared circle. As a result, readers can expect daily news, history, and much more. Also, please visit the National Wrestling Alliance's official FITE TV page here for news and information on the promotion and upcoming events and FITE TV's official website to watch the NWA for International viewers.