Nick Gage Sets the Tone at Fight Forever
There's a reasonable explanation for the wrestling world's fascination with Nick Gage. You may be reading this as a mainstream wrestling fan with only marginal knowledge of the independent scene. Still, chances are good you've heard of The King. Charisma is one way to describe his appeal, yet there's so much more to Nick Gage's drawing power. No matter how you prefer to word the 'it' factor, it keeps his beloved gang members loyal. Over the past few months, Gage has been recovering from injury and a needed surgery. However, the time out of the ring has not diminished his growing status as a deathmatch legend.
Commentary at GCW shows has been boosted as of late with the presence of Gage at the table. Listen to him when he speaks during matches, and you'll note the realness in what he says. That's the charm. People naturally gravitate towards what they see as authentic. When you look at or hear Nick Gage, you're definitely not seeing or listening to anything extra or pretentious.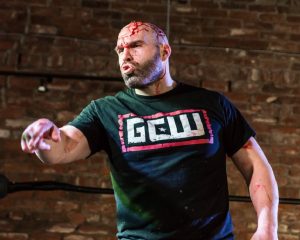 In the Presence of The God
I met Gage when I went to my first GCW show in December 2019. To be honest, I wasn't sure what to expect at the time. Prior to the occasion, I'd been following the promotion throughout the year and live-tweeting each event. Time and again, I found myself thrilled with the matches featured on the card. Above all else, though – I was caught up in the MDK mentality. To see fans legitimately run to Gage immediately upon entrance and hail their arriving hero in a frenzied mob? Something exceptional was going on here.
When I said hello to Gage, and he introduced himself that night before W.O.M.B.A.T. 2, I felt that same energy. Granted, I wasn't rushing to chest-bump him at that moment. Still, even in that moment of a polite introduction, I could feel that this was a man who was most unique to anyone else I'd ever met in the wild world of wrestling. Here was someone worthy of the mystique that surrounds his notable history in and out of the ring. Nick Gage is a surprisingly accessible, straightforward, charming murder-death-kill type of guy who you just want to know.
All F**kin Day at a 24-Hour Show

Gage and I have greeted each other at several shows since then, and each time there's that same magnetic energy. When I saw him last weekend at GCW's Fight Forever, I was glad to see him looking healthy and upbeat. I asked jokingly if he was planning on staying for the whole  24-hour show and got the most Nick Gage low-key answer ever; "Gonna see how it goes." To have him at any show in any capacity, however, adds so much more magic. When Nick Gage arrives at the venue, both crew and talent alike stop what they're doing and make it a point to go say hello. You know exactly where Gage is at almost any time because there's usually a group of people wanting to talk to him; on the occasions where I see him alone or having a moment to himself, it's never for long.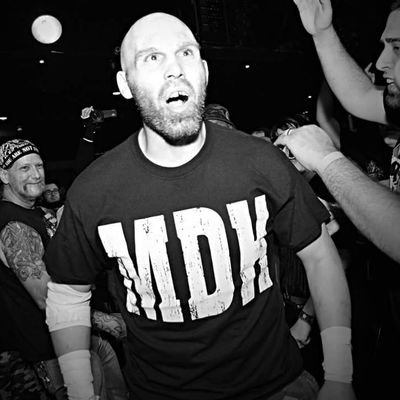 That Friday night at GCW's 'Performance Center,' I took my seat looking over the ring from the second-floor balcony, not far from where the commentary was to take place. If you watched just a little or every single hour of the live stream, you'll notice that there really wasn't a bad spot to sit in the whole place as the ring was dead center stage. You couldn't miss any action from anywhere. This was nice, but I wanted to sit as close to any action as I could, just for a 'full' experience of such a big event. Plus, when Gage is around, I prefer to be as close as possible to hear whatever gems he may drop in conversation or on commentary. By the end of the show Saturday night, I was not disappointed at all.
In Appreciation of The King
Nick Gage loves wrestling and has a very deep understanding of what goes on in a match. You realize this as a fact when you hear him speak either on commentary or in conversation. Anyone who discounts Gage as a basic 'garbage' wrestler with no knowledge of the in-ring craft clearly doesn't pay close enough attention. Naturally, he loves blood just as much as he loves wrestling, and to hear his voice raise a little in excited anticipation of craziness in a match is something that stays with you a while. Gage's whole mood shifts when it comes to deathmatches. He's the God of that sh*t, and he's quick to remind you about it. It's very entertaining to watch Nick Gage enjoy a match.
There were moments during Gage's time at Fight Forever where I would glance over and see his expression. His mood was laid-back and chilled out. He kept great conversation going with Kevin Gill. However, his complete attention was focused on everything going on in the ring below. You'd see him with the same look at the end of the 24 hours during the main event of the last block of the show, The Wrld on GCW 3. Not once did Gage lose that energy, even after we'd spoken prior to the show about how long we'd hang in there. We saw how it went, indeed, and it went crazy from Friday night all the way to Saturday night. Perfect idea to have Nick Gage on hand for the monumental occasion; if not in the ring, then certainly on commentary.
Nick Gage
The Return to the Throne
Fans of independent wrestling are more than hyped to see Nick Gage make his eventual return to the ring. Until we can see him there, it's a brilliant idea to get his thoughts on everything GCW. The social media response to Fight Forever was greatly positive especially near the end of the 24-hour run. In my opinion, much of that is due to having Gage open and close the show on commentary. Both shows featured absolute banger matches, but viewers tend to stay engaged when The King is talking.
If you've yet to check out the history-making event, all 24 hours of Fight Forever are available for free on FITE.TV. Every block of this show is a fantastic opportunity to find out the who's who of today's independent wrestling scene.