This Wednesday on CMLL Informa via Youtube they have announced the card to Aniversario 86 where this huge event will be the next Friday, 27th, September. The most outstanding is the main event and Mask match between Microman and Chamuel.
The main event will be a Cage Match between seven wrestlers where will participate Volador Jr, Big Daddy, Negro Casas, Barbaro Cavernario, Ultimo Guerrero, Gilbert el Boricua, and Ciber.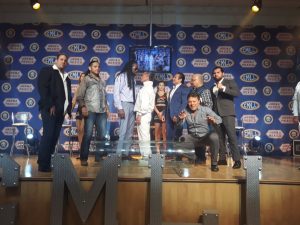 Even though the last weeks and every Friday. CMLL gave us matches between Ultimo Guerrero and Ciber. All hope or bet that rivalry will be announced for Aniversario, but, the last Viernes Espectacular, all change, that was the Grand Prix tournament. Ciber and Gilbert were part of the same team that night but, the end of the match Gilbert, Ciber, and Ultimo was face to face. And the main event Grand Prix, Volador Jr was the winner but he had an argument with Cavernario, Negro and Big Daddy. So, CMLL programming decided to put all in the same ring but in the cage. The last one who stays in the ring will lose his hair. In my personal opinion, this main event was programming with nothing preparer or good history. Ciber and Guerrero every week never could connect with the crowd and this rivalry never worked. So, they needed a Cage match to balance the wrestlers and give us something attractive.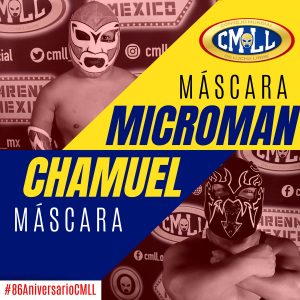 But, really, the match will be awesome and the match of Aniversario, this will be between Microman and Chamuel. The last Friday, they had a single match in one fall. Really was amazing how they gave us all their skills and heart. The match was incredible, you can watch it on Youtube. Chamuel got the victory when got off his mask and threw it to Microman. Microman took the microphone and asked for Mask vs Mask match. Wednesday was when they signed the contract. So, this won't be microestrellas match, they will give all his sweat and heart to won't lose the most important to Luchador… his mask.
The rest of the card is like Viernes Espectacular:
Stigma, El Audaz, Rey Cometa vs Misterioso Jr, Tiger, and Virus
Dulce Gardenia, Diamante Azul, Titan vs Hijo del Villano III, Hechicero, and Rey Bucanero
CMLL Women Championship match between Dalys vs Marcela
Mephisto, Angel de Oro, Niebla Roja vs Gran Guerrero, Euforia, and Dragon Lee
CMLL Trios Championships match NGD (Sanson, Cuatrero, and 
Forastero) vs Valiente, Mistico, and Caristico.
So, we hope that the matches are great and here we will have the preview of this great event as CMLL presents Aniversario 86.