Tonight AEW continues with the TNT championship tournament Lance Archer will compete against Colt Cabana in his first-round match. Jon Moxley will also make his first title defense against Jake Hager in an empty arena match. Tony Schiavone and Chris Jericho are again on commentary. Colt Cabana has a video package talking about his style in the ring. He talks about his dominance in wrestling compared to Lance Archer. Colt talks about having something to prove in this tournament and winning this tournament is his goal right now.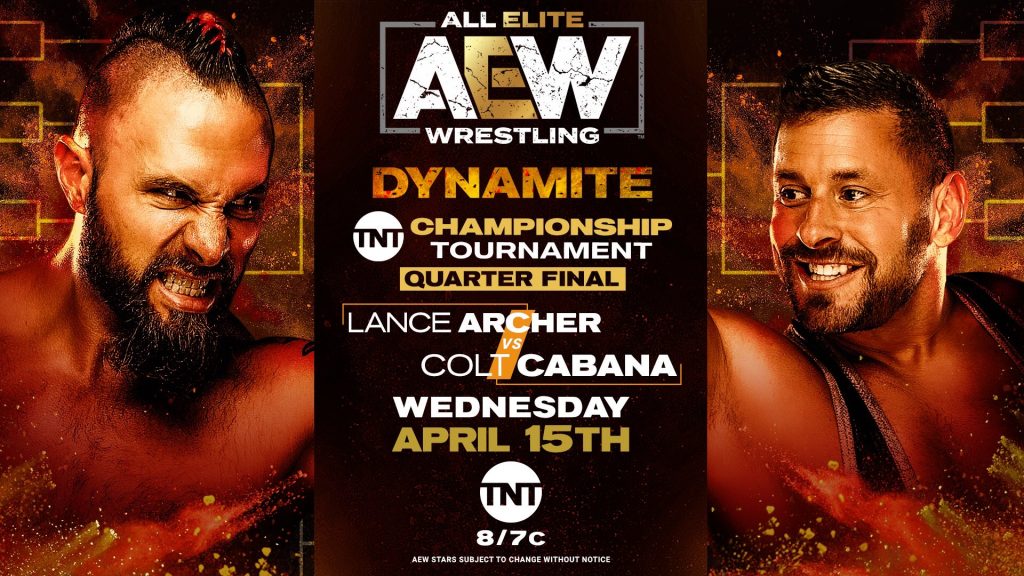 Colt Cabana vs Lance Archer 
Lance Archer hits one of the crowd members with a stiff shot on his way to the ring. Archer gets in the ring and knocks colt down with one punch before removing his coat. Colt tries to get some shots on Archer while there's an opening but Lance pushes Colt down. Lance attempts a clothesline that Colt Ducks and counters with a running forearm. Colt hits some chops on Archer which don't have any effect on Lance at all. Archer hits a shoulder block and attempts a clothesline Colt manages to pull the ropes to get Archer on the outside after some shots on the apron. Colt teases a dive to the outside but decides against it.
The Action gets back inside the ring Colt is using his speed to try and dodge Archer but Archer takes control of proceedings. Colt Kicks out of a pinfall attempt at a 2 count after a slam. Archer rakes Colt's eyes Colt manages to get some chops in at the corner but Archer again brushes off colts offense. Lance starts hitting lots of big shots before hitting a spinning drop from the turnbuckles.
The contest resumes with Colt taking a big boot to the head. Archer gets Colt back into the corner and hits a clothesline. Colt avoids a diving splash from the second rope and gets a big shot and a running head scissor takedown. Colt has archer down and hits a splash from the second rope after adjusting to a hop when archer rolled out the way. Archer gets the match back to its feet and hits a big shoulder tackle. Colt doesn't find a moment of relief as he finds himself on the end of a chokeslam. Colt gets to the turnbuckle and attempts to fight back from the second rope but Archer ultimately gets him in position for his finish. Lance hits a black arrow in the middle of the ring for the 3 count.
Winner: Lance Archer
Lance Archer advances to the semi-finals of the TNT championship tournament where he will face the winner of Dustin Rhodes vs Kip Sabian.
We hear the rules of being a role model from Dr Britt Baker. Britt talks about rule one being to fight fair and accuses Shida of not following this rule when she busted Britt open.
Ariel Helwani of ESPN talks about the toughness of Moxley and Hager ahead of their title match set for tonight. He backs Hager due to his unbeaten record in MMA and his experiences as a cage fighter.
Taz chimes in and backs Moxley and advises Moxley to avoid taking this match to the mat. Taz backs Jon to make this a street fight and to retain the AEW Championship.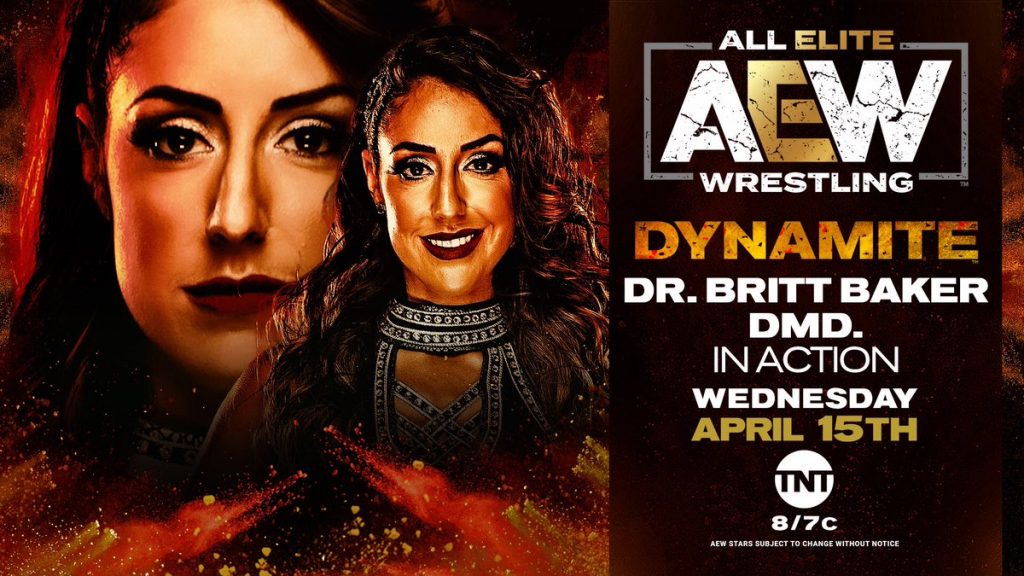 Britt Baker vs Cassandra Golden
Britt starts the match off by Kicking Cassandra in the shins and follows u with a superkick. Baker chokes Casandra noon the ropes. Baker hits Cassandra in the teeth before ultimately gaining victory by pinfall.
Winner Britt Baker
Tony Schiavone talks about the remainder of the card including Sammy Guevara's tune-up match and a message from Chris Jericho and the bubbly bunch. It's also announced that Jim Ross will be on commentary for the AEW Championship match.
Ron Funches gives his pick of Jon Moxley to win in tonight's main event against Hager.
Mike Goldberg of Bellator gives his pick of Jake Hager to win tonight's championship match.
Santana is talking about the Jacksons and the injury they caused to Nick Jackson. Ortiz is also discussing this on facetime with Sammy who is hitting a punching bag talking about how he'd beat up Nick. Jake promises he'd beat up Kenny Omega after winning the AEW Championship from Jon Moxley. Chris Jericho knows that Hager is going to boxley Jon Moxley. Chris Jericho promises that the Inner Circle will celebrate winning blood and guts when it happens with a little bit of the bubbly.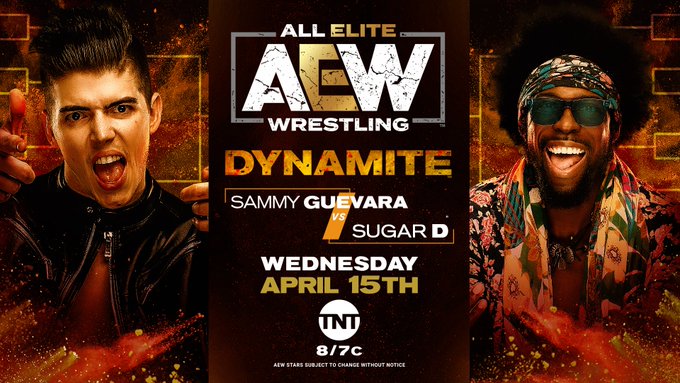 Sammy Guevara vs Suge D
Sammy takes Suge down and flexes while on top this is followed by a side headlock. Suge gets a little offense before hitting a running arm drag from the top rope. Sammy hits a running knee before getting some shots on the outside. Suge finds himself being held for a delayed vertical suplex. Sammy gets Suge on his shoulders and hits a Samoan drop after squatting with Suge. Suge counters Sammy into a roll-up Suge gets some offense in but is countered. Sammy hits another big knee before an inverted GTS. Sammy wins by pinfall.
Winner Sammy Guevara 
Guevara gets on the mic to announce he can go another round. He announces that he's going to beat Darby Allin in the first round of the TNT Championship. Sammy calls Darby a face painted weirdo before beating on Suge. Darby runs out to chase Sammy out of the ring.
John McCarthy of Bellator gives his prediction for Jake Hager to win tonight. Excalibur talks about tonights match being a street fight and back Moxley to retain the AEW Championship.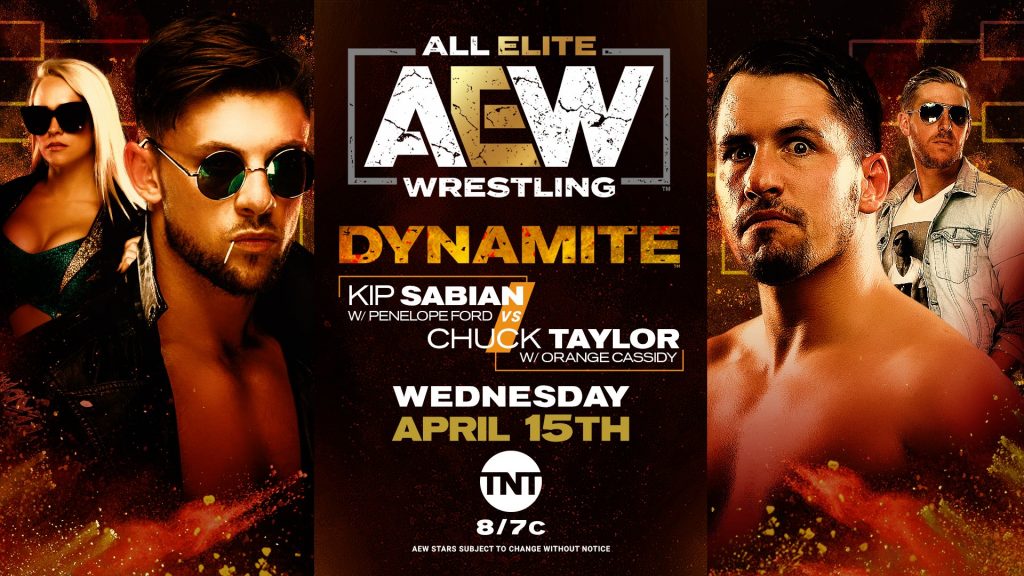 Kip Sabian vs Chuck Taylor
Chuck Taylor gets Sabian in an armbar Sabian counters into his own. The two men chain wrestle before getting back onto their feet. Chuck gets Sabian into a headlock this is countered into an Irish whip both men exchange more holds before Sabian gets to the outside. Kip gets some stomps in on Chuck when he gets back in the ring. Chuck counters from the corner with some knees to the face before hitting a slam on Kip.
Chuck gets some chops in on Kip, Kip counters and gets in some quick offense. Kip finds himself on the outside where Chuck hits a suplex onto the edge of the ring. Chuck misses a moonsault in the ring allowing Kip to take control of the match. Kip gets some stomps and some hits in on Chuck. Sabian throws Chuck to the outside where Penelope Ford gets some hits in. Sabian gets more shots in before attempting a back suplex from the top rope. The suplex is countered by Taylor who lands on his feet from an attempted moonsault.
Chuck gets a few big slams on Kip.
Kip is able to hit a high knee on Chuck and get some more shots in. Chuck counters the springboard DDT attempt. Penelope gets on the apron to attempt to distract Chuck Taylor. The distraction allows Sabian to hit a few shots on Chuck Taylor. Orange Cassidy gets on the apron to distract Kip leading to Jimmy Havoc attacking Orange Cassidy. Penelope takes the opportunity to hit a hurricarana on Chuck Taylor while the Referee's back is turned allowing Sabian to get the roll-up and win the match.
Winner: Kip Sabian
Dan Sorder gives his prediction that Moxley will retain the AEW Championship. Ortiz gives his prediction that Jake Hager is going to win the title and bring it back to the Inner Circle. Sammy Guevara gives his prediction that Jake Hager will capture the AEW Championship.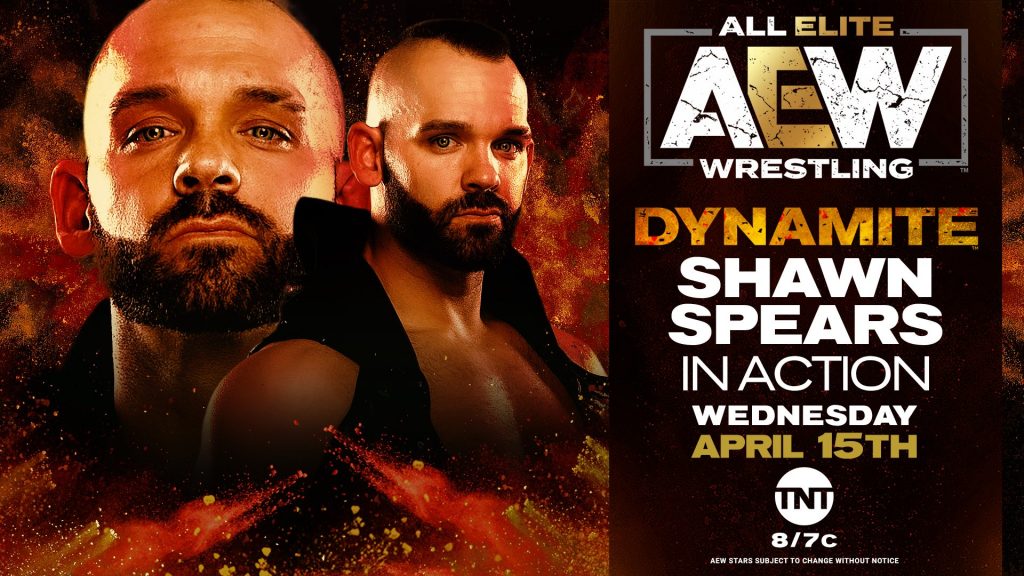 Shawn Spears vs Justin Law
Shawn Spears hits Justin with a quick snap mare and gets Justin in an armbar. Spears gets down on all fours and Justin rolls him up for a very close 2 count. Shawn hits a flurry of offence on Justin and hits a running c4 for the finish.
Winner Shawn Spears
Tony Schiavone runs down next week's two first-round TNT Championship tournament matches. Orange Cassidy will also take on Jimmy Havoc next week.
Josh Thomson of Bellator predicts a Jake Hager victory in the main event. Santana gives his prediction that Jake will win the title.
Moxley against Hager is up next!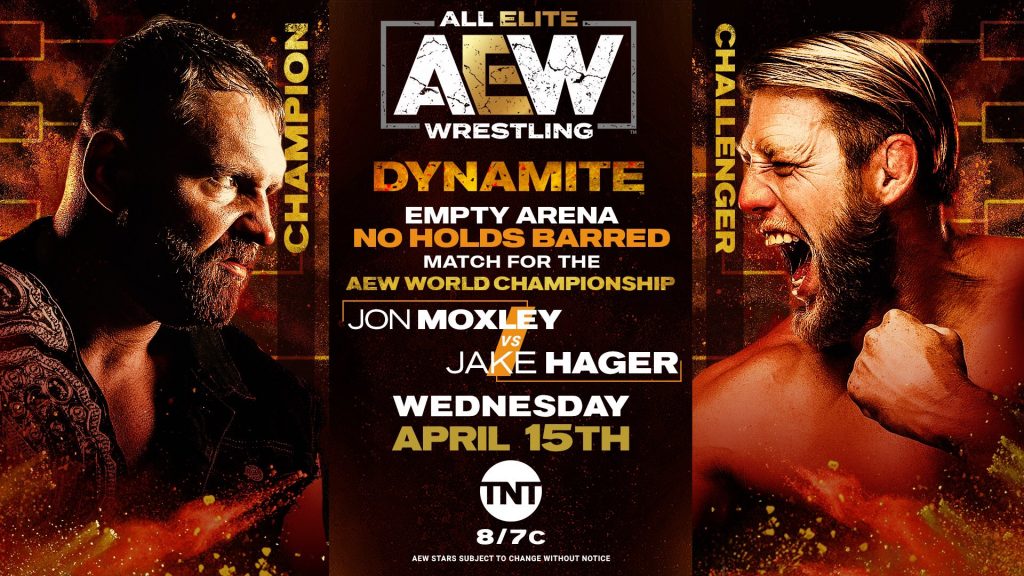 AEW Championship
Jon Moxley against Jake Hager
Jim Ross is solo on commentary for the main event. Moxley and Hager dodge each other and Moxley wrestles Hager to the ground. Hager counters an armbar with a big right hand. The two men counter each other and are doing a lot of wrestling early on. Hager gets some knees in at the corner which rock Moxley. Jon gets some shots in before backing Hager into the corner again. Moxley continues to work on wrestling Hager to the ground and applying submission holds. Hager transitions to get a choke in on Moxley the upper position allows Hager to hit a big knee to the abdomen of Jon. Hager gets some stomps in before Moxley hits a right hand to the face of Hager.
The two men exchange blows Hager backs out of the ring before Moxley dives to the outside. Moxley gets the armbar again on the outside but Jake starts raining hits on Moxley's head. Moxley and Hager continue to brawl on the outside Moxley sends Hager over the security railing. Hager counters Moxley's attempt at a piledriver on the concrete before taking a breather. The two men brawl around seats and railings through the arena. Moxley hits a few knees and gets a figure four on Hager. Hager counters Moxleys Irish whip by sending Moxley not the security rails. Hager gets it back to the outside of the ring before sending Moxley into the steps on the outside of the ring.
Hager takes it back in the ring against Moxley and him into the turnbuckle twice.
Moxley falls but counters Jake's running splash and hits a running knee to get Hager down. The two men continue exchanging shots before Hager hits a gut-wrench powerbomb. Hager hits a series of clothesline to the corner until Moxley counters with a clothesline of his own. Jake is able to get the ankle lock but Moxley escapes. Moxley hits a DDT on Hager but is unable to capitalize on this. Hager gets back on the offense and locks in his arm-triangle on Moxley.
Jake introduces a steel chair into proceedings and knees the chair into Moxley's abdomen. Hager goes back in the ring to set the chair up in the corner. Jake hits Moxley in the leg with the steel chair before applying the ankle lock. Moxley is desperately trying to crawl to the bottom rope before rolling through. Hager runs back into the ring where Moxley attempt to apply a triangle choke of his own. Jake easily counters out of that before the two men start exchanging blows. Hager Hits a knee on Moxley's gut but fails to capitalize. Moxley hits Jake with a steel chair and hits the paradigm shift onto the chair. Moxley retains the AEW Championship by pinfall.
Winner: Jon Moxley