MLW Fusion will be on fire this Wednesday at 7 pm ET. Two questions need to be answered finally. Who is Salina de La Renta working for? Who attacked ACH? MLW fans demand an answer. Also, which tag team will emerge as the number one contender. Last but not least, in the Main Event, The Caribbean Championship will be on the line when Richard Holliday defends the title against none other than Savio Vega. However, there will be nowhere for Holiday to run as he and Savio Vega will be tied together in a Caribbean strap match. This is the MLW Fusion preview for 1/27/21.
________________________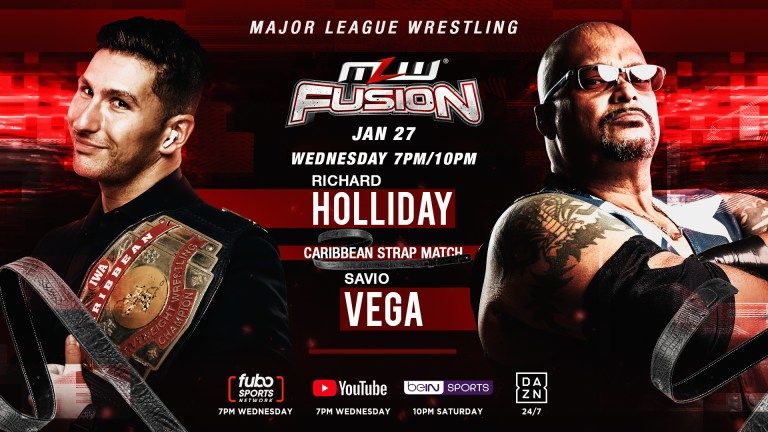 MLW Fusion Preview for 1/27/21
Caribbean Strap Match
Richard Holliday vs Savio Vega
On Wednesday night, January 27, 2021, All eyes will be on the Caribbean Strap Match for the Caribbean Championship. In his specialty match, Puerto Rican legend Savio Vega will challenge his arch-rival and current Caribbean Champion Richard Holliday. Savio is dead set on teaching Holliday a wrestling lesson. He promises to whip the Country Club champion till he bleeds. Savio Vega has even said he would bring the exact leather strap used in his battles with Steve Austin in the late '90s. Richard Holliday isn't worried.
The Caribbean champion claims he is twelve steps ahead of Savio. He stated he'd beaten him before, and he will beat him again this Wednesday.  Savio Vega feels that last time Holliday stole the championship. However, this time, it will be a different story. Savio also has revenge on his mind. It was The Dynasty that almost forced Savio Vega into retirement. What will happen when these two hated rivals clash in a Caribbean Strap match. Tune in to MLW Fusion Wednesday Night to find out at 7 pm ET.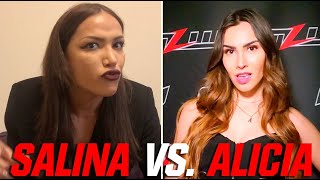 Salina de La Renta issues a Complaint Against Alicia Tout
For the past three weeks, MLW Backstage Reporter Alicia Tout has been trying to get answers out of the self-proclaimed Empresaria. It has been reported that Salina de La Renta sold Promociones Dorado to an unknown buyer. The MLW fans wanted answers. Alicia Tout invited Salina to answer all those burning questions, but the Empresaria no-showed. This left MLW fans with more questions and no answers. Last week Tout promised that as the "Interview Queen," she would get to the bottom of this. Salina agreed to be interviewed via skype for "social distancing purposes".
However, when asked about who Salina de La Renta was working for, she avoided the question by focusing on her newest acquisition Mil Murtes. Salina stated that she wants "gold, power, and real competition." After that statement, she told Alicia Tout that this interview is over and disconnected. Alicia was not surprised at Salina's tactics and promised that she would get the answer all MLW fans wanted this Wednesday on Fusion. Who did Salina De La Renta sell Promocios Dorado to? At least that's what Alicia Tout thought was going to happen.
On Monday, it was announced that Salina de La Renta filed a complaint with MLW officials against the investigative reporter.  In the complaint, she stated that "to be targeted by a foreigner in such a hostile way has given me immense grief. I can no longer accept being a victim." MLW HR policy is to investigate all complaints; however, according to resources, this one is very skeptical. What else will Salina De La Renta do to avoid telling the truth?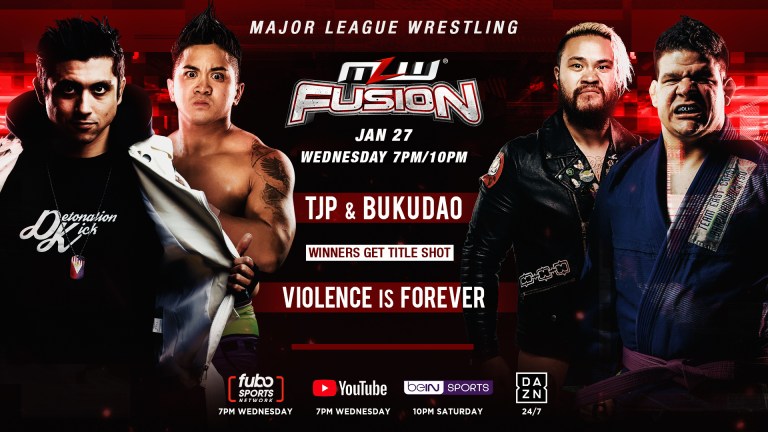 MLW World Tag Team Championship  Number One Contender Eliminator Match
TJP & Bukudao vs Violence Is Forever

Last week, Los Parks and Salina de La Renta captured the tag team Championship from the Von Erichs. Under Kevin Von Erich's advice, they decided to focus more on their feud with Tom Lawlor and Violence Forever first before trying to regain their MLW Tag Team Championship. On Monday, it was announced that an elimination match would be held to determine the new number, one contender. This Wednesday, TJP and Bu Ku Dao will take on Violence Forever to determine Los Park's challengers. Violence Forever are looking to add the tag team championship to the buried treasure on Lawlors Filthy Island.
However, the team of TJP and Dao have other plans. TJP has been a mentor as of late to the newcomer Dao. What a way to make a mark in MLW than to win the Elimination match and defeat Los Parks for the Tag Team Title. Tune into MLW fusion the Wednesday to see which team can go the distance.
MLW Fusion Preview for 1/27/21
Who Attacked ACH?
Last week ACH was attacked at the gym by an unknown assailant. The timing of the attack is crucial. It conveniently occurred right before his match with MLW Heavyweight Champion Jacob Fatu. ACH recently defeated Filthy Tom Lawlor in a number one contender's match to earn that spot. ACH did indeed step in the ring with Fatu, but his ribs were tapped up from the attack. Obviously, ACH was in no condition to do the match, but that's not the competitor he is. Jacob Fatu immediately attacked the ribs and defeated ACH. Now the question remains, Who attacked ACH?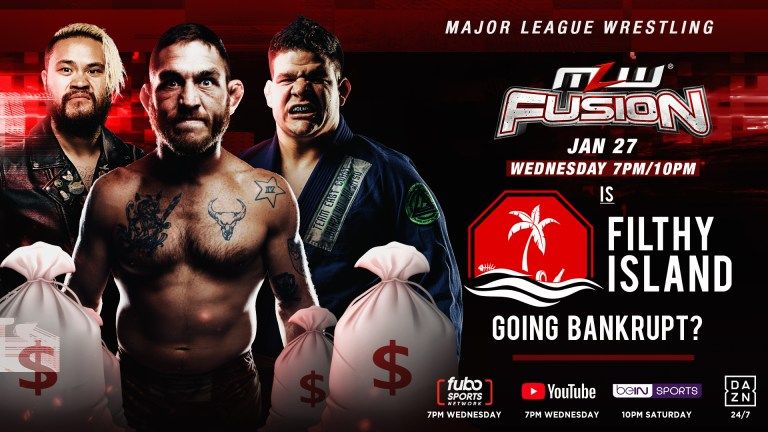 All signs point to Tom Lawlor and Violence Forever. Based on that accusation, it has been discovered that the sponsors for his show "Filthy Island" are pulling out. Tom Lawlor has agreed to appear on Wednesday's edition of Fusion to clear up all these rumors. Is Filthy Island about to go bankrupt? Check out MLW Fusion on Wednesday, Jan 27, 2021, at 7 pm EST to find out.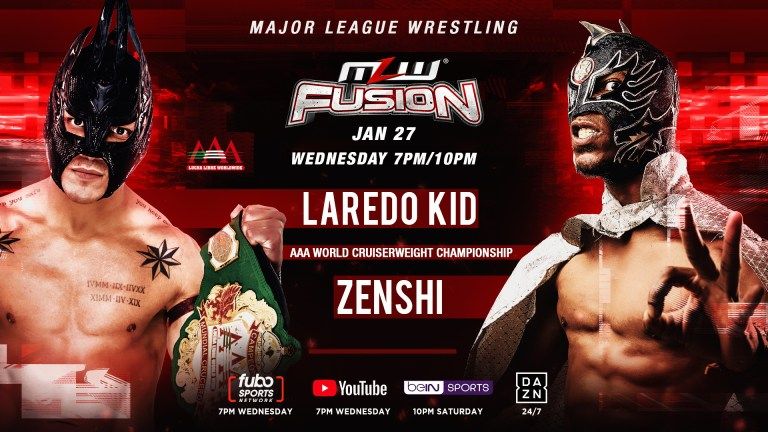 AAA World Cruiserweight Championship
Laredo Kid (c) vs. Zenshi
Cross Promotional Cruiserweight Challenge
For the first time ever, AAA's World Cruiserweight Championship will be defended in an MLW ring. Current Champion Laredo Kid will defend the title against Zenshi. This is the first of many inter-promotional matches with AAA. If Zenshi has his way,  this will be the first and last appearance for the Laredo Kid with Major League Wrestling's belt. Zenshi is the International All-Star Champion in Chile Luca Libre for the last five years, as well as Peru LWA International Champion. Can Zenshi add to his legacy and become a triple crown winner. Tune in to MLW Fusion Wednesday Night to find out.