On Thursday, December 22nd, 2022, MLW aired another episode of Fusion as we review MLW Fusion for 12/22/22. We had 3 matches as we got a Featherweight Title match, a Tables Match & a Prize Fight
MLW Fusion for 12/22/22
Tables Match
Mance Warner vs. Mads Krugger
Mance Warner & Mads Krugger start brawling on the floor, and Krugger no sells some chops. Warner gets something from the crowd and whacks Krugger with it, then Krugger gets a Mexican flag and cracks Warner with it. Krugger tosses Warner over a barricade, then follows him out there and resumes brawling.
Warner with a chop, then some chair shots, but he can't get Krugger off of his feet. They brawl through the crowd for a bit, then Warner hits Krugger with a drum, only for Krugger to boot him over the barricade. Now they're back in the ringside area, and Krugger smacks Mance off of a ring post. Krugger then tosses a few doors into the ring as we get a break.
After the break, Warner is bleeding from the head as Krugger looks for more plunder. Krugger finds a screwdriver and starts stabbing Warner in the head. In the ring for the first time now, Krugger sets up the doors in opposite corners. Warner gets a steel chair and low blows Krugger with it, then cracks him in the head; Krugger no sells it, so a 2nd one drops him to a knee.
Krugger avoids a knee strike and sets up the chairs so he can scoop and slam Warner through them. Warner avoids a charge from Krugger & Krugger splashes through the door. Warner tries to fight back with some door shots, but Krugger shrugs them off and spears Warner through the other door.
Krugger goes back under the ring and finds a table, which he sets up on the floor. They move to the apron. Krugger is looking to end this, but Warner hits the eye poke then tosses Krugger off the apron through the table to get the win.
Winner: Mance Warner
After the match, Warner gets a mic; he says they fight and bleed buckets here in MLW, then go back and enjoy a cold beer. He's got a feeling that he & Krugger are going to have to do this again at some point, but he's going to be with the crowd drinking for the rest of the night. To close, he says he's going to get drunk.
A video of Microman & Saint Laurent asking for donations in Santa get up. They're chased off because they don't have a permit.
Juicy Finau gets a promo in the back. He says the Samoan Swat Team is here to drink our beer, smoke our weed, and eat our food. Finau is going to get Jacob Fatu and head to a buffet.
We see Featherweight Champion Taya Valkyrie arriving. She's been dominating the world of Lucha libre for over a decade, and Lady Flammer might have potential, but she's not Taya Valkyrie.
A video from Alex Kane, he calls the Bomyaye Fight Club a movement and claims that the group is getting chants. They don't take applications, but they do take names and Opera Cups, right Davey? Then he yells Bomyaye several times.
MLW Fusion for 12/22/22
Peach State Prize Fight
Alex Kane vs. D3
D3 avoids a blow and lands a dropkick. Alex Kane then catches D3 with an exploder suplex into the corner. Dragon suplex from Kane, but he pulls up from a pin attempt. Some time-wasting from Kane & D3 fights back with strikes, but he's caught in a capture suplex. Release a vertical suplex, then a cravat and leg capture back suplex to get the win.
Winner: Alex Kane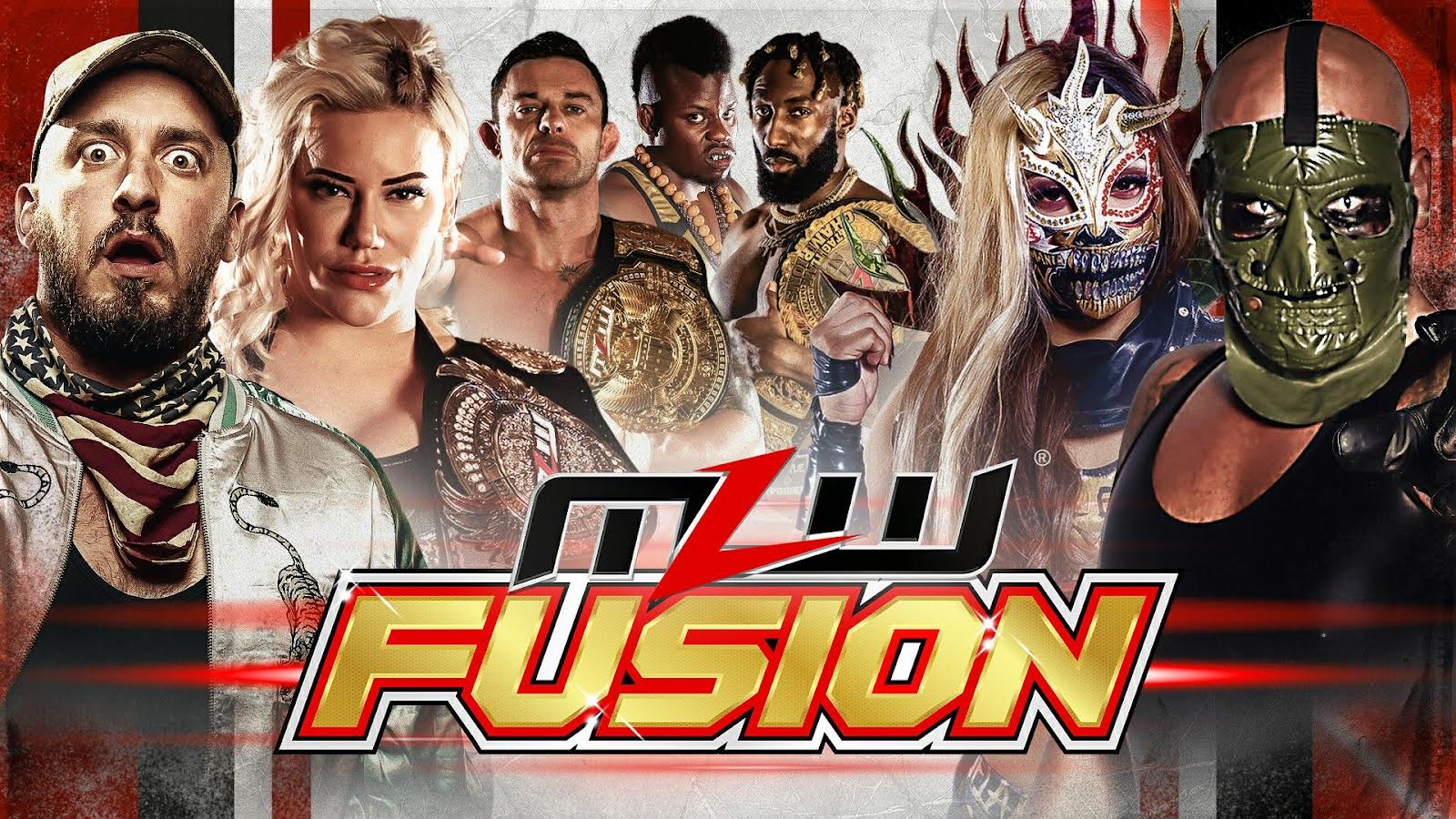 After the match, Kane tosses D3 out of the ring and gets a mic. He wants to know if that was the best Georgia has to offer, then says anyone in the back can come out and go to suplex island. Please stop trying to make that a thing.
National Openweight Champion Davey Richards shows up and charges the ring, but the goons stop him, and that allows Myron Reed to hit a dive. In the ring, now Reed & Kane stomp on Richards, then pose with the Opera Cup.
Promo from new Middleweight Champion Shun Skywalker. He speaks Japanese that goes untranslated, but then goes to English long enough to say he'll be in Philadelphia.
We get a promo from MLW World Tag Team Champion EJ Nduka promo; he reminds us he's built for this. He's as strong as the diamonds he wears, pressure makes diamonds, and he's not afraid of the pressure Hammerstone tries to bring. Nothing about Nduka is decoration, this is real, and then next time they square up, it's over.
He reminds us that he's had Hammerstone's back for a long time, dating back to the War Chamber. And for that, Hammerstone ducked him and wouldn't give him a shot, so he had to take it. Nduka s how he says he is, he's the Judge and everyone's just living in his court yard then he close he warns that Hammerstone is in trouble.
A reminder that Davey Boy Smith Jr is returning to MLW.
Microman, Lance Anoa'i & Jacob Fatu are at a bar drinking egg nog. Lince Dorado shows up with a gift for Microman & Anoa'i offers him a Santa hat. The gift is a robe for Microman, who shows it off as it matches Dorado's & they resume drinking.
We get a promo from the MLW World Champion Alexander Hammerstone & he brings up going through the stage with EJ Nduka a couple of weeks ago. He didn't like going through the stage with Nduka, but he's glad they did it. Those are the moments that remind him why he does this.
He's had all kinds of moments like that when he's waiting for a stinger to abate or the time's he's been hit so hard he can't remember the match or the day. He has to ask himself why he does this in those moments. This is all he knows how to do, and it keeps him up at night. But what is this for Nduka? He thinks this is just how Nduka plays superstar.
We've been told over and over why Nduka is special, a former star in football and bodybuilding, but that just means he's good enough to be kind of successful at a few things but never good enough to reach the top of anything. Nduka hasn't had those moments when he has to think about why he does this.
This is fun for Nduka, a way for him to pretend he's a superstar. Now he's going to give Nduka those moments of why. Nduka has been coasting on God-given gifts, but God left out heart and passion, and after Hammerstone makes him wonder why Nduka will have to realize he doesn't have a why.
Once Hammerstone makes him realize what this business can be, Nduka's going to have to find the next thing where he can pretend to be a big deal. News that Alex Hammerstone vs. EJ Nduka is set for January 5th in a Last Man Standing match.
MLW Fusion for 12/22/22
Featherweight Title Match
Taya Valkyrie (c) vs. Lady Flammer
We start this Featherweight Title match with a lock-up before Taya Valkyrie then shoves Lady Flammer away, showing off the power edge she has. Another tie-up, and again Valkyrie pushes Flammer away. Kick from Valkyrie, then Flammer hits the ropes to land a hurricanrana, only for Valkyrie to come back with an arm drag. Flammer with some strikes, but Valkyrie puts her in the ropes and hits a Nakamura-style sliding German suplex to send us to a break.
We come back from the break to Flammer landing a dropkick which sends Valkyrie to the floor then following up with a suicide dive. Flammer slams Valkyrie into the ring post and then sends Valkyrie back into the ring. Valkyrie fights back with body blows, then a chop. They start trading strikes on their knees, but Flammer looks to fire up and lays in some stomps in the corner.
Again Valkyrie fights back with some strikes before sending Flammer into a corner, but Flammer lands a superkick. Valkyrie gets Flammer into an electric chair position, then hits Snake Eyes. Some strikes from Valkyrie now, then a clothesline to drop Flammer. Blue Thunder Bomb from Valkyrie gets a 2 count.
Flammer fights back with strikes, then chops Taya in the corner, and this a dropkick version of Shattered Dreams for a near fall. They start trading strikes now, with Valkyrie getting the better of things than hitting a Spear for a 2 count. Valkyrie repositions Flammer and then heads up top, but Flammer is able to cut her off and then climbs up with Valkyrie.
They trade strikes, but Taya drops down and then hits Flammer with a sit-out powerbomb for 2. Flammer then hits a Canadian Destroyer but only a near fall. Then a back kick from Flammer gets another 2 count. Valkyrie starts firing up now and unloads with strikes, then hits a knee strike then the Road To Valhalla gets the win.
Winner: AND STILL Featherweight Champion: Taya Valkyrie
Please share with us what you thought of this week's edition of Major League Wrestling and what you anticipate happening next week in the comment section below.
********
Stay tuned to Pro Wrestling Post for this and additional stories from the wrestling world. Readers can rely on Pro Wrestling Post to be their daily source for all things inside the squared circle. As a result, readers can expect daily news, history, and much more. Please visit Major League Wrestling's site here for news and information on the promotion and upcoming events pertaining to MLW, and visit Pro Wrestling TV's official website.