For nearly a decade, Miss Frankie Jay has been making a name across the midwest wrestling scene. Getting into the wrestling business was a New Year's resolution and one that has given her the chance to grow. Since 2012 Frankie Jay has wrestled for companies like 3XWrestling, Central Empire Wrestling, and SCWPro. Having plied her trade in a handful of promotions gave her a wealth of experience inside the squared circle. 
________________________
Miss Frankie Jay | Indie Spotlight Watch
While she's wrestled for multiple companies, one company has been home; that company is Impact Pro Wrestling. Debuting at IPW's annual Hall of Fame show in 2012. Miss Frankie Jay is a multi-time Women's Champion and has become the standard-bearer for the division. It didn't take her long to (pardon the pun) make an impact.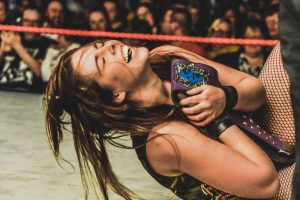 After her debut, she quickly became the inaugural Impact Pro Women's Champion. Becoming the very first Impact Pro Women's Champion was memorable for a couple of reasons. 
Obviously, winning a promotions championship is a big deal, but being the very first champion is historic. 

This was the first wrestling match her mother was able to watch her compete in. 
"That was pretty awesome having my mom there. She drove from Illinois to Des Moines to be there, and it really made it special for me."
During her time as one of the standard-bearers of the IPW women's division, Miss Frankie Jay has seen her fair share of rivalries. If you are a woman pro wrestler and have been through IPW, at some point, you looked across the ring at Miss Frankie Jay. From Keondra, whom she defeated for the inaugural IPW Women's Championship, to Queen Bee Brooke Valentine, Miss Frankie Jay has faced them all. Her rivalry with Valentine recently added its newest chapter. The two longtime foes faced off during one of IPW's Facebook live shows from the Vault.
If you are wondering what the Vault is, it's IPW's training facility in Collins, Iowa. It's here where the next generation of IPW stars cut their teeth in preparation of becoming a pro wrestler. With the pandemic slowing live shows with crowds, IPW has been able to still entertain their fans with these shows emanating from the Vault. 
It was apparent during their match that there was no love lost between the two. Jay and Valentine, with her manager Captain Midnight Guthrie in her corner, had one of the night's hardest-hitting matches.
After the match, Frankie Jay gave the Captain a swift beat down for good measure. Miss Frankie Jay emerged victorious that night, but don't be surprised if these two meet again down the road. 
A Memorable Rival
Another memorable rival for Miss Frankie Jay was Kara Noia (now known as Free Range Kara). These two battled multiple times in 2019, and during IPW's final show before the pandemic hit, they met once again. This truly was a battle with both women pulling out all the stops in hopes of bringing home the championship. Miss Frankie Jay once again picked up the win, becoming IPW Women's Champion for the fourth time. 
It began her year-long reign at the top. The win was another special moment for Frankie Jay as it was the first time her father saw her wrestle. 
"It was a cool experience having both my parents there, and to win it against someone I had wrestled quite a few times before and had so much respect for, was a great experience."
Having been a featured performer in IPW for nearly a decade, Miss Frankie Jay has transformed from an eager, young up and comer to a veteran leader in the locker room. 
At any IPW Vault show, before the action begins, you see Frankie Jay working with younger talent. From conversing about character development or working on ideas in the ring, she is always willing to lend an ear and give advice. 
Miss Frankie Jay | Indie Spotlight Watch
A pair of young wrestlers Frankie Jay has helped develop are the Hale twins, Sage and Briar. The three have worked together for months inside the vault, and you can see the confidence in the two rookies grow with each performance. That is an extension of working firsthand with Frankie Jay.
However, she may have taught them too well because, during one of IPW's most recent Vault shows, Briar Hale became IPW Women's Champion. It was a triple threat match between the trio where Sage Hale proved how cunning she could be.
In the final moments, Hale struck her mentor with the title belt to pick up the win. It was a loss that stung but is one Frankie Jay plans to rectify as soon as possible. 
"They are definitely young and hungry with a lot of talent. They're going to be a force to be reckoned with. As much as I hate to say it, they're pretty awesome, but that won't stop me from getting my belt back."

Wrestling promotions have steadily begun holding shows with fans again, and Impact Pro Wrestling is no different. Two of these shows have already been scheduled. Saturday, May 8th, IPW returns to their home away from home, the Forte Center in Des Moines. It's IPW's 20th Anniversary Show and will be in front of fans for the first time since the pandemic began. Then in July, is the annual IPW Hall of Fame show that is part of the George Tragos/Lou Thez Pro Wrestling Hall of Fame weekend. You can bet Frankie Jay will be featured on both of these shows, something she is more than excited for. 
"I think these shows are going to be a blast; I'm very excited for us to get back in front of the fans. I think they're ready, and I know we are ready. It can't come soon enough."
With IPW starting to get back in the swing of live shows, Miss Frankie Jay plans to continue carrying the flag but also has her eyes set on expanding. 
She wants to collect championships in multiple promotions, and with her skill and experience, that goal is more than achievable.