Sunday, May 12th from Evie's Disco Diner MCW returns with women's wrestling G.IRL4.  The ever-popular rise in popularity for the women of MCW has assured continued success with the G.IRL series of events. The show has featured the absolute best of the best from Australia and also at times women from other Countries when they are on tour in Australia.  Evie's Disco Diner has hosted this truly memorable series of events that they hold on conjunction with Melbourne City Wrestling. There is plenty to be excited about for the fourth edition of the series.
Millie McKenzie is going to go one on one with Avary for the very first time.  These two excellent performers are going to set the bar extremely high when it comes to the performance being given.  Millie McKenzie hails from the UK and boast a very outstanding career so far and has an extremely bright future ahead of her.  Avary stands right in the way of Millie McKenzie leaving her mark on the Aussie scene.  Avary will be at 100% for this match and will do her part in creating a classic.  Expect a lot of heart and determination and a whole lot of amazing wrestling action to go along with it all.  These two women are proving each and every day why the world will soon remember exactly who they are.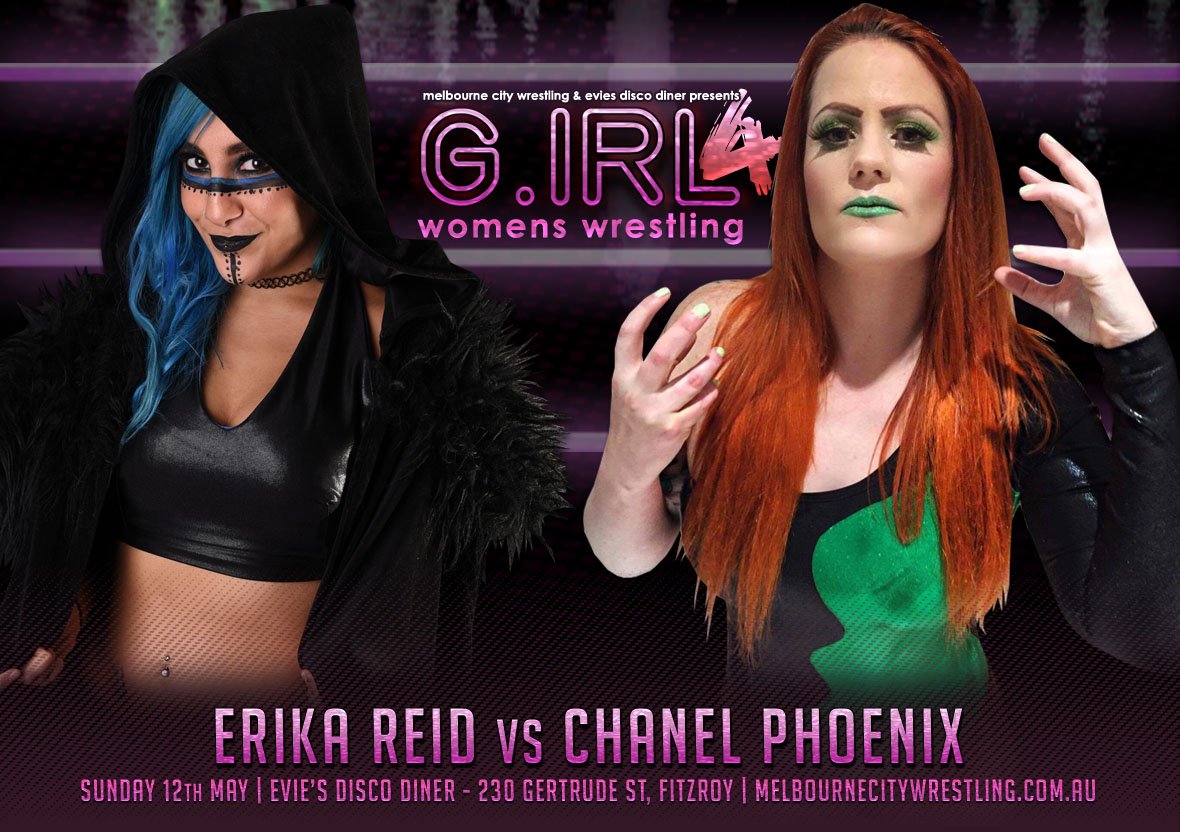 In another one on one encounter that will really make a mark is Erika Reid vs Chanel Phoenix.  Erika Reid is a young up and comer on the scene, having made her professional debut in 2016.  Erika Reid wants to show the world why they should be paying attention to her and a big win here at G.IRL4 would certainly continue to send her in the right direction to do so.  Chanel Phoenix is not about to allow her opponent to one-up her in this match.  Chanel Phoenix is going to do whatever it takes in order to finish off Erika Reid and assure she continues along her own path of success.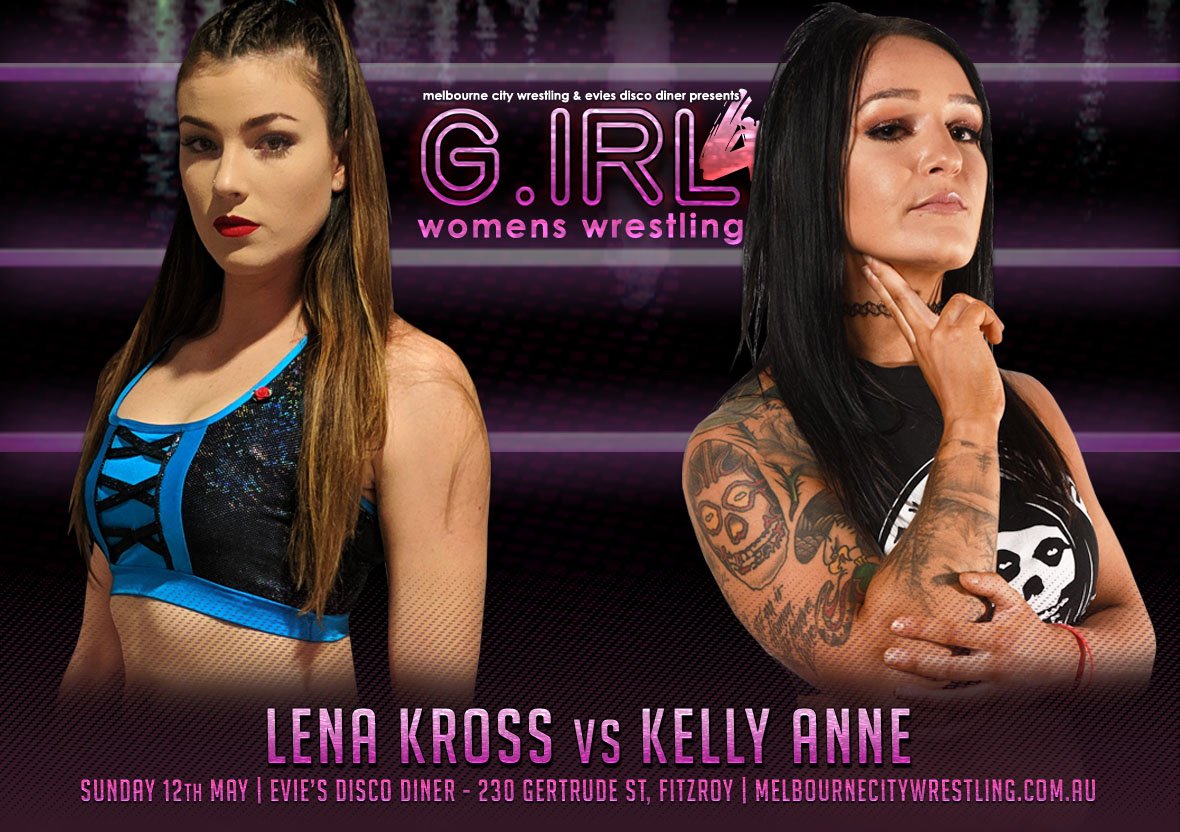 Speaking of wrestlers who want to make a name for themselves Lena Kross is extremely new to the scene.  This will be truly exciting for the fans in attendance as they will be looking at the future of Australian wrestling.  Kelly Anne is a young wrestler but she has been a ring veteran for quite some time.  Having been trained in 2008 at the age of 14 Kelly Anne has continued to entertain audiences time after time.  Kelly Anne is easily one of the best and it is almost certain that she will soon be a name that is known worldwide.  Lena Kross wants to make her name at the expense of Kelly Anne, but expect the ring veteran Kelly Anne to show the young veteran why she is truly one of the best wrestlers in Australia today.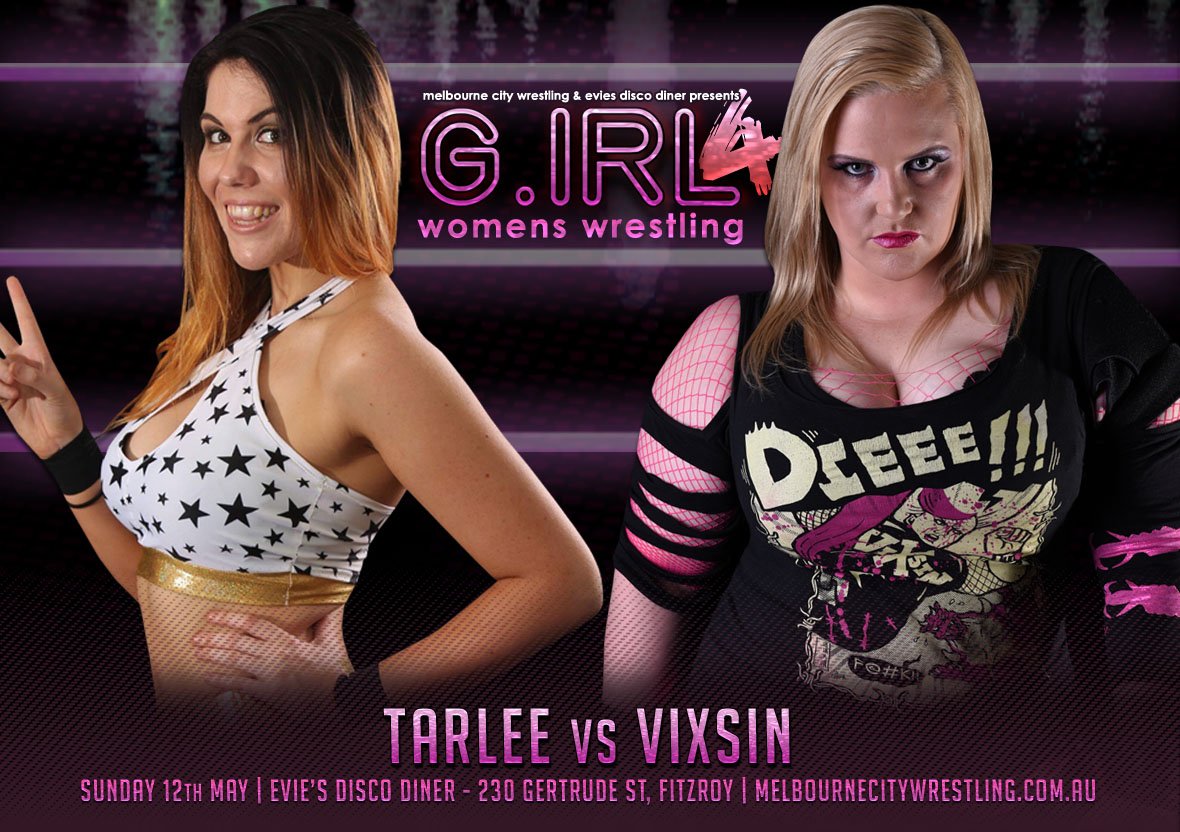 When it comes to ring veterans there is no more experienced then Vixsin.  Vixsin made her debut in 2004 and has continued to give her opponents a fight to remember.  Tarlee is a star on the rise, trained by current WWE Universal Champion Seth Rollins you know the exciting fast-paced style that is sure to get the crowd roaring.  Vixsin will definitely not allow Tarlee to get much momentum as she will look to slow down her pace and control the match.  This is going to be one exciting match rounding out what is a very nicely stacked card of wrestling.
Melbourne City Wrestling ( MCW ) and Evie's Disco Diner present G.IRL4 this Sunday, May the 12th.  If you are able to attend the event then make certain that you do so, these G.IRL shows are seriously exciting and off the hook.  Melbourne City Wrestling ( MCW ) once again hits it out of the park by putting together a card that will truly deliver some incredible wrestling action.